Mark Strahl Calls Out Liberal MP For Using Name On Novelty Cheque
Sometimes the hardest lessons are the ones related to size 90 font gaffes.
Last week, Liberal MP Dan Ruimy used a large novelty cheque to announce $100,000 in government funding for the City of Pitt Meadows during a municipal council meeting.
"This funding will support community recreation at Harris Road Park for children and their families in Pitt Meadows, with a brand-new water-efficient spray park system and expanded play features," Ruimy said at the time.
A great moment last night presenting @citypittmeadows w/ #Canada150 funds for Harris Road Spray Park Repairs! #PittMeadows @JohnBeckerMayor pic.twitter.com/75r0pnwfmn

— Dan Ruimy (@DanRuimyMP) January 18, 2017
The cheque featured the Government of Canada's logo and arms, as well as a line at the bottom with the B.C. MP's name and his Pitt Meadows — Maple Ridge riding.
Ruimy attended the meeting on behalf of Navdeep Bains, the minister for innovation, science and economic development.
Conservative MP Mark Strahl called out his Liberal colleague for having his name emblazoned on a prop associated with government funding. Strahl noted on social media that Liberals "used to lose their minds" when Tory MPs put names and signatures on similar cheques.
Remember when Liberals used to lose their minds when Conservative MPs put their names and signatures on novelty cheques? Ok now, apparently. pic.twitter.com/RbwINWJSkg

— Mark Strahl, MP (@markstrahl) January 18, 2017
The Treasury Board discourages MPs from using the arms of Canada — an official symbol — on novelty items. The Government of Canada is a corporate identity, so rules are in place to restrict their possible partisan or personal use.
Ruimy did not respond to The Huffington Post Canada's request for comment before publication. This story still be updated if the member's response is received.
Blurred lines
The hullabaloo over the government use of novelty cheques is a chorus Conservatives are familiar with.
Liberal MPs grilled the former Conservative government's penchant for using the props to announce millions in government funding.
Back in 2010, then NDP MP Bill Siksay urged the Treasury Board to impose rules to make it "absolutely clear" that linking government spending to a specific party or individual member of Parliament is "improper."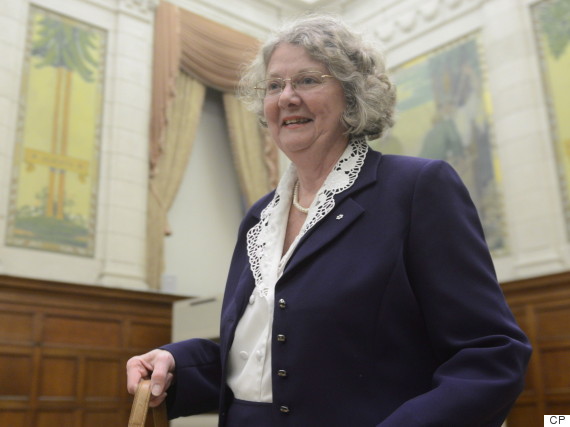 Ethics commissioner Mary Dawson waits to appear before a standing committee on Feb. 11, 2013 in Ottawa. (Photo: Adrian Wyld/The Canadian Press)
The outcry from opposition parties forced the conflict of interest and ethics commissioner to launch an investigation into 63 complaints against 60 House members accused of breaking rules.
Mary Dawson agreed complaints over the use of the Conservative Party logo on props associated with government funding were problematic.
"The use of ceremonial cheques or other props in making government announcements is not improper," Dawson said in a statement at the time. "But concerns arise when partisan or personal identifiers are used, as they were on these cheques or other props, in connection with government-funded initiatives."
Also on HuffPost:
Trudeau Cabinet's Order Of Precedence
Prime Minister Justin Trudeau's gender-balanced cabinet does not include a deputy prime minister or clear second-in-command. The official order of precedence is instead determined by length of time in the Privy Council, and the order by which ministers were sworn into the ministry. Here's the official order...

Minister of Public Safety and Emergency Preparedness The finance minister under Paul Martin's government, Goodale is the only Liberal elected from Saskatchewan.

Minister of Agriculture and Agri-Food An MP since 1988, MacAulay has served as solicitor general of Canada, minister of labour, secretary of state for veterans and secretary of state for the Atlantic Canada Opportunities Agency. In the last Parliament, MacAulay was the critic for fisheries and oceans.

Minister of Indigenous and Northern Affairs A family physician who has been an MP since 1997, Bennett was Canada's first minister of state for public health and oversaw the 2003 response to the SARS epidemic. In recent years, Bennett has served as the party's vocal critic on aboriginal affairs.

President of the Treasury Board An MP since 1997, Brison was the public works minister and receiver general of Canada in Paul Martin's government. He had been the Liberal spokesman on economic issues and the vice-chair of the Commons' committee on finance.

Minister of Fisheries, Oceans, and the Canadian Coast Guard LeBlanc served as the Government House leader until August 2016, when he was replaced by Bardish Chagger. LeBlanc was sworn in as a privy councillor in 2004 when, under Paul Martin, he served as parliamentary secretary to the leader of the government in the House and deputy government whip. He is a childhood friend of Trudeau's.

Minister of Innovation, Science, and Economic Development An MP from 2004 to 2011, Bains regained his seat this year. In addition to being a certified management accountant, holding an MBA, and teaching at Ryerson University, Bains was an important Trudeau organizer and also served on the Liberals' national election readiness committee.

Minister of Finance Morneau is the former executive chair of Morneau Shepell, one of Canada's largest human resources firms.

Minister of Justice and Attorney General of Canada Wilson-Raybould is a former Crown prosecutor and regional chief of the B.C. Assembly of First Nations.

Minister of Public Services and Procurement An MP since 2008 and the party whip, Foote previously held several cabinet portfolios in Brian Tobin's provincial government.

Minister of Foreign Affairs An MP since 2013, Freeland was courted by Trudeau's team when she was a senior editor at Thomson Reuters in New York City.A Rhodes scholar, she is a well-known author and journalist. She was part of Trudeau's team of economic advisers.

Minister of Health Philpott is a family physician, associate professor at the University of Toronto, and former chief of the department of family medicine at Markham Stouffville Hospital.

Minister of Families, Children, and Social Development Duclos is a renowned economist who taught at at Laval University.

Minister of Transport The former astronaut, navy engineer, president of the Canadian Space Agency and Liberal leadership contender was first elected in 2008. He has served as an industry and foreign affairs critic.

Minister of International Development and La Francophonie Bibeau worked for the Canadian International Development Agency (CIDA) in Ottawa, Montréal, Morocco and Benin, Africa, before settling and launching her own business in her riding.

Minister of Natural Resources Carr, a former Manitoba MLA and deputy leader of the Manitoba Liberal Party, served as president of the Business Council of Manitoba from 1998 to 2014.

Minister of Canadian Heritage Joly made a name for herself by finishing second to ex-Liberal cabinet minister Denis Coderre in the Montreal mayoral race in 2013. She's a lawyer and communications expert.

Minister of National Revenue A small business owner who has been an elected warden for the Regional County Municipality of Rocher Percé since 2010, Lebouthillier won a seat in Gaspé that the Liberals haven't held in more than a decade.

Minister of Veterans Affairs and Associate Minister of National Defence Hehr was an Alberta MLA from 2008 to 2015, was one of just two Liberals elected in Calgary. In 1991, he was the victim of a drive-by shooting that left him confined to a wheelchair.

Minister of the Environment and Climate Change McKenna was a former legal adviser for the United Nations peacekeeping mission in East Timor and founded Canadian Lawyers Abroad (now known as Level), a charity focused on global justice issues.

Minister of National Defence Sajjan is a retired lieutenant colonel who served in Afghanistan and was the first Sikh to command a Canadian Army regiment. He also served as a Vancouver police officer for 11 years.

Minister of Infrastructure and Communities An Edmonton city councillor since 2007, Sohi immigrated to Canada from India 35 years ago. He spent time as a political prisoner in India in the late 1980s.

Minister of Status of Women Monsef, a community organizer, fled the Taliban in Afghanistan and came to Canada as a refugee with her widowed mother and sisters in 1996. She was shuffled out of the democratic institutions portfolio in Jan. 2017.

Minister of Sport and Persons with Disabilities Qualtrough is a lawyer and former Paralympian. Legally blind, she won three Paralympic and four World Championship medals for Canada in swimming and was president of the Canadian Paralympic Committee.

Minister of Science Elected in 2008, Duncan taught meteorology, climatology, climate change, and medical geography at the university level.

Minister of Status of Women Hajdu was executive director of Shelter House, Thunder Bay's largest homeless shelter.

Leader of the Government in the House of Commons and Minister of Small Business and Tourism Chagger, 35, worked for the Kitchener-Waterloo Multicultural Centre. She also worked on Trudeau's leadership campaign.

Minister of International Trade Champagne had a hugely successful international business and law career, living in Europe for many years before running for office. The World Economic Forum dubbed him a "young global leader" in 2009.

Minister of Democratic Institutions Sworn in at 29, Gould is the youngest female Canadian cabinet minister in history. She previously worked as a trade and investment specialist for the Mexican Trade Commission.

Minister of Immigration, Refugees, and Citizenship The first Somali-Canadian elected to Parliament, Hussen came to Canada alone as a 16-year-old refugee from Mogadishu. He was a successful lawyer and president of the Canadian Somali Congress before running for office.