Most Popular Unisex Baby Names Of 2017
Unisex baby names are taking a unique turn in 2017. According to Nameberry, the hottest gender-neutral names of the year so far are Quincy (up 71 per cent), Remi (up 68 per cent) and Winter (up 59 per cent).
To get their findings, the baby name site looked at which names got the most increased page views from January 2016 to January 2017. Other standout monikers include Briar, Indigo and Sasha.
While unisex names were one of the hottest trends of 2016, Nameberry notes that the trend is actually waning this year, as only a handful of these names made their "hot list" for 2017. According to the site's data, parents are now more drawn to gender-specific monikers.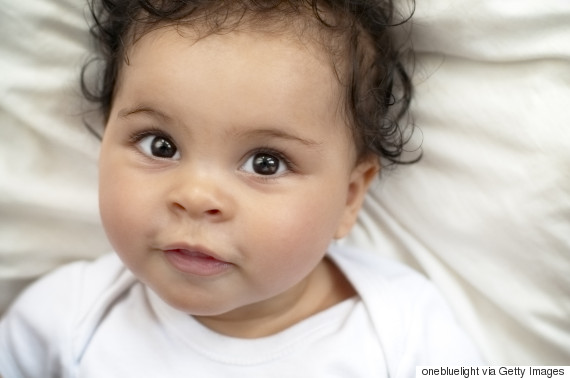 Looking at Nameberry's top unisex names, it's also interesting to note that many of the picks are more commonly associated with boys. According to Matthew Hahn, a professor at the University of Indiana who co-authored a 2003 baby name study, this is because "the culture is much more accepting of out-there girls' names."
Additionally, research suggests there are more benefits for girls to have boy names than the other way around. A 2009 study from South Carolina's Clemson University, for instance, showed that women with traditionally male names were more likely to be successful in jobs of power, such as a judge or a lawyer, and make more money than those with more feminine monikers.
Unfortunately, boys who have girl names do not experience the same benefits. In fact, research from 2007 by David Figlio of Illinois' Northwestern University, found that boys with traditionally girls' names are more likely to develop behavioural problems once they reach puberty.
So if you love unisex names and want to give your baby boy a moniker that follows this trend, then your best bet is to make sure you choose a name that's as gender-neutral as possible.
Visit Nameberry to see their full list of hottest baby names of 2017, or flip through the slideshow below to see more unisex names we love!
Best Unisex Baby Names Of 2016
Meaning: brave, industrious We love that this name is short and sweet and has an adorable nickname, Emmy. For a more masculine-sounding name that's still gender-neutral, try Emerson.

Meaning: dweller on the plain While the name Blair has become incredibly popular among girls, it is still a strong, edgy name for boys.

Meaning: park keeper Parker fits two hot baby name trends. It's unisex and is a last name used as a first name.

Meaning: king We don't have to tell you why this name is climbing the charts. Since 2015, Rey has been skyrocketing for girls thanks to "Star Wars." But that doesn't mean it can't be used for boys, too.

Meaning: Frenchman or free man This name is gaining favour among celebrities. Just ask Drew Barrymore who chose this name for her daughter. Frankie is an alternative to the name Frances or Francis, which are also great unisex names.

Meaning: son of Adam Though originally a boy name, Addison has quickly become acceptable for girls, likely because of its similar sound to Madison. Plus, Addy is an adorable nickname for either sex.

Meaning: from Brittany Brett is short, sweet and just plain cool. While commonly associated with boys, Ernest Hemingway put this name on the map for girls with his character Lady Brett Ashley in "The Sun Also Rises."

Meaning: keeper of provisions This friendly name works well for boys and girls. Kelsey Grammer chose this name for one of his daughters.

Meaning: place name While commonly associated with girls, Brooklyn Beckham is proving that guys can rock this name, too. For a more masculine-sounding name, try Brook, which is just as cool and unique.

Meaning: brave in battle Fun fact: Casey is an Irish surname. While the moniker might seem a little outdated as a girls' name, it gets a fresh revamp when used for boys.

Meaning: crooked nose Cameron Diaz is the most famous woman to bear this male moniker. For those who want a more feminine spelling, try Camryn.

Meaning: defender While this name is mostly associated with girls today, Alexis actually has a strong history with boys. Alexis is the name of an ancient male saint. It's alternative Alexius is also the name a number of Byzantine emperors.

Meaning: variation of Luke Luca is a fresh alternative to the girl name Luna, and can be used for both sexes.

Meaning: ash tree You can't deny that Ash is a cool nickname. Plus, it's incredibly versatile and will fit a baby boy or girl perfectly.

Meaning: helmeted chief This is another trendy choice, despite it's odd meaning. Kennedy is not only a great unisex name, but is an Irish last name that has quickly gained popularity.