Kevin Davison, Nova Scotia First Responder, Writes Song About 'Heavy Burden' Of The Job
First responders are ordinary people, but they're faced with the extraordinary challenges everyday.
Nova Scotia firefighter and paramedic Kevin Davison knows exactly what it's like — he has spent decades rescuing people, but also faced tragic loses. The gruesome scenes from his job often keep him awake at night, and at times he can't shake them off during the day. Though he's never been diagnosed with post-traumatic stress disorder (PTSD), Davison says he identifies with many of the symptoms.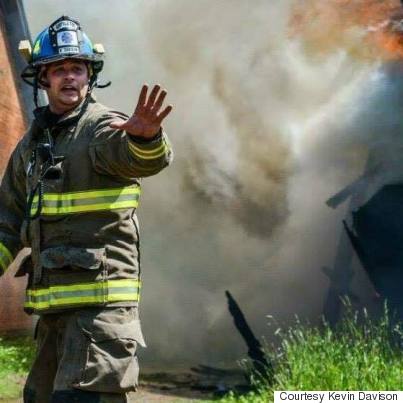 Kevin Davison is a volunteer firefighter.
"There have been times I've been to a major accident on the highway and it's taken me days to get my sleep back in order," Davison told The Huffington Post Canada. "Some of the things that you experience kind of stay with you."
After decades as a paramedic, Davison now lives in New Minas, N.S. and focuses on his music career while working as a volunteer firefighter. He says music can be an escape during stressful times.
"I can forget about all the bad things that have happened, and just do music. I find it very therapeutic."
"You can't unsee the things you've seen. It keeps going on, when those sirens are gone."
The singer and song-writer penned a song called, "When Those Sirens Are Gone" to detail the challenges of being a first responder — from 12-hour shifts to terrifying nightmares.
"You can't unsee the things you've seen. It keeps going on, when those sirens are gone," he sings.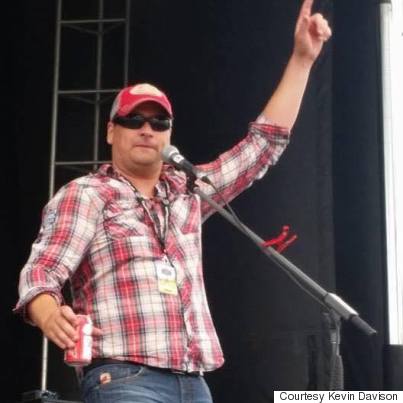 Davison hopes the song will provide some comfort to the many first responders who also struggle with the emotionally challenging job. According to CBC's The Nature Of Things, about 9 per cent of Canadians — commonly first responders, public safety workers and military soldiers — will suffer from PTSD in their lifetime.
While Davison wrote the song along with a friend years ago, it wasn't until recently that he created a music video. TEMA, an Ontario organization that helps first responders address their mental health challenges, produced the video, hoping to raise awareness on the issue. The video, released earlier this month, features Davison's wife and kids, as well as his colleagues at the Kentville Volunteer Fire Department.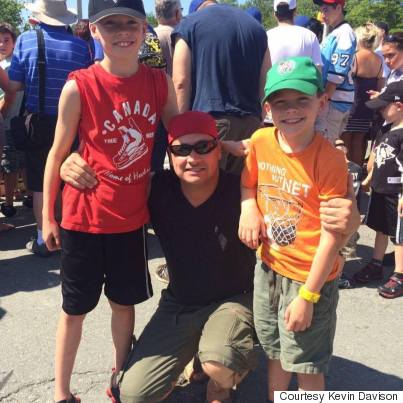 Davison with his children.
"The song's message that you are not alone when you're unable to sleep at night, that your colleagues and peers are also struggling with this, is powerful," said TEMA spokeswoman Erin Alvarez to LocalXpress News.
Davison admits being a first responder is challenging, but there are moments that make it worth it. He recalls times when he helped bring someone's pulse back, or saw them start breathing again.
"Those moments bring me back to my job," he said.
Follow The Huffington Post Canada on Facebook, Twitter, and Instagram.
Also on HuffPost:
Mental Health: 7 Signs That May Signal PTSD
Prior to the trauma, they often felt invulnerable as if nothing could harm them (the way a very wealthy person who can buy anything -- and sometimes anyone -- can feel all the way to a freshly trained soldier before they enter battle).

As bulletproof as they once thought they were is as vulnerable as they have turned out to be. There is a belief that they don't know how they survived the first trauma and an unconscious belief that they wouldn't survive being re-traumatized. One of the reasons for anniversary reactions.

Not being able to find peace outside or inside their life or inside their psyche, leads to a brittleness where anything can set them off. This leads to the heightened startle respond common to people with PTSD.

Inside there is a deeply held belief that any re-traumatization will cause them to shatter and fragment and there is an feeling of impending inevitability that it will happen which creates a state of terror, difficulty sleeping, heavy self-medication (which also dulls ones rational thinking).

Most of the symptoms of PTSD from withdrawing to alcohol and substance abuse to not sleeping (since the experience of and fear of nightmares adds to the terror) are attempts to avoid re-traumatization.

Feeling on the brink of going from brittle to shattering, fragmenting, losing their mind and never getting it back can cause a person who needs to be in control to take desperate measures. That is because to such a person, losing complete control is a fate worse than death.