Maxime Bernier Criticized For Using 'Red Pill' Meme Popular Among Anti-Feminists
A Conservative leadership contender has sparked a strange controversy on social media by using a meme that has been adopted by anti-feminists.
Quebec MP Maxime Bernier posted an image to Twitter Monday that's inspired by popular 1999 science fiction film, "The Matrix." He is shown offering the "red pill" to Alberta Wildrose MLA Derek Fildebrandt, who recently endorsed Bernier.
Will you choose the red pill like @Dfildebrandt ? #cdnpoli #ableg pic.twitter.com/m2cjwbo4v7

— Maxime Bernier 🇨🇦 (@MaximeBernier) March 6, 2017
In the movie, taking the red pill means embracing reality. Taking a blue pill means blissful ignorance.
Yet the "red pill theory" has been adopted by men who argue that what women really want is dominance instead of equality, as this piece from The Telegraph explains. It is also the name of a misogynistic subreddit offering "discussion of sexual strategy in a culture increasingly lacking a positive identity for men."
A controversial documentary called "The Red Pill," set for release Tuesday, also explores the efforts of so-called men's rights activists (MRA).
A number of people, including journalists, asked if Bernier was courting men's rights activists with the meme, or if he was otherwise unaware about the connotations of the photo.
Bernier going full MRA https://t.co/FbllT3p82P

— Supriya Dwivedi (@supriyadwivedi) March 7, 2017
Are you aware that these online tropes are used by misogynist communities that terrorise women, @MaximeBernier? https://t.co/nvUB7CpUqH

— Jane Lytvynenko (@JaneLytv) March 7, 2017
@MaximeBernier @Dfildebrandt .@MaximeBernier Hoping you posted this in ignorance, unaware of other "red pill" connotations. Look it up and retract.

— Deborah McIntosh (@UpThePitt) March 7, 2017
Fellow leadership contenders Lisa Raitt and Erin O'Toole also called on Bernier to clarify.
Max - wth? Please tell me your team knows that this is more than a Matrix reference? https://t.co/VmvG2JPQC2

— Lisa Raitt (@lraitt) March 7, 2017
@MaximeBernier I think you should clarify this post. This could be taken the wrong way & I'm sure that was not the intent

— Erin O'Toole (@ErinOTooleMP) March 7, 2017
But Tory MP Michelle Rempel tweeted that she did not believe Bernier was trying to give a "wink wink" to those who oppose gender equality.
.@supriyadwivedi I know @MaximeBernier and I know he wouldn't give the wink wink to this https://t.co/Pm24IMqRxz

— Michelle Rempel (@MichelleRempel) March 7, 2017
2/ I'm sure he's just saying "disrupt the status quo of tax and spend liberalism". Right? https://t.co/Nl2LJDPhAI

— Michelle Rempel (@MichelleRempel) March 7, 2017
Bernier responded to Rempel that she had it right.
He did not delete his tweet, but later posted that it "obviously refers only to the Matrix movie and to nothing else."
My Matrix meme with @Dfildebrandt obviously refers only to the Matrix movie and to nothing else.

— Maxime Bernier 🇨🇦 (@MaximeBernier) March 7, 2017
Bernier also re-tweeted those who called the criticism silly or accused the "left" of targeting him unfairly.
I'm watching supposedly serious people accuse @MaximeBernier of misogyny for using a Matrix meme to promote his campaign. Beyond absurd.

— Andrew Lawton (@AndrewLawton) March 7, 2017
@MaximeBernier Keep having fun with your campaign and don't worry about leftist puritans, they find jokes "problematic"

— JSheehan (@TuesCheek) March 7, 2017
This is what @MaximeBernier means by red pill. It's why people back him! #cpcldr pic.twitter.com/6MHCQ60JPG

— Mercer Lawrenson (@MercerLawrenson) March 7, 2017
Are ppl srsly suggesting the probable frontrunner for #cpclde is making a coded appeal to the pro-rape crowd? How does that make any sense?

— Andrew Coyne (@acoyne) March 7, 2017
This was not the first time Bernier used a meme from "The Matrix." In February, he released a similar image on Facebook touching on his plans to freeze equalization payments.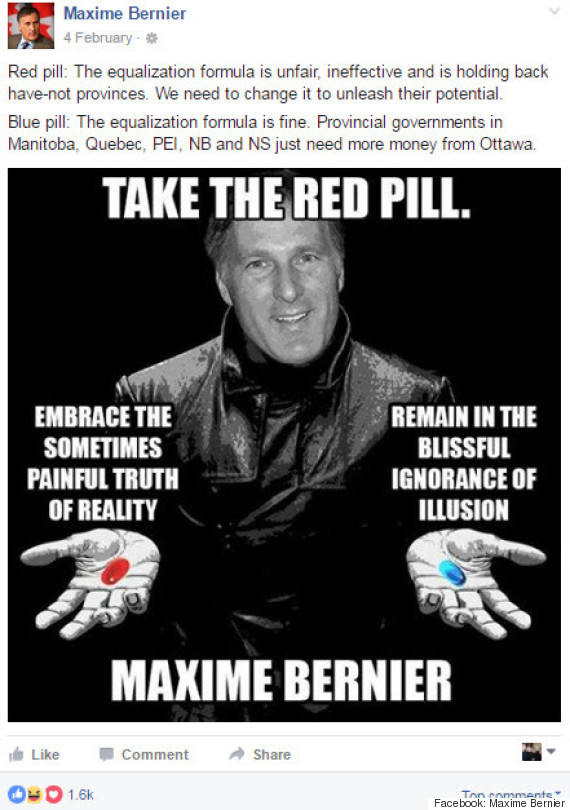 Tories will pick their next leader in May.