Kevin O'Leary's Exit A Boon For Maxime Bernier? Not So Fast, Tory Leadership Rivals Say
TORONTO — Kevin O'Leary's decision to withdraw from the Conservative leadership race creates a huge opportunity for his former rivals, those still in the contest said Wednesday, as they squared off in the party's final debate and took particular aim at Maxime Bernier, now the perceived front-runner.
"Today, the race just got real," candidate Erin O'Toole declared on stage. "Elvis has left the building."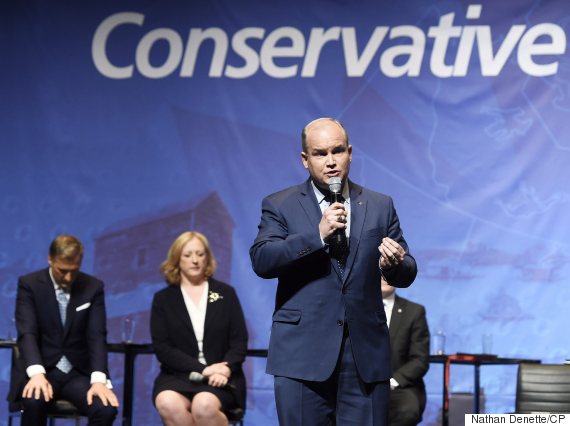 Erin O'Toole says the race "just got real." (Photo: Nathan Denette/The Canadian Press)
Less than two hours before the Toronto event was to start, the businessman and and television personality, accompanied by Bernier, held a news conference at the Fairmont Royal York to explain his decision to pull out of the contest and throw his support behind the Quebec MP.
"It would seem foolish, even selfish, to win the leadership knowing that I didn't have a clear path or high probability [of winning a majority government]," O'Leary said. He called Bernier the "candidate that best mirrors my policies."
Over the weekend, O'Leary adviser Mike Coates and Bernier adviser Kory Teneycke had a number of conversations. Their candidates spoke on the phone Monday, and on Tuesday, O'Leary flew from New York to Toronto for an 11 p.m. rendezvous with Bernier.
Bernier's camp said the meeting was held at a private residence. O'Leary's camp said the two met at the Royal York. Regardless, the two huddled until 1 a.m. when they notified the rest of their teams that they had come to an agreement on the messaging of the impending announcement.
O'Leary informed the Conservative party mid-afternoon Wednesday, after the news had already broken online.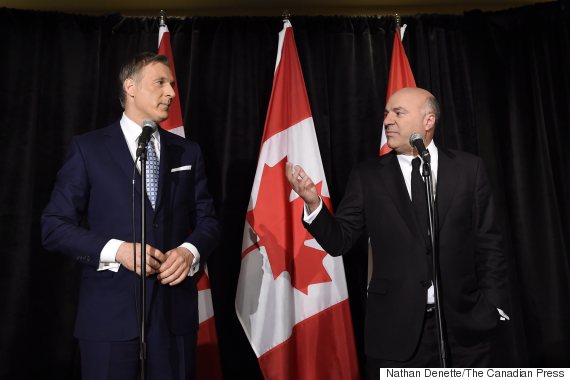 Conservative leadership candidate Maxime Bernier, left, looks on as Kevin O'Leary address a news conference in Toronto on Wednesday. (Photo: Nathan Denette/The Canadian Press)
Coates told HuffPost Canada that O'Leary's internal polling numbers showed he had the support of only 12 per cent in Quebec. O'Leary was convinced he could win the Tory leadership but he had started to worry that he couldn't win a general election.
Despite having a French tutor who travelled with him, O'Leary, a unilingual anglophone, had not yet grasped the language. Wednesday's debate was held in both official languages. But perhaps, Coates suggested, O'Leary's biggest learning curve was the political arena. "You don't really know what's it's going to be like," he said. "Now, he knows."
Despite both candidates' launching aggressive attacks against each other — each suggested the other was guilty of voter fraud by improperly paying for memberships — the two were all smiles Wednesday, saying their dispute had been "amicable."
O'Leary wanted to be a "disrupter" in the campaign and viewed Bernier the only candidate who would could also embody that role, Coates said.
&nbsp
Two blocks from the Royal York, at the St. Lawrence Centre for the Performing Arts, where Conservatives gathered for the debate, news of O'Leary's withdrawal was all the buzz.
London, Ont., resident Shelley Clair sat facing Bernier's promotional booth. An O'Leary supporter, she told HuffPost Canada she was disappointed he'd dropped out but now she was interested in learning more about Bernier because of the endorsement.
Warrington Ellacott, a new party member from Orangeville, Ont., thought O'Leary's exit presented an opportunity for the other candidates. He hoped to see O'Leary's pro-business message adopted by other candidates.
Both Andrew Saxton, a former North Vancouver MP and banker, and Vancouver venture capitalist Rick Peterson tried to assume O'Leary's business-focus mantle by trumpeting their private sector experience. Even O'Toole, a former veterans minister, said he could also go after members who were looking for an outsider with business experience.
"If they liked his private-sector, sort of hard-edged business guy, I worked on Bay Street in these towers here. I haven't been in politics for a decade-plus like some in this race," he said.
Story continues after slideshow:
Conservative Leadership Candidates
Federal Conservatives are looking for a full-time replacement for Stephen Harper. Here's who's running to become the next Tory leader.

First elected in 2006, Bernier served as minister of industry and minister of foreign affairs — a position he resigned in 2008 after leaving government documents at the home of an ex-girlfriend with ties to the Hells Angels. A high-profile MP from Quebec, he was reappointed to cabinet in 2011 in the junior role of minister of state for small business and tourism. He's already announced that he's going for it.

Dr. Kellie Leitch, a pediatric surgeon, outgoing minister of labour and minister for the status of women, reportedly has a team in place to mount a campaign. First elected in 2011, Leitch was easily re-elected in the Ontario riding of Simcoe-Grey. Though also considered a Red Tory, Leitch raised eyebrows during the campaign by declaring herself "pro-life" and announcing government plans to introduce a tip line for so-called "barbaric cultural practices."

Chong, who quit the Harper cabinet in 2006 on a matter of principle, is also running. The longtime Ontario MP has earned a reputation as a bit of a "rebel," thanks to his Reform Act and calls for conservatives to do more to fight climate change.

Deepak Obhrai, a former Reform MP from Alberta who was first elected in 1997, is the dean of the Conservative Party caucus. He formally jumped into the race in July 2016.

Andrew Scheer, a Saskatchewan MP who served as Speaker of the House of Commons from 2011 to 2015, joined the race in Sept. 2016. Scheer gave up his Opposition House leader role earlier that month to continue exploring a bid.

The social conservative from Saskatchewan jumped into the race in August 2016. Trost, first elected in 2004, is anti-abortion, anti-same-sex marriage, but is also very fiscally conservative.

The Ontario MP is a former air force captain. First elected in 2012, O'Toole has connections in Atlantic Canada and the GTA, and is seen as more of a fresh face.

The Quebec MP and former public safety minister is the man behind the C-51 anti-terrorism law.

First elected in 2008, Lisa Raitt was perhaps the most high-profile woman in Harper's inner circle. Her name was also floated as a possible contender for the Ontario Progressive Conservative leadership. Raitt served as minister of natural resources, minister of labour, and most recently as minister of transport. While several other Ontario cabinet ministers went down in defeat to Liberals, she was re-elected in the riding of Milton by more than 2,400 votes. Another Red Tory, she has been vocal about the Conservatives' struggle to appeal to women voters.

The former immigration minister and Ontario MP is also running. First elected in 2011, Alexander was defeated four years later. He faced questions over his handling of Canada's response to the Syrian refugee crisis. He also joined Leitch in that ill-fated campaign announcement of a tip line for "barbaric cultural practices."

Saxton was the MP North Vancouver for seven years before losing his seat in 2015. He also served as a parliamentary secretary to two finance ministers and the Treasury Board president.

The bilingual Vancouver businessman unsuccessfully ran for the leadership of the B.C. Conservative Party. He joined the race in Oct. 2016.

An Ontario MP from 2006-2015, Lemieux was defeated in the last election. He is a social conservative and veteran. He joined the race in Nov. 2016.

UP NEXT: Canadian Political Lookalikes

NEXT: U.S. Politicians and their lookalikes

From dentuso

From dentuso

From dentuso

From Lauster123

From dentuso

yosoyeldecider: Who could forget this classic separated-at-birth pair?

emerson7: Jon Stewart's observation
O'Leary's exit provides a new opportunity to court the 35,000 members his camp signed up. But a number of the Tories' 259,000 members also registered through the party's website and the opposing campaigns don't know where their loyalties lie or where their second, third and fourth ballot support will land.
The Conservatives are electing their new leader through a weighted-ranked ballot system that gives every riding the same influence regardless of how many members it has. Ballots started arriving in the mail this week. A new leader will be selected on May 27.
All the remaining candidates said on Wednesday that they had no plans to leave the contest.
"We don't know who is going to win. It's a wide open race," Saxton said. "Obviously, with Kevin gone, it stirs things up."
"His people are up for grabs," O'Toole noted. He said he is actively courting O'Leary supporters, hoping to land former Ontario Progressive Conservative premier Mike Harris' endorsement.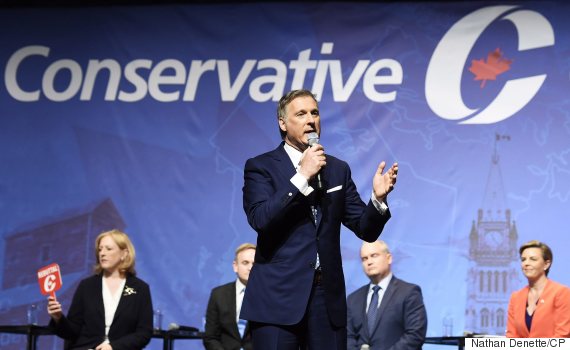 Maxime Bernier speaks during the Conservative leadership debate in Toronto on April 26, 2017. (Photo: Nathan Denette/The Canadian Press)
"This is fabulous for myself," Kellie Leitch declared after the debate. She said she was the only Conservative alternative to O'Leary. "He and Maxime Bernier share some ideas, whether that be legalized marijuana or otherwise."
While the final debate included the usual flashpoints over Leitch's call for screening immigrants and challenger Michael Chong's desire to adopt a carbon tax, Wednesday's face-off included several barbs directed at Bernier.
Former Commons speaker Andrew Scheer told the audience that the race was now between him and Bernier and that attention needed to be given to the MP's more radical position.
"Conservatives win when we take the very best of what we agree on, that we take the policies that we know enjoy the most support in mainstream Canada and we run on those types of things, and I'm worried that, with Maxime, it's more a personal ideology that he is advocating that doesn't enjoy broad-base support in the general public," he later told reporters.
"...I don't want to spend any more time in opposition than I have to," Scheer said.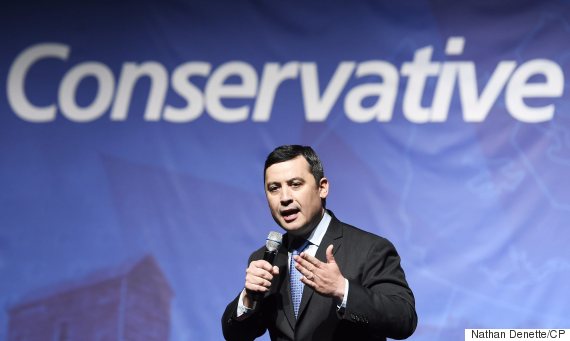 Michael Chong accused Maxime Bernier of having "extreme" positions. (Photo: Nathan Denette/The Canadian Press)
Bernier's position on ending supply management, for example, would mean billions of dollars spent buying back farmers' quotas — an expense that would be imposed on Canadians either as a consumption tax on milk, dairy and poultry products, or as a cost added to the national debt, Scheer said.
"So there is no immediate benefit to consumers and we have just sold out a huge section of our Conservative movement and rural Canada."
Bernier's support for free trade with China is also concerning, Scheer said, noting a particular impact on the Canadian manufacturing sector.
"There are some policies that he has advocated for that a lot of members, I don't know if they have been informed about the full breadth of the impact."
In a note to party members, Scheer referred to a Mainstreet Research poll that suggested he had 16.7 per cent of support, behind O'Leary's 26.3 per cent. Bernier was third with 14.2 per cent and O'Toole followed with 7.8 per cent.
Contenders court O'Leary supporters
"To Kevin O'Leary's supporters across the country, who are no doubt confused and disappointed, you are welcome in my campaign. I'm a genuine conservative who will bring a new optimistic tone to our party to defeat Trudeau," Scheer wrote.
Chong countered that, according to a Nanos survey, he was the most appealing leader to Canadian voters with O'Leary now out of the contest, and the only one who can win in 2019.
"Kevin O'Leary made the right decision by dropping out of the leadership race," Chong said. O'Leary couldn't speak French and couldn't win in Quebec, he said.
"Conservative party members also need to take a hard look at some the extreme policies that are being proposed by some of the other candidates.
"We have a candidate that is proposing to eliminate for the first time in 40 years the federal government's role in the delivery of public health care — Canadians' most cherished social program — and the most important priority for Canadians," Chong said, referring to Bernier.
Bernier's 'extreme' policies in spotlight
Some of Bernier's other "extreme" policies include proposing to pay for income taxes by cutting more than one-third of all federal program spending, Chong said. The deepest cuts, levied in the 1990s by former Liberal finance minister Paul Martin in an effort to bring Canada's finances in order, slashed program spending by only 10 per cent, Chong noted. Bernier's cuts would be three to four times higher, he said. "It would wreck our social and health care services."
On stage, Chong said Bernier could not win, arguing that such policies would hand the next election to the Liberal Party of Canada.
The Quebec candidate seemed content to sit back and let the 12 others on the stage compete for airtime. When challenged, Bernier spoke of his desire to champion ideas of freedom, small government and personal responsibility. He defended his healthcare plan by saying reforms are needed since Canada has the worst wait times in the OECD countries.
He also noted that it was "a little bit bizarre" that Tory candidates were all jumping to defend supply management, a system that was brought in by former Liberal prime minister Pierre Eliott Trudeau.
&nbsp
In an email to members, Bernier said he had the best team, had raised the most money and sold the most memberships. He boasted that he could win in 40 seats in Quebec and claimed the broadest support across Canada.
Bernier wasn't the only Conservative smiling ear to ear Wednesday.
Several party members breathed sighs of relief with O'Leary out of the race.
"I'm just pleased because I know Mr. O'Leary was very much against pro-life issues. So, for myself, I'm happy about it. That's all I can say," Denis Gracias, a Roman Catholic visual artist, told HuffPost.
Toronto resident Elizabeth Carswell, a Chris Alexander supporter, had only two words to mark O'Leary's parting: "Thank you."
With files from Zi-Ann Lum