Vancouver Micro-Suite Advertised For $1,700/Month After Former Tenants Kicked Out
Sky-high rents in Vancouver are nothing new, but $1,700 a month for a 400 sq.-ft micro-suite seemed one step too far for many on social media.
Georgia Straight reporter Travis Lupick grabbed
this screenshot
last week of an ad for a bachelor apartment at 609 Heatley Avenue in the city's Strathcona neighbourhood. The listing later
disappeared from Craigslist.
$1,700 /month for a 400sqft microunit that isn't even anywhere near downtown. Serisouly Vancouver we're so f*cked. (ht @Lidsville) #vanre pic.twitter.com/8x6BYLTPie

— travis lupick (@tlupick) April 26, 2017
While some on Twitter pointed out that the property actually isn't very far from downtown Vancouver, the listing still became a source of ridicule and anger.
@tlupick @Lidsville Architects also promise icey Strathcona street hockey w. $1700 400sf microsuites. Cynical red coat woman unimpressedhttps://t.co/kE5H8BNfbG pic.twitter.com/mcmNaw3HXO

— Pete Fry (@PtFry) April 26, 2017
@Lidsville Ugh this is everything that is wrong with Vancouver :(

— Jessica Rosemary (@jesso_brien) April 25, 2017
And to two former tenants, it means one less place for working-class people to live.
Erin Templeton was kicked out of 609 Heatley in 2014 when it and the building next door, 619, were sold. At that point, it was a drab, grey building where she paid $975 a month for a 1,000 sq.-ft. apartment.
The 42-year-old was given several months notice to vacate, she told HuffPost Canada, but in order to get her first and last months' rent, she was told she had to stay until the very end. As a self-employed shop owner, that wasn't an option.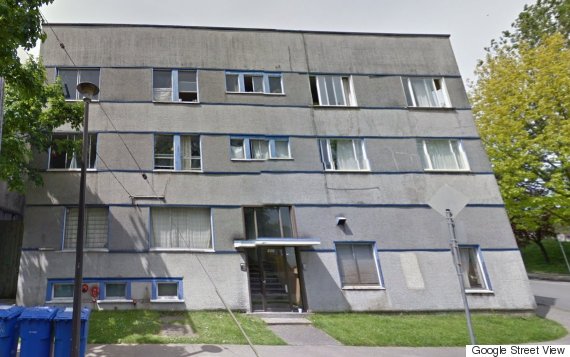 609 Heatley Avenue as it looked in 2012.
"We weren't faulting the landlord for selling," she told HuffPost, saying he had mobility problems.
After they were sold, the two buildings were redeveloped and turned into "The Acadia."
Both Templeton and another former tenant, artist Brian Boulton, say they mourn the sense of community that the historical, "funky" building had created.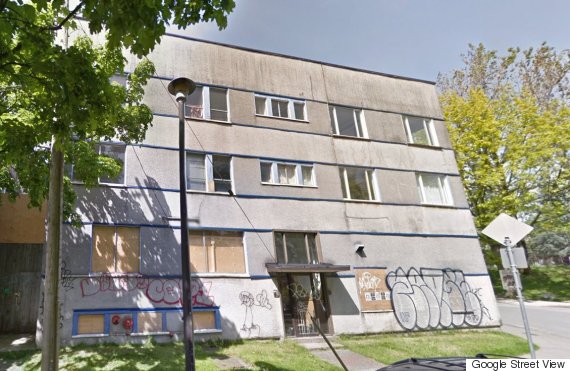 The same structure in 2015, after it was sold but before it was redeveloped.
"It was a good place to ground yourself. I can't see that now, paying $1,700 a month for half the space that I used to have," Boulton, 61, told HuffPost.
And both of them have struggled to afford their rental homes since they were renovicted, with Boulton eventually giving up. Now he lives in a vintage Airstream trailer on a farm in the Fraser Valley.
"It's been so stressful to have to move so many times in the last few years after living in one spot for 14 years," Boulton said. "I am one of the people who has basically been forced out by high rents."
"The province and the city has abandoned the working class and this is ridiculous."
— Erin Templeton
The M1 Group is marketing "The Acadia," which may still be under construction.
The only online images are virtual, and the suite advertised on Craigslist wasn't available until August.
Micro-lofts, one-bedroom and two-bedroom apartments are available for rent, according to the website.
The building is across the street from a school, has a gym, bike storage and a rooftop patio, according to the Craigslist listing. Suites also apparently have ensuite laundry. But there is no visible parking.
The M1 Group also touts the neighbourhood's uniqueness and the creative people who inhabit it.
But Templeton said she doesn't think that 609 Heatley's new owners are looking for people like her.
One Twitter user pointed out the irony of the advertising.
@Lidsville It really takes the biscuit that they boast of "a great community" after evicting a bunch of people!

— Jessica Rosemary (@jesso_brien) April 25, 2017
The M1 Group did not respond to multiple requests for comment.
"I understand with the way that Vancouver is going, why someone saw it as an opportunity," said Templeton.
"But I also feel like the province and the city has abandoned the working class and this is ridiculous."
What Toronto's Average House Price Will Buy You Around The World
Located on a lush, narrow street that looks like a Caribbean jungle, this four-bedroom, three-bath house in ritzy Coconut Grove proves the average Toronto homeowner could live like a monarch in south Florida. The listing asks US$1.2 million (C$1.61 million).

This seven-bedroom, seven-bath behemoth is located in Naperville, the U.S. Midwest's richest municipality, about a 40-minute drive from downtown Chicago. For Toronto money, you can live like a Chicago one-percenter. The listing asks US$1.15 million (C$1.54 million).

This five-bedroom, four-bath house in Provence comes with a separate caretaker's home that includes three apartments, as well as a separate warehouse. But forget all that, look at the view. The listing asks 1.1 million euro (C$1.56 million).

This terraced house, as it's known in England, is located on an elegant street in the lively and ethnically diverse Brixton area of south London. Want to be north of the Thames? It'll cost ya. But this place is within walking distance of two tube stations, so at 950,000 pounds (C$1.57 million), it's nothing short of a London bargain.

This house is located in one of Asia's top vacation destinations, has views of lush rolling hills and the ocean, and offers nearly 3,800 sq. ft. of living space. Not a bad trade-in for a retired Torontonian. The listing asks 45 million Thai baht (C$1.74 million).

OK, so there are still places in the world where housing is more expensive than Toronto. Central Paris is one of them, and here the average Toronto house price will get you a one-bedroom apartment. Granted, this place is in a completely renovated 18th-century building next to the Place de Furstenberg. The listing asks one million euro (C$1.42 million).

Manhattan is another place that is still more expensive than Toronto (though the same cannot be said for New York as a whole anymore), but here the average Toronto house price will at least get you into a really good location. This apartment on Central Park South is steps from Columbus Circle and is walking distance to Times Square. The listing asks US$1.25 million (C$1.67 million).

The world's least affordable housing market will not get you much for your Toronto dollars. For the equivalent of around C$1.5 million, you can get apartment in the 350 sq. ft. to 500 sq. ft. range. So yes, things could be worse than they are in Toronto. Let's just hope Toronto's housing bubble never reaches Hong Kong proportions.
CORRECTION: A previous version of this story stated that the apartment listing appeared on Kijiji, when it actually appeared on Craigslist. This version has been corrected.