2017 Met Gala: The 10 Best Beauty Looks From The Red Carpet
The 2017 Met Gala proved to be a major success on Monday evening, and not just in the fashion department.
Of course, the avant garde frocks were the highlight of the evening, which celebrated 74-year-old Comme des Garçons designer Rei Kawakubo, and New York City's Metropolitan Museum of Art's latest exhibition, "Rei Kawakubo/Comme des Garçons: Art of the In-Between." But we must say, with stars like Lupita Nyong'o rocking watercolour eyeshadow and Gigi Hadid flaunting the messiest of buns, the night also saw an array of stunning beauty looks.
From structured pixie cuts to severe winged eyeliner, we're still obsessing over the bold looks donned by our favourite stars at the Metropolitan Museum of Art.
1. Lily Collins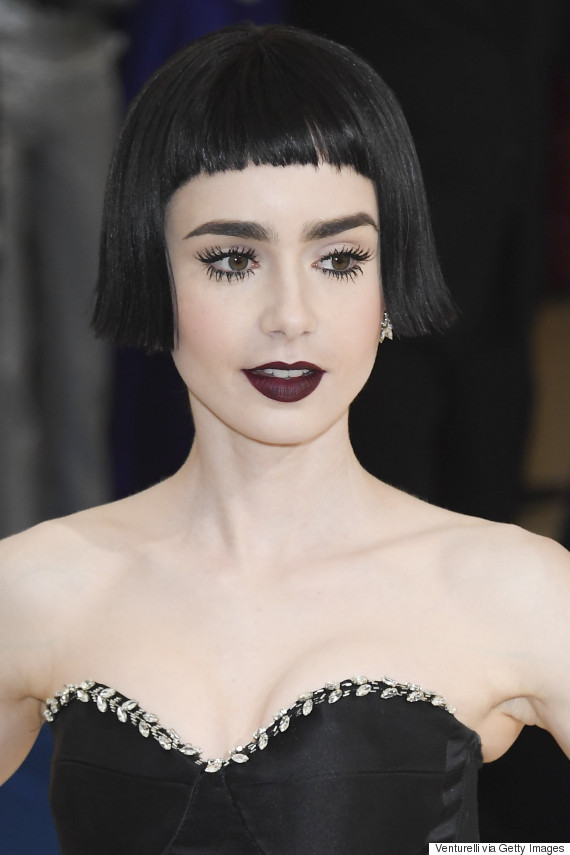 We said it once and we'll say it again: if there's anyone who nailed the theme with her beauty look, it was Lily Collins. We mean, c'mon! The actress paid homage to the woman of the night with a tight blunt banged blob. She paired Kawakubo's iconic haircut with a dark burgundy lip and fluttering black lashes. And no Lily beauty look would be complete without her signature full brows.

2. Lily-Rose Depp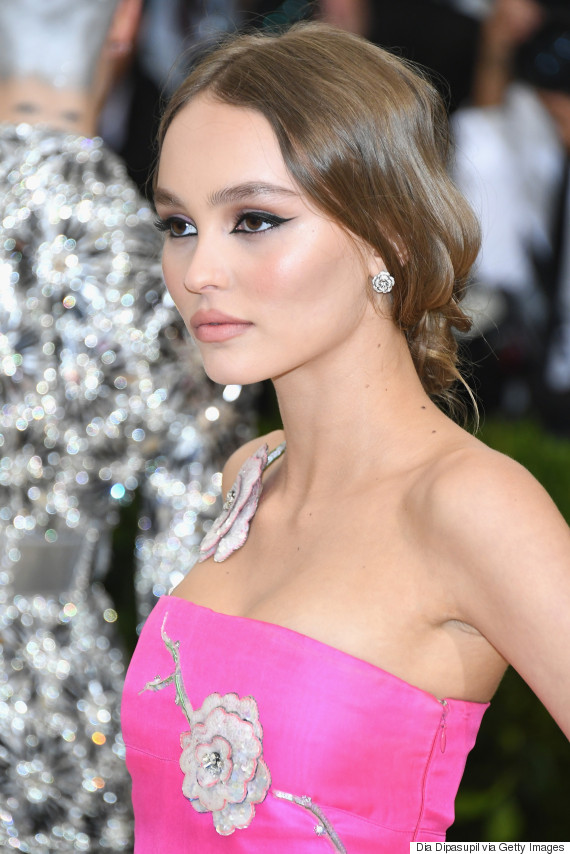 Creating the cat-eye of our dreams with the help of Chanel makeup artist Kate Lee, Lily-Rose Depp let her eyes do the talking on the Met Gala red carpet. Alongside her jet-black liner, which dragged into the corners of the eye and extended outwards, the young Hollywood It girl flaunted a major highlighted and blushed cheek with the help of an elegant chignon hairstyle. Keeping her skin dewy and brows naturally shaped, the 17-year-old constructed the ultimate rosy tint lip by lining her pout.

3. Zendaya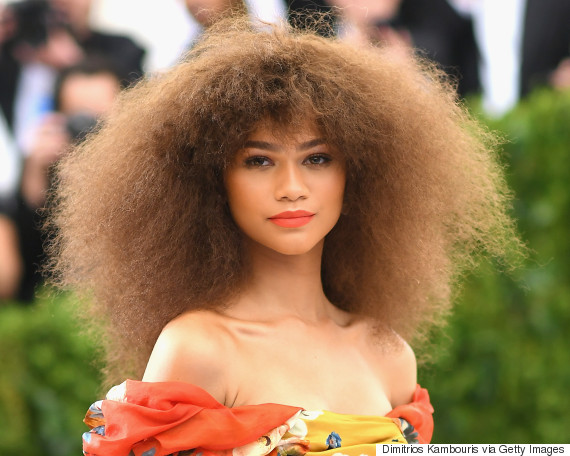 Best hair of the evening? Zendaya. The pop star let her free-flowing, undefined afro steal the show. Her gorgeous natural tresses were paired with a summery tangerine lip and bold brows all by CoverGirl. Cheers to Zendaya for bringing her natural beauty to the red carpet!

4. Gigi Hadid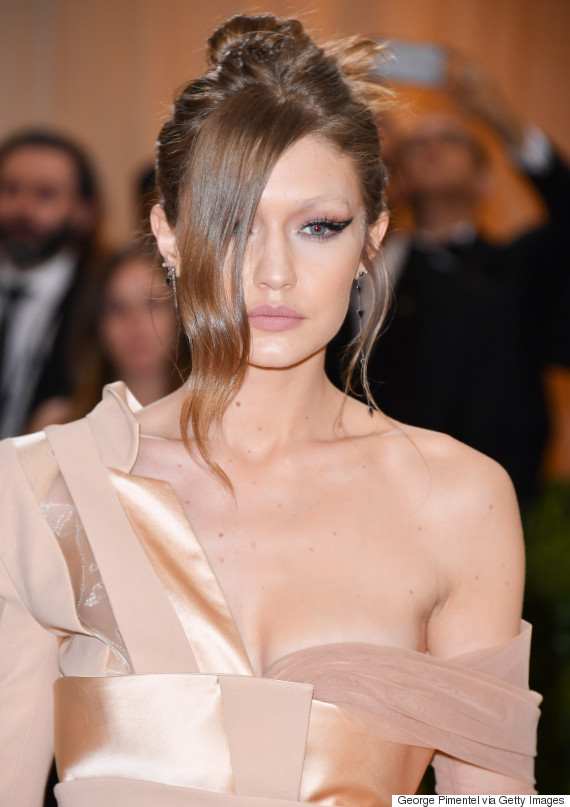 Supermodel Gigi Hadid's beauty look not only consisted of luscious, moisturized skin, but a bold and fierce winged eyeliner by Maybelline to match the volume of her gown. Getting dramatic, Hadid rocked faux bleached brows and a flesh toned lip. Ditching her signature blond locks for brunette tresses, Gigi's perfectly constructed avant garde hair was made up of a disheveled bun and long bangs that covered her right eye for a hint of mystery.

5. Lupita Nyong'o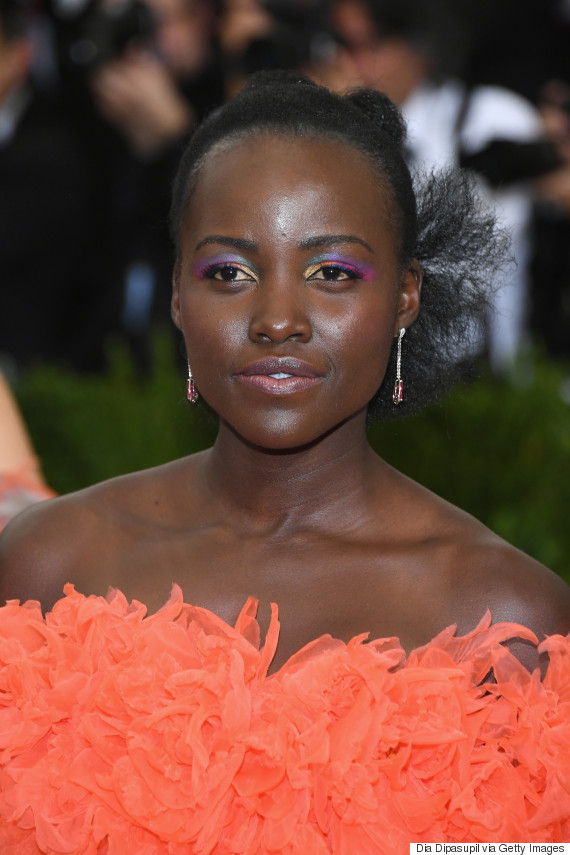 Keeping her skin dewy, Lupita allowed her eyes to take centre stage for her beauty look. Showing off the boldest colours of the season on her eyelids, the actress flaunted strokes of purple, magenta and yellow that paired beautifully with her peach, strapless Prada gown.

6. Cara Delevingne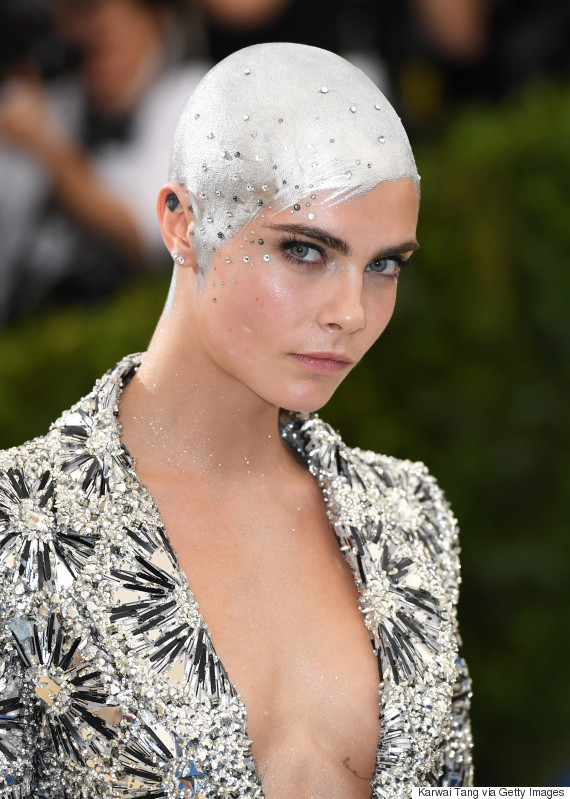 Silver surfer! Recently, Cara revealed she had shaved her head for a film role and she debuted her new 'do in the coolest way ever. Matching her her silver organza jacket and trousers by Chanel exquisitely, the model-turned-actress sported a scalp coated with silvery paint and sequins. The details here are amazing — we mean, check out that short bang! And no Delevingne look would be complete without her iconic brows.

7. Hailee Steinfeld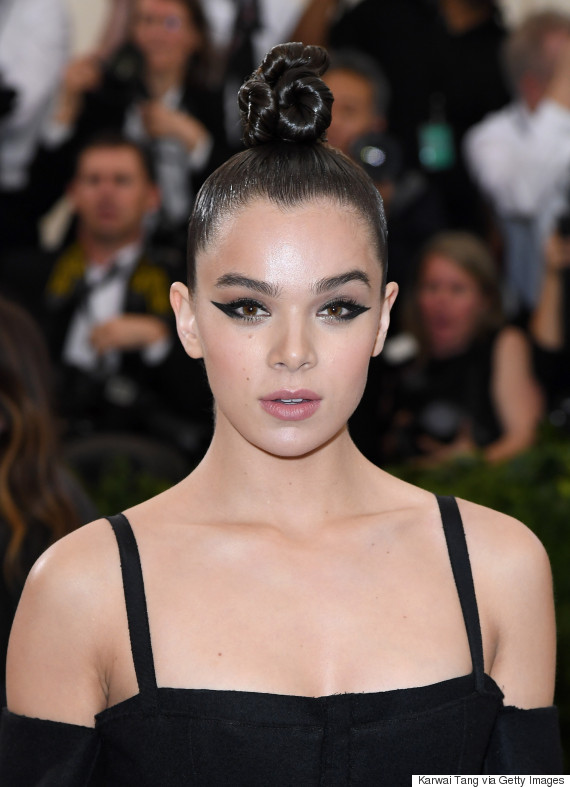 Now that is one extreme top knot. Running in the right direction with the evening's theme, Steinfeld's braided bun paired beautifully with her seriously exaggerated eyeliner and feathered brows.

8. Kendall Jenner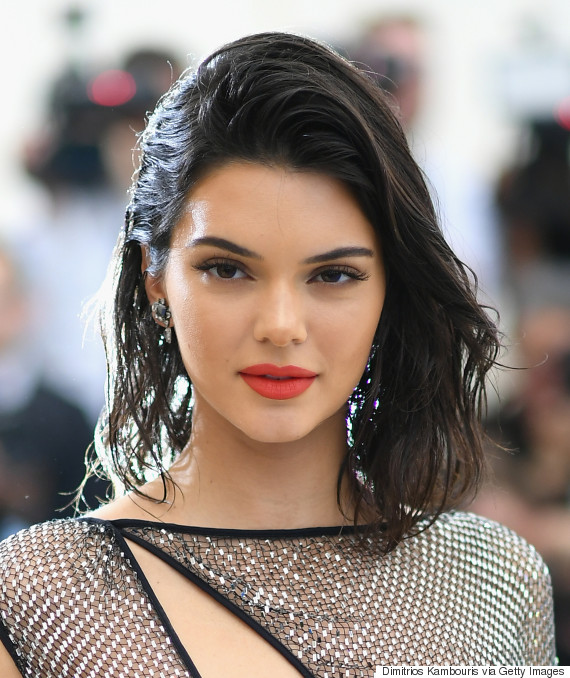 Sure, Kendal's beauty look is a simple one, but her perfectly unkempt wet locks are too good not to honour. But it's that perfect red lip that really landed Kenny among our best of beauty list.

9. Rita Ora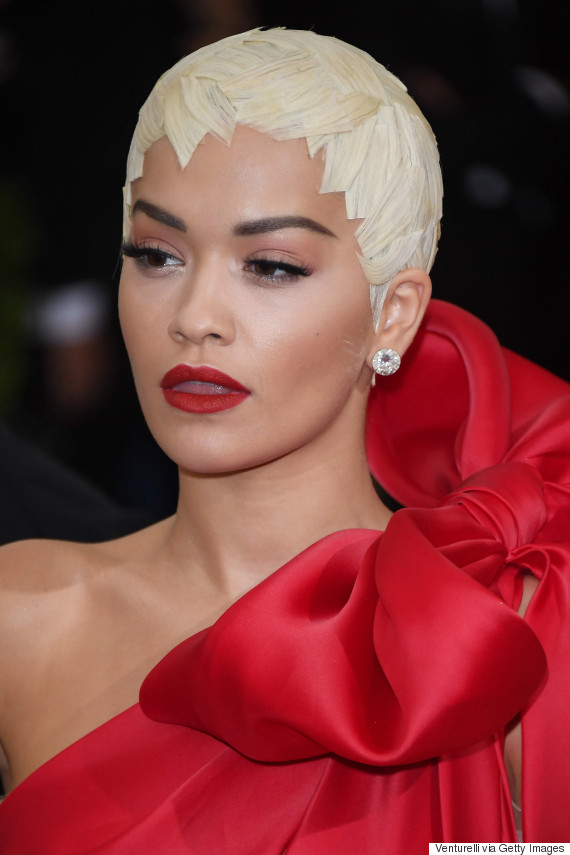 We're going to say the most underrated beauty look of the night belonged to Rita Ora. The construction of her anime-like blond pixie cut is breathtaking. According to her makeup artist Kathy Jeung, Rita's hair was an "elaborate geometric basket weave crown." She paired the intricate 'do with simple lashes and a bold red lip. SO. GOOD.

10. Rihanna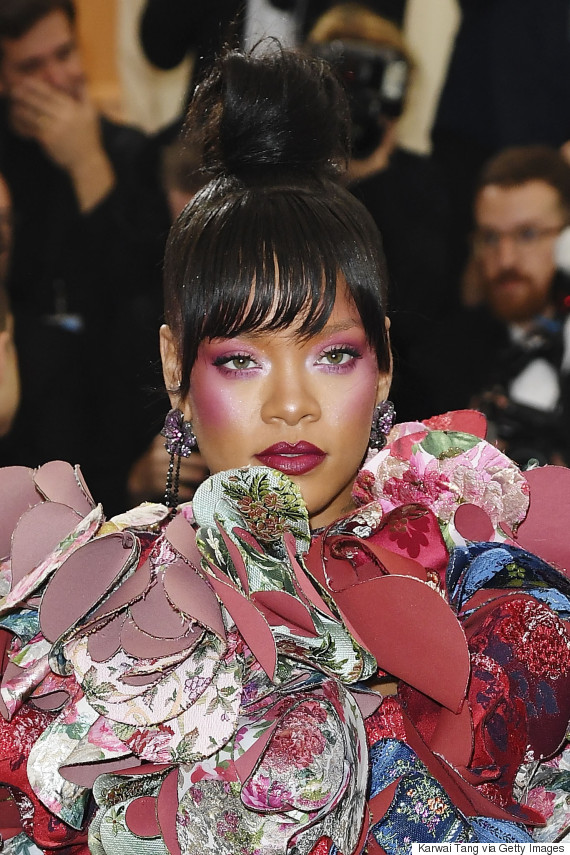 We mean, do we need to even explain to you how amazing of a beauty look this is?! From the sky-high top knot to the side swept, feathered bangs, all the way to the from-eyelid-to-cheek magenta shadow combo, Rihanna's beauty look was the most dramatic of the night and we were all for it.
For for the best and wackiest dressed celebs on the 2017 Met Gala red carpet, check out the slideshow below:
2017 Met Gala: The Best and Wackiest Dressed Stars
If you look up 'iconic' in the dictionary, you'll probably find the face of Robyn Fenty, a.k.a. fashion goddess, a.k.a. Rihanna. Making the world proud with her take on the evening's theme, the pop star wore a dress piece of art by the evening's honoree, Comme des Garcons designer Rei Kawakubo. From the gown's petals of fabric to the red gladiator heels and topped off with bright pink eyeshadow and a high-rise top knot (a beauty look inspired by Kawakubo's spring 1997 runway show, the Hollywood Reporter notes) Bad Gal Riri proved, once again, that she is the belle of the Met Gala ball.

Making her Met Gala debut after years in the spotlight, Celine showed everyone what they were missing all these years. Owning it in custom Versace, the legendary Canadian songstress wore a origami-inspired headpiece and dazzled in silver t-shirt (not something many can do). And can we talk about that thigh-high slit? So chic! Shoutout to her stylist Law Roach for putting this look together!

Although she is ready for the battlefield that is the Met Gala red carpet, Madonna looks out of place in this army print Moschino gown with matching leather gloves. For real, are those backpack straps we see? Did she really drink out of an army water bottle on the carpet? Yes and yes. We don't think camo has much to do with the styling of Rei Kawakubo. So this look is a no for us. However, we do love the blond locks. And for that we say, solider on, Madge.

Kim K. recently told Ellen that she didn't know if she could "ever wear real jewelry again," and it looks like she's sticking to her word with her minimal Met Gala look. Trading in her usual over-the-top glitz for a simple, strapless gown by Vivienne Westwood, we're digging Kim's new fashion chapter. She even keeps her beauty look underrated with sleek locks, a highlighted eye and a tropical tan.

Sure, JLo looks stunning, almost angelic, in this loose, elegant caftan sky blue gown by Valentino. And that long, high ponytail just takes our breath away. But did Jenny follow the avant-garde theme of the evening? No. For that, she's on our fence.

Making us add fishnet stockings to our summer must-have fashion list, Gigi took the 2017 Met Gala by storm. We mean, look at that fierceness! With nude tulle dragging behind her, the supermodel made her mark on the night with a asymmetrical, one-shoulder Tommy Hilfiger dress. But the real star of Gigi's ensemble? That leg pop. Oh, and maybe that long, single side bang.

Although Halle's 2002 Elie Saab Oscar's dress will go down as her most iconic fashion moment of all time, this 2017 Met Ball look could be her close second. Flaunting it in a beaded Atelier Versace jumpsuit with all the right sheer details, Halle takes her fashion game to a whole new level. With the garment's metallic gold appliqués falling beautiful into a train, we should all just agree that the actress slayed it in her (long overdue) Met Gala debut.

Ah, Kendall Jenner. Another celeb who may have not got the memo on the night's theme. Although her lingerie-inspired frock fits her beautifully and we applaud her daringness to wear a shoulder to pelvic bone cut-out, we just can't get on board with the look. We mean, where's the avant garde in this? We will however raise our glass to her perfect red lip. Because it's good. Cheers, Kenny.

Looking like Van Gogh's legendary "The Starry Night" painting, Emily Ratajkowski is truly a work of art in this skin-tight March Jacobs . But although this sequins has us mesmerized, the theme of the night is nowhere to be found in this number. Sorry, Em.

A 2017 red carpet wouldn't be completely without a touch of millennial pink, and Zoe Kravitz beautifully blessed us with that. Rocking a edgy blond pixie cut, the actress looked stunning in a strapless gown with an off-the-shoulder train. Just call this pink perfection.

What do you get when you mix the model of the moment with the brand of the evening? One of the best looks of the night. "Size sexy" model, Ashley Graham, stunned in this Comme des Garçons gown designed by Rei Kawakubo. The dress, which celebrates shapes, is equipped with floral and corset details that allow the dress to fit perfectly. And we must say, red might be Ashley's colour.

So the soft pink silk chiffon slip dress with its delicate lace and embroider details by Coach may be a bit too tame for the evening, but the bareness with that magenta eyeshadow was the real hot point of the ensemble. Plus, we're giving Selena some extra point for that oh-so-chic frontal slit.

Kylie loves herself a sheer, glittering number. But was this beautiful gown by Atelier Versace (side note: Donatella Versace was Kylie's date for the evening) the right choice for the evening? No. The shock value would have been higher if Kylie showed up in something we've never seen her in before. But will will say her skin is flawless and her hair is oh-so-shiny. Now excuse us as we forever ponder about King Kylie's skincare routine ...

That's detective Chopra to you! Not many people could rock an oversized trench on the red carpet, but dang, Priyanka can. Pushing up her sleeve, showing off a little leg and popping that collar, the "Quantico" star was all business on the red carpet. To top off the strong and powerful ensemble, the actress added a fierce brown lip and sky-high top knot to her beauty look.

The twinning queens of boho chic have graced us with their presence this fine evening, yet we can't help but to think "Coachella was last month" when we see their outfits. Lace? Fur? Embroidery? We'll take a pass in respect to the theme.

Rita Ora is the gift (wrapped in a lovely oversized satin red bow) we needed this evening. The British pop star brought her daring side to the Met in this laced up Marchesa with its cascading nude silk tulle skirt, and we thank her for going OTT. Her sculpted, anime-like blond pixie cut is perfection alongside dazzling Lorraine Schwartz diamond studs.

When we first saw Nicki Minaj's 2017 Met Gala gown, we couldn't believe our eyes. Was that really H&M? Yup, it was. The dress gave the ultimate nod to Rei Kawakubo with it's obi belt, featuring the face of the Comme des Garçons' designer. The hip-hop queen looked regal with the fiery red ensemble's satin kimono top and dramatic train.

You may be thinking, "What? Best dressed?" Sure, this look will forever haunt our dreams, but model Grace Hartzel did her homework and nailed the evening's theme with this through back Comme des Garcons 1997 look.

Katy Perry sure served up a wacky look, but boy, was it a good one. It was daring and followed the theme and for that, we're giving Katy our best-dressed blessing. Pushing her fashion limits to the brim, the Met Gala's co-chair did Anna Wintour proud with her Maison Margiela "Artisanal" which featured layers and layers of red tulle and chiffon. But it's the veil paired with that headpiece which had fashion lovers yelling "YASSSS!" into the abyss.

One word: boring. After slamming the Met Gala once upon a time and vowing to never come back, Paltrow indeed return wearing a dress we've kind of seen her in before (Sorry, Gwyn. But both your 1996 and 2012 selves are calling and they wants their Oscars dresses back).

Now, THIS is how you do a theme! Lily Collins paid homage to the woman of the night, wearing a Rei Kawakubo-esque wig. The square bob and chopped bags were the magic touch alongside this punk-princess Giambattista Valli gown.

Is that cat woman? Nope, it's just Bella Hadid rocking one mighty fine (and revealing) Alexander Wang jumpsuit. Put this look in the win column.

Pairing a bright pick, mesh mask with an elegant white, off-the-shoulder Ralph Lauren Collection dress and red Balenciaga thigh high boots might sound like a fashion disaster, but model Lily Aldridge does the look justice and pulls off this combo beautifully.

If there's one person who absolutely got it right with the theme this evening, it's Helen Lasichanh. Yes, girl.

Tracee owns this look. And owned the theme. We highly approve.

Co-host Gisele Bundchen in Stella McCartney doesn't looks so avant-garde, leading us to conclude that this look lacks what should have been celebrated this evening.

Dakota Johnson has proved she's a Vogue cover girl, now she's proving that she's one her way to becoming a red carpet icon. We love this black detailed Gucci number.

Too much. That is all.

Lets just say this look is out of this world. And that hair is taking us to a whole new galaxy.

Zendaya shines bright and looks fly (get it? birds?) in this Dolce & Gabbana number, but what we love even more is that she rocks her natural hair on the carpet.