Which Of The Great Lakes Suits Your Travel Personality?
The Great Lakes are pretty impressive before you even start to break down each one individually. The five lakes -- Ontario, Huron, Erie, Michigan and Superior -- make up the largest body of fresh water in the world and account for one-fifth of the world's fresh surface water.
The lakes are spread across eight U.S. states, including Michigan, Wisconsin, Minnesota, Illinois, Indiana, Ohio, Pennsylvania and New York and the province of Ontario in Canada. Each lake and their surrounding towns and cities offer something interesting to see or do depending on the type of getaway you're looking for. Whether you want to spend your time wandering small towns, hitting the beach, exploring a big city, or enjoying the water through water sports or activities, Cheapflights.ca will help you find the right Great Lake for you.
Lake Ontario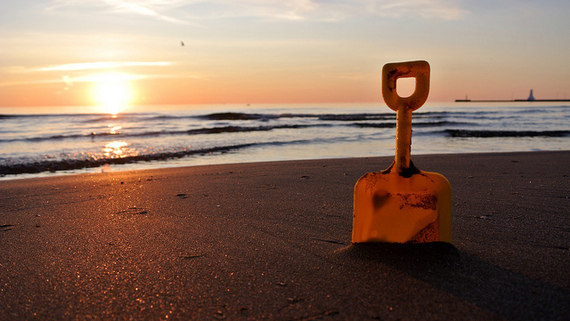 Image: RichardBH, Sunrise over Lake Ontario via Flickr CC BY 2.0
The smallest of the Great Lakes, Ontario has the potential to appeal to a range of travellers. For starters, much of Lake Ontario's tourism is focused on Niagara Falls and, if you've never experienced the impressive waterfall, it's well worth adding to your travel bucket list. Niagara Falls may not be the tallest in the world, but the sheer force and volume at which it plummets into the Niagara River is awe-inspiring. Once you've crossed the Falls off your list, spend some time on a city break in the lakeside city of Toronto. Known as one of the most multicultural cities in the world, Toronto is a hotbed for arts and culture and an impressive food scene that's enticing more and more celebrity chefs to set up shop.
If a slower pace is what you're after, there are many opportunities around the lake to spend some time in smaller towns or chill out on a beach. One of the best beaches in Canada can be found at Sandbanks Provincial Park in Prince Edward County. Book a campsite here and sleep under the stars, or rest your head at one of the many bed and breakfasts in the region.
Lake Erie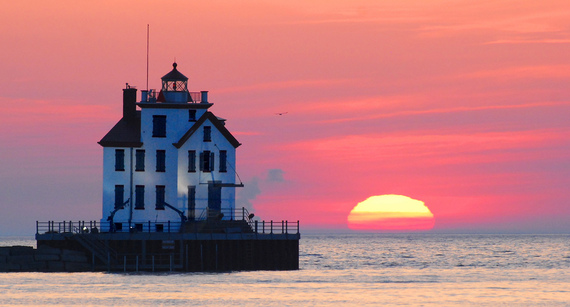 Image: Rona Proudfoot, Lorain lighthouse via Flickr CC BY-SA 2.0
There's plenty to discover on the shores of Lake Erie, the shallowest and therefore warmest of the Great Lakes. Whether you're looking for an island escape, some small town rest and relaxation, or the faster pace of a city, you can find it on or near the shores of Lake Erie, which are dotted with many picturesque lighthouses in towns like Lorain and Marblehead. For nature lovers and active travellers looking to head away from the mainland, Pelee Island, Ontario boasts a Waterfront Trail loop taking hikers 28 kilometres around the island, putting you in close proximity to beaches, sand dunes and forests.
In the U.S. you've got Kelleys Island and the Bass Islands to choose from, both of which offer natural attractions in the form of state parks and beaches, as well as the chance to get away from it all.
Anyone looking for a city experience on Lake Erie can make a visit to Cleveland, Ohio. While the city may not have the cache of Chicago or Boston, Cleveland has more going for it lately than a lot of people might realize. Some highlights to add to your list include the Rock and Roll Hall of Fame, the recently renovated and expanded Cleveland Museum of Art, the Cleveland West Side Market, the beachfront Edgewater Park and the neighbourhoods of Little Italy, Tremont and Ohio City.
Lake Michigan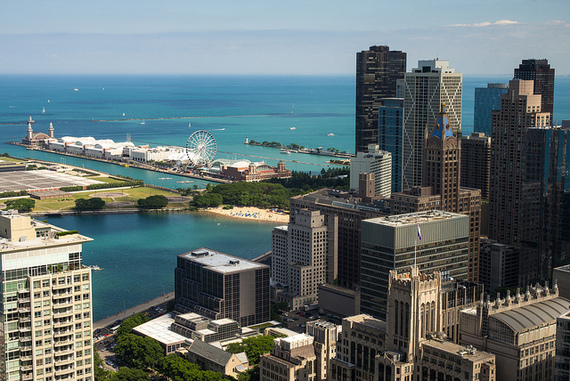 Image: Roman Boed, Chicago via Flickr CC BY 2.0
Lake Michigan is the third largest of the Great Lakes and the only one located entirely in the United States, and it offers both beachside and city stays. Beach-hoppers will want to focus their time on Michigan's beach towns, from which there are several to choose, including St. Joseph, South Haven, Saugatuck-Douglas and Grand Haven. Any beer, wine and cider lovers exploring Michigan's beach towns should check out the Beachtown Craft Beverage Trail to experience the area's craft booze and spirits.
For a foodie, art, culture and entertainment fix, make your way to Chicago. Between Millennium Park, Navy Pier, the Art Institute of Chicago, world-class shopping and dining, Chicago is made for curious urban adventurers. Milwaukee is another good option if you're looking for a little more action. The city's downtown area is home to 17 museums (including the world's only Harley-Davidson Museum), 25 theatres and 150 restaurants. You'll also find over 200 kilometers of biking trails here, as well as more than 150 state and county parks.
Lake Huron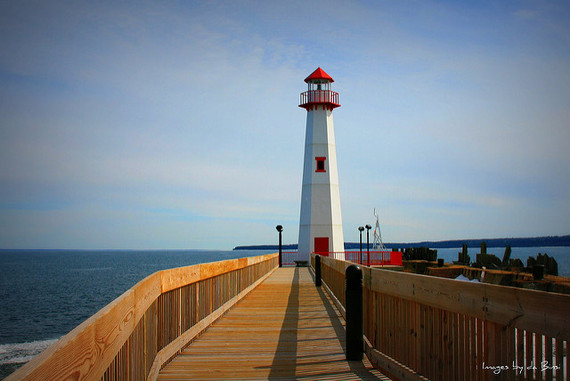 Image: daBinsi, Feels like heaven in here, Lake Huron via Flickr CC BY 2.0
Lake Huron is known to have some of the cleanest water of the any of the Great Lakes and boasts the longest shoreline as well. On the Ontario side, beaches and provincial parks abound. There are no big cities on the shores of Lake Huron, so your vacation here will be more laid back and back-to-nature. Beach-hoppers will want to set up shop on one or more of the following stretches of sand: Singing Sands Beach, Oliphant Beach, Port Elgin Beach and Sauble Beach.
Lake Huron is also known for containing the largest freshwater island in the world, the beautiful Manitoulin Island. Escape here to hike, bike, swim, golf and check out the many charming art galleries and art studios on the island. In terms of accommodation, you have your pick of hotels, beachfront apartment rentals, resorts and campsites.
Lake Superior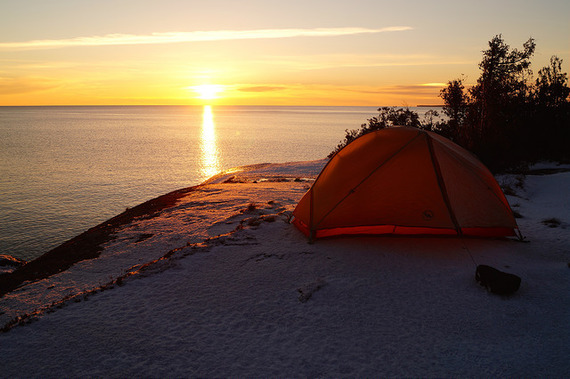 Image: The Cut, Lake Superior Provincial Park - Ontario via Flickr CC BY 2.0
Lake Superior is, by surface area, the largest lake in the world and, amazingly, contains 10 per cent of all of the Earth's fresh surface water. Make your way to Thunder Bay, Ontario to Sleeping Giants Provincial Park where you'll find over 80 kilometres of scenic hiking trails, biking trails and beaches where you can rent a canoe to get out on the water.
On the U.S. side, Minnesota's Voyageurs National Park also has a lot to offer active and nature-seeking travellers. In addition to camping and hiking, visitors can enjoy guided boat tours and canoe trips, as well as the chance to check out other park attractions including Ellsworth Rock Gardens, Kettle Falls, Grassy Bay and Anderson Bay.
If pitching a tent isn't your speed, you can still enjoy the amazing nature and wildlife from the comfort of a lakeside resort. Accessible from nearby Duluth on the U.S. side of Lake Superior, Grand Superior Lodge and Surfside on Superior are two good options for places to rest your head in style.
Follow HuffPost Canada Blogs on Facebook
ALSO ON HUFFPOST:
27 Reasons The Great Lakes Are The Greatest
That's an obvious one. Lake Michigan beach, north of New Buffalo.

Honestly.

Predawn color over granites and white pine at mouth of Chikanishing Creek in Georgian Bay, Killarney Provincial Park, Ontario.

An iris at Isle Royale, an island in Lake Superior that's also a national park. Those 32,000 islands also include Manitoulin in Lake Huron, the largest freshwater island in the world, which has more than 100 lakes of its own, which have their own islands, which have ponds. Mind-blowing.

The Pictured Rocks National Lakeshore on Lake Superior, Michigan. AP Photo/Bob Brodbeck.

The Sleeping Bear Dunes National Lakeshore at Lake Michigan.

The Great Lakes touch Canada, Illinois, Indiana, Michigan, Minnesota, New York, Ohio, Pennsylvania and Wisconsin. Combined, the length of all five shorelines is about 44 percent of the Earth's circumference. They hold one-fifth of the Earth's available fresh surface water, and enough to cover all of the United States in more than 9.5 feet of water. By surface area, Lake Superior is the largest freshwater lake in the world. Who needs the ocean?

Lake Superior Provincial Park, Wawa, Ontario.

A winter sunset at Tiny Beach, Georgian Bay, Ontario.

GIF by Dave Gorum.

St. Joseph, Michigan.

They also have a huge economic impact: more than 1.5 million U.S. jobs have a direct connection to the lakes, according to a 2011 report. The lakes also provide drinking water for 40 million people. The Cason J. Callaway closes out the 2012 shipping season at the Soo Locks in Sault Ste. Marie, Mich.

Juan Piantino wind surfs along Montrose Beach October 19, 2011 in Chicago. Photo by Scott Olson/Getty Images.

Lake Superior, Ontario.

A view displaying the Northern Lights affected by the solar tsunami over Lake Superior on Aug. 4, 2010 in Marquette, Michigan, captured by photographer Shawn Malone, 46, just before midnight. Malone spent just over an hour and half each night observing the enhanced natural phenomenon and used exposures lasting 20 minutes. Photo by Shawn Malone / lakesuperiorphoto.com / Barcroft USA / Getty Images.

The Great Lakes Triangle, the Midwest version of the Bermuda Triangle.

Wreck of the Sweepstakes, a ship built in 1867, in Big Tub Harbour, Fathom Five National Marine Park, Tobermory, Ontario. There are at least 6,000 shipwrecks in the Great Lakes.

The Georgian Bay shoreline at Halfway Log Dump in Bruce Peninsula National Park, Ontario, Canada.

Lake Michigan lakeshore.

Grand Hotel, Mackinac Island.

Lake Ontario.

The Chicago lakefront.

Fishtown, Leland, Michigan.

Moose on Isle Royale.

Mackenzie Point, Ontario.

Huron, Ontario, Michigan, Erie and Superior. How to remember them? They spell out HOMES, and always feel like home.
Follow Cheapflights.ca on Twitter: www.twitter.com/Cheapflights