This Is Such A Good Idea, Period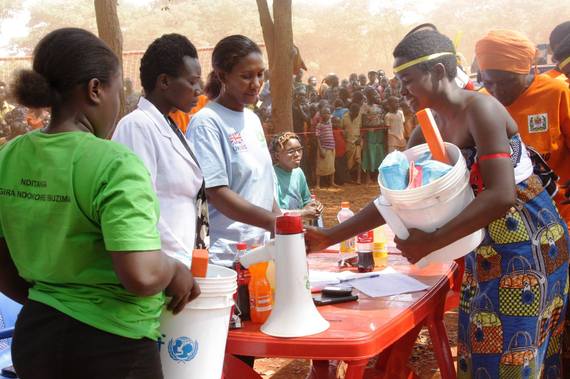 Health product distribution on World Menstruation Day in a refugee camp, Tanzania.

Written by Ann Witteveen, Humanitarian Manager, Oxfam Canada.
I grew up in the 70s when commercials for 'feminine hygiene products' were a rarity and even when shown were often so cryptic it was hard to make the link -- soft music and sepia toned images meant to whisper quietly into the ears of female consumers without offending the sensibilities of their male counterparts. In those days every teenaged girl knew that that the quickest way to get her dad, the math teacher or her coach off her back was to say anything at all about her period. Times have changed and there is now no missing the point behind a TV ad or (more likely) you-tube video featuring a gymnast in white shorts flogging tampons for a multi-national company.
In this case the forthright attitude of a group of female refugees from South Sudan, living in Rhino Refugee Settlement near Arua, Uganda was totally in tune with their sisters in the developed world. They were performing a short skit to demonstrate the importance of having a way to manage their monthly periods by making reusable pads. Their performance came complete with acrobatic moves and a storyline that showed how important such a practical article of everyday life is for women and adolescent girls here, just as it is everywhere. And that managing menstruation in a refugee camp may not be listed on a UN assessment report as a humanitarian need but, in many ways, it is just that.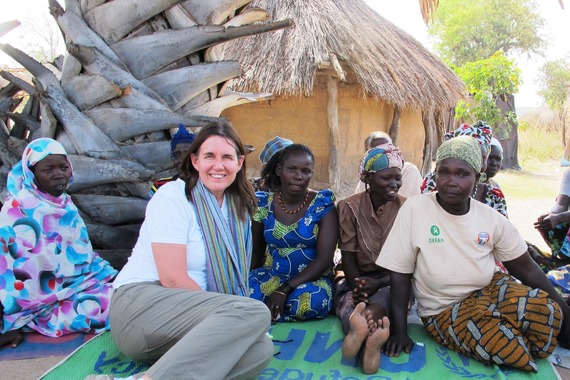 Ann Witteveen, Oxfam Humanitarian Manager, with women forum members in Uganda.
In fact, a new how-to manual for aid workers lays out the issues and practical steps that all must take to ensure women's sexual and reproductive health and rights, including menstrual health that is a precursor to preventing and mitigating gender based violence. Included in these guidelines (in the "Water and Sanitation Section") is a specific requirement to ensure dignified access to hygiene-related materials.
Similar to our South Sudan refugees, the authors don't want any confusion and so the instruction to "distribute suitable material for the absorption and disposal of menstrual blood for women and girls of reproductive age" leaves nothing to the imagination. Julie LaFreniere, who works for Oxfam Canada and was one of the authors of the book is unapologetic for the blunt-speak -- "we didn't want any confusion" she notes, "Women need these items and not just once a year! Their sustained availability should be secure and provisions should include bins for disposal."
The reusable pads described above meet the requirements of the guidelines but they are not an Oxfam invention. They are a copy of a product made by Afripads -- a social business in Uganda that specializes in the local manufacture of similar cost-effective, reusable items.
These are still too expensive for refugees so a homemade version was developed. The design is simple, a rectangular piece of cloth sewed into a "u" with a piece of towel inserted into the open end. Tabs on each side and a button underneath secure the pad to panties. The whole thing can be easily washed and dried. Oxfam with its local partners, Community Empowerment for Rural Development (CEFORD) and Agency for Corporation and Research in Development (ACORD) provided the materials and design and the women make them, selling extras at the local market.
I was in Uganda to visit an Oxfam project that has funding from Global Affairs Canada. Oxfam is providing water and sanitation in the camp but also assisting women to form groups to discuss issues and support each other. They call themselves "Roko Ta Nusuwan" roughly translated as "Voice of Women" in Arabic. They meet every two weeks or so, under the leadership of a trained facilitator (also a resident of the camp).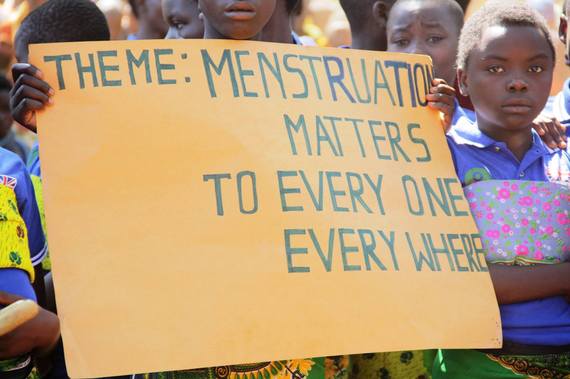 The topics discussed are up to them and have included domestic violence, problems accessing food aid, their own trauma due to the conflict in South Sudan, and so on. For Oxfam and our local partners it is a window from which to judge how we're doing, it gives us a chance to check in and make sure the services we offer are meeting every refugee's needs, not just those who wield the most power.
Refugee stories are finally grabbing some headlines around the world -- with pictures of Syrian families especially and their often tragic journeys to Europe filling our TV screens. The reality is that most refugees will never make it to a new country and many will spend years living in a camp like this one, along a border in some far flung country that most Canadians couldn't place on a map. The scale of these crises (UNHCR estimates that 59.5 million people were forcibly displaced at the end of 2014 compared to 51.2 million a year earlier and 37.5 million a decade ago) can overwhelm but what we must never lose sight of is the human faces and lives they represent. And when we get the chance let's also celebrate the resilience, dignity and optimism these and other women manage to maintain, in often appalling circumstances, on a day by day, problem by problem basis.
On June 20th, World Refugee Day, Oxfam Canada and Humanitarian Coalition partners will be in Toronto's Nathan Phillips Square calling attention to the plight of refugees and displaced people around the world. Join to #helpthemdreamagain.
Follow HuffPost Canada Blogs on Facebook
ALSO ON HUFFPOST:
11 Questions Women Have About Their Periods
According to Dr. Suzanne Wong of the Department of Obstetrics and Gynecology at St. Joseph's Health Centre in Toronto, and associate professor at the University of Toronto Department of Medicine, there a several reasons as to why you can get an extremely heavy period. "Periods can be heavy in women with a diagnosis of uterine fibroids or polyps or a thickened uterus called Adenomyosis," Wong tells The Huffington Post Canada. Heavy bleeding has also been associated with a genetic bleeding condition called "von willebrand's disease" in adolescence. Both scenarios should be examined by your doctor. Perimenopausal hormone shifts can also cause heavy bleeding in women between the ages of 41 and 51. Wong notes that periods during perimenopause may also be irregular before they cease all together.

Unlike extremely heavy periods, which can signal other health issues, light periods aren't as much of a concern. "The normal amount of bleeding is variable and ranges from light to heavy depending on the woman," Wong explains. As long as your periods are regularly occurring (every 23 to 35 days) there should be no concern. "If the amount of flow changes to become lighter it may represent a slight hormonal shift that is probably of no significance," Wong says.

If pregnancy is not a possibility, a late period can usually be explained by a hormonal change. Factors like changes in weight, emotional stress, eating disorders, high performance athletics or having polycystic ovarian disease can cause women to have a delayed or missed period. "If you miss one period, this means that you did not ovulate that month and there should be no concern if they return to a normal pattern," Wong notes. If you aren't already keeping track of your period, Wong recommends getting a calendar or an app to do so. That way, if your periods are late (occurring at intervals greater than 35 days) persistently over six months, you'll know and be able to show your doctor.

Just like late periods, early periods usually have a hormonal cause including stress, polycystic ovarian disease or thyroid hormone abnormality, says Wong. And abnormal spotting or bleeding can also be mistaken for an earlier period — if you are concerned, check with your doctor.

Brown coloured blood is common during the final days of your period. According to Wong, this is a result of the blood that has been settled in the uterus being expelled.

"Missing a solitary period is likely from a temporary hormonal imbalance, usually caused by stress," says Wong. But birth control methods like the pill, patch, ring and IUD can also cause very light or non-existent bleeding. If your periods become regular again after a missed period, then there should be no cause for alarm. However, if you regularly miss periods or have an irregular bleeding pattern, you could be experiencing hormonal issues caused by stress, abnormal thyroid levels, or polycystic disease. As a reminder, if your period is irregular you should consult your doctor.

Periods can last anywhere between two and seven days, but anything more than this is considered a prolonged period. "If you have periods lasting more than seven days on a regular basis, you should contact your doctor," says Wong. Prolonged periods are often associated with heavy periods, and can lead to iron deficiency anemia that will affect your overall health.

According to Wong, this is actually a normal side effect of starting a new birth control pill, especially on that is low dose and is referred to as "break through bleeding." If this is happening in the middle of the cycle, then it is likely hormonal and of no concern. But if it persists more than three months, Wong recommends seeing a doctor to adjust your medication and rule out other causes such as uterine/cervical polyps, and infection. It is also advised to get an updated pap smear and cervical cancer screening in this scenario.

Spotting can be a side effect of being on a birth control pill, or using a copper IUD, Wong explains. Spotting can be due to infections (STDs) and, or more concern, a sign of cervical cancer. Harmless causes of vaginal spotting between periods can also include polyps on the cervix or a condition called "cervical ectropion," which are sensitive cells that protrude on the exposed surface of the cervix and are prone to infection and abrasions, Wong explains. Your doctor should be able to detect both of these conditions during a pap smear.

"Clotting can be a sign that your periods are very heavy," says Wong. (Check out the heavy periods section for more information).

During your period, the lining of your uterus produces a natural chemical called prostaglandins, Wong says. Prostaglandins causes small contractions of the uterus to help shed the lining during your period which can cause cramping. It also affects the intestines and can increase movement of the bowel, which results in more frequent bowel movements and sometimes, diarrhea.
Follow Oxfam Canada on Twitter: www.twitter.com/oxfamcanada