Destinations That Let You Get Up Close And Personal With Sharks
The week of July 14 is designated National Shark Awareness Week. For over 400 million years, preceding dinosaurs by some 200 million years, sharks have ruled the oceans. Despite its enduring evolutionary run however, sharks are facing an immense threat from humans due to our widespread destructive activities that are threatening our oceans. In honour of Shark Awareness Week, SEEtheWILD has put together a list of top shark programs where visitors can get up close and personal with these misunderstood creatures.
Thanks to Hollywood, sharks are one of the most feared creatures on earth. Unprovoked shark attacks are however extremely rare -- you are 30 times more likely to die from a lightening strike than from a shark attack. Humans are responsible for killing nearly 100 million sharks every year, or an average of 11,000 sharks per hour. Organizations around the world are working tirelessly to educate the public and protect these amazing creatures that are an integral and critical part of a healthy ocean ecosystem.
SEEtheWILD is the world's leading wildlife conservation travel website. Partnering with the leading adventure travel and ecotourism organizations including Earthwatch Institute, Natural Habitat Adventures, and Global Vision International, the site offers more than 60 trips to over 15 countries around the world. Here is a list of SEEtheWILD's suggested shark conservation projects:
Join Dr. Demian Chapman, a prominent shark conservationist, on a volunteer expedition to the South Water Caye marine reserve off the shores of Belize. Learn how to track sharks, catch them to study their diets, film them using underwater cameras, and study their recovery in the newly protected waters. Lend a helping hand in the research all while enjoying the beautiful Caribbean waters and reefs of the Belizean coast.


Credit: Earthwatch Institute
Swim with Whale Sharks in Mexico
Located 10 miles off the coast of Cancun, the "island of women" is the perfect place to dive into the water and be surrounded by wildlife and stunning coral sculptures. The Whale Shark Biosphere Reserve protects 145,988 acres of surface area and below of water swimming with the largest living fish, the gentle whale shark. Snorkel around the island and get up close with these giant and gentle spotted fish. Although they share the name, whale sharks do not have rows of sharp teeth like other sharks.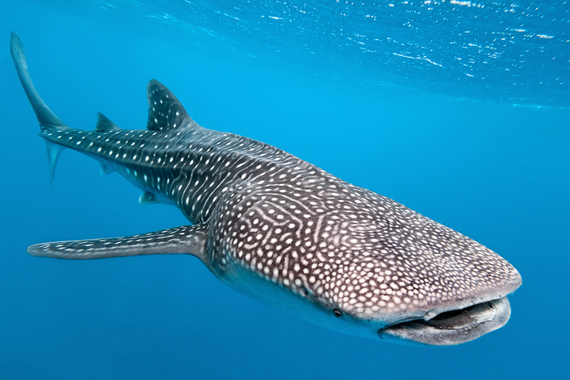 Credit: Deposit Photos/Criso
Cocos Island Shark & Sea Turtle Research Trip in Costa Rica
Cocos Island National Park, located off the coast of Costa Rica, is internationally revered for its diverse and rare marine life and was named the best place to dive with sharks by CNN. This World Heritage site is home to many species that are under threat due to illegal fishing practices which you can help counter. Dive into the waters with renowned conservationists and come face to face with different species of sea turtles, several species of sharks, and be swarmed by great schools of fish. Your efforts will directly impact the conservation project and help protect the diverse yet delicate underwater ecosystem.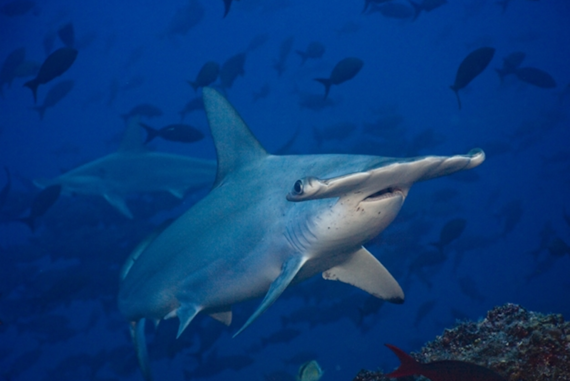 Credit: George Duffield/Turtle Island Restoration Network
SEEtheWILD is the world's largest wildlife conservation travel website with more than 10,000 visitors per month and a social media network of more than 60,000 travelers. Since 2012, SEEtheWILD has partnered with ten of the world's leading adventure travel and ecotourism organizations including Earthwatch Institute, Natural Habitat Adventures, Wildland Adventures, and Global Vision International offering more than 60 trips to over 15 countries around the world. For more information about SEEtheWILD's projects, visit www.SEEtheWILD.org.
Follow HuffPost Canada Blogs on Facebook
MORE ON HUFFPOST:
National Aquarium, Baltimore, Maryland

Ocean turtle and shark in Vienna "Haus des Meeres"

Shark Action - Beware Taken in Nassau Bahamas with Olympus C7070 digital camera with inon strobes Check more photos www.colorsofoceans.org

Sharks in the clear water off the coast of Ambergris Caye, Belize.Ambergris Caye is the largest island of Belize located northeast of the country in the Caribbean Sea. (Image Credit: Bernt Rostad) Inquire is an award-winning magazine of inquisitive journalism & intelligent photography. Download a free copy of our award-winning edition for iPad & iPad Mini here: http://tinyurl.com/98rxnh5

Shark of Rangiroa Frenche Polynesia.
Follow Aaron Winston Smith on Twitter: www.twitter.com/@awrsmith