How Learning the Art of Mixology Got Me a Free Trip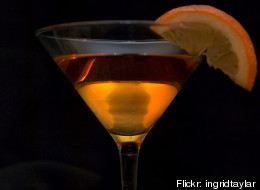 I should've had this in the bag from the beginning. A media mixology competition with rum as the primary spirit of choice. In sports lingo, that's a slam dunk, the shortest of field-goal kicks, the easiest of easy putts. You see, I spend many summer afternoons in Toronto on a rooftop with a bottle of rum, some ice and a chaser of ginger beer, along with a laptop computer and a cellphone: the office essentials for any active travel journalist.
Mixing rum drinks -- to my taste -- is an activity I'm so well practised at, I can (and have) done it blind (during an end-of-the-night drinking contest in the Caribbean once... details need not be revealed).
So, when I was asked to participate in a mixology competition at the SpiritHouse in Toronto's King West neighbourhood recently, I didn't hesitate. The winner snagged a trip to Trinidad & Tobago. My confidence at that point belonged on the top shelf.
Then reality set in.
First it was a pro-am competition, meaning the media contestants would be paired with one of the three professional bartenders vying to represent Canada at the 2013 Angostura Aromatic Bitters Global Cocktail Challenge. Much of any advantage I had went down the hatch right there, I thought. With an able mixologist tutoring each of us, winning the media competition came down to who could best follow the contest rules and the instructions of his bartending partner.
Besides, I wasn't competing against librarians and teetotaling accountants. These were fellow journalists and clearly had the looks of gentlemen expert in the art of raising a tumbler glass. My victory was in jeopardy, so I turned to Dave Delaney. He's the reigning world champion of the Angostura competition and was one of the judges for the contest. If anyone knew what it took to win a mixology challenge, it was him. Delaney is the bartender at Citizen Public House in Boston and has spent much of this year representing Angostura at competitions around the world.
"The key is balance," Delaney said, offering advice that sounded like something Yoda would say to Luke Skywalker. "Everyone has different palates. There can be nerves in a situation like this but I always treat the judges the same as I treat a customer. If you have a drink that's not too sweet, not too strong, then you have a chance to appeal to most tastes."
Balance can be elusive. Not convinced I had what it took to use Delaney's wisdom to full advantage, I turned to another reliable source for advice: Twitter.
Of the three professional finalists, Shaun Layton was the one I was familiar with. Vacay.ca has even called him the best mixologist in the country and his drinks are a reason why L'Abattoir in Vancouver is often cited as one of the nation's stellar places for a night out, including placing No. 7 in the 2012 Vacay.ca Top 50 Restaurants in Canada Guide. I tweeted a direct message to Layton asking if he could team up.
The pairings were already determined, though. Layton and Oliver Stern of the Toronto Temperance Society would be collaborating with my challengers while Tarquin Melnyk of The Manor Bistro in Edmonton was saddled with helping me.
"First thing to decide: Do you want to make something shaken or stirred?" Tarquin asked.
A flash of disaster came into my head. I imagined all kinds of things that could go wrong with the first option: a metal canister flinging out of my hand and into the head of the photographer in front of me, or worse, behind me and into a bottle of Hennessy, sending pricey cognac dripping down the SpiritHouse shelf; or a shoulder socket being thrown out as I tried foolishly to do a Tom Cruise Cocktail impersonation as I shook the cocktail like a maraca; or ice crackling out of the glass because of my clumsiness and landing in front of Delaney and the other judges like a broken dream.
"Stirred," I told Tarquin adamantly, no James Bond cool in my answer at all.
Any doubts I may have had about Tarquin then disappeared faster than a bottle of Jose Cuervo during a Cancun happy hour. Tarquin came equipped with a special simple syrup he brought with him from Alberta that included lemongrass and ginger, a favourite flavour of any rum drinker.
BLOG CONTINUES AFTER SLIDESHOW
Zagat Mixology Survey 2012
With all the care that is being put into beverage programs these days, it's no surprise that drink prices are continually creeping up. Fifteen dollars seems to be the cutoff between 'worth it' and 'way too expensive.' Fifty-four percent of cocktail connoisseurs say that that's the most they will pay for some liquid relief. Even so, it's no surprise that prices break that mark, as 20% say they will spend up to $20. Ouch - that gets two drinks with tax and tips perilously close to the $50 mark. Also see: Mixology Week: 8 Cocktail Trends You Need To Know About Right Now

The days of a dollar per drink are over, according to our survey. Fifty-nine percent of respondents say that they leave a tip that's a percentage of the total bill, and only 31% say they leave a flat amount per beverage. When going out for cocktail, the average tip is 18.9%, which comes out to $1.96 per tab. Good to see that people are taking care of their bartenders. Also see: The 10 Most Annoying Cocktail Trends

There's a new James Bond flick coming out in a few weeks, and it turns out the spy's famous "shaken, not stirred" is on point. A massive 70% of respondents prefer their alcoholic beverages to be shaken - which does not jive with all of the swizzle sticks being employed at high-end cocktail bars around the country. Though Bond had it right when it came to the cocktail shaker, the majority of drinkers might want to add a piece of ice or two to that martini. Sixty-eighty percent of drinkers prefer their beverages to be served on the rocks. Also see: Secret Restaurants: Your Guide to "Hidden" Eateries in 8 Cities

Even though everyone may be channeling Draper and Co. in their choice of spirit, no one is getting three sheets to the wind at lunch anymore. Only 8% of respondents say that they enjoy cocktails at lunch (and a truly hard-core 2% of voters say that they will have a drink or two with breakfast). Folks in the Midwest are still holding onto the tradition though, as an above-average 12% of voters in the region say that they enjoy a midday drink during the week. On the weekend, brunch beverages are popular across the nation, with 27% of folks saying they break out the mimosas and Bloody Marys with their eggs Benedict. The truism about 5 PM seems to be true though, with 77% saying that they will get their drink on after work. Very classy, people - but if you want to start at 4:30 PM we're not gonna judge. Also see: Burger Survey: Vote For Your Favorite Toppings

We already pointed out that men are boozing more than women, but the gender divide is flipped during brunch. While 33% of females drink during brunch, only 22% of males do - maybe they are too busy recovering from the night before. The survey was evenly split between males and females, and there was also a divide in the top-spirit category. Women like clear drinks, and men like brown ones. On the brown front, 46% of males said that whiskey is their favorite spirit compared to 22% of females. When it comes to vodka though, 36% of women say that's their beverage of choice, compared with 17% of dudes. One thing that both sexes can agree on? Gin - 16% of men and women ranked it as their favorite spirit, making it the third most popular overall. Oh, and no one like absinthe - it was the least popular spirit by far with only 1% of the vote. Also see: Zagat Stat: Texting at the Table: Love it Or Hate It?

While plenty of watering holes make their own specialty cocktails, classics are still very popular. It was a three-way battle for the most popular libation, with the martini and the Manhattan tying for first place with 12% each. In a close third place was the old fashioned, with 11% of the vote, and the gin and tonic and margarita were number four and number five, respectively. The gender divide was also on display here. Eighteen percent of males said the Manhattan was their favorite, with only 7% of females saying that's their go-to drink. Women prefer the margarita (11% to 5%) and the mojito (10% to 5%) more than the gents we surveyed. Also see: Destination Delis: 8 Sandwich-Slingers Worth Traveling For

It turns out that Cosmos are so early 'aughts. The drink that got a whole new generation of folks drinking cocktails has fallen off the radar completely, with only 3% of voters saying it's their favorite drink. People are looking for something new, with 34% of voters saying that it's very important that a diverse drinks menu is offered when they go out. And if the drinks are good, people are willing to wait. Though we regularly hear people complain about how long it takes to mix up a tasty cocktail these days, 44% of our surveyors say that they are willing to wait a full six to eight minutes for their drink to come up when they order it at a bar. A smaller subsection is even more patient than that, with 18% saying that they can wait more than eight minutes for their tipple. Other things that really make a difference are fresh ingredients (80% of folks say that this is very important) and ice (66% say that the proper amount is essential). People care less about glassware though, with only 46% saying that it's very important. Even though that is the last on the list, we're thinking that the best cocktail bars will still keep the red Solo cups in the closet. Also see: Dream Meals: Chefs (And Readers!) Share Their Culinary Fantasies

Even though we had 10 minutes to mix two glasses, Tarquin felt keeping things simple was the key to victory. I was going to make an Old-Fashioned, substituting rum in place of bourbon. Each drink would contain six dashes of Angostura bitters, one half-ounce pour of the tangy simple syrup, two full ounces of Angostura rum and a garnish of orange peel. That orange peel wasn't just plopped in either. It was curled and squeezed, spraying the drink with citrus oil, then swirled around the glass and finally dunked into the liquid. The orange scent would tempt the nose before the drink met the judge's lips.
Tarquin had two other tricks for me. One was the use of an ice globe, rather than cubes or crushed ice. Ice globes are kept wrapped in aluminum foil and are the size of a snowball. They cool the glass faster than cubes and melt slower, keeping water from upsetting the balance of that first crucial sip. Tarquin's final brainstorm was the use of 17-year-old Angostura rum rather than the seven-year-old variety that was readily available. This was no easy find, since we weren't allowed to open a fresh bottle, but Tarquin managed to grab one while I was prepping the glasses with the ice globes and dashes of bitters.
My drink won and I was off to Trinidad in February for Carnival. I will be joined by Oliver Stern, who beat Tarquin and Shaun Layton to win the pro competition and the $5,000 prize. Stern will compete against 15 other bartenders for a chance to follow Delaney as the Angostura world champ.
"Never in my wildest dreams would I think something like this was possible when I got into bartending 10 years ago," Delaney said. "Cocktails have become such a big part of what bars and restaurants do. It's pretty mind-blowing being a part of something like this."
Follow Adrian Brijbassi on Twitter: www.twitter.com/AdrianBrijbassi