Why Yoga Is Better Outdoors
The weather is getting warmer, so last weekend I decided to take advantage of it by starting a yoga session with my fellow yogi friends in a setting that was different to the one that we've been used to -- the beach. It was a nice day to go out and seeing how close we all lived to the beach, it would have been silly not to take advantage of Mother Nature and get a dose of vitamin Sea.
And so I packed my family up for an outing at the beach and a family yoga session. Despite the threats of rain all day, the skies cleared up and we were left with sunny blue skies and breezy wind blowing at our faces. Bliss!
As a group, we practiced a short 45-minute Vinyasa yoga flow. Practicing outdoors made us feel more connected to our body and mind. Inhaling salty air, with sand on our feet and hands connected us to the earth. The sound of the waves in our ears and the rays of the sun over our eyes made us more present than a confined space with four walls can. Never have we felt more alive than we did during that practice.
If you're considering practicing yoga outdoors, here are some tips to make your experience a memorable one!
Pick the Right Spot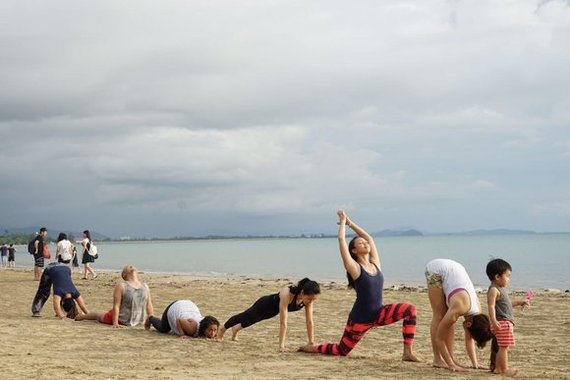 Sun salutation on the beach. Photo by Elaine Clara Mah
Estimate the size of your class and then find an undisturbed area that will give you ample space. Also consider the ground that you are working with. Beaches are often uneven and at an incline. While it won't be possible to find a smooth surface, look for an area that is most leveled. Avoid crowded and noisy spaces, which will potentially distract you from your practice. If you are practicing alone, always keep safety in mind and find an area that is easily accessible and not secluded. Keep your belongings within your line of sight and your phone within reach.
Protect Your Skin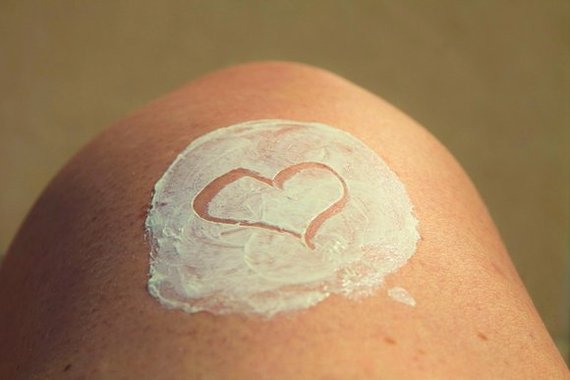 Wear sunblock. Image credit: Pixabay
While it is true that your body can benefit from the Vitamin D that comes from the sun, you only need
600IU per day
, which can be fulfilled within five to 30 minutes outdoors. As a yoga session may take up to an hour each time, do protect your skin from the harmful effects of ultraviolet radiation by wearing high quality sunscreen.
When buying sunscreen, choose one that is labeled as "broad spectrum" as it protects the skin against both UVA and UVB rays. Pick one with at least an SPF30 and remember to reapply frequently.
You can also protect your skin by choosing to practice yoga outdoors when the sunrays are less harsh -- typically before 10 in the morning and after 4 in the evening.
Stay Hydrated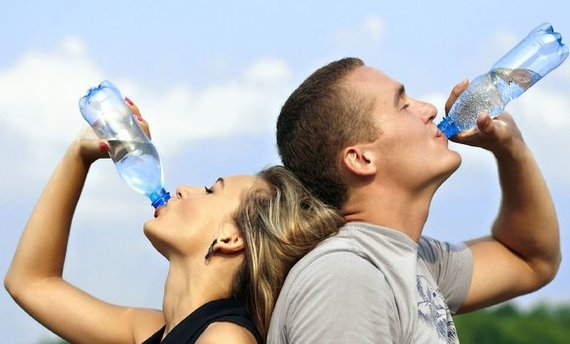 Drink water. Image credit: Pixabay
When at the beach, remember to drink plenty of water! The heat from the sun and dryness of the air can cause dehydration. This, added to the yoga practice that you will be doing will cause your body to shed more water than if you stayed home. So before you head out, pack a few bottles of H2O with you. Your body is made up of 60% water. Keep your organs functioning properly and get the most out of your practice with adequate amounts of drinking water.
Realign Your Balance and Grip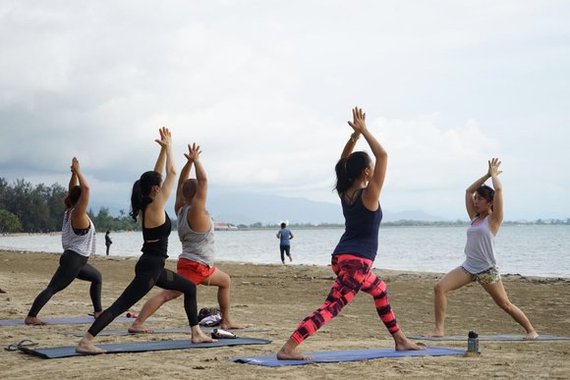 Warrior Pose. Photo by Elaine Clara Mah
Beaches are sandy, which makes for compromised grip and balance. But removing grip also strengthens your practice, as you now have to depend on the strength of your muscles as well as your core. It helps you identify weak spots in your practice and helps your body learn how to correct them. For example, if you distribute too much weight on your hands during Downward Dog, practicing this yoga pose on a sandy mat will have you uncomfortably sliding forward. To correct this, try engaging your lower abdominal muscles and work on your core. Press your heels down to shift the weight back -- evenly distributing them.
Your body will take time to get used to this new surface, so do practice a few asanas as a form of warm up before beginning your actual class. During session, approach each pose with caution, slowly working into them instead of jumping right in. This gives your body time to acquaint itself to the poses and to find balance.
Stay Longer In Meditation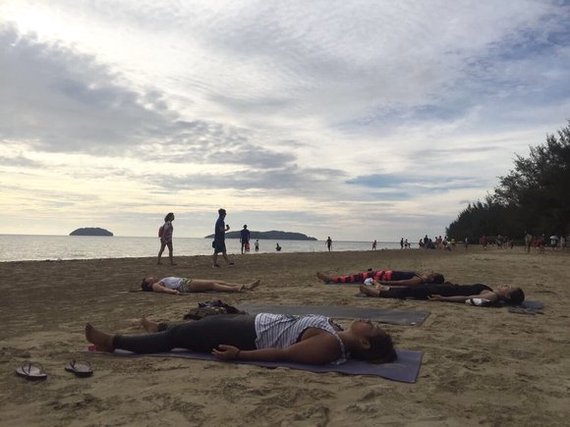 Enjoying Savasana on the beach. Photo by Elaine Clara Mah
As I came into a headstand, I found that my surroundings brought my mind to peace. I was no longer thinking about the headstand, or the soreness of my arms. Instead, I focused on just breathing and being. Ironically, I found meditation while doing an asana that has challenged me the most in years of practice. It was the first time that I was sure that I could stay here in this pose for a long time without feeling my energy drained.
While you can always find meditation in Savasana, you can also meditate effectively while sitting down. In fact, the great outdoors is the perfect place to stay in meditation longer. The sounds of the waves crashing in, and birds chirping make for great meditation music that is certain to calm your nerves and your mind. What better way to be in the here and the now than to surrender your senses to nature around you? To be one with the outdoors is the best way to connect to the present moment, so take your time.
Involve the Family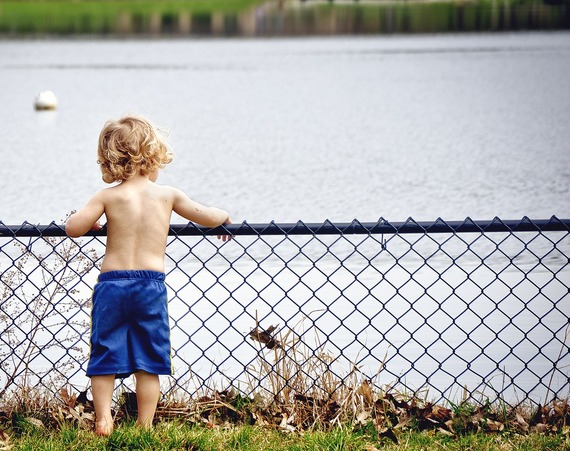 Image credit: Pixabay
The outdoors is a great way to include the family into your yoga practice. If you have children, practicing outdoors can make them more excited about yoga and would be more interested to join in. Yoga outdoors makes for great family time too, as we leave the distractions of our modern day technology behind and simply just engage in play.
Follow HuffPost Canada Blogs on Facebook
Also on HuffPost:
Like a cat's first big morning stretch, moving through a few cat/cows can really wake the body up and help you tune in. That's why it serves as such a good warm-up in yoga classes, says DailyBurn yoga expert Briohny Smyth. It's a great move for first thing in the morning or for when you've been sitting too long. How to: Start on your hands and knees in a tabletop position, making sure your hands are aligned with your shoulders, your knees are in line with your hips and your head is in a neutral position. Then, slowly lift your gaze, chest and butt as you inhale (cow pose). On the exhale, round your back toward the ceiling while lowering your gaze (cat pose). "This is a great movement because it helps you get in touch with the body's capability of moving and getting rid of the kinks," says Smyth. And who wouldn't be thankful for that?

While it's one of the basics, warrior II is considered among the most powerful of all the yoga asanas. The reason: It can help you feel gratitude toward the strength of your own body, says Smyth. How to: Begin standing with your legs out wide and both feet parallel to the front of your mat. Next, pivot your front foot so it's facing the front of the room and bend that knee deeply while keeping your back leg long and strong. Raise your arms up to shoulder level on either side of you, palms facing down, and move your gaze toward the front of the room as you bend your knee even deeper while keeping your torso upright. "While you're trying really hard to keep your arms up and bend your knees deep, you realize that just sitting in the pose makes you feel present," says Smyth.

Another powerful (and advanced) pose is the handstand. Not only does this impressive inversion require a strong back and shoulders, the core, glutes and legs work equally as hard. "When you're standing on just your hands you're grateful for the strength of your body to know what a handstand feels like," Smyth says. How to: Start in downward facing dog with your fingertips a few inches away from a wall, hugging your upper arms toward one another and squeezing your shoulder blades together. Bend one knee and step the foot in closer to the wall, with the other leg remaining straight behind you (this will be your swing leg). Use the bent leg to hop up while your swing leg arcs toward the wall. At first, these hops may be enough, but eventually you'll build the strength and finesse to kick both legs all the way to the wall. With even more practice, you won't need to rely on the wall and will instead be able to trust your own strength.

Stretches, especially hip stretches, allow you to connect with the tightness and tension in your body and mindfully, consciously let it go, Smyth says. "Any time you bring awareness to where you're tight and can release it, you feel grateful." Pigeon is a deep hip opener that has that effect. How to: To begin, start in downward facing dog, bend one knee and place it on your mat a little wider than your hip, with your shin parallel to the front of the mat. Fold forward over your shin with the other leg extended behind you, keeping the hips even as they press toward the floor.

Savasana, the final pose in a yoga class, is an opportunity to be still, calm and present while soaking in the benefits of your practice. "It's a great place to express gratitude and even connect with and feel gratitude for the people and things you have around you," says Smyth. How to: Settle into it by lying on your back with your legs slightly apart and your arms extended at your side, palms facing upward. Inhale and exhale through your nose, allowing your breath, muscles and mind to be completely relaxed.
Follow Alberto González Güitrón on Twitter: www.twitter.com/BetoGuitron