Forget the Scandals and Check Out These Everyday Political Citizens
What a time in Canadian politics: with three senators expelled, Toronto Mayor Ford's crack cocaine admission, and the election of Montreal's fourth mayor in 12 months, there lots to give politics a bad name.
It's not as though Canadians had very positive opinions about politics before this week. In Samara's focus group research, we've asked Canadians to share the first words that come to mind when we say "politics," and many of them are not pleasant: lies, greedy, corrupt, untrustworthy... and boring.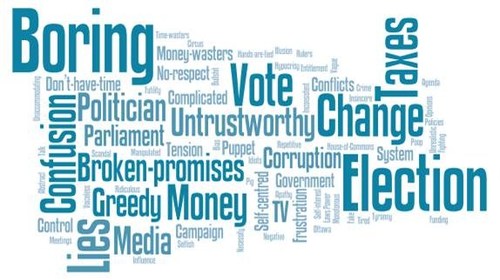 But "boring" doesn't really apply to this month, does it? According to a CBC poll, 83 per cent of Canadians were paying attention to the Senate, and it was nearly impossible to go without mention of Mayor Ford in a coffee shop or newscast -- even Jon Stewart and Stephen Colbert weighed in.
Is any increase in political interest good for politics? Probably not. The temptation is to step back (or further back) and wash our hands of this whole business of politics altogether.
Samara's research documents that our formal politics is already starved for the talents and time of Canadians: In 2012, 55 per cent of Canadians reported that they had volunteered in the last year, but only 10 per cent said they had volunteered on a political campaign in the last five years. A full 58 per cent of us are active in a group, but only 10 per cent report being part of a political party. Our politics cannot thrive when such a limited number of our population is supporting it -- particularly when the future is forecasting a generation of young citizens who prefer to look outside politics for a way to make change.
Even though 40 per cent of Canadians say they talk about politics in the course of a year, this week seemed an exception to that statistic. It seems that the only popular topic of political conversation is talking about how terrible politics and politicians are.
Beyond those in office, however, are thousands of Canadians who help get them there, and thousands more who engage with them on behalf of causes that improve communities and Canada. Whether it's door knocking or rabble rousing, these contributions often go unrecognized or uncelebrated compared to other forms of volunteerism.
Imagine if we celebrated Canada's democratic volunteers in the same way we celebrate our entrepreneurs, sports stars and community leaders? Samara is trying to do just that, by finding and highlighting the work of these people in the Everyday Political Citizen project.
In need of some political sunshine? Read some inspiring stories. Know an #EPCitizen who should be recognized? Nominate before December 31 -- it takes only five minutes.
And a bonus? Jury members, including Rick Mercer, host of CBC's Rick Mercer Report, Preston Manning and Kristine Stewart, head of Twitter Canada, will select from among the nominees the best Everyday Political Citizen of 2013 (adult and under-18 category).
Move over mayors, senators, and the media circus. Everyday Political Citizens are changing the narrative around politics. After all, politics will only change if citizens show the way.
Everyday Political Citizens - Samara
Nominee: Bev McKibbon Nominator: Grandmothers Advocacy Network Riding: Nepean-Carleton Bev McKibbon is a 64-year-old grandmother of 9, who lives in Metcalfe, ON, a rural area outside of Ottawa. Bev is a political activist with the Grandmothers Advocacy Network (GRAN) who advocate for political change, and for policies and programs that support African grandmothers who are raising millions of children orphaned by HIV/AIDS. "I am a deep believer in democracy," says Bev, "but was never so politically engaged as I am now." Now Bev inspires both the young and old through her skilled lobby efforts with GRAN's Hill Team and by her ability to engage others, including those who have become disenchanted with our political system. Bev says, "When change is needed it is up to us to make it happen - there is no other option than to act."

Nominee: Carey Sookocheff Nominator: John Beebe Riding: Toronto – Danforth Every day while walking her young children to school, Carey noticed that cars did not stop at the busy intersection beside the school. Even with a crossing guard, it was not safe. So she did something she had never done before, she organized. She found an ally, a neighbor who shared her concerns. She talked with other parents and the crossing guard. She contacted her city councillor. She helped arrange meetings. She learned about traffic flow. She collected signatures. She wrote many emails. As a result, change is coming and the streets will be safer for kids. Carey is a professional illustrator, mother of two young girls, and first time community organizer.

Nominee: Chris Matthews Nominator: Arthur Kong Riding: Trinity-Spadina Chris has devoted his life to increasing civic-engagement and political leadership within minority communities. He envisions that with increased civic-participation, comes a public sector that is more representative of the complex and diverse realities in our communities. As an activist and leader in the LGBT and African-Canadian communities, Chris merges his passion and his identity to further his cause for greater inclusion and diversity within our Canadian instituions. Chris currently serves as the Director of Public Outreach & Fundraising for ProudPolitics Canada. He also sits on the Board of Directors of the Ontario Gay & Lesbian Chamber of Commerce. During his spare time he also volunteer for an online magazine called Who's Who in Black Canada.

Nominee: Cynthia Wesley-Esquimaux Nominator: Leora Smith Federal Riding: York-Simcoe Not only has she run excellent campaigns as both a federal Liberal candidate and as Chief of her community but Cynthia makes it her mission to encourage young people to engage with politics and gives them the guidance and support they need to get started. As a professor, Cynthia regularly gave far too many hours of her own time to support student initiatives to bridge the gap between Aboriginal students and their allies. She casually introduces students to the most influential Aboriginal leaders in the country, invites them to share the credit in all her innovative research and projects, and has included many students in her work with the Truth and Reconciliation Commission, even welcoming them to join the Governor General's launch event at Rideau Hall. For demonstrating the kindness, openness and integrity that should be an everyday part of Canadian politics, Cynthia is truly an inspiring political citizen.

Nominee: Danyaal Raza Riding: Ottawa Centre Dr. Danyaal Raza is a family physician passionate about public health policy. As a board member of the Canadian Doctors for Medicare he promotes the vision for continuously improving national health care. As a member of Canadian Doctors for Refugee Care he publicly spoke out about health policy changes. As a doctor at Pinecrest Queensway Community Health Center in Ottawa he works within a model of care that allows him to treat the most in need.

Nominee: Hannah Taylor Nominator: Ben Rowswell Riding: Charleswood—St. James—Assiniboia Hannah Taylor set up her own foundation at age 8 to confront problems of homelessness in Winnipeg. She is now 17 and has more experience mobilizing citizens and confronting social challenges than almost every adult in Canada. I don't know Hannah but my nephew Malachi has met her and was inspired by the example she provides.

Nominee: Justice Betty Nominator: Jane Hilderman Riding: St. Paul's I don't hear many 16-year-olds proclaim that they love politics and dream one day of becoming Canada's Prime Minister, but that's exactly what Justice Betty said on CBC's Metro Morning which caught my attention. It's clear she is not just a dreamer but a do-er, too. One of her current projects is the creation of a social networking platform that will connect politicians and youth. It's a bold effort to show that youth aren't apathetic about politics but rather 'bored with politics-as-usual', and she's determined to give her peers a voice through this new platform. Justice demonstrates that young Canadians need not wait until they can vote at 18 to leave their mark on politics, which truly makes her an everyday political citizen.

Nominee: Manjit Basi Nominator: Judith Maxwell Riding: Ottawa-Vanier Manjit has a magnetic capacity to listen, to engage and to inspire others to community action. As the Team Leader for the Citizens Academy of Ottawa, she has recruited an amazing team of committed volunteers to help co-create a movement to shift the political and civic culture in Ottawa.Their goal is inspire citizens from all sectors and all walks of life to be more involved in civic life. Her vision for Ottawa is one where learning enables citizens to act, where the city and other public institutions are keen to listen and work with others, and where everyone plays a role in realizing the vibrant and resilient Ottawa we all want. Her experiences in business and in community work have taught her that people working together in the spirit of curiosity and generosity can change the world.

Nominee: Michael Stadtländer Nominator: Simcoe-Grey Federal Liberal Riding Association Riding: Simcoe Grey World-renowned Chef Michael Stadtländer is committed to promoting sustainable food. His Eigensinn Farm near Collingwood was rated one of the top ten restaurants in the world in 2002. And his Haisai Restaurant & Bakery in Singhampton became a top new Canadian restaurant in 2010. Stadtländer's support of organic food and localism is recognized by the Canadian Organic Growers, the Food Hero Award, the Earth Day Canada's Environmental Achievement Award and in 2010 by the Governor General's Award. Stadtländer co-founded the Canadian Chefs' Congress in 2008 to reinforce the passion and integrity of Canadian food. In 2011 the Congress presented Foodstock, the largest culinary protest in the history of Canada, to protest the a proposed Melancthon Township Mega Quarry. Held in a farmer's field, 28,000 people sampled dishes prepared by 100 chefs- attracting 18 million media hits. Key to stopping the Mega Quarry, Stadtländer also preserved precious Ontario agricultural land and water resources.

Name of nominee: Patrick Obendoerfer Name of nominator: Ricki Klowak Riding: Winnipeg South Centre At the young age of 22, Patrick has been a very active political citizen. During the past two federal elections, he has been a guest panelist on CJOB, Winnipeg's most listened to radio station, as a representative of both first time voters and students voters. He has dedicated an enormous amount of time to the Canadian Political Science Students' Association, where he has served as Director of Logistics for the national conference, and currently acts as Senior Adviser and Head of National Recruitment. In addition, Patrick volunteers for a local MLA, where he has been tasked with researching the accessibility of bursaries in Manitoban post-secondary institutions and job programs for youth in the constituency. Having recently graduated with his honours degree in Political Studies and with future plans to attend grad school, Patrick will no doubt continue his work as an active political citizen for many years to come.

Nominee: Rosanne Orcutt Nominator: Bob Sutton Riding: Sarnia-Lambton While never having sought or held political office, Rosanne Orcutt has had a positive and dramatic impact on her community over countless years. She coaches basketball and mentors youth to be engaged citizens, has been a productive member of the Sarnia-Lambton's YMCA Celebration of Youth programme that identifies and recognizes young people "giving back", is a member of a youth scholarship committee and a Police Services Board Member. In the political arena she has been dedicated to saving hospital services in her local community for 10 years by direct and organized engagement with both the Provincial government and Bluewater Health. Starting with herself and one other woman, Rosanne formed a committee of concerned citizens that eventually held over 300 meetings, including community information sessions that attracted 400, 450, and 1500 people. The Minister of Health came to the community to meet the committee, and as a consequence of such tireless efforts, the group now sits on numerous health panels; services have not only been saved but also enhanced; and these citizens have become an integrated and influential voice in the health of their community. Rosanne's credo is that the truly effective citizen voice is informed, rational, respectful and relentless, with supportive proposals to promote constructive change. A true political citizen!!

Nominee: Sharon Sommerville Nominator: Jennifer Ross Riding: Kitchener-Waterloo Mentor to most, fun and cheerful presence everywhere. Sharon serves as Co-Chair of Fair Vote Canada Waterloo Region, possibly the busiest chapter of Fair Vote Canada. She serves as an active director for the Kitchener-Waterloo Federal Liberal Association and participates as a director for the Kitchener-Waterloo Provincial Liberal Association. Sharon is also the KWFLA Outreach committee chair. She has thought up, organized, planned, and/or presided over, events such as: Movie screenings, debates, guest speakers, workshops, pub nights, and information tables. In the realm of campaigning she has volunteered on at least one general election campaign; two by-elections, one candidate campaign, and a leadership campaign. Sharon never volunteers for just an hour or two–she consistently makes herself indispensable.

Nominee: Sohaib Wasif Nominator: Suzzanne Jalsoviczky Riding: Calgary West Sohaib Wasif's positive energy, volunteer spirit, support for the political process and infectious enthusiasm make him a great political role model in our community. Sohaib has volunteered his time in both provincial and federal elections, sits on the board of his local EDA and has helped organize All Candidates Forums through the Calgary-based, non-partisan group "Just Vote" - an organization with the goal of promoting greater citizen political participation. Sohaib has even opened up his home to host an open house with a visiting Member of Parliament. Sohaib Wasif is truly a positive example of a great political citizen.

Nominees: Tristan Sparks, Pascale Halliday and Cayley Sparks Nominator: Janet Clarke Riding: Yukon Tristan, Pascale and Cayley, three Whitehorse high school students, initiated a peaceful and respectful protest campaign when the government announced plans to tear down their high school's gym. They ran a petition, sent out press releases and organized a peaceful protest of students at the Yukon Legislature that attracted national press coverage and ended up helping to save the school's gym. The petition had over 600 signatures, impressive in a city the size of Whitehorse. They were chastised by the Speaker of the Yukon Legislature for peacefully protesting inside the Legislature, but received letters of support from several MLAs supporting their right to democratically express their views. One MLA said "It was good to see the students in the Legislature today. They were very respectful and got their point across." They are inspiring young leaders!
Follow Alison Loat on Twitter: www.twitter.com/@alisonloat