7 Ways My Family Is Kind To The Environment While Travelling
Travelling is often about self indulgence. We want to eat exotic foods, watch photo-worthy sunsets and lounge by the pool without worrying about deadlines or cooking dinner. But over years of taking family vacations to destinations as near as Banff National Park and as far as Cambodia, I've come to realize that my family's travels aren't all about us.
Every vacation we take has a drastic impact on the people and places we visit, and it's not always easy to combine the experiences we want to have with maintaining respect for the environments and cultures we enter. These seven easy ways my family is kind to the environment while travelling probably aren't changing the world, but they're reducing our carbon footprint on the places that continue to wow us with natural beauty year after year.
1. We explore as much as possible on foot
The kids aren't always as excited about this "green" method of sightseeing as my husband and I, but it's a simple way to ease our impact on the environment and save some money in the process. We forego car rentals, taxis and rides on exhaust-covered buses for longer walks and seeing all of the buildings, food carts and hole-in-the-wall restaurants along the way.
2. We Bring Our Own Water Bottles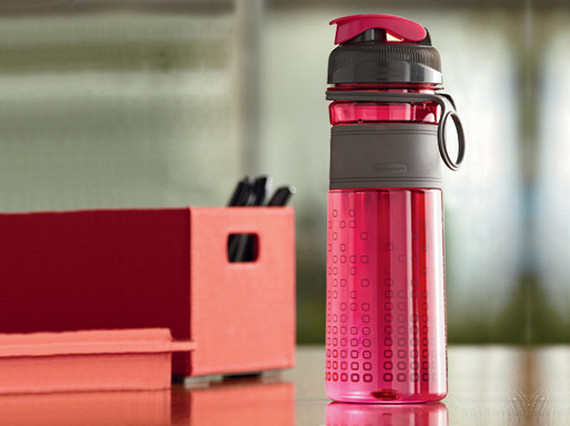 Photo credit: Rubbermaid Products
Plastic water bottles and soda cans are more common than shells on many beaches around the world. We've found this to be true in countries as scenic as Puerto Rico and Indonesia, and that's why every member of my family travels with his or her favourite water bottle. Upon arrival at our destination, we purchase a 20-litre jug of water (if the tap water is not suitable for drinking). When the jug is empty, we return the bottle to be recycled and purchase another. Best of all, we save big by buying these massive bottles at just $1 to $2 each in most countries.
3. We say "no" to bags and straws
Purchase a soda at a 7-Eleven in Bangkok, and your soda will be placed in a plastic bag with a straw. Whether we're checking out the Hockey Hall of Fame here in Toronto or shopping for trinkets in Bali, I always carry a large hobo-style bag or backpack for our snacks, drinks and purchases. As a family, we've learned to say, "No, thanks," to plastic bags and straws in Spanish, French, Thai and Bahasa Indonesia.
4. We skip room cleanings

Photo credit: PortoBay Hotels & Resorts
Washing towels and sheets accounts for roughly 40 per cent of a hotel's hot water consumption. I don't wash the sheets or towels daily when I'm at home, so I don't expect that to be done for me while I'm on vacation. Instead, we reuse our hotel towels and sheets and have them cleaned roughly twice a week.
5. I pack our toiletries
They require a little more space in my checked luggage, but I don't leave home without bringing enough shampoo, conditioner and soap for my family's entire vacation. This way, we're not using the hotel's miniature pre-packaged toiletries and contributing more plastic waste to the places we visit.
6. We're not afraid of street food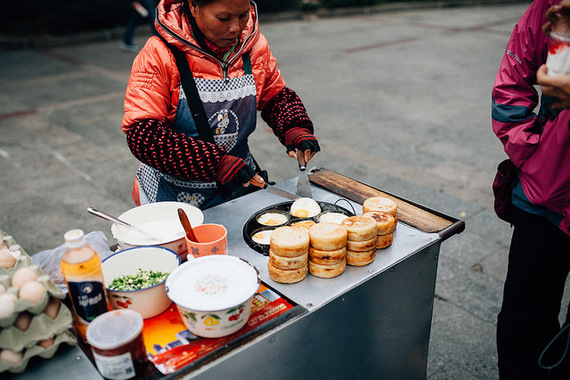 Photo credit: Dave See
There's no need to be afraid of street food, but it's important to be smart when eating it. Dining at street markets and food stalls give us a taste of the local cuisine without supporting the "touristy" establishments and chains that often import food from other cities or countries. As long as we know what's cooking and can see it being cooked in front of us, we're always open to tasty shrimp-on-a-stick, spicy corn, empanadas and other must-try street foods around the world.
7. We do our research
The only way to plan a truly environmentally-friendly vacation is to do a lot of research before going. You'll feel better about your trip if you explore with sustainable, locally-owned tour companies, stay at eco-friendly hotels, shop with local artisans and avoid harmful, exploitative tourist traps. After all, we want our favourite travel destinations to be available to our children, grandchildren and countless generations to come.
Follow HuffPost Canada Blogs on Facebook
Also on HuffPost:
19 Free Things To Do In Toronto With Kids
The Toronto Public Library often hosts free yoga and meditation classes throughout the city all year round. This is a great way to help kids get in tune with their bodies and minds, and can help relieve any stress they may have. More info here.

Who doesn't love free movies and music? This spring, take the kids to Yonge-Dundas Square for some great entertainment. Every Monday from May 9 to June 15 there will be musical performances between 12:30 p.m. and 1:30 p.m. You can also catch more free music every Friday night at 8 p.m. from June 14 to Sept. 9. As for movies, a free film will screen every Tuesday evening from June 28 until August. Since the movies don't start until 9 p.m., this would be a great outing for families with older kids. Movie listings have not yet been posted. More info here.

Take a walk in the park this May to see High Park in all its beauty. According to BlogTO, High Park's cherry blossoms are expected to peak in early May this year, making the perfect backdrop for some fun family photos. While at the park, the kids can also enjoy a fun nature scavenger hunt. Try one of these ideas here.

Speaking of High Park, one of the park's other highlights is the Jamie Bell Adventure Playground. Located right beside a duck pond, this magical playground is filled with slides, swing ropes and multiple things to climb! The kids are guaranteed to love it. More info here.

Teach kids about Parliament by taking a tour of Ontario's historic Legislative Building. Various guided tours are available all year round. More info here.

Every Wednesday, the Art Gallery of Ontario is free to the public from 6 p.m. to 9 p.m. Take advantage of this and bring your kids to see some unique exhibits. Children under five years old are also free all year round. More info here.

The kids will love visiting Riverdale Farm. This historic ranch is located in the heart of Cabbagetown and is home to various barnyard animals and butterfly gardens. More info here.

The Scarborough Bluffs are 15 km long and absolutely gorgeous! Take the family there to admire the views and enjoy a picnic on a beautiful, sunny day. The bluffs also have trails and beaches that the whole family can enjoy. More info here.

Who doesn't love the circus? Bring the kids to the Harbourfront Centre's "Sea to Sky Circus Show," which features dancing mermaids, clowns, aerial performances and of course, acrobatics! Multiple shows will run over the Victoria Day long weekend, from May 21 to 23. More info here.

Take advantage of a beautiful day and stroll along Toronto's waterfront. While there, check out the Harbourfront Centre and some of their family-friendly activities, too. And although this isn't free, you could also treat your family to some delicious BeaverTails at their newest location on Queens Quay W. More info here.

The CBC Museum is actually cooler than it sounds. The museum features archival materials dating back to 1936, but its highlight is definitely the Tickle Trunk from the beloved children's show "Mr. Dressup." Visit this museum with your kids and share some of your childhood memories with them. More info here.

If your kids are animal lovers, take them to High Park Zoo, which is open all year long. Surprisingly, this free zoo dates back to the early 1900s and features bison, peacocks, emus and even reindeer! More info here.

Take the kids to roam Kensington Market on a weekend. In this multicultural neighbourhood, they'll get a different experience of the city and will enjoy popping into all sorts of neat shops.

There are actually quite a few beaches in Toronto, so take your pick. The kids will enjoy the sun, sand and water, while you can relax on shore. Be sure to check out Centre Island Beach in particular, which is located close to Centreville Amusement Park and Far Enough Farm. Activities here will keep kids busy all day long. More info here.

Regent Park screens free films every Wednesday from July 13 to August 17 at 9 p.m. Before the movies begin, the park also offers free music and activities, such as yoga and soccer games. More info here.

Allan Gardens Conservatory is a century old and is home to a variety of tropical plants from all over the world. Take the kids here to explore the 16,000 square-foot greenhouse and get back to nature! More info here.

Celebrate Canada Day on July 1 by taking the family to watch fireworks at Mel Lastman Square. But before night falls, the special celebration will also feature live music and dance performances. The city is also expected to have fireworks in celebration of Victoria Day at Ashbridges Bay this year. More info here.

There are tons of farmer's markets around the city. The kids will enjoy looking at all the various knick-knacks the vendors have to offer. Plus, they'll get some good exercise walking around all day. St. Lawrence Market: Saturdays, 5 a.m. to 3 p.m. Trinity Bellwoods Farmers' Market: Tuesdays, 3 p.m. to 7 p.m. Evergreen Brick Works: Sundays starting June 5 More farmer's markets here.

City Hall offers the public free tours that explains the construction of the building and the history of Toronto. The kids will be fascinated to learn about their city. More info here.