5 Canadian Destinations You've Probably Never Considered for a Fall Vacation
Travellers flock to Cape Breton Island's Cabot Trail and Quebec's Laurentian Mountains to admire Canada's fall foliage this time of year. However, fall travellers are missing out on a number of lesser known Canadian destinations that pack just as much punch in terms of fall fun. These six underrated Canadian destinations will inspire you to get off the beaten path this autumn.
Nelson, British Columbia

Canada's kaleidoscope of fall colors doesn't just exist in the country's easternmost provinces. Also known as, "The Queen City," Nelson is nestled in British Columbia's tree-covered Selkirk Mountains. Watch as the mountains and tree-lined streets turn fiery shades of gold and yellow while enjoying fall temperatures that hover between 13- and 22-degrees Celsius in September and October. Nelson's location on the west end of Kootenay Lake and seconds from the area's best hiking and mountain biking trails mean outdoor recreation, as well as walking the charming city streets, are activities that extend through the months of September, October, and November.
Cavendish, Prince Edward Island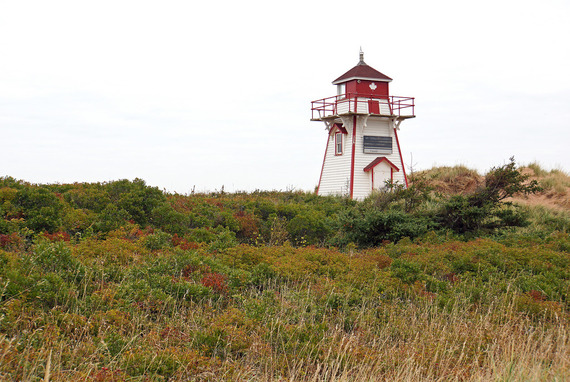 Photo credit: Dennis Jarvis
Cavendish's microscopic size and even smaller population shouldn't steer you away. This rural beach town is the perfect place to soak up summer's last rays on the shores of the salty Gulf of St. Lawrence. Special fall packages make trips to the beach more affordable, and attractions like Aiden's Deep Sea Fishing, the Anne of Green Gables Museum, area golf courses, and locally famous seafood restaurants stay open well into September and October.
Whitehorse, Yukon

Whitehorse is the capital city of Canada's Yukon territory. Despite its standing as the Yukon's largest city (with a population of roughly 28,000), the city is often overlooked by Canadian and international travellers. The city sits in front of a backdrop of rolling mountain tops and is home to a host of historic hotels, quaint cafes, locally-owned shops, and delightful eateries that let you know you've traveled to the far north.
Adventurous leaf peepers will love the Fall Colour Aurora Borealis Tour by Northern Tales. The five-day-long tour begins in downtown Whitehorse and heads into the nearby wilderness for optimal northern lights viewing. A scenic cruise along the Alaska Highway to Haines Junction and beyond allows travellers to admire the Yukon's famously golden fall foliage set against rugged countryside.
Twillingate, Newfoundland and Labrador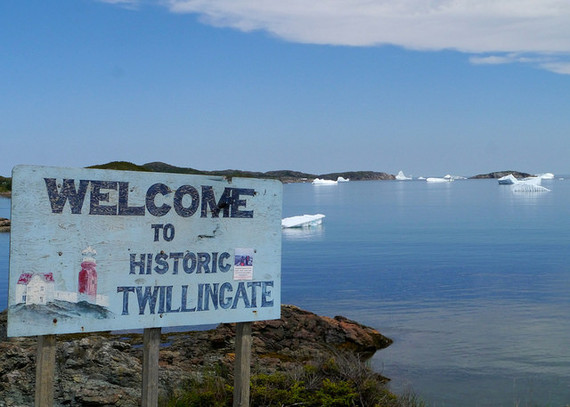 Photo credit: KimManleyOrt
Twillingate is another seaside city that encourages you to squeeze the last bit of warmth and sunshine out of summer. Known as the "Iceberg Capital of the World," this small Newfoundland fishing town is known for its dramatic Atlantic Ocean scenery, abundance of boat tours, year-round lighthouses, scenic hiking trails, and mouthwatering seafood. Fall in Twillingate means affordable accommodation prices, uncrowded hiking trails, berry picking, wine tasting, and countless stops at the Cozy Tea Room.
Churchill, Manitoba

You don't have to like the snow and ice to fall in love with Churchill, Manitoba. Many travellers shy away from this thrilling town along the Hudson Bay for its chilly temperatures, but you'll quickly forget about the weather when you see polar bears cruising along the tundra and find yourself admiring the northern lights from the back of a dogsled. Fall is the best time of year to see more than 250 species of birds, polar bears, and beluga whales, but the charming downtown area, packed with cozy cafes, shops, and lodges, invites you to spend time exploring indoors too.
Follow HuffPost Canada Blogs on Facebook
ALSO ON HUFFPOST:
15 Beautiful Fall Destinations In Canada
Fundy Coastal Drive, N.B. What to do: Walk along the shoreline trail to take in the fall foliage; enjoy the famous tides; camp in Fundy National Park; or hike coastal, wetland, and forest trails.

Elliston, N.L. What to do: View Atlantic puffins until late September; attend the Roots Rants and Roars musical and culinary festival; or visit nearby Bonavista for dinner, history, and lighthouse viewing.

Tofino, B.C. What to do: Put on a wet suit and go surfing; visit Virgin Falls; catch grey whales before they migrate south to Baja; walk trails in the Pacific Rim National Park Reserve; or attend the Queen of the Peak surfing competition late September.

Banff National Park, Alta What to do: Rent a trailer and camp at Lake Louise Trailer campground; warm up in the hot springs; take an overnight horseback riding trip; view the fall trees during dinner on a train; hike or cycle on trails; or attend the Banff Mountain Film and Book Festival.

Whitehorse, Yukon What to do: Time your visit to when Kate Middleton and Prince William will be there; catch the northern lights late in the fall; hike to waterfalls and hot springs; or drive the Alaska Highway.

Algonquin Provincial Park, Ont. What to do: Camp in the spots you couldn't book in the summer months, when the bugs are less plentiful; canoe; watch for moose during mating season; enjoy the brilliant fall foliage; or go on a photography safari.

Mont Tremblant, Que. What to do: Check out the fall colours; golf; enjoy the scenic Laurentian Mountains; go horseback riding; hike at all levels in the Laurentians; or attend the Symphony of Colours Festival.

Gros Morne National Park, N.L. What to do: View the fall canopy on a zip-line tour; walk on the Earth's mantle at the Tablelands; hike the Western Brook Pond Trail; or hike through nearby community trails.

Okanagan Falls Provincial Park, B.C. What to do: Visit the many fruit orchards; tour a local winery; check out the fall leaves along the coast of the Okanagan River; or go both bird watching and bat watching.

Churchill, M.B. What to do: Visit later in the fall for prime polar bear-viewing season; view the northern lights in late November; view beluga whales in early September; or view more than 250 species of birds.

Prince Edward Island What to do: Enjoy fall foliage for one of the longest time periods in North America; visit Anne of Green Gables sites ahead of the upcoming TV remake; eat fresh oysters; walk the sandy shorelines; hike and bike; and do Charlottetown's Taste The Town walking tour.

Niagara-on-the-Lake, Ont. What to do: Take a side trip to see the falls; drink some ice wine; take in the fall colours; tour wineries; drive the Niagara Parkway; or catch the tail end of the Shaw Festival.

Cape Breton Highlands, N.S. What to do: Camp by the sea or at the backcountry "Fishing Cove" site; hike through fallen leaves on the Cabot Trail, to the Skylight Trail; view gorgeous sunrises and sunsets; and attend the Hike The Highlands Festival.

Jasper National Park, Alta. What to do: Hike some of the 1,200 kilometres of trails; camp by mountains and trees with changing leaves; stargaze at the world's largest Dark Sky Preserve; or seek out the park's waterfalls.

Thornbury, Ont. What to do: Attend the Apple Harvest Festival; enjoy off-road and on-road cycling; or hit up the Apple Pie Trail.