Keeping The Divorce Talk Honest Can Help Your Kids Heal Faster
In my last blog I wrote about three difficult and important conversations to have with your children. The topics I covered were sex, drugs and bullying.
That blog highlighted how these challenging conversations can actually bring your family closer, as difficult conversations can be opportunities for growth. Talking to your children about these difficult topics can demonstrate to them that you have their best interests at heart, and that they can come to you for information and guidance.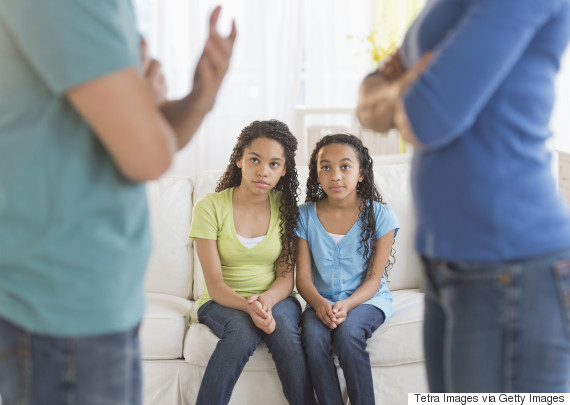 (Photo: Tetra Images via Getty Images)
When I was writing that blog I wanted to include how to talk to your children about divorce as well, but I realized that this is a unique conversation and required a blog of its own. I also believe that the divorce talk may be the most difficult conversation parents can have with their children.
Why is the divorce talk such a difficult conversation? First of all we need to understand that as parents we are programmed to protect our children. If our child is being bullied we know what our role is. Sometimes we have to temper our reactions so we can truly assist our children -- but there is no doubt that we have a visceral response when our children are in danger of being hurt physically and emotionally.
I can certainly recall times when my own "mother bear" reared its head and I wanted to retaliate against the bully that was attempting to harm my child. Of course, I realized that it would be wildly inappropriate for a middle-aged child and family therapist to be taking down some eight-year-old that was teasing my child on the playground -- but I won't pretend that the thought did not cross my mind!
There is no perfect way of having this talk - but it does need to be done in an authentic and thoughtful manner.
This desire to protect also applies to conversations about sex and drugs. There is some outside force that might harm our child -- and we want to prepare and protect our child against something dangerous. Our protective role is clear. So the truly complicating factor that makes talking to your children about divorce so difficult is that the parents are the source of the pain. This causes great dissonance. How do we help protect our child against ourselves -- when we are the ones causing great sadness and distress in our children? This may be the reason so many parents avoid this conversation or rush through it by trying to tell their children that everything will be fine.
The bad news is that talking to your kids about divorce is one of the most difficult conversations that parents can have with their children. Although I understand and empathize with the guilt parents may feel in this situation, this guilt and discomfort should not be used as an excuse to avoid doing what must be done. I caution parents that avoiding this conversation or candy coating it in some way may only cause additional distress and pain in the long run for the children.
The good news is that if the parents do this conversation well they can help their children adjust and heal much faster. Change is inevitable in life, and how we approach the divorce talk can actually teach children that grace and dignity can be part of grieving and healing. There is no perfect way of having this talk -- but it does need to be done in an authentic and thoughtful manner.

(Photo: Kupicoo via Getty Images)
Some tips for talking to your children about divorce:
1. It is always best if both parents can tell the children together.
You brought the children into the world together and you owe it to your children to make their needs more important than your marital difficulties. It is important to come together and hold the space for your children during this conversation. The parents need to be the leaders -- and leaders show their true strength during the most difficult of times. This will demonstrate true courage in the face of adversity, and set the template for your children to develop grace under fire.
2. Give them an explanation.
Do not give your children too many details in regards to your marital difficulties, but do provide an explanation that makes sense to them. Let them know your love has changed, and sometimes adult love changes and no longer fits together like it once did. Let them know as a couple you have done many things well -- like creating them -- but unfortunately you did not work out your problems well together. Honour each other in front of the children and let them know you are sad as well -- but do not let your sadness or feelings dominate the discussion.
Let them know there may be bumps ahead and that they are your top priority.
3. Acknowledge that this is a sad day for the family.
Tell your children that whatever they are feeling is OK. It is OK to be sad, mad, disappointed and fearful of the changes. Don't try to "sell them a line" that everything is great and they will be happy again soon. Do not be afraid of their sadness -- acknowledge it -- and let them know there are some things that are worth feeling sad about.
4. Be honest about what will be changing and what will not be changing.
Let them know that their schedules and living arrangements will be changing. Tell the children that some things do not change. Let them know that although adult love can change -- the love between parents and children is a very unique kind of love and it never changes.
5. Let them know that a plan is in place.
It is best if you have this worked out beforehand. Children need to know their schedule. Reassure them that you will still work together as their parents, and rather than just one home they now have two safe harbours in the world. Let them know there may be bumps ahead -- but you will do your best to work through the bumps and that they are your top priority.
Follow HuffPost Canada Blogs on Facebook
Also on HuffPost:
What You Need To Know About Divorce In Canada
Steps To Divorce In Canada: There are ten basic steps to divorce in this country, according to DivorceCanada.ca, though any one couple's experience under those steps will vary based on a variety of factors. Here are the steps: Decide to divorce. Get a divorce application. Determine the grounds for divorce. Decide if the divorce is contested or non-contested. Come to agreements on childcare, custody, and child support, if applicable. File the divorce application at a courthouse in your province or territory of residence. Wait for clearance from the divorce registry in Ottawa. The non-filing spouse will be served with divorce papers and must respond within 30 days. Get notice of the court's decision to grant your divorce. Make the divorce legal by getting your certificate of divorce 30 days after the divorce order is issued by the court.

Who Is Eligible For Divorce In Canada?:In order to file for divorce in this country you must meet three criteria, according to the Department of Justice. The spouses must be legally married, whether that's in Canada or in another country. One or both spouses need to have lived in a Canadian province or territory for a minimum of one year immediately prior to filing for divorce. And one or both spouses intend to separate permanently with no belief of reconciling, or have already separated.

What Laws Are Involved: Every divorce in this country is governed by the Federal Divorce Act, but provincial and territorial procedures can vary. It's important to know the variations in your jurisdiction because they can affect important factors like custody arrangements and child and spousal support.

Types Of Divorce: In Canada there are two types of divorce, contested and uncontested, according to DivorceCanada.ca. While the potential grounds for divorce are the same in both cases, a contested divorce is generally more expensive and takes longer to resolve.

Contested Divorce: A contested divorce is one where the spouses disagree on some aspect of the divorce. The reasons for the disagreement can vary and might include the grounds for divorce, the terms including custody and splitting assets, or the desire for a divorce at all. These divorces require intervention by courts and lawyers, and therefore can be much more involved and costly for both spouses.

Uncontested Divorce: That means that an uncontested divorce is one where the spouses have come to agreement on the terms, either themselves or through lawyers. Both spouses sign a separation agreement that outlines those terms and signifies that they both accept them, as well as agreeing to divorce in the first place.

What If I Don't Want To Divorce? In Canada it's not required that both spouses want a divorce in order for one to be legally granted, only that one person can prove the marriage has broken down beyond repair.

The Grounds For Divorce: The grounds for divorce are the reasons why the marriage has broken down. In Canada, there are three valid grounds for divorce: adultery, abuse/cruelty, or separation. These grounds will be considered separate from decisions on child custody, support, and other factors.

Adultery: In divorce, the grounds of adultery mean that one or both partners had sex with someone else during the marriage, and that the adultery wasn't forgiven after it was discovered or the couple didn't live together afterward for more than 90 days, according to Galbraith Family Law. The party who committed adultery must be willing to sign an affidavit saying they did so, and you can't request a divorce on the grounds of your own adultery.

What Counts As Adultery? An online relationship, or one that crosses emotional but not physical boundaries, can certainly feel like cheating and can lead to the breakdown of a relationship. But according to Russell Alexander Family Lawyers, only a physical sexual relationship is considered adultery for the purpose of determining grounds for divorce.

Abuse/Cruelty: The grounds of abuse or cruelty mean that a spouse was physically or mentally abusive to the other, according to Feldstein Family Law Group. Such a charge can include factors like physical abuse, verbal abuse, or drug and alcohol abuse. As with adultery, you can't request a divorce based on your own abuse or cruelty; you must be requesting it because of that behaviour on the part of your spouse.

Separation: If both spouses have lived separate lives for a period of at least one year, that's also sufficient grounds to show the marriage has broken down beyond repair, according to Family Law Nova Scotia. The application process for such a divorce can begin as soon as the spouses separate, but the court won't grant the divorce order until the separation has been for at least one year. Most divorces in Canada fall under this category.

What Constitutes Living Apart? It's easiest to prove a couple intends to separate if they're no longer living under the same room, according to Quebec legal advising site Educaloi. However if the couple does still live under the same roof, for any particular reason, there are other factors that will be considered. Those include: having separate bedrooms, not having a sexual relationship, having little communication, not sharing household chores, buying separate groceries, not eating together, and having separate social lives.

Fault Vs. No-Fault: Divorce under the grounds of separation is considered a no-fault divorce and requires that you complete a separation period of a minimum of one year, according to Family Law Help Centre. But the grounds of adultery and abuse/cruelty are both fault divorces, and the grounds must be proven by evidence.

Life After Divorce: On top of dealing with the divorce itself, it's important to plan for life after separation and divorce. That includes dealing with a new financial reality, helping any children involved through the change, and planning for the separation of the household.

Making A New Budget: After a couple separates each spouse will have to adjust to life on a single income, including whatever support each may receive. "If you are now living on a single income, this can make a substantial difference in your financial plan," says financial advisor Cory Gagnon. Keep in mind that it requires not just assessing your day-to-day budget but also your long-term planning, including retirement.

Look At Your Insurance Needs Splitting assets can also mean changing insurance policies — and you'll want to be on top of that, so you aren't left needing it and finding yourself without. "While living on a single income, and particularly if you are also taking care of children, it would be wise to invest in disability or critical illness insurance in case you are ever forced out of work for an unforeseeable amount of time," Gagnon says. "You will also want to re-evaluate your policies for home insurance, car insurance, and life insurance."

Helping The Kids: If there are children involved, a divorce can be more complicated — and more painful. It's important to try to keep things as civil as possible, and to keep children protected from any strife; research has shown that high parental conflict levels during and after divorce can harm children. It's a good idea to be open with children about the divorce, and to present as united a front between parents as possible. Enlist the support of family or friends, and work with a child or family therapist if your child is struggling — or in order to prevent problems down the road.

But Sometimes, It's For The Best: Divorce can also help children, in the end. One 2001 study found that while many children do experience negative consequences after divorce in the short term, most don't in the long term. And children who lived in high-conflict homes before a divorce actually fare well afterwards — it's possible that they see divorce as a relief when the day-to-day at home is so stressful.

Helping Yourself: Divorce is hard on adults too, even if you know that it was the best decision. Divorce can contribute to stress, substance abuse, depression, and anxiety in one or both parents, and can cause significant financial stress. And it's also just sad, and an adjustment even among the calmest of circumstances. Take care of yourself during the process, including seeking outside help if needed. Many communities have post-divorce support groups that can help you talk about your feelings and find other people who understand where you are in your life.
Follow Alyson Jones on Twitter: www.twitter.com/MOREAlysonJones