Top 10 Travel Products For Adventuring Families
As a seasoned traveller, my wanderlust runs deep (from backpacking to business travel, I have circled the globe numerous times). Now as a mother of two, I am passionate about cultivating and passing along that love of travel to my children by placing an importance on collecting experiences, not things. However, let's be honest, sometimes there are some things that happen to make travel a whole lot easier. Below I profile my top 10 favourite products that make travelling with tots easy, breezy!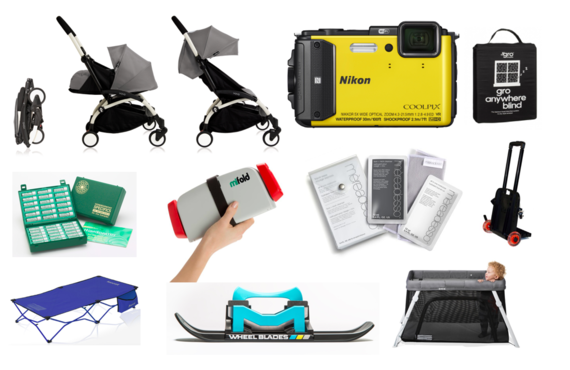 1. The Babyzen Yoyo has changed our stroller game big time. Not only is it ideal for travel, weighing less than 13 lbs and folding up small enough to fit in an overhead compartment on the train and plane. It also handles like a dream, fits in narrow passageways or elevators, all the while delivering in the tetris-trunk packing department. For a family on the move, this could be the only stroller you need to own.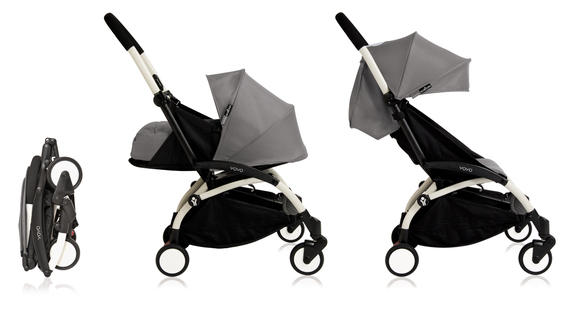 2. Nikon COOLPIX AW130 Having the proper gear to capture memories and experiences is so important to me. Instead of fumbling with a complicated and clunky DSLR, or relying on a smart phone camera, entrust your family memories to this over-achieving camera. It's waterproof, shockproof and freezeproof, which means you couldn't pick a better camera to accompany you on and off the ski slopes, at the beach and in the pool, or along those steep hiking trails. It offers one-handed dial action control so you can be sure to capture those memories easily while also juggling the chaos that is family travel. Plus you can keep track of your adventures thanks to the GPS that has built-in maps and point-of-interest technology. No more mom-brain lapses when trying to guess which historically significant monument you were posing in front of for next years holiday card.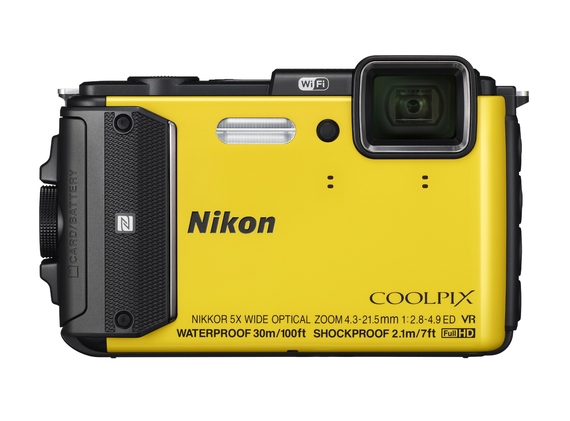 3. Mereadesso Travel Ease Kit is part of my personal travel arsenal. Founded by a fellow mother who was short on time but skin-obsessed, she created products with multi-purpose to save time. The Travel Ease Kit makes skincare easy and effective. It comes with an All-In-One Moisturizer and Face + Neck Cleanser in resealable sachets, a cleansing cloth, contained in a reusable pouch! Carrying-on is a much easier reality for me these days!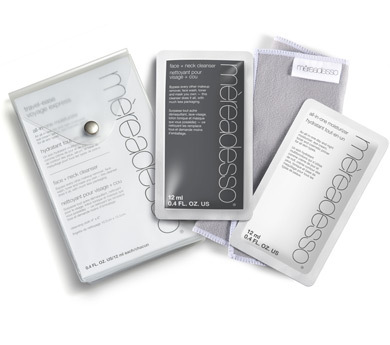 4. For the alpine family who doesn't want to skip a beat, look no further than Wheelblades XL -- these ingenious universal stroller skis snap right on to most carriage wheels evenly distributing the weight in order to glide above the snow. With a simple clamp-lock that is easy to take on and off, they are shock-proof, ensuring a comfortable and convenient ride for you and baby. North Americans can purchase here.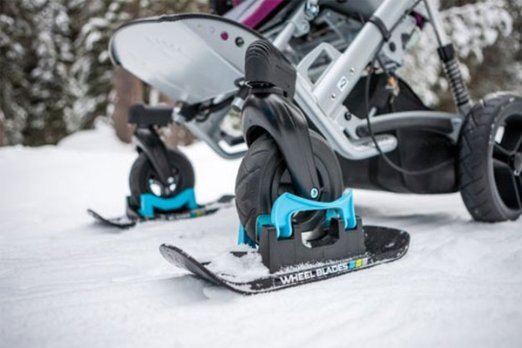 5. A next level booster seat, the Mifold folds up into a package small enough to fit into a child-size backpack or your car glove compartment. Perfect for traveling or carpooling, the Mifold is determined to revolutionize the typical car booster seat, and with great success. They're incredibly successful Indie GoGo campaign has raised over $870,000 to-date. You can pre-order your Mifold for a May delivery here.
6. For sleepovers at grandma's house or to add an additional bed to any hotel room, the innovative Foocot Child Cot is an inexpensive sleep solution that any adventuring family should own. Kids will love having their own special place to lay their little heads (no matter where they are) and parents will fall for how simply it can be stored, transported and set up.
7. Because sleep is precious, we don't like to leave it to chance while on the road. We love the Gro Anywhere Blind for it's ease and ability to turn any room with a window into a dark and sleepy cocoon. Time changes and tropical sun be darned, this product is a must!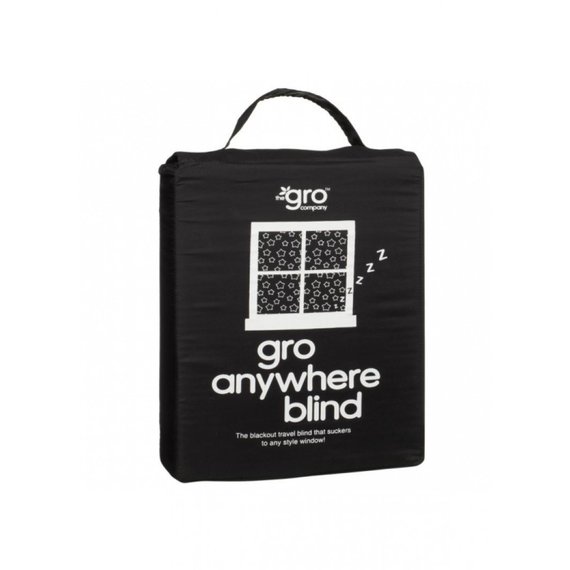 8. Safe, simple, comfortable and light, the Lotus Everywhere Crib packs easily into it's very own carry-on backpack, leaving your hands free to hold (or chase) your little one through the airport. Recipient of a GreenGuard Gold certification, this product is free of Phthalates, lead, heavy metals and PVC - so everyone can rest easy. And speaking of easy, I love the easy access via a zippered wall that makes the dream feed just that - dreamy!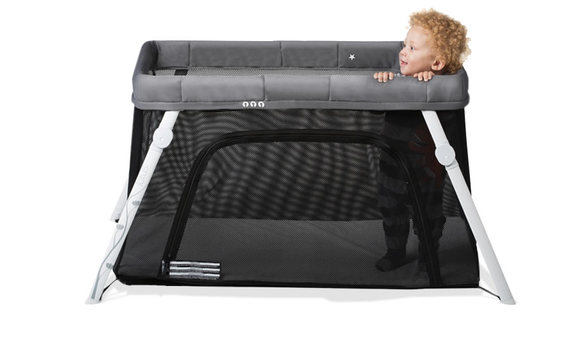 9. Be prepared for anything while on the road with the Helios Travel Kit. The carry-on size travel kit contains 36 homeopathic remedies for the whole family that can help with anything from insect bites to diarrhea or sunburns.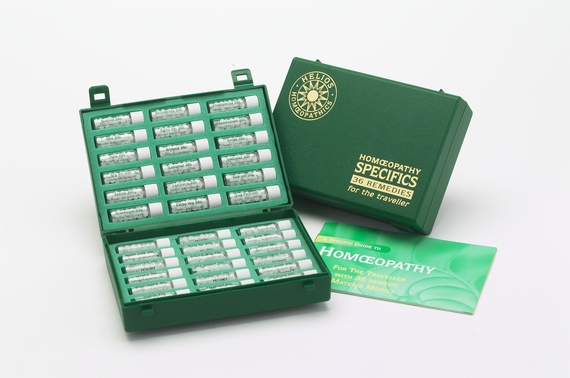 10. The GogoBabyZ is a rolling suitcase for your heavy and cumbersome car seat that will have you whizzing through terminals and car rental agencies like a jungle cat. It easily mounts and detaches in mere seconds and enables you to push or pull your child while they sit comfortably in their familiar seat.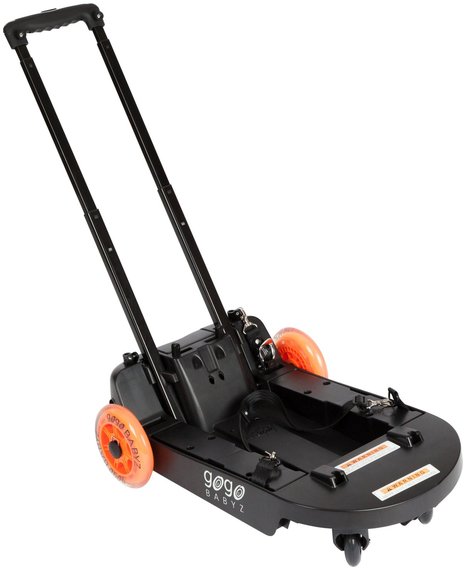 ALSO ON HUFFPOST:
Alberta's Coolest Winter Travel Destinations
The Athabasca Ice Cave near Jasper is one of Alberta's most stunning natural formations. The cave is right on the edge of the Athabasca Glacier, which is part of the Columbia Icefield. To get there, hike to the toe of the glacier, and then head right along the gravel. You'll spot the ice cave up ahead. Just be careful: the cave isn't safe to go inside, but you can capture plenty of beautiful photos from the front!

Waterton Lakes National Park is swarmed by tourists in the summer, but in winter you'll find nothing but peace and solitude. The World Heritage Site is an incredible place to catch a glimpse of wildlife. Keep an eye out for bighorn sheep, moose and martens. Try a snowshoe trip to Crandell Lake, or head to the edge of town to see the frozen Cameron Falls.

Every year, artists from around the world congregate in Edmonton for the Ice On Whyte Festival to compete in the ATCO Gas International Ice Carving Competition. When you're not watching them create magical sculptures, you can try ice carving for yourself, zip down the giant ice slide or enjoy live, local music.

Maligne Lake is the largest natural lake in the Rocky Mountains, and it's one of Canada's most photographed destinations. It's a great spot for winter camping and has beautiful cross-country skiing trails.

If you decide to camp out near Maligne Lake, definitely swing by Maligne Canyon. The stunning gorge is surrounded by waterfalls and is carved out of 365-million year old limestone. There are plenty of local companies that offer icewalk tours — most provide the boots and headlamps, too!

Canada Olympic Park might be known as Alberta's best winter sports destination for families to visit on a day trip, but the ski hills really shine at night when the crowds head home. The park has four kilometres of floodlit slopes for night skiing — the slopes are lit up until 10 p.m.

There are endless things to do in Lake Louise in the winter. Skiing, snowboarding, dogsledding, snowshoeing, ice climbing, hiking, ice skating, horse-drawn sleigh rides... you name it. Even if you don't ski or snowboard, the gondola is great for sightseeing. It's one of the most spectacular ways to view Banff National Park.

Read on for more winter activities in Alberta...

Edmonton's Hawrelak Park will be a-glow with an ice castle that lights up at night and offers tunnels, caves and slides for visitors to explore. Built by Ohio-based Ice Castles, about 5,000 icicles are "farmed" each day for the project.

"Come on it's lovely weather For a sleigh ride together with you." Calgary's Horsin' Around (located next to Fish Creek Park) offers horse-drawn sleigh rides to and from a tobogganing hill, followed by pony rides, a petting zoo, a campfire and hot chocolate. Sounds like the perfect way to spend a snowy day.

Gull Lake is one of the best spots to snag whitefish and pike in the province, and it's even more fun in the winter. Adventure Ice Fishing does all the work for you. It rents out daytime or overnight huts (which include all of your equipment, tables, chairs and bunks), and they're are heated with a wood stove. Holes are already drilled in the ice, and there's even an underwater camera ready for you to use!

Winter is the best time to view the northern lights. The University of Alberta offers an email alert service that lets you know when an aurora might be visible. Better pack a go-bag with mittens, a thermos and hot chocolate packets to be ready once an alert goes out!

The best time to explore Banff's Grotto Canyon is actually after the river has frozen over. Rather than struggling over rocky terrain, you can wander down the smooth, frozen creek bed. Highlights of the walk include spotting ice climbers on the frozen waterfalls, a geology lesson on ancient ocean floors, and 500-year-old pictographs.

Some of the province's best snowshoeing trails are actually up in the Rockies. Try the Troll Falls trail near Nakiska. Just a short drive from Canmore (where there are plenty of spots to rent snowshoes if you don't own a pair), this trail is super easy for beginners and not too long — from start to finish the trek is about two hours.

Making maple taffy on snow or "tire d'érable sur la neige" is a francophone tradition that's alive and well in Alberta. St. Isidore, Bonnyville and Grande Prairie all host sugar shack festivals. Or, if you're feeling adventurous, you can try making the treat yourself.
Follow Amanda Blakley on Twitter: www.twitter.com/amanda_blakley