Please Treat My Invisible Disability With Respect
Just by looking at me you'd never know I have a disability. You wouldn't know that it's potentially fatal if not treated immediately, or that it's caused me life-altering anxiety for years. You wouldn't realize that I have experienced bullying as a result of it, or that it's often belittled by people who don't understand it.
You would never know the amount of research my parents had to do when I was first diagnosed, or how scary it was for them to not know why their baby was covered in eczema and constantly ill. You wouldn't know that although there's treatment there is no cure.
I have anaphylactic allergies, a condition with no outward signs but that alters or affects nearly every facet of my life.
I am allergic to dairy, nuts and all legumes, including peanuts and soy protein. As a kid that list was much longer and included chicken, egg and pear.
Having an invisible disability means that I hear a lot of social commentary about it without others realizing that I'm part of that group, like being a fly on the wall while fully present. In the past I had tried so hard to conceal the fact that I was different.
In high school I would go to great lengths to cover it up for fear of being patronized or having anyone think I was a "loser." If there was a situation that involved food I was unsure about I would behave the same way many teens with an eating disorder do. I'd move food around on my plate, hide it, throw it out on the sly or claim I was running late to skip the meal portion of the outing. Sometimes I just pretended I was full and then hastily scarfed down a "safe" sandwich from my purse in a washroom stall.
The physical toll is immediate: throat restriction, swelling of the face and hands, vomiting, increased heart rate, faintness.
In elementary school my mom played a greater role in my anaphylaxis prevention (those with allergies are constantly aiming to prevent a reaction). She handled my school events, talked with other moms and teachers, packed separate snacks for me, and accompanied my class on every class trip.
She even had slices of safe birthday cake individually frozen so that she could send one with me to my friends' birthday parties. She made it easier for me to fit in. In school I had to sit on my own during meal times until around the Grade 3 to avoid cross-contamination. My mom arranged with the custodian to have him wipe down all surfaces after lunch. But as I grew up I had to learn to handle it independently.
I've had six anaphylactic reactions requiring epinephrine, hospital visits, and bed rest (and countless less-severe reactions requiring antihistamines). They have all happened at inconvenient times and necessitated others to drop everything and come to my aid. They have all required days of rest afterwards followed by inability to eat and frequent anxiety attacks.
The physical toll is immediate: throat restriction, swelling of the face and hands, vomiting, increased heart rate, faintness. But it also extends past that day -- black eyes, faintness, exhaustion, sensitive stomach, headaches and heightened anxiety.
I've been present for a lot of discussions on whether or not allergens should be banned in school and I've heard a lot of hurtful statements made about people with allergies on TV, on social media and in my everyday life. Some have suggested it's too inconvenient for parents not to pack their kid's favourite lunch because they are a picky eater. Others have suggested, albeit half-jokingly, that allergic kids go to a different school or be in a separate class.
As a kid I remember watching a comedian on TV complaining about not being able to pack his son a peanut butter sandwich for lunch. He said it in such a way that it sounded like the most outlandish, high-maintenance thing. As the audience laughed, I sat there stone-faced as though I had just heard a bully making fun of me in the school yard.
I often wonder if those same people saw someone in a wheelchair, would they tell them they'd "just die" if they couldn't walk?
Statements like this contribute to my fear of always inconveniencing everyone with my special needs. The language around allergies has to change.
It's so common for people who first learn of my allergies to say things like, "If I couldn't have ice cream I would die," or "Wow, I feel so sorry for you. At least you don't know what you're missing." And I often wonder if those same people saw someone in a wheelchair, would they tell them they'd "just die" if they couldn't walk?
Why is this language not seen as rude and patronizing? I've worked very hard on myself to change my attitude about my allergies, but I think there is also a need for society to change its, as well.
Support for this cause has been growing, and allergen-free food companies, bloggers, writers and even organizations promoting inclusivity -- such as the Teal Pumpkin Project -- are gaining popularity. I'm now the author and food photographer of an allergen-free cookbook for kids, Allergen-Free Desserts to Delight Your Taste Buds, and I run a website called Everyday Allergen-Free where I talk about all things related to allergies.
Recently I had the good fortune of connecting with myAllergy, a tech start-up from the U.K. who has the same goal in mind. Together we're spreading allergy awareness one personal story at a time through the #myallergystories blog campaign.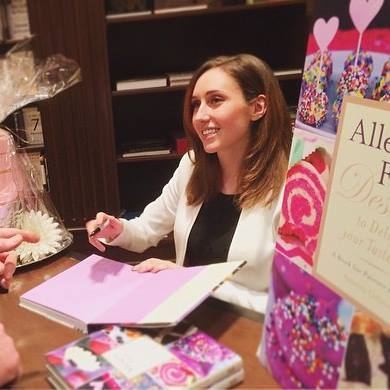 I don't want my disability to define me, I'm not "the allergy girl," but I do want others to be aware of my unique situation and to treat it with respect. The best way to do that is to draw attention to it to promote knowledge and understanding. Our goal is inclusivity, and we would love you to help us achieve it.
If you want to your story to be featured on the myAllergy blog page please reach out to amanda@myallergy.com.
Follow HuffPost Canada Blogs on Facebook
MORE ON HUFFPOST:
Allergy-Friendly Top 10: Ways To Combat Eczema This Winter
Epsom salt baths are easy to prepare and can provide a lot of comfort during severe eczema flare-ups. Epsom salts are made of magnesium sulfate, which has anti-inflammatory and antimicrobial properties. To prepare an Epsom salt bath, simply add 1 to 3 cups of Epsom salt to your warm bath water and dissolve. You can also add drops of tea tree oil or essential oils (such as lavender) to your bath water. Soak in the tub for 10 to 15 minutes to allow your skin to absorb the magnesium and gain the full benefits of your bath.

Select an unscented soap that has few ingredients and is formulated for sensitive skin and eczema. Make sure to read all of the ingredients in the soap to ensure it doesn't contain any of your allergens, as nut oils and fruit extracts can be used. In my household, we skip the fancy expensive brands and use pure vegetable glycerin soap.

Selecting a moisturizer is one of the more difficult decisions to make. Lotions can help lock water into skin, repair damaged skin, reduce dryness and itching, and provide a barrier for the skin. Some products are "lipid-replenishing" or contain ceramide, which is a type of fat that occurs naturally in the skin's outer layer. There are also products that contain ingredients to help soothe the skin, such as oatmeal and essential oils. There are many products marketed specifically to people with eczema and they can be pricey, so try asking for samples from your doctor or drugstore to decide which product works best for you before you purchase a full bottle.

Timing is just as important as selecting the right skin cream. The best time to apply moisturizing cream is right after a bath or shower. Just pat your skin dry, apply any medicated creams to the spots where they are needed, then apply your lotion all over your body before your skin has the time to dry out completely. This after-bath treatment helps trap the moisture that has gotten into your skin while bathing.

Keep a travel-sized container of your moisturizer with you and apply lotion frequently to the areas where they are most needed, such as your hands, lips, and the crease of your arm or behind the knees. Apply moisturizer every time you wash your hands, and consider bringing your own travel-sized gentle hand soap to use when you are not at home, as the anti-bacterial hand soaps in public washrooms can be very harsh on your skin.

Keeping hydrated is one of the best ways to achieve healthy skin. Drink lots of water, and eat fruits and vegetables throughout the day. Reducing your caffeine and alcohol intake will also help.

Maintaining air humidity levels of at least 30 to 50 per cent is ideal for healthy skin. During the winter months you might need a humidifier inside your home to reach these optimal conditions, especially if you use forced-air heat. Some doctors may specifically recommend cool or a warm mist humidifier depending on your situation, but otherwise it's usually a matter of personal preference. Cool mist humidifiers are recommended in children's rooms as the steam from a warm mist humidifier could pose a safety hazard.

Cotton, bamboo and silk are the best fabrics for eczema, as they breathe easily and are soft, so they will not irritate the skin. Although wool is natural, it is best to avoid its stiff fibres that can irritate sensitive skin.

Wearing loose breathable fabrics won't make a huge difference if your clothing is washed in detergent that contains perfumes and dyes that can irritate sensitive skin. Use mild laundry detergents and rinse your clothes twice to clear away all traces of detergent. Avoid fabric softeners, because the fragrances can cause itching and redness.

Cut your nails regularly and remove any potentially sharp edges with a nail file. Eczema is extremely itchy and it's hard to stay disciplined and avoid scratching. Short nails will minimize the damage that light scratching can do to your skin. It also helps minimize the impact of scratching during your sleep.
Follow Amanda Orlando on Twitter: www.twitter.com/EAFLifestyle