Ford Puts Its Money Where Its Motor Is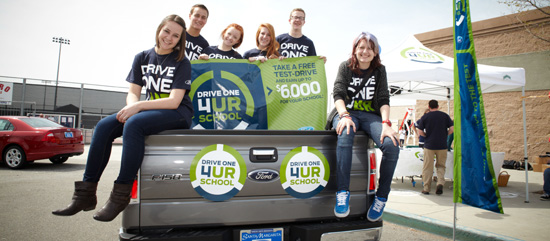 *Credit: Ford Motor Company
Recently I was invited by Ford Canada to attend the Montreal auto show. I got to check out all the new Ford and Lincoln cars and trucks. I also had the opportunity to meet two key players from the Montreal Canadiens -- Carey Price and Josh Gorges!
All in all I had a great time, but what I really enjoyed about hanging with Ford is how customer focused and down to earth they all are. They are really trying to understand the needs of Canadians and how to make a difference in our everyday life. Their desire to make a difference isn't limited to products and services. They are working very closely within our communities to make a difference by giving back.
This isn't uncommon for a large brand, but what I love about how Ford does it, is how locally focused their work is. There are countless corporations that are dedicating a large chunk of their profits for different causes. But Ford really does it well as they have a global strategy that integrates very well locally.

Ford started "Drive one 4ur community" or "drive one 4ur school" to fill a great need. This program partners up schools and communities that have Ford dealerships to do a fundraising event. This is a community-based event that allows a very unique form of fundraising/awareness campaigns that helps communities raise money without asking the people to dig into their own pockets.
"Since 2010, Canadian dealers have raised more than $2 million for schools and community organizations across Canada."
One driver per household can test-drive a Ford vehicle, and for each drive, Ford donates $20 up to $6,000!
Imagine how easy and fun that is, and you don't have to put a penny down. Participants have the opportunity to drive one of the following vehicles; the Ford Edge, Escape, Focus, Fusion, Mustang, Super Duty and other models available to the dealerships. I would love to drive a Mustang and make a difference at the same time!
This is a wonderful and unobtrusive way for Ford to introduce it's new cars to people who may not have tried them otherwise. Some may ask "Why doesn't Ford just write the community or school a $6000 check?" We ask, "How else are YOU supposed to raise awareness about your cause, without your community getting involved?"
Since the Drive One initiative came to Canada in 2010 there have been more than 1,000 events which lead to over 160,000 test-drives. Crazy cool eh?
The Ford Drive One events have been used to raise funds for local sporting groups, gyms, help fund housing projects, and mentorship programs for at-risk youths.
According to media team in the U.S.:
"Drive 4 UR Community is very similar in concept to Ford's successful Drive 4 UR School initiative, which has raised more than $12 million for local schools since its inception in 2007."
Ford's Drive One events have helped with relief efforts for communities that were hit by natural disasters including tornadoes and hurricanes. Many schools needed money desperately to recover from loss and damage.
Perhaps the most inspiring story has been a Canadian one. In 2012 a Ford dealership in Abbottsford British Columbia, Magnuson Ford - made a joint effort and partnered up with several schools and broke the record for most funds raised by one dealership. They raised a total of $148,000 for their schools!
Learn more about this amazing local in the video below.


(video credit to Ford Canada blog by Rannie Turingan)
This is a fun and easy way for a community to raise money for a cause they care about. It allows for a dealership to learn more about their community, make a difference and introduce new and upcoming Ford cars and trucks.
This is an amazing example of a brand putting their money where their mouth is and helping people help themselves. Ford literally puts you at the helm of your favorite causes.
"We are proud of the impact this program has had in bringing together community members to support their students and neighbors in Quebec. The commitment of both Ford of Canada and Quebec dealers to give back to their communities is something we take seriously and that's why the program is back in 2013." says Bert Lessard, General Manager for the Quebec Region at Ford.
So next time your community is looking to raise funds for a Women's shelter, play ground or gym, ask yourself this, "have you driven a Ford lately?"
Japan's auto giant Nissan Motor executive vice president Hiroto Saikawa (L) displays the company's new luxury sedan 'Cima', which has the new hybrid system with V6-3.5 litter gasoline engine and electric motor to achieve 364-horsepower high performance and good economy efficency of 16.6km per litter at the company's headquarters in Yokohama, suburban Tokyo on April 25, 2012. Nissan will put it on the market from May. YOSHIKAZU TSUNO/AFP/Getty Images

Japan's auto giant Toyota Motor managing officer Kazuo Ohara (R) introduces the company's newly designed Lexus RX 450h hybrid SUV with a 3.5-litre V6 engine in Tokyo on April 12, 2012. Toyota will put it on the market on April 21. YOSHIKAZU TSUNO/AFP/Getty Images

A Fisker Karma hybrid car is displayed at the US carmaker's booth on March 6, 2012 during a press day ahead of the 82nd Geneva Motor Show in Geneva. Some 700 carmakers will be taking part in the Geneva Motor Show, which opens to the public from March 8 to 18. FABRICE COFFRINI/AFP/Getty Images

The Hyundai Sonata hybrid car on display February 2, 2012 at the 2012 Washington Auto Show at the Walter E. Washington Convention Center in Washington, DC. The auto show runs through February 5. KAREN BLEIER/AFP/Getty Images

The Toyota Prius C hybrid is introduced during a press preview at the North American International Auto Show at the COBO Center January 10, 2012 in Detroit, Michigan. The NAIAS opens to the public January 14th and continues through January 22nd. (Photo by Bill Pugliano/Getty Images)

A Mercedes F 125 Concept fuel cell hybrid car is on display at the international motor show IAA (Internationale Automobil-Ausstellung) in Frankfurt/M, western Germany, on September 14, 2011. The world's biggest motor show, the IAA, is running on display at the international motor show IAA (Internationale Automobil-Ausstellung) in Frankfurt/M, western Germany, on September 14, 2011. The world's biggest motor show, the IAA, is running from September 15 to 25, 2011. PATRIK STOLLARZ/AFP/Getty Images

LOS ANGELES, CA - NOVEMBER 17: The BMW i8 plug-in hybrid all-electric concept car makes its North American debut at the Los Angeles Auto Show on November 17, 2011 in Los Angeles, California. The car show opens to the public tomorrow and runs through November 27. (Photo by Kevork Djansezian/Getty Images)

Models show off the concept SUV 'Cross Coupe' of German's Volkswagen, which is the all-whell-drive plug-in hybrid vehicle, during the Tokyo Motor Show in Tokyo on November 30, 2011. TORU YAMANAKA/AFP/Getty Images

Journalists check Japanese auto giant Toyota Motor's new compact hybrid car 'Aqua', equipped with a 1.5-litter gasoline engine and an electric motor to drive the five-seater body in Tokyo on December 26, 2011. The world's highest efficiency vehicle, which achieved 35.4km/litter for fuel efficiency, started to sell here. YOSHIKAZU TSUNO/AFP/Getty Images

People look at a RC hybrid car by French car maker PSA Peugeot Citroen on December 14, 2011 at the Peugeot store on the Champs Elysees avenue in Paris. PSA will experience a 'significant loss' for the second half of the year said the president of the board Philippe Varin during a hearing at the National Assembly in Paris on December 14, 2011. LIONEL BONAVENTURE/AFP/Getty Images

Japan's auto giant Toyota Motor unveils the new 'Camry' hybrid sedan, equipped with a 2.5-litre engine with an electric motor hybrid system, during a press preview in Tokyo on September 5, 2011. Toyota started selling the mid-sized flagship sedan from September 5. YOSHIKAZU TSUNO/AFP/Getty Images

A cameraman takes video of the new 'Prius a' (alpha) minivan-style hybrid vehicles by Japan's auto maker Toyota Motor in Tokyo on May 13, 2011. Toyota annouced the launch of the seven-seat model equipped with a lithium-ion rechargeable battery, with the five-seat model equipped with a nickel metal hydride battery in Japan. TORU YAMANAKA/AFP/Getty Images

The Porsche 911 GT3 R Hybrid Facebook Race Car during the 2011 New York International Auto Show at the Jacob Javits Convention Center in New York April 21,2011. TIMOTHY A. CLARY/AFP/Getty Images

DETROIT- NOVEMBER 30: A General Motors Chevrolet Volt goes through assembly after GM celebrated the official launch of the Chevrolet Volt hybrid electric vehicle at GM's Detroit-Hamtramck Assembly November 30, 2010 in Detroit, Michigan. The Volt extended-range electric vehicle, for which 1,000 jobs will be created by General Motors over the next two years, started production earlier this month. (Photo by Bill Pugliano/Getty Images)

The hybrid car 'BMW ActiveE' is presented at a plant of German carmaker BMW in Leipzig, eastern Germany, 05 November 2010. BMW are expanding its Leipzig plant for the production of the newly-developed Megacity Vehicle, a zero-emission car featuring an extremly light plastic bod, and is to be produced in Leipzig from 2013. AFP PHOTO / POOL / PETER ENDIG (Photo credit should read PETER ENDIG/AFP/Getty Images)

Japan's auto maker Honda Motor president Takanobu Ito introduces the company's new hybrid compact car 'Fit Hybrid', equipped with 1.3-litre electric motor and front-wheel drive during a preview at the company's headquarters in Tokyo on October 8, 2010. Honda started selling the vehicle on the Japanese market and will export to Europe as the 'Jazz Hybrid'. YOSHIKAZU TSUNO/AFP/Getty Images

Watch a visuals overview, with design and driving shots of the Honda Jazz Hybrid car.

See a visuals video of the Porsche Panamera S Hybrid car.

See the unveiling of the Opel Ampera hybrid car at the Geneva Motor Show.

Learn about LEXUS CT 200h hybrid car and its useful selection function to change Hybrid Mode to match your use.
Follow Amber Rehman on Twitter: www.twitter.com/amberzcorner