24 Questions You Should Ask Your Parents, While You Can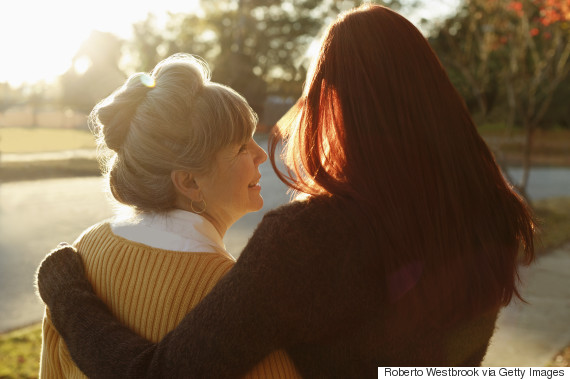 I am close with my parents. I talk to my mom and dad (separately) quite often, sometimes over the phone, sometimes on FaceTime. Usually the conversations are geared towards what is happening that week, how I am doing, how they are doing and how my kids are doing. Rarely do we get into deep conversations about their lives, experiences or perspectives.
However, a recent conversation with my mom revealed things I never knew or realized about her. For instance, I learned how old she was when she and my dad divorced (43) and how old she was when her father passed away (14). I knew brush strokes about my mom's past, but didn't know or remember specifics about some of her most defining moments. A lot of my memories are just that, my memories. Memories that are from my vantage point.
The chat evolved into a deeper discussion, such as her biggest regret and biggest life lesson. In that moment I learned so much about my mom: Things I wouldn't have known if I hadn't asked.
I find myself with newfound awareness and empathy. It made me realize that I should have asked these questions a long time ago.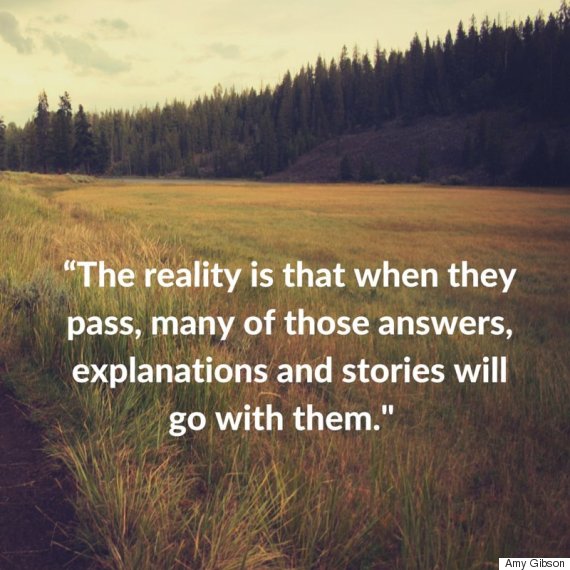 As weeks, months and years fly by, we are all missing opportunities to talk about real things -- important things -- with our parents. There are things that only they can answer or explain. Sadly, the reality is that when they pass, many of those answers, explanations and stories will go with them.
So why are we wasting time? Why don't we ask them the questions that would explain events that shaped them, decisions they made and important lessons they learned? Questions that would yield new insights, understanding and compassion... for people we think we know so well?
Important questions you should ask your parents:
1. What was your childhood like?
2. What were you like in high school?
3. How would your parents have described you?
4. When you think about a fork in the road in your life, what was it and why did you choose that particular path?
5.What happy memory will you cherish forever?
6. What was your second choice for my name?
7. What have you always wanted to tell me, but haven't had the courage to?
8. Growing up, who inspired you the most?
9. If you had to do it all over again, would you pursue the same career path?
10. What is your biggest regret?
11. Best trip of your life?
12. What amazes you most about society nowadays?
13. What do you miss most about the 'old days'?
14. Looking back at your life thus far, what are you most proud of?
If you don't ask, you will never know.
15. What did you discover in the last decade or two that you wish you discovered sooner?
16. Favourite place you have lived?
17. What were you doing when you were my age?
18. What advice would you give your 40-year-old self?
19. When did you know that you wanted to marry mom/dad?
20. What do you remember most about your wedding day?
21. What do you wish you made more time in your life for?
22. What do you wish you spent less time doing?
23. What family tradition do you cherish the most?
24. What have YOU always wanted to ask ME?
The reality is having loved ones in our lives is a blessing. While we have our loved ones with us, we shouldn't miss opportunities to talk to them, learn more about what makes them tick and how they came to be the people/parents that we know and love.
Don't regret what you didn't ask them or tell them.
Who knows what tomorrow will bring, so today, make it a priority to reach out and really talk to your parents.
If you don't ask, you will never know.
********************
This week, Huffington Post launched a new series called Talk To Me which encourages authentic conversations between parents and children.
Interested in being a part of Talk To Me? Film your own Talk To Me interview using Facebook Live or record a video and upload it to Facebook. Just use the hashtag #TalkToMe.
ALSO ON HUFFPOST:
ALSO ON HUFFPOST:
Celeb Parents Who Have Been Married FOREVER
Married: 25 years John Travolta and Kelly Preston will celebrate a big milestone this year — their 25th wedding anniversary! The couple tied the knot in 1991 and had three kids: Jett, Ella and Benjamin. Sadly, the couple's eldest son Jett passed away in 2009.

Married: 19 years Not many people know this, but Snoop Dogg married his high school sweetheart, Shante Broadus, back in 1997. The two have been together ever since and have four kids: Corde, Cori, Cordelle and Julian.

Married: 33 years Goldie Hawn has been married to Kurt Russell for more than 30 years. The couple has one son together named Wyatt. Hawn is also a mother to Kate and Oliver Hudson, who have kids of their own, making the couple grandparents to five kids.

Married: 29 years The "Seinfeld" alum married her high school sweetheart Brad Hall in 1987. They then went on to have two kids: Henry and Charles.

Married: 28 years Tom Hanks and Rita Wilson have two sons together: Chet, 25, and Truman, 20. Hanks also has two kids from his first marriage to Samantha Lewes. Thanks to his eldest child, Colin, Hanks and Wilson have two young granddaughters named Olivia and Charlotte.

Married: 20 years The "Wolverine" star met his wife, Deborra-Lee Furness, early in his career. They then married in 1996 and adopted two kids. Oscar is now 15, and Ava is 10.

Married: 36 years In 1980, Samuel L Jackson married LaTanya Richardson. They have now been together for more than three decades and have one daughter. Zoe is now 34 years old.

Married: 17 years The Beckhams have managed to build very successful careers for themselves and stick together at the same time. After 17 years, the two are happier than ever and are parents to four kids: Brooklyn, 17, Romeo, 13, Cruz, 11, and Harper, 4.

Married: 28 years Kevin Bacon and Kyra Sedgwick have been together since 1988 and have two kids, Travis and Sosie.

Married: 19 years When you think about long-lasting couples, Will and Jada Pinkett Smith always come to mind. The couple has been married since 1997 and together they have two famous kids, Jaden and Willow.

Married: 32 years Being together for 32 years is pretty remarkable! Jamie Lee Curtis and Christopher Guest tied the knot in 1984 and have been together ever since. During their years together, the couple adopted two kids. Both Annie and Thomas are now all grown up at 29 and 20 years old, respectively.

Married: 22 years Celine Dion was married to René Angélil for more than two decades when he died from throat cancer earlier this year. The couple have three kids together: 15-year-old René-Charles and four-year-old twins, Nelson and Eddy.

Married: 34 years Can you believe the Osbournes have been together for more than three decades?! The couple has three kids — Aimee, Kelly and Jack — and two grandkids thanks to their son. Jack is a father to two girls, three-year-old Pearl and one-year-old Andy.

Married: 24 years Late music legend David Bowie and supermodel Iman were married for nearly 25 years before he passed away from cancer in January. In 2010, the model said in an interview that her marriage was "exactly as fabulous as you all would think." Bowie is survived by his wife and two kids, Duncan and Alexandria.

Married: 38 years Meryl Streep and her hubby, Don Gummer, are proof that love lasts. The couple married in 1978 and had three daughters and one son: Mamie, Grace, Louisa and Henry.

Married: 33 years Denzel and Pauletta Washington have been happily married for more than 30 years. The couple has four kids together. The 61-year-old proved his family was the cutest when he brought them all on stage with him at the 2016 Golden Globes.

Married: 28 years The Canadian actor has been married to his wife, Tracy Pollan, for nearly 30 years! Together, the couple has four kids: Sam, Esme, Aquinnah and Schuyler.
Follow HuffPost Canada Blogs on Facebook
Follow Amy Gibson on Twitter: www.twitter.com/Amy_GW