Workspaces Of The Future: 5 Points Of Inspiration
Last week, senior government officials, business leaders and global thinkers gathered in Vancouver at the 2016 GLOBE Series Conference and Innovation Expo with a goal of uncovering new ways to turn environmental challenges into business opportunities.
In an emerging field like sustainability where nobody has all the answers, transparency and collaboration are critical to success. Canada's Prime Minister, the honourable Justin Trudeau, kicked off the week with the launch of the Smart Prosperity Council, a think tank of more than 20 Canadian business leaders that will harness leading-edge thinking to advance innovation in policy and industry for a greener, more competitive Canadian economy.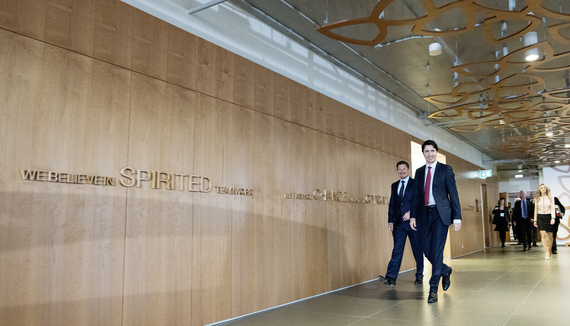 "We all know that in the new global context, sustainability is sound business strategy...investing in innovation, supporting clean technology and encouraging sustainable practices will foster emerging industries, job growth, market access and global competitiveness." -- Prime Minister Justin Trudeau
I was eager to connect with these great minds and enjoyed participating in a number of panels about innovative development. I ended the week feeling inspired and took away five points of inspiration for business leaders who are designing sustainable workspaces of the future:
Create a space that exudes your brand
Just like a home is a reflection of its owner, an office is a company's signature on the street. Businesses need to connect with communities by presenting beautiful architectural spaces that not only attract but also engage the public.
Some of the most inspiring spaces I've seen have become a pedestrian destination featuring public art displays or have incorporated rooftop terraces and indoor gardens to bring more nature into the heart of a city. When people visit inspiring spaces, particularly ones that bring the outdoors in, they're enticed to stay. It could be a welcoming café in the lobby or a grand piano that anyone is welcome to play - a versatile space is one that integrates aesthetic design and sustainable thinking through advanced technology.
The Packard Foundation building in Los Altos, CA is a perfect example. The organization's work to conserve the earth's natural resources is clearly demonstrated by its Net Zero Energy certified office space, and supports a community that it has been a part of for nearly 50 years.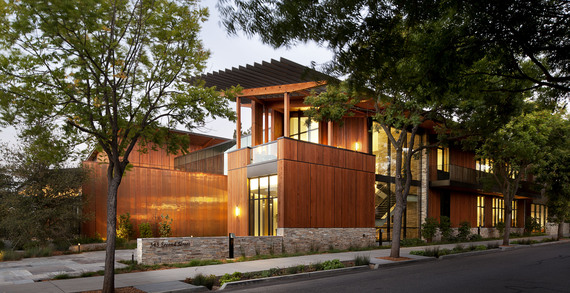 Make a big statement, leave a small impact
Sustainability is no longer a 'nice to have,' it is a 'must have.' In 2009, I stood at the corner of Georgia and Seymour streets in Vancouver looking at an aging city block and an old parkade. There was huge potential for this space to become an architectural icon, enhance the city skyline, and set a new standard for excellence in environmental sustainability. Six years later the vision has come to life. Not only is TELUS Garden now one of North America's greenest LEED Platinum certified buildings but it also plays host to Vancouver's largest solar panel array and a unique district energy system which takes waste heat from an adjacent TELUS network building and uses it to heat the water for the office, and soon-to-open residential, towers.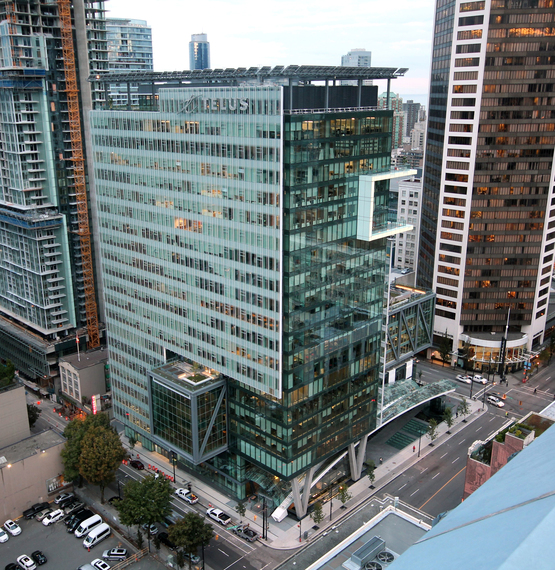 "TELUS Garden is as is as close to 'off-the-grid' as you can get, with a 90 per cent reduction in energy consumption." -- Thomas Mueller, President and CEO, Canada Green Building Council
There is no reason why all new developments can't follow this lead - thinking holistically about a project from the outset and committing to a focus on a reduced environmental footprint will have significant impact for many generations.
Bring in the outdoors
Research has shown that spending time outdoors helps restore attention, provides full body relaxation, and revives mood. It's an outstanding stress buster, and in a business environment, it can also provide a great opportunity for teams to collaborate and build stronger relationships.
This is most evident at companies such as MEC whose corporate philosophy is for their employees to live their passion for the outdoors. In its Vancouver False Creek Flats office space, a top-floor lunchroom opens onto a roof deck with gardens, and wind towers connected to ventilation columns supplying the building with fresh air.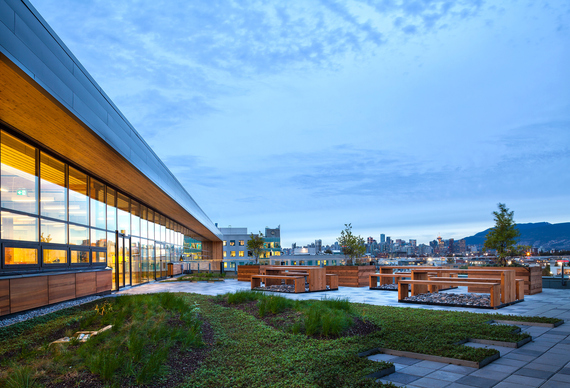 It is refreshing to see the practice of incorporating elements of nature indoors and revitalizing exterior landscapes to engage with employees. Apple has recently said that 80 per cent of its new headquarters being built in California will be green space. Not only does this help reduce carbon dioxide emissions, it also provides an opportunity to improve the health and well-being of employees.
Use natural materials
A natural work space not only attracts new talent, but also has multiple benefits for existing workers including fewer sick days, less mental drain and a jump in happiness levels. It's no surprise that these benefits have a direct and sustainable impact on a company's productivity and bottom line.
When people like where they work, they stay; and a well-designed workplace plays a big role in that fact. Using natural building materials and maximizing natural light is a smart business decision. One fascinating example of a building that takes this to the next level is Algae House or BIQ building in Hamburg, Germany, which actually incorporates living matter - microalgae - into its design.
One side of the tower's largely transparent surface contains growing algae, which controls the light that enters the building and provides shade when needed. When enough algae has grown, it is harvested and used as a renewable energy source to supply the building.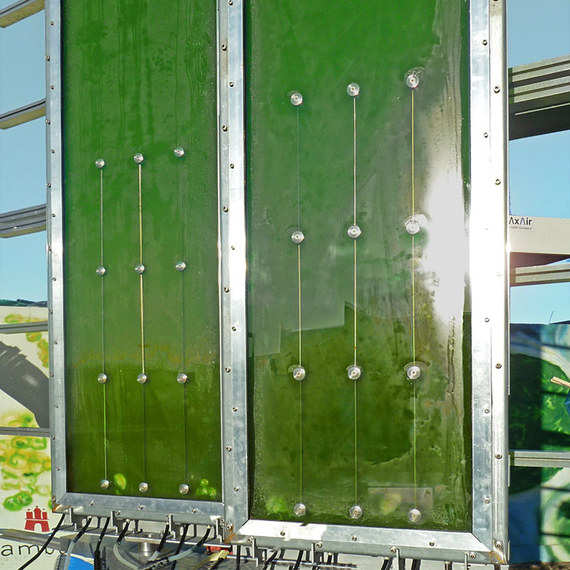 Change the style of work
A recent Millennial Branding report found 45 per cent of millennials will choose workplace flexibility over pay. Millennials make up 44 per cent of our workforce at TELUS, and that percentage is growing annually. Although we've spent a considerable amount of time designing our office spaces to be enjoyable and healthy to work in, we don't expect team members to come into the office for the sole purpose of being present. Facilitating collaboration is the driving force behind our designs, and we empower employees to work when, where and how they are most effective so they can meet business objectives while also achieving their own personal work/life goals. Other business leaders should adopt this as the new norm.
This approach has not only helped us attract great minds from around the world, but also aided in reducing our overall real estate footprint by more than one million square feet. Our national program, which has been adopted by 67 per cent of our 26,000 employees in Canada, has eliminated almost 23 million kilometres of transit each year. In 2014 alone, this amounted to 1.4 million hours of commute time and 6,000 metric tons of Co2 emissions saved.
Sustainable development is not just about moving to LED lighting or checking off a list, it's about a willingness to take risks and to be a trendsetter. Making smarter decisions and taking a holistic approach from the outset when considering your future workspace must be all-encompassing. GLOBE 2016 was a great opportunity to partner with other leading minds on sustainable development. These global forums will help to shape our country's future, leaving it in a better place for generations of global citizens and its leaders.
Follow HuffPost Canada Blogs on Facebook
ALSO ON HUFFPOST:
10 Ways Companies are Making Workplaces More Flexible
Raise your hand if you'd like to be able to give back to your community. Now raise your other hand if you just don't have enough time to do that. Now that we're all sitting at our computers doing the wave, let's talk about companies that know it makes good business sense to make volunteering part of work. For example, Intel, the Arizona-based technology company, gives employees time off during the workday to volunteer. It gives workers a sense of personal fulfillment and responsibility, and it creates a stronger connection between the company and the community than just writing a check could ever do. It's just plain smart. You can put your hands down now and move on to the next slide.

Every new parent knows there's nothing harder than that first day going back to work and leaving your newborn with someone else. We've all had that feeling of, "couldn't I just bring her with me?" Well, many businesses have decided you can. Companies like Business Psychology Associates, a benefit management firm in Boisie, Idaho, let new moms and dads bring their babies to work. Others take it further, like Chicago-based publisher Shakespeare Squared, who invested in an on-site office with a crib, changing table, fridge, and toys, so that parents can bring along their kids whenever the need arises.

Today's families aren't as simple as they used to be. Understatement of the year, right? One thing that's happening more and more these days is that as parents struggle to balance work and family, grandparents step in and take on larger child rearing roles. And sometimes those grandparents are still in the workforce themselves. So companies have recognized that grandparents need flexible work options, too. Seattle-based health and nutrition group WithinReach offers grandparents the same options it gives moms and dads, including the ability to take time off, ease back into work schedules, and bring infants to work. Because what grandparent doesn't want to be with the kids all day anyway?

If you have ever worked a day in your life, you have without a doubt uttered the phrase "I need a vacation." And sometimes we need a longer vacation -- for personal reasons, family obligations, or just to pursue other interests. Unfortunately, most career paths make it difficult if not impossible to take time off and then rejoin the workforce. But many employers are realizing they'll have happier, healthier and more productive employees if they give them the option to exit and re-enter the workforce. One leader in this field is the U.S. Navy, which has introduced career intermissions for service men and women. Sailors can take one to three years off from active duty service, during which they keep their health benefits and receive a stipend equal to one-fifteenth of their pay. When their intermission is up, they are able to transfer seamlessly back into service. Read more about military families and workplace flexibility (AP Photo/U.S. Navy, Mass Communication Specialist 3rd Class Adam K. Thomas)

What's the number one thing people most often intend to do in the morning but don't find the time or energy to fit in? Undoubtedly exercise. We all know we should do it but it's just hard to make it happen. Many employers offer hours off to hit the gym, but even that can be difficult when the gym is far away, inconvenient, or expensive. Delta Dental of Louisville, Kentucky solves this problem with an on-site fitness center staffed four days a week by two trainers. The cost to each employee is just five dollars a paycheck -- that's a lot cheaper than my gym membership!

How many times have you thought, the workday would be a breeze if I just didn't have to go to work? Well maybe you don't. Millions of Americans have realized they can get their work done without actually being at work every day. Letting employees work from home helps them balance work-family responsibilities, and also eases traffic congestion and helps the environment. Houston, Texas even launched a citywide "Flex in the City" program that encourages businesses to eliminate at least one peak-hour commute. Hundreds of companies have participated, making employees' lives easier and cutting congestion for those who do commute, all while maintaining productivity levels.

Traditionally there are two options for parents: you can work or you can stay home. But so many people are desperate for an in between option. It's one reason why many parents -- mothers in particular -- are still opting out of the workforce. In academic science fields, for example, women are still underrepresented -- not because they're not entering the field, but because they drop out at higher rates. In response, Bowdoin College in Maine is developing job sharing programs that split tenure track positions into two separate jobs, so that two teachers (even a couple, for example) can remain on the job without either working full-time. It's a great model that can be replicated in countless other fields. Read more about keeping women in the science pipeline.

We all like to imagine our retirement will consist largely of a beach chair and a pina colada, but when it comes down to it many older people want or need to remain in the workforce past the traditional retirement age. But a full-time job isn't always ideal or possible for older workers. Many companies are realizing they can't afford to lose the skills and knowledge of their older employees, so they need to find ways to keep them. Businesses like Merrick and Company, an engineering and architecture firm, let older employees transition into retirement by offering part-time positions that allow them to keep their benefits and move toward retirement incrementally.

Millions of Americans work and go to school at the same time, and some companies have recognized that if they make job schedules fit better with school schedules, their employees will be more productive and more likely to stay on board. For example, consulting firm Booz Allen Hamilton allows associates to cut their hours to part-time if they want to go to graduate school. When even more time is needed, employers like Sirna Therapies, a pharmaceutical company in San Francisco, offer educational leave programs so that employees can take time off to pursue advance degrees, then come back to their jobs when they're done.

When hard times hit unexpectedly and non-work responsibilities suddenly multiply, just a little financial boost can go a long way. It's no secret that people in tough situations have long turned not just to family and friends, but to co-workers, too. Now some businesses are making it official. Cooper-Roberts Simonsen Associates, an architectural firm in Salt Lake City, formed a "We Care Fund" to support colleagues in difficult circumstances, be it unexpected medical bills, or the need to stay home and care for an ailing spouse. Employees build the fund themselves through voluntary payroll deductions -- it's a small price to pay in exchange for knowing you'll have somewhere to turn if you hit hard times yourself.
Follow Andrea Goertz on Twitter: www.twitter.com/Andrea_Goertz