Doctors Should Not Be Forced to Prescribe the Pill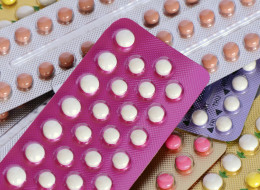 There's a Toronto-based business called the Red Tent Sisters, which gives sex advice to women. They are advocates for women's health, offering classes in everything from contraception to fertility and sexuality. They encourage women to leave hormonal contraception behind. "Ditch the Pill," says their website, "and reclaim your health, happiness and future fertility."
Ditch the pill? To reclaim health? Happiness? What? The founders of the Red Tent Sisters teach that fertility awareness, also known as natural family planning, provides reliable contraception and is better for women's health and the environment. There are many methods, but the commonality between them is that they eschew daily hormones and put women themselves in charge of their own sexual health without relying on Big Pharma.
In short, fertility awareness is healthy and empowering. It could also soon be forbidden to advise or explain it for Ontario's doctors.
The College of Physicians and Surgeons of Ontario is reviewing their current policy on conscience rights for doctors. They have favoured conscience rights for non-emergency procedures to date. This reasonable position is at risk of changing.
This is due, in part, to complaints about three Ottawa doctors who won't prescribe the birth control pill. They don't prescribe it partly out of religious conviction, but also because they believe it's bad medicine. Their motivations are different than those of the Red Tent Sisters, but the outcome looks similar. And regardless of motivation, these are doctors who have published numerous times in peer-reviewed journals in the last six months. They are committed professionals, concerned about their patients' health.
The complaint is that their refusal to prescribe the pill is denying fundamental rights and good healthcare.
Where to begin? Firstly, dislike of the birth control pill does not stem uniquely or even primarily from religious sentiment. It comes from the research.
In 2005, the World Health Organization added the pill to its list of known carcinogens. Recent studies show an increased risk of breast cancer between 19 and 60 per cent the result of taking the pill. (The four studies that are statistically significant, i.e., have a confidence interval greater than one all show an association between breast cancer and the pill.) There are risks of embolism and stroke -- side effects we've gotten used to hearing about, but which are severe and debilitating as well as scary and unexpected for young women. And there's a class action law suit against Bayer's Yasmin. The CBC reported in June 2013 that at least 23 Canadian women died taking this particular birth control pill. The death of young women is simply not a commensurate side effect when the goal is preventing pregnancy, especially when there are safer ways.

Secondly, anecdotal evidence abounds. Some women feel permanently nauseous on the pill, others get depressed. Still others lose the desire to have sex.
Finally, there is an environmental side. There have been reports of damage to the ecosystem, the result of flooding our water system with synthetic hormones.

Given the many negatives of the pill, it seems natural that many more women will seek these natural methods of health and family planning in due course. If doctors aren't free to practice it, then denying freedom of conscience to doctors in this case means denying this form of care.

Ultimately, the case at hand is not exclusively about conscience. It is about freedom to practice medicine as a doctor considers best, according to the best evidence available.
When a government body can tell doctors how to consider medical literature, at best, it's an extreme micro-managing of their affairs. At worst, it makes them into robots.
Defending conscience for these three Ottawa doctors is defending the life and health of patients. By extension, it is defending your own ability to live, think and work freely, according to your own conscience.
Research shows plenty of evidence against the pill. If conscience is overturned and doctors who disagree are forced to prescribe it, this will ironically mean the provision of inferior care. Using hearts and minds together is what conscience protection allows for. Does anyone actually want anything less in their doctor?
The College of Physicians and Surgeons of Ontario is accepting opinions from the public on this matter until August 5, 2014. Andrea Mrozek is the Executive Director of the Institute of Marriage and Family Canada (www.imfcanada.org)
MORE ON HUFFPOST:
10 Things To Know About Birth Control
The two-thirds of women who use contraception consistently and correctly account for just 5 percent of unintended pregnancies, the Guttmacher Institute reports. On the other hand, the 19 percent of women who use birth control inconsistently account for a whopping 43 percent of all unintended pregnancies. Take the birth control pill, for example. Every year, fewer than 1 in 100 women will become pregnant if they take the pill every day, but 9 in 100 will if they don't manage to take the pill daily. Women often absorb the message that the pill is practically 100 percent effective. That's only the case if they take it precisely as directed, day-in and out.

All brands of the pill are equally effective at preventing pregnancy, but that doesn't mean they're all equally well-suited to you and your body. And for a lot of women, the onus is on them to figure out what is best."Gynecologists will prescribe the pill they have the most experience with or the one they currently have free samples of in the closet," Dr. James Simon of the Women's Health Research Center in Laurel, M.D., told Women's Health. Know the basics about what your options are. There are combination pills -- which contain both the hormone estrogen and the hormone progestin -- and progestin-only options, for women who can't take estrogen. Within those categories, there are different strengths and brands, and beyond that, there are plenty of modern, long-range options that aren't pills, like the IUD or the ring. If you're having side effects that you think might be related to your birth control, try tracking them in your calendar and taking that information with you to your next appointment with your gynecologist. It'll help your doctor or nurse get a sense of what you're experiencing and guide them toward better options for you. Some side effects may go away after your body adjusts, others may not. But you shouldn't have to settle for discomfort.

A study published last spring in the venerable New England Journal of Medicine found that intrauterine devices, or IUDs, are 20 times better at preventing unintended pregnancies than the birth control pill, patch or ring. Why? Because IUDs -- which are small t-shaped devices inserted into a woman's uterus -- eliminate human error. (For more on that, check out the previous slide.) They're currently the most effective long-acting, reversible option available -- and they are safe, despite lingering belief that they aren't.

Early versions of the birth control pill had higher doses of hormones and caused many women to gain weight, but most modern iterations do not. Numerous studies have found no link between combination pills and subsequent weight gain, although the American Congress of Obstetricians and Gynecologists points out that progestin-only pills can cause women to put on some pounds. As Time reports, there are two reasons why the birth-control-pill-weight-gain-connection endures: Girls often go on the pill when they are teenagers and may gain weight simply because they're growing up, but think it's because of the pill. Many women also go on the pill when they're in a committed relationship, and research suggests that coupled women tend to gain weight. However, as ABC reports, women can experience bloating or stomach distention when they switch or go on or off their birth control, so absolutely speak up if that's something you're experiencing.

There's a reason your doctor asks what other medications you're on before writing a prescription: Some drugs don't mix with others. And that absolutely holds true for your hormonal birth control. The list of do-not-combine-with-birth-control drugs includes, but is by no means limited to, certain antibiotics, anti-fungal medications, antidepressants and even some natural supplements, like St. John's wort, which can diminish the efficacy of birth control pills with estrogen.

As the Mayo Clinic says, healthy women who don't smoke can generally safely remain on birth control pills for as long as they'd like -- through menopause even. "Years ago it was thought that prolonged use of birth control pills would interfere with a woman's subsequent ability to conceive, but this has been shown to be false," Dr. Mary M. Gallenberg, a Mayo Clinic OBGYN explains. "Similarly, doctors used to recommend taking an occasional break from birth control pills, but this offers no benefits and may increase your risk of an unplanned pregnancy." Of course, there are permanent birth control options, like sterilization, that women and their partners can also consider if they're not having children or are done having kids.

"In the past, doctors had concerns that if you conceived immediately after stopping the pill, you had a higher risk of miscarriage. However, these concerns have proved to be largely unfounded. The hormones in birth control pills don't linger in your system," according to the Mayo Clinic. "Women don't need to get off the pill three to six months before they're trying to conceive, their bodies return to normal right away," Dr. Katharine O'Connell White, an OBGYN with Baystate Medical Center in Springfield, Mass., told Time. The same holds true for the IUD: ACOG says women can try to get pregnant as soon as it is removed. That said, some women may experience a gap between when they stop using contraception and when they begin ovulating. If you don't get your period within several months, you may have something referred to "post-pill amenorrhea." Talk to your health care provider.

One of the most buzzed about parts of the Affordable Care Act is the so-called contraceptive mandate, which requires that most private health insurance plans cover birth control without a co-pay or deductible. In other words, for free. There are exceptions. Certain plans have been grandfathered in, or given more time before they have to adhere to the change. Religious employers are also exempt. And while the mandate requires that the full range of FDA-approved prescription contraceptives be covered, it does not require that all brands be covered, so you might have to switch to a generic drug in order to get your contraception for free. Planned Parenthood recommends calling the member services number on the back of your insurance card to talk about what is covered by your plan.

There has been a lot of confusion about what emergency contraception is and is not. Drugs like Plan B offer a means for women to prevent pregnancy up to five days after a woman has unprotected sex (although with Plan B effectiveness decreases the longer women wait; ella, another brand, which is available by prescription only, remains equally effective within that five day window). They are not the abortion pill. Another option is to have an IUD inserted within five days of unprotected sex. The point is, even if you have unprotected sex, there are safe methods that can help prevent pregnancy if that's what you want.

Though researchers are loathe to put a date on when we can expect it, they say that both hormonal and non-hormonal birth control options for men are on the way, with research efforts supported by high-profile groups such as the Bill and Melinda Gates Foundation. Case in point, last summer scientists discovered a molecule that dramatically lowered sperm counts in mice and that could, one day, be used in humans.
Follow Andrea Mrozek on Twitter: www.twitter.com/@mrozekandrea