How Running Helped Me Through Cancer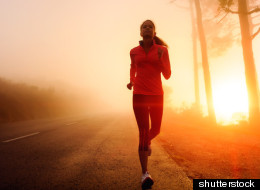 The other day I was going through a box of accumulated stuff in my house. In one of the boxes I found a pile of Runner's World calendars. I use them to record my runs and my usual form of cross training; biking. I would also write down the times that I did weights in the gym.
I started doing this in 2007, a few months after I had run my first half-marathon in Montreal. It was very encouraging to look at the month on my wall and see all training I had accomplished. I would line the square with a different colour for each; pink for running, green for biking and orange for weights. It inspired me to keep it up.
Flipping through my calendars, I got to April of 2007. That was the month I was diagnosed with cancer. My first operation; a lumpectomy was done on April 25. I ran a 4k the day prior to my operation. One week later, On May 3, I did my first 3k walk (wasn't allowed to run yet). A couple of walks later, and two weeks after my first operation, I started running again. By the third week of May, I was back on track with my training schedule, and by early June, I had run 13.1k, or half-marathon distance.
During this time I had received the unfortunate news that the first operation was unsuccessful. The margins were not clear. We were now discussing a mastectomy.
But running kept me company during the hot summer months leading up to the double mastectomy operation scheduled for August 3, 2007. The operation lasted ten and a half hours, and I was in the hospital for one week; a long time in hospital standards here. For six long weeks I was recovering at home. I had strict instructions from my surgeon to stay at home, and for a few weeks, was not even able to walk off my property. It would cause serious damage if I was to fall.
I was allowed to start running on September 10. I had a big "OK TO START RUNNING" written in the square on my calendar for that day. I ran a 1k. Underneath my distance I wrote "very difficult." But I kept up with it and slowly started increasing the mileage.
Again -- and as fate would have it -- I was not out of the woods yet. They had removed 17 lymph nodes during surgery as they had found traces of cancer cells. I started the first of eight chemotherapy treatments on September 20 that same year. Running had become my lifeline at this time. I was running an average of three times per week, and even ran a 5k race in Ottawa, on October 28.
You see, running was good for my health; even then. Even when I was weakened by surgery and chemo. Even when I had a high level of stress in my life. As hard as it may seem, continuing with an exercise regime improved my outlook, helped reduce my side affects from chemo, and lightened my mood. I may not have covered the distances I would have as a healthy person, but the distances I covered mentally and spiritually were even better.
And my daughters saw, first hand, how to act in the face of difficulty. I hope this will be a comfort to them later in their lives. When I look back at this time in my life, I even surprise myself! I was a gold medal winner in the race of life.
20 Ways To Stand Up To Cancer
In terms of antioxidant power, fresh blueberries are stars, with high concentrations of anthocyanins, which may curb cancer cell proliferation.

White and green tea contain EGCG, a plant chemical and antioxidant that may protect cell health.

Ginger may reduce the risk of colon cancer by quelling inflammation in the digestive tract.

Kale contains isothiocyanates, which help purge the body of carcinogens, and apples appear to have anticancer effects on the colon.

A brisk, daily 30-minute walk can improve sleep and energy and potentially reduce the risk of diabetes and cancer.

Yoga may relieve stress and strengthen the immune system.

Sit down with your oldest relatives and ask about your family health history. This can be helpful in determining which diseases to be screened for and how often.

The National Breast Cancer Foundation's early detection plan is one of many that lets you choose how to receive your mammogram reminders; options include e-mail, text and calendar updates.

Cancer can affect mental health as well as physical health. When you meet with your oncologist, be sure to bring up any mood issues.

Breathe out. Now in. A daily five-minute session of slow, measured breathing can help counter the negative effects that stress has on physical and emotional health.

Oats are a good source of fiber, which, in addition to helping the body eliminate toxins, can ward off hunger by keeping blood sugar levels steady and making the body feel fuller longer.

Regular consumption is associated with a lower risk of basal cell skin cancer.

Blueberries are one of the most heavily sprayed fruits, so it's best to choose pesticide-free whenever possible.

Blackberries, cranberries and cherries are rich in the antioxidant compounds anthocyanins, which may slow the growth of certain cancers.

Broccoli is a source of compounds called indoles, which have inhibited cancer growth in lab studies.

Red pepper flakes contain capsaicin, which can damage cancer cells by attacking their energy source without hurting healthy cells nearby.

Tomatoes contain lycopene, which may reduce the risk of lung and stomach cancers.

Our bodies get more cancer-fighting lycopene from cooked tomatoes than from raw ones.

In addition to boasting proteins and essential lipids, eggs contain antioxidant properties that may help prevent cancer.

The golden-hued Indian spice gets its color from a pigment called curcumin, which is also an antioxidant that fights inflammation.
Follow Andrea Paine on Twitter: www.twitter.com/lifepowerblogca