My Parenting Resolutions for the New Year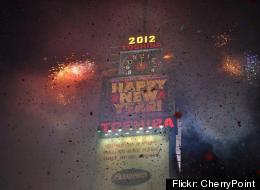 I haven't made a New Year's resolution in years, maybe decades. It's not that I don't have lots to work on. I should lose more than a few pounds. I should blog less and date my husband more. I should floss.
But our family life is only getting busier. Between one kid in JK and one starting preschool next month, swimming lessons, gymnastics, potty training, Angry Birds and dress-up, I need some parenting resolutions to kick-start 2013.
I commit to:
1. Being present. Time is fleeting. No more "quick" Facebook status updates or tweets when I'm supposed to be hanging out with my kids. Or my husband. Part of being present is actually listening, so I resolve not to just passively nod in my four-year-old's direction when he tells me for the ninth time before we've had breakfast that he's Mighty Eagle or Purple Laser Bird.
2. Planning dinners better to avoid ordering in or going out more than once every two weeks. Aside from being far less healthy, it's bloody expensive and that money needs to go into RESPs.
3. Sleeping more so I yell less. My patience quotient goes way up when I'm well-rested, and I need all the patience I can get. I don't know about you, but in our house, yelling doesn't seem to be effective discipline and I always feel terrible the instant my decibels go banshee-level.
4. Opting for washcloths to use fewer paper towels for wiping hands and faces after meals. I get greener every year, and it's time to tackle my paper towel dependency.
5. A more organized home. I don't want my kids to turn out as messy as I am. Plus, when you miss your daughter's second year well-baby check-up because you misplaced the appointment card, something's gotta change.
While it may seem that most of these resolutions are for everyone but me, when I look back a year from now and see that I've made positive changes, I'll be happy. As will those around me. And that's everything.
Are you making any parenting resolutions for the year ahead?
Parenting new year's resolutions
I resolve to force my toddler to wear a coat when the thermometer reads 50 degrees or below. Even though I have resolved not to judge other's parenting, most of the other moms at the playground did not. And, I am a bit tired of receiving judgmental stares whenever Maisy climbs up the play-structure dressed in her favorite purple Hello Kitty t-shirt on days when all the other kids are sporting hats and mittens.

I resolve to help my four-year-old expand her palate from exclusively eating orange cheese to also including white varieties. While she will consume mozzarella cheese, on pizza, all other forms of non-orange cheese are categorically denied. Attempts to persuade her that white cheddar cheese tastes identical to the bright orange kind garner the same reaction as when I tried to tell her that the Rainbow Magic Fairies don't really exist (oh Daisy Meadows, what have you done to my daughter?).

I resolve to only wear yoga pants when I intend to work out (or if I'm having a fat day). This is going to be the hardest resolution to abide by, since I do so love pants with elastic waists. However, I am nearly three-years post partum, so I think that it is time to start dressing like a responsible adult.

I resolve to stop eating the kids' leftover Mac and Cheese straight from the pot. But it tastes so good! However, if I am going to be able to follow resolution #3, this one is a must-do. In addition, it may also be time that I start eating like a responsible adult.

I resolve to teach my eldest how to wipe properly after going #2 -- and wash her hands unprompted. Every time I hear her say "Mommy, wipe my bottom!" I throw up a little in my mouth. She is almost five, and I think the time has come to teach her this very important step in self-sufficiency.

I resolve to stop saying "uppy". After almost four years of watching two different children extend their arms to me and say "uppy", I am more than ready to retire its usage. In fact, I think that I am ready to stop performing the "uppy" action altogether.

I resolve to play "you can't catch me" at least once a week with my kids. I would like to amend this resolution to also include a few rounds between my husband and myself.

I resolve to not feel ashamed when my youngest demands to wear her pajamas to preschool. At least two times a week, my two-year-old insists on wearing her pajamas all day. Some days her sleepwear is a rainbow striped zip-up one-piece that makes her look like an adorable oversized baby doll. Other days it's the hideous polyester Disney princess nightgown that she outgrew six-months ago. Either way, I am determined not to feel embarrassed at drop-off when all the other toddlers are dressed in their matching Baby Gap ensembles.

I resolve to plan more girls' nights out; ones where we must leave the house at least a half-hour before bedtime. Just to be especially clear, by "girls", I do not mean ones that require special lovies to sleep with and pull-ups to ensure no two AM wake-ups.

...And speaking of wetting the bed -- I resolve to finally start doing kegels, so that I will no longer pee myself every time a sneeze. Seriously, I am now 33 months out from my last vaginal delivery, and I still ponder purchasing the adult diapers that Walgreens so conveniently displays next to the Pampers. By 2013, I am determined to do a jumping jack without changing my pants.
Follow Andrea Traynor on Twitter: www.twitter.com/MommyGearest