What I Learned This Week: How to Succeed in Business By Being a Pain in the Ass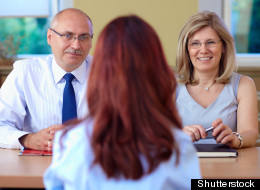 Mid-February marks a very special time in my calendar every year. It's a time of courtship and match-making; of romance, promises of devotion and the start of what could be a beautiful relationship.
Forget Valentine's Day; I speak of the deluge of CVs and requests for summer jobs at Just For Laughs that starts just as students write their winter mid-terms.
I could go into detail about what makes a great "hire me" pitch (back in 1999, I even put together a five-part series on the subject for CBC-TV), but more important these days is what happens to the candidate once he or she actually becomes an employee.
It used to be that the competition was fiercest amongst those trying to "get in." These days, the tide has shifted somewhat; the real challenge is staying in once you get there.
With that in mind, this week's learning is actually this week's teaching; it's what I learned in three-plus decades of navigating the workforce, both as an employee and an employer, and often the hard way. So without any further ado, here are three simple steps on "How To Stay In".
1) Be INteresting
There are thousands of ways to do this, very few of them bad. Stand out with your clothes, with your work ethic, with the way you decorate your office/cubicle/desk. Share your off-beat hobbies, taste in music or leftovers from last night's supper. Do what it takes to make your peers and your superiors notice you...and have them wonder what else this INrtriguing person has up his or her sleeve.
2) Be a Pain-IN-The-Ass
Counter-INtuitive, yes...but necessary in the process of sticking around. INteresting is a great starter, but this next step is where one has to upset the apple cart, break a few eggs, shatter a few egos, shift a few paradigms and risk it all. Great employees/team members have to take a make-or-break INitiative; it adds depth and cred to the shiny object that surfaced in step one. There are no great advances accomplished in perfect harmony. True, it could backfire, but without this leap of faith, you'll never get past Step 1, let alone approach Step 3.
3) Be INdispensible
A successful Pain-IN-The-Ass is tomorrow's leader; the future that bosses, subordinates, shareholders and corporate entities in general need to bank on. Once you cross this chasm, you become both INvaluable and INdespensible. While nobody is irreplaceable, the thought of moving forward without you is almost heresy. You don't have to be as overbearing as Steve Jobs or Larry Ellison, but a unique lynchpin-esque piece of the puzzle in your own right and style. You become a franchise player...and in the great circle of life, the one responsible for noticing the next INteresting Pain-IN-The-Ass.
The real beauty of this process is that it's not limited to the corporate world. It's equally as pertinent and powerful in the world of sports (think Montreal Canadiens defenceman P.K. Subban), on TV shows (think Kevin O'Leary of Dragon's Den and Shark Tank) or in the arts (just look up Shepard Fairey, Picasso, Warhol, Damien Hirst and countless others).
What I love about these "Multi-Step" programs that infest today's media is how simple they look on paper (or screen, more likely). I also know the truth; getting there is tough, takes time and the journey is filled with so many ups and downs that you have a hard time understanding what you've done until the years allow you the proper vantage point for reflection.
But if you don't start looking IN to this now...you'll be looking out for yourself forever.
15 Tips To Land A Job in 2013
"I can do anything" is not a good answer when someone asks about your job search goals. Flexibility is great for yoga, but not when telling people about the type of job you want to land. When you are focused, targeted and specific, you'll be more successful.

You know you're the best one for the job. Get really good at explaining why to someone who can hire you. Identify your best skills and accomplishments and practice highlighting what makes you unique.

It's your job to ensure as many people as possible know, like and trust you. Leverage social media tools, especially LinkedIn, Twitter and Google+, to showcase what you know about your industry. Send out useful news and information and make your social media feeds "go to" resources for people in your field.

Instead, be clear about what you offer when you meet new contacts. When you think first of what you can give, rather than what you need, you're much more likely to attract allies for your search.

It sounds like an oxymoron, but by preparing in advance, you will do better spontaneously. Find out who plans to attend events and research those contacts online. Identify some commonalities and plan a few conversation starters.

Sometimes, you'll need to contact someone you don't know to move your job search forward. Make sure you prepare what you'll say if she answers and what type of voice mail to leave if she doesn't. Be ready to explain to the gatekeeper/receptionist why your contact should get back to you. Be convincing and you may win a call back!

You're not suitable for every job at your target company, so don't waste everyone's time just trying to get your foot in the door. Choose the jobs you are best qualified to win and apply accordingly.

Analyze job descriptions for the words describing the skills and accomplishments your employers require. Be sure your application materials reflect those abilities or you'll never have a chance to prove your worth.

Eliminate jargon or acronyms on your resume that don't relate to the target job. If it is not relevant to the employer, leave that information off your resume.

Were you fired? Is there a skill the employer wants that you don't have? Did you hate your last boss? Have good answers if and when uncomfortable topics come up in interviews. Smile, answer the question succinctly and move on.

No one wants to work with someone who isn't a good listener. If you can't follow instructions, it doesn't matter how brilliant or talented you may be; you're going to mess something up. Could you repeat most of the details of a conversation you just finished? When you improve your listening skills, you'll interview more effectively.

Don't expect people to track you down – follow up after interviews and networking encounters. It's your job to keep useful conversations going.

Even if you're between jobs right now, it doesn't mean you can't actively practice your craft. Look for opportunities to volunteer for good causes and keep up your skills at the same time.

No one wants to hire a negative Nelly. It's good karma to be upbeat. Being confident and optimistic will impress people you meet and could inspire them to want to help you.

Do one thing every day to move your plans forward. For example, research a new contact, practice your introductory pitch or go to a networking event. Remember, everything you do gets you one step closer to your goal!
Follow Andy Nulman on Twitter: www.twitter.com/AndyNulman