Canada's Dopey Reputation Needs to Change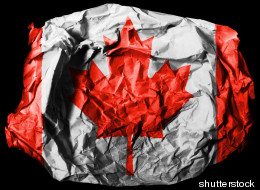 One of the most dangerous books ever released about my beloved homeland of Canada was a paperback ditty released in 1977 with the very politically incorrect title of The Retarded Giant.
Written by American ex-pat Bill Mann and illustrated by the now legendary political cartoonist Aislin, it mercilessly poked fun at this lumbering landmass of a country and its many particularities, foibles and shortcomings. Disguised as a mere joke book, this piece of subversive literature made me laugh, but also made me wince with jibes like "Canada's leading export to the USA is Canadians" and "The weather will keep Canada out of the big time."
Well that was then and this is now. And given what went on last week in Calgary, ironically, weather is now PUTTING us in the big time, and exporting our heroics. The reaction of the populace, particularly the city's ballsy mayor Naheed Nenshi, to the floodwaters that ravaged the city painted us as tough-as-nails action figures fighting World War H20.
Despite this, the majority of non-Canadians still see us more as that somewhat dopey, big obliviously-smilin' guy portrayed on the cover of Mann's book than they do us as the fearless, hip, smart folk we know we are.
Which is why, if I could change anything about our country...it would be the symbols that define us to others.
When it comes to our symbols, everything about us screams "nice" (and "nice" is something that is at its worst when screamed). Our nation's flag is a trifling leaf. Our national animal is either a beaver or a moose -- creatures feared only by trees or small cars on Newfoundland highways. Even when we invade Las Vegas and take over Sin City, we do it with the least amount of sin possible with Grandparent-friendly stars like Celine Dion and Cirque du Soleil. Even Wayne Newton has more edge.
Thankfully, our symbols are changing, albeit slowly, led by the country's mayoralty. As a counterbalance to Calgary's white knight Nenshi, in Toronto's Rob Ford we've got an anti-hero combination of Tony Soprano and Walter White of Breaking Bad.
It's even worse/better in Montreal and Laval, where for the past year, mayors have either been shamed out of office because of corruption, arrested while in office, or abruptly resigned from office after being caught in an escort service scandal. Compared to this type of rampant bad-ass, so-called toughies like Chicago's Rahm Emmanuel or New York's Michael Bloomberg look like kindergarten ballerinas.
A tougher Canadian image requires a stronger national motto as well. We've hidden behind the Latin of A Mari Usque Ad Mare for so long we've almost forgotten that is translates into the banal "From Sea to Sea." Even the most geographically challenged amongst us can look at a map and be stunned by its obviousness and irrelevance; one can be equally as effective by saying "On Top of the USA" or "Under The Arctic Circle" in Latin. No, we requite a motto that sells our feisty spirit and reflects the disparate interests of the provinces, territories and people that fill the space between two seas...one like "One Nation, Millions of Different Opinions" or better yet, "From Disagreeing to Disagreeable."
Then there's our currency; its Monopoly-money color and Canadian Tire-money design are a source of international snickering and ridicule for years. Now that it has changed from paper to polymer, the day-glo sheen of our cash takes it from mere sore thumb to a full, five-fingered "Yoo-hoo!" wave.
But laugh all you want at our "funny money"; while the rest of the world teetered on financial ruin a few years ago, our legal tender stood legal tough. Which is why I think -- like Jones Soda does with its labels or Canada Post has done with its stamps -- the Bank of Canada should allow us to customize our cash with the toughest mofos around, namely us! The technology is already here; upload a photo and replace some old monarch or long-haired remnant of a history book with your own likeness, or that of your snarling pet or Bar Mitzvah-celebrating child.
The surcharge and collector's item element of this program would fill bank coffers and make us the only country in the world guaranteed to make money with its money.
Best of all, this windfall could be put to good use, like hiring a whip-smart ad agency to come up with way better ideas than the ones I've proposed here...
...or for buying up, and shredding, all remaining copies of The Retarded Giant.
What I Would Change About Canada
I want to change sport in this country to make it more accessible to our kids. I see too many Canadian kids not able to participate in sport; not afforded the chance to be a part of a team, be active or learn new skills. One of the biggest barriers is due to the rising costs of participating in sport.

We have to take responsibility and understand our own triggers for eating these foods and why we continue to put them into our shopping carts. We have to read labels more carefully and understand the guidelines for a healthy diet, so we won't get lured into these traps. This is not impossible.

When I was asked to write about what I would change in Canada, I hemmed and hawed and scratched my head in total bemusement. I finally hyper-focussed on the fact that, although Canada boasts the longest coastline as the second largest country with ninth highest standard of living in the world, it also contains the highest amount of shitty drivers.

If I were able, I would change the map. There are a few options here, but for any of these we'd no longer be sitting on top of the United States and, as we are constantly told is the case, we'd not see ourselves as huddled along the border -- crouching almost.

This was a no-brainer for me because my whole life's work is dedicated to making ONE change to Canada. It's my mission statement: "To make parent education as acceptable and accessible as pre-natal classes." Taking a parenting class is responsible parenting. Isn't it a shame there is a stigma for improving one's self?

Though this might have a counterintuitive ring, Canada's mayors -- the people who are directly responsible for Canada's cities and the most accountable to their citizens -- should have the power to make decisions about local needs and infrastructure, and the ability to raise the money they need to carry out their plans.

Since I came to Canada in 1989, it's been very important to me to spread the word of Indian cuisine to as many people as possible. I think it is gaining momentum, but attitudes towards ethnic food, and the boundaries around the way it is presented, still need to evolve.

If I was handed a magic wand, I would erase all of the unsaid fear that a lot of the executives at radio stations, record companies, corporate brands, television and print media outlets have in promoting and celebrating our domestic R&B soul singers. I would urge them to passionately and freely support the artists of this genre in ways that are equal to the artists of other genres.

If I could change one thing about Canada, it would be to place a greater emphasis on the study and practice of arts education at every level. There is a widespread presumption that schools nowadays must focus almost exclusively on science, technology, engineering and mathematics if students are to be properly prepared to face the future.

Why does Canada still retain any connection to monarchy? In all of our recent indignation over the totally predicable abuse of power by unelected, unaccountable senators, we've overlooked an even sillier layer of law-making: royal assent.

This is what we would change about Canada: Compulsory volunteer hours as part of a holistic service learning model -- in every classroom in the country. Formal instruction should help students learn the root causes of whatever social deficit their volunteer hours help fill. Every school should be granted funding and the resources needed to adapt their own service-learning model.

We have to take responsibility and understand our own triggers for eating these foods and why we continue to put them into our shopping carts. We have to read labels more carefully and understand the guidelines for a healthy diet, so we won't get lured into these traps. This is not impossible.

Is being Canadian just some sort of patriotic "feeling"? Is it some intangible country specific pride? I set out to change what non-Canadians thought of us but it turned out I didn't know myself. Figuring it out has become a personal quest.

Do you know how many beautiful indigenous children there are, right now, living under the poverty line in Canada? Half of all status First Nations children are living in poverty and that number goes up to more than 60% in Saskatchewan and Manitoba. For Métis, non-status and Inuit children the number living in poverty is still shockingly high at 27%.

My goal has always been to build an even greater awareness of our need to move from a view that accessibility is just about getting in and out of buildings to a view of intentionally designing and creating fully inclusive communities, so that people with disabilities can fully participate.
Follow Andy Nulman on Twitter: www.twitter.com/AndyNulman