Canada Is Great Because We Don't Brag About Being Great
Last week cemented Canada's status as an international darling. Our country topped the New York Times' list of the "52 Places to Go in 2017" and was lauded in the Guardian for being one of the only nations that touts diversity over nativism.
In 2016, the media fawned over Justin Trudeau. The Economist ran a cover story titled: "Liberty Moves North: Canada's Example to the World" and our immigration website became so popular it crashed on the night of the U.S. election.
For a country that's historically been known as a wallflower, the attention is long overdue. But we shouldn't become "braggadocious" and let our national ego inflate. In short: We shouldn't become American. Canada has become so popular internationally precisely because of its humility.
As a country, it means we strive to improve instead of thumping our chests about past accomplishments.
For the past year and a half, I've been living in New York City. It's an exciting and beautiful place, but so many of the people I meet are obsessed with status. At parties I've had Americans tell me their Ivy League credentials before asking my name. While it's impossible to make generalizations about an entire country, we've all witnessed the entitled American who cuts in line at an airport or loudly sends their food back at a restaurant.
The U.S. is a place with clearly defined values -- individualism, capitalism, success -- which has helped make it the world's most powerful country. But those values have also made America a place with unaffordable health care, one of the highest levels of income inequality on Earth and Donald Trump.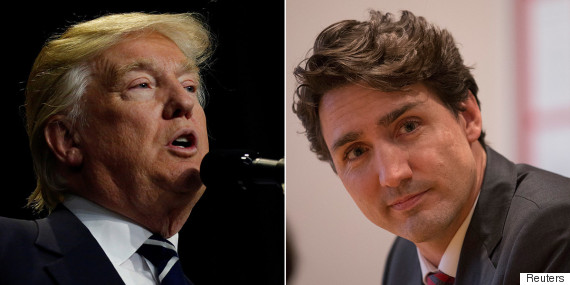 By contrast, one of the greatest Canadian qualities is self-deprecation. Mocking ourselves makes us more accessible and our self-doubt is a sign of intelligence. The brightest people know they have big knowledge gaps and that there will always be someone smarter than them. As a country, it means we strive to improve instead of thumping our chests about past accomplishments.
"Canadian exceptionalism" simply isn't a term we use. It's only in the past few years some politicians have dared to call Canada "the best" country, according to the National Post. In a University of Chicago study of national pride, we ranked sixth while the U.S. tied for first.
As an angsty, insecure Canadian teen, I hated our country's muted personality. While my Italian relatives spoke with wild gesticulations and ate a distinct cuisine, I came from a place known for apologizing and beavertails, a food eaten only by tourists and children. But our country's fluid identity and trademark humility have positively shaped Canadian policy.
Canada is a country that accepts a large number of immigrants and generally doesn't force a value system down their throats. It's a place that welcomes diversity instead of pretending there's only one right way to live. Of course, Canada is not perfect. The government grossly mistreats Indigenous people, politicians in Quebec tried to ban Muslim headscarves for public employees, and Kellie Leitch, who is running for the Conservative Party leadership, wants to screen immigrants for "Canadian values."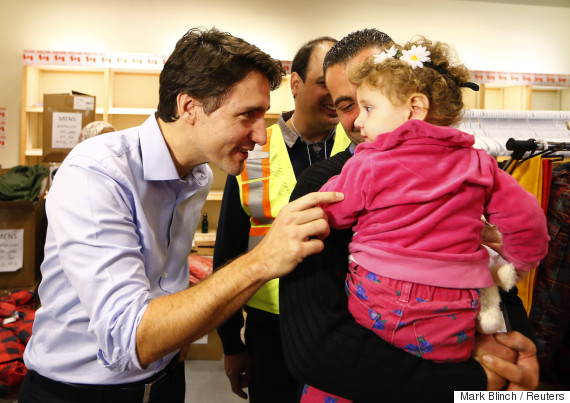 Syrian refugees are greeted by Prime Minister Justin Trudeau on their arrival from Beirut at the Toronto Pearson International Airport in December 2015.
But Canada's openness is regularly on display. Last year, it welcomed an estimated 300,000 newcomers and almost 39,000 Syrian refugees. (The U.S., by contrast, admitted 10,000.)
The Greater Toronto Area is the "most diverse city on the planet," according to the Guardian, "with half its residents born outside the country." Canadians elected a leader who shows up to greet refugees at the airport, not one who boasts about building a wall to keep out illegal immigrants.
To think of Canada as the best nation on Earth is deeply unCanadian. And our collective lack of arrogance has led us to pursue progressive policies that benefit the entire population. Canada has universal health care, a higher minimum wage than in the U.S., no laws restricting abortion and a gender-equal cabinet. We aim to be more inclusive because we don't consider ourselves exceptional.
Canada has become a great country because it's the kind of place that doesn't boast about being great. Let's hope all the recent attention doesn't go to our heads.
This column previously appeared in the Ottawa Citizen.
Follow HuffPost Canada Blogs on Facebook
Also on HuffPost:
The Best Obscure Places To Visit In Canada
To visit The Gopher Hole Museum, of course. About a 90-minute drive from Calgary, you can visit 71 tiny, taxidermied gophers in costume.

This former tiny fishing community on Placentia Bay boomed with the discovery of lead ore in the 1850s. But after a century, the town faded away. Today, the gorgeous area — which includes an abandoned mine — attracts hikers and snowmobilers. Go to Hidden Newfoundland for more awesome places.

Why is there a lighthouse in Saskatchewan?

A pastor has built a real-life Noah's Ark in this New Brunswick town. It's two-thirds the size of the one mentioned in the Bible, and is run as a Bible school and retreat centre.

Since Florenceville is also the birthplace of French fry giant McCain Foods, drop by the Potato World museum.

For a few weeks, anywhere from 50,000 to 75,000 red-sided garter snakes come out of hibernation to mate. And you can see it all in Narcisse.

Édouard Arsenault spent years creating a village of houses made of 25,000 glass bottles. Read more about The Bottle Houses.

Canada is also home to nearly one million citizens of Polish origin. Wilno is Canada's oldest Polish settlement, having been set up in 1859. There's now a heritage museum, and six other buildings to tour that shows what life was like back then. In this photo, well-wishers in traditional Kaszub costumes greet Polish Prime Minister Donald Tusk in 2012 in Wilno.

In 1903, an entire mountain came down in a rockslide that buried the mining town of Frank and killed at least 90 people. It's awe-inspiring to visit the site where boulders are as big as school buses, and learn a bit of the slide's history.

It's considered the birthplace of poutine — though it's always being contested by three other nearby small towns. It even has a restaurant that trademarked poutine.

This is Canada's version of the Dead Sea. You can float in the water full of salt and minerals.

Since the 19th century, aboriginal people have believed in the lake's healing powers.

Home to Canada's largest free-standing cuckoo clock and a shopping plaza meant to look like a miniature Bavarian village. The cuckoo clock is guarded by a man called Happy Hans who pops out every hour and yodels. No joke.

Joe's Scarecrow Village is a Cape Breton landmark. Joe Delaney started it in the '80s when he was trying to protect his garden from crows. The scarecrows now number 50, including likenesses of Ronald Reagan and the band KISS.

Located at Yukon's gateway and along the Alaska Highway is the Sign Post Forest. An American soldier posted a sign to his hometown here in 1942.

It's now a tradition for travellers to add their own. The forest now has more than 72,000 signs

The singing sands of the beach sound like DOGS BARKING.

From 1986 to 2003, artist Marcel Gagnon created more than 100 life-sized sculptures in reinforced concrete, looking like they're coming out of the sea.

Originally named after the Roman god of fire, the town has embraced everything "Star Trek." The USS Enterprise welcomes visitors to Vulcan.

Actor Leonard Nimoy who played the Vulcan named Spock even visited the town in 2010 to be part of its annual parade.

A mural dedicated to Star Trek, just off the main Vulcan street.

Many of the towns businesses have run with the Star Trek theme. Here two generations of Star Trek fans eat at the Enterprise Restaurant, watched closely by Star Trek: Voyager's sexy Seven of Nine.

You can sleep in teepees on the water thanks to Les Chalets Domaine Pourki.

The floor of each teepee one has a removable glass opening to watch the fish below.

Tin Hat Hut is an alpine jewel on top of its namesake mountain, rewarding hikers with stunning 360-degree views of Powell River.

It's said to be the purest freshwater on earth. Plus, just look at that thing.

The Free Spirit Spheres allow you to stay in the world's coolest friggin' treehouses.

The Othello Tunnels are a legacy of incredible construction feats in the 1900s. Five tunnels were carved through the Coquihalla River Canyon as part of the Canadian Pacific Railway's Kettle Valley Railroad.

Walking through the giant rock arches make you realize how much work and sacrifice went into the railway using ladders, ropes and suspension bridges.

Originally built in the 1900s to run steam power in the city, the tunnels of Moose Jaw became the underground home of persecuted Chinese immigrants. Later, it was used for bootlegging with rumours that infamous gangster Al Capone hid out here.
Follow Angelina Chapin on Twitter: www.twitter.com/angelinachapin