Superb, Original Gift Ideas for New Moms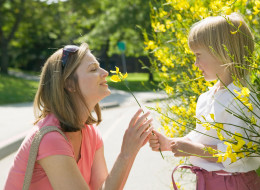 During my first year as a new mom, I came across, received and rewarded myself with some fabulous gifts that totally transformed my parenting experience. Although you're likely bombarded with gift-giving ideas, there's nothing like finding that one present that someone can't live without and didn't even know they needed.
So here's a top gift list that'll leave you the hero and your girl full of gratitude:
(1) Kindle Fire HD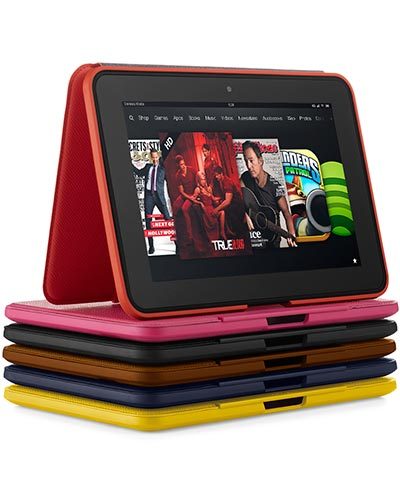 As a ridiculously avid reader I ranked this as my first choice because I don't know where I would be without my Kindle. In the wee hours of the night, when not a creature stirs except for the baby and I, there's nothing more comforting than mentally complaining about my 3 a.m. wake-up to the characters awaiting me at the flip of a switch. I rocked my colicky babe for hours on end with my Kindle on my lap. No matter the time of day, the e-reader's light dimmer, HD screen and adjustable font size makes it easy to read without disturbing my baby. There's absolutely no sound, it's lightweight, and easy to navigate. I even used it to lull me off to sleep in bed without disturbing my husband with a bedside lamp.
(2) Mom's One Line a Day Diary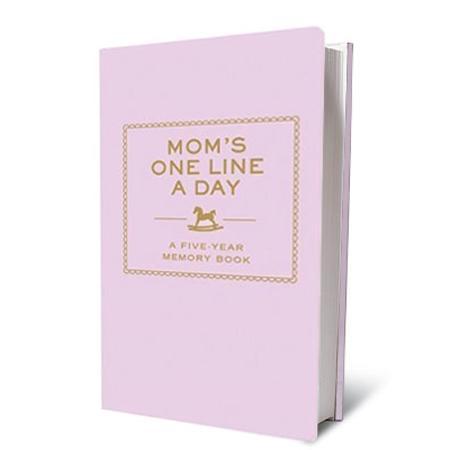 I came across this gem in a boutique on Queen St. in Toronto called Kol Kid. I picked it up from beside the cash register at the last second and I'm glad I did. Basically, you write one or two sentences down per day (about life as a mom -- baby's firsts, your feelings, accomplishments and so on) and when you're finished you've documented five years of growth and development in a compact, leather-bound book. This is honestly the perfect baby shower or first Mother's Day gift. I wish I bought mine sooner because I missed the first nine months of milestones, but I'm already excited about the moments I managed to capture.
(3) Meal Service Membership
One of the latest, greatest trends in ultimate convenience and food prep is healthy meal delivery. In the first few months (or even years) post-partum, dinners tend to take a back seat to pretty much everything else. So forget the rattles and teddy bears -- why not purchase a gift card or subscription to a meal delivery service in the new mom's area? We used Chef's Plate , which dropped off perfectly portioned, gourmet dinners that took mere minutes to put together.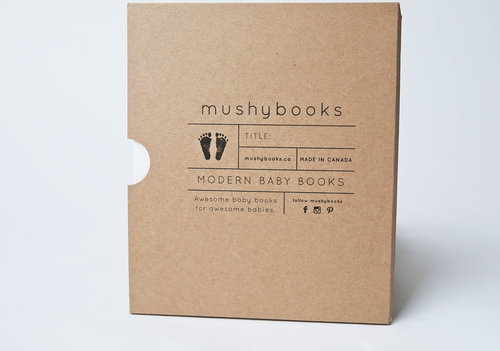 Mushy Books are the Rolls Royce of baby memory books. Instead of the typical bright, striped, polka dot infused journals, Mushy Books offers a chic, modern approach -- something timeless and classic that all parents can appreciate. It's a Canadian company owned and operated by a mom. So you're getting pages, options and spreads that parents actually find useful. This makes a great gift no matter the stage of child-rearing. From pregnancy straight through to raising adults, this type of memory keeper is sure to be a hit.
(5) An extra set of hands
On my most recent birthday (and my first as a new mom) people kept asking what I wanted in terms of presents. For the life of me, I couldn't come up with anything. Then it hit me -- all I really wanted and needed was a few hours to myself on a random weekday when shops, restaurants and streets were quiet. I wanted to be able to write, read, paint my nails, work out, go for a walk and relax. Essentially, I just needed another set of hands. This doesn't mean I wanted time away from my son. In fact many new moms won't want to leave their child(ren). But, having a professional nanny come by, while you're home, to specifically tend to the child, is the best of both worlds.
I ended up asking for a slush fund to go towards a few hours of help here and there. Now, some people might think -- just send over the grandparents. But it's a different experience playing host to a family member or a friend than it is having someone professional in your home, specifically there to watch your child and let you be.
(6) Dyson DC 34 Animal Handheld
If I had a spare arm I would permanently attach my compact Dyson to it. No questions asked. As a new mom, there's often little opportunity to take out the ol' trusty vacuum to give the place a clean. The DC 34 Animal Handheld picks up pretty much everything, is cordless (you charge it up) and works fabulously on those foam tiles that somehow take over the floor. We use it under our baby's high chair, in the nursery and pretty much everywhere in between. This is likely your only opportunity to give someone a vacuum and not get slapped. So do it.
Hopefully this list helped inspire you. I loved my first year as a parent and a lot of my success had to do with the devices I discovered that made my 'everyday' that much easier and more enjoyable.
Go ahead, take the credit for my list, and happy shopping! Let me know if you've come across any life changing products in the comment section below. I'd love to hear your feedback.
xx
MORE ON HUFFPOST:
17 Wonderful Mother's Day Gifts
A lovely wicker hamper filled with delicious goodies including a small bottle of Prosecco, conserve, tea and biscuits. Price: £34.99 / Buy it here.

This funny Mother's Day gift mug is something a little bit different. It pays homage to your mum's greatness at creating you, her awesome progeny. Treat your mum and bring her a cuppa in it! Price: £12.75 / Buy it here.

Bloom & Wild is the only nationwide florist who specially deliver full bouquets of fresh, long-lasting flowers through the letterbox. The special Mother's Day bouquet is £33. Price: £33 / Buy it here.

Make a statement - and show mum how much she means to you - with this awesome cushion. Price: £34.95 / Buy it here.

We're sure these beautiful teapot and teacup biscuits will go down a treat with Mum. Inspired by Biscuiteers' favourite vintage china, their new-look Tea for Two Biscuit Tin is the perfect accompaniment to a nice cup of tea. Price: £39.50 or £44.50 for a personalised version / Buy it here.

This unique embossed bag makes the perfect Mother's Day gift. Fiorelli are offering complimentary personalisation on selected bags with a choice of up to three initials and two stylish font options. Price: £59 / Buy it here.

Thankfully, the art of making small batches of craft gin hasn't died out. In fact, it's on the up – and now your mum can join in too. The Homemade Gin Kit offers everything you need to craft your own unique blend of gin in just 36 hours, using a carefully crafted blend of juniper berries, botanicals, spices and aromatics. Just add vodka. Price: £39.99 / Buy it here.

How could you not be smitten with this heart shaped necklace? Its brushed finish gives it a real shine against the skin and it is tactile and easy to wear. (Also available in gold). Price: £45 / Buy it here.

The new wet and dry brush provides a 4-in-1 body treatment and simple way of keeping skin exfoliated. The waterproof device can be used in or out of the shower and has a comfort grip handle making it simple to exfoliate those difficult to reach parts such as the centre of the back and the bottom of the feet. The brush comes with four different heads, including a cactus dry brush, a loofah, a pumice stone and facial cleansing brush, which enable the user to tailor the experience for their skin type. Price: £39.99 / Buy it here.

Your mum will love these grey heeled ankle boots with cut out detailing. Price: £55 / Buy it here.

This Mothering Sunday, give the gift of e-Reading with the Kobo Aura H2O… The world's first premium waterproof e-Reader. Mums can now enjoy worry-free reading wherever they go – from the bus, to the bed, to the bath, to the beach… Price: £139.99 / Buy it here.

Combining pure fragrances and chic packaging, Diptyque candles have been a favourite in design–conscious homes for more than 40 years. This set of three mini candles is a great way to introduce this coveted brand into your mum's home; set includes Baies, Diptyque's best selling candle - a bouquet of roses and blackcurrant leaves, Figuier - the warmth of fig wood, the freshness of its leaves and the milky sap prolong the pleasure of Philosykos eau de toilette. Roses - an armful of tender, changing roses that lightly evoke the world's most universally loved flowers. Price: £60 / Buy it here.

A gorgeous nude and rose gold watch which will look super elegant on your mum's wrist. And hey, she might even let you borrow it. Price: £70 / Buy it here.

Give mum the gift of eternally chilled wine this Mother's Day with the Corkcicle Air. :: Chills your wine to absolute perfection :: Aerates as you pour, enhances the aroma of your tipple :: Convenient pour-through feature makes serving a breeze :: Maintains the optimum temperature for both whites and reds :: Sleek and sexy 'stalactite' design :: Wine has never looked or tasted better Price: £19.99 / Buy it here.

Perfect for the health-obsessed mum! Price: £79.97 / Buy it here.

An addictive floral with notes of: Black Coffee – for a shot of adrenaline; White Florals – to instantly seduce; and Vanilla – for sweetness and sensuality. Mum will smell delightful. Price: £61.50 / Buy it here.

A luxurious multicolour pink and red throw, woven from the finest merino wool. The feel is chunky, yet soft - ideal for cosying up with on the sofa. Price: £130 / Buy it here.
Follow Angie Campanelli on Twitter: www.twitter.com/bumbalina