Nine High-Protein Snacks for Men on the Go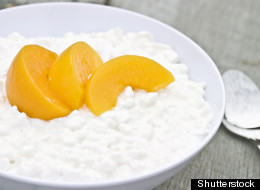 Busy men are always looking for nutritious snacks to eat when they are on the go. Unfortunately, many of you end up grabbing high-carb, high-fat and low-protein convenience store snacks, which are terrible nutritional choices.
Although the opinions of experts vary greatly as to how much protein men should consume on a daily basis, the generally accepted figure is one gram of protein per 2.2 pounds of body weight. Therefore, a 180-pound man should get about 82 grams of protein in his diet each day.
If you're one of the many men who doesn't manage to meet this minimum requirement, or if you're simply looking for some alternative nutritious snack ideas, read on: The following nine high-protein snacks require little preparation and are generally low in both carbohydrates and fat.
1. Beef jerky
Believe it or not, this old classic is actually a healthy choice. On average, one ounce contains about 70 calories and one gram of fat, but delivers 11 grams of protein. However, the brands sold in convenience stores are often high in salt. If you'd like beef jerky to be one of your high-protein snack options, look for healthier versions in health food stores.
2. Egg whites
One egg white has only 15 calories, is fat -- and-cholesterol-free and contains four grams of protein. Throw two or three in a pan (with some peppers and onions if you want to make an omelette) for a quick, nutritious mini-meal.
3. Cottage cheese and fruit
A half cup of 2 per cent cottage cheese contains on average 16 grams of protein, yet only has 102 calories and two grams of fat (as opposed to other types of cheese, which can be extremely high in fat). If high protein isn't your ideal goal, then mix it with some fresh fruit for a fast, healthy snack.
4. Tuna
Tuna is a great source of protein with approximately 25 grams per can. Plus, one can of tuna in water contains approximately 111 calories and is fat-free. And hey, go easy on the mayonnaise if you're making a sandwich -- it's full of fat.
5. Protein bars
Although there are hundreds of varieties on the market, keep in mind that all protein bars are not created equal. Obviously, protein bars should be a high-protein snack, but be careful and avoid bars that are high in carbohydrates and fat. A good choice is DESIGNER WHEY Protein Bars: each 75-gram bar contains a full 30 grams of protein, with only six grams of carbs and five grams of fat.
6. Shakes
As with protein bars, many commercial protein shakes and powders can be high in carbohydrates. Advanced Protein, which delivers 20 grams of protein, two grams of fat and only two grams of carbs per scoop, is perfect for guys who work out.
You can also make your own high-protein shake without protein powder.
Blend the following ingredients:

2 cups natural soy milk (Make sure it doesn't have any added sugar. The only ingredients should be soy and distilled water.)
3 egg whites
1 banana (Or another fruit of your choice.)
1 tbsp natural peanut butter (It only contains peanuts and oil -- no preservatives -- available in health food stores and some grocery stores.)
2 tbsps flax powder (Or 2 tsps flax seed oil.)
1/3 cup rolled oats
7. Lentils
Although they may not seem appetizing on their own, putting a handful of them in your soup or salad will give your snack a protein boost. One cup of lentils has about 230 calories, one gram of fat and 18 grams of protein.
8. Peanut butter
If you loved peanut butter and jelly sandwiches as a kid, you're in luck: One tablespoon contains about four grams of protein, eight grams of fat and 95 calories. For an energy boost, spread it on a slice of whole-wheat bread (60 calories and one gram of fat) and top it with banana slices.
9. Oatmeal
According to Aubyn Garstang, a certified personal trainer, many men who train hard favor oatmeal for its balance of protein and good carbohydrates, which gives them the energy necessary to make it through an intense workout. One packet of instant oatmeal has about five grams of protein, 105 calories and two grams of fat. You can eat it alone or add some cinnamon to the mix.
A question of balance
No matter how busy you are, it's really not that difficult to eat nutritious, high-protein snacks. If you keep a few cans of tuna and some eggs in your fridge at all times, you'll have some healthy alternatives to fatty junk foods like chips and chocolate bars.
However, keep in mind that your body does need a certain amount of carbohydrates, which is the main source of energy for working muscles and other bodily functions. Therefore, you shouldn't try to eliminate carbs completely, especially if you work out.
The key is to eat a balanced diet that includes lean protein, minimally refined carbs (whole grain pasta, whole grain rice), simple carbs (raw fruits and vegetables), and a small amount of fat in order to provide your body with all the nutrients and energy needed to function at your best capacity.
Healthy Snacks On The Run
There are as many ways to prepare roasted chickpeas as there are herbs and spices. Try making them with spices that you love from a favourite dish or cuisine, like curry powder for an Indian flavour or cumin and chili powder to for a Mexican variation. The recipe is simple: toss a can of chickpeas with a bit of oil and your chosen spices, and bake your chickpeas at 400C until they're golden and crunchy.

Salads can be both nutritious and versatile, because they're endlessly customizable, but they can be messy and difficult to transport. Also, mixing in your dressing in advance can make your greens soggy, but carrying it on the side can lead to a work bag full of Catalina. The solution? Salad in a jar! This was all over Pinterest a few months ago, and for good reason: by layering the salad ingredients, with dressing at the bottom and greens at the top, they all stay fresh until you dump them in a bowl.

Hummus is made with chickpeas, which are full of protein and fibre and a good source of iron. Good thing it's also delicious. There are many ways to get hummus into your mouth, but we recommend freshly cut carrot sticks or bagged baby carrots—they've got a satisfying crunch and are a great way to get some vitamin A in your diet. If you're feeling adventurous, try making your own hummus at home.

Fresh fruits are nature's first convenience food — bananas and oranges even come with their own biodegradable packaging. It's hard to mess up this one, but we recommend choosing fruits that are in season locally. That way your already healthy snack will also be cost conscious and at its peak of flavour and freshness.

You can really customize a daily smoothie to fit whatever nutritional needs you to need to address. Add hemp seeds or ground flax for a dose of healthy omega fats. Get some potassium and fibre by throwing a banana into the blender. Add protein with a powder supplement or soy milk. Our favourite smoothie booster is a handful of healthy fresh greens, like spinach. It's a great way to get the benefits of these healthy vegetables. Oh She Glows has a selection of recipes for "green monster" smoothies that are so delicious that you'll never guess they're great for you.

Kale is having its moment in the nutritional sun right now. This hot leafy green has become increasingly popular not just for its great taste but also because of its abundance of fibre and iron, among other key nutrients. Kale's great in salads, but you can also make it into chips by baking it in the oven, adding your favourite seasonings to replicate the taste of your favourite fried snacks without all the fat and calories. We suggest tossing the shredded kale with apple cider vinegar and sea salt.

Ants on a log — celery stalks filled with peanut butter and topped off with raisins — might remind you of snack time in kindergarten, but did you know that celery is a source of potassium? The peanut butter gives you a kick of protein while the raisins throw some fibre into the mix. You can make this one a little more grown up by trying a different nut butter, like cashew, or by substituting dried cranberries for raisins. Personally, we think that the classic version is yummy, too.

Think of what you'd love to see on a crudite plate, and get it on the go. Broccoli, peppers, carrots, celery, and cauliflower are all great options for snacking. They take a while to eat so you won't rush past your full point, and munching on them throughout the day can help you reach your recommended servings of fruits and vegetables. Baba ganoush, made with eggplants, is a great dip option.

Steamed and salted edamame pods are to the Japanese what peanuts and popcorn are to North Americans — they're a standard bar snack across the Pacific. They're a lot healthier than our favourites, because edamame are fresh green soybeans, which means that they're full of protein. They're delicious with just a sprinkle of sea salt.

It's a shame that a pumpkin's seeds usually get thrown away when we carve out our jack-o'lanterns at Halloween, because they're very nutritious. Pumpkin seeds are full of antioxidants, and they're a great source of immune-boosting zinc. Like chickpeas, you can toss them with spices and a bit of oil and roast them, but they're also delicious raw. If you can find them, get your seeds unshelled to get your full boost of zinc. The shells are edible.
Follow AskMen.com on Twitter: www.twitter.com/AskMen