Virtual Reality Already Shows Potential To Revolutionize Real Estate
Co-Authored by Averie Hah and Alan Shekthman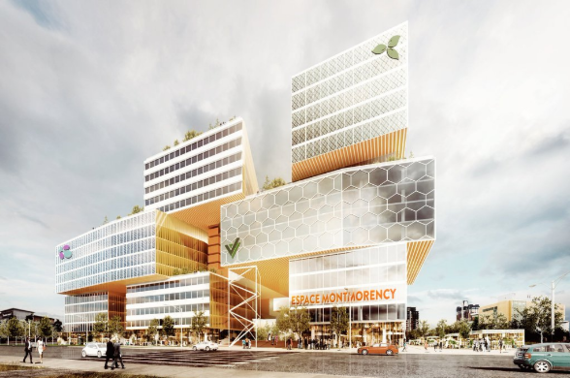 You hate wasting time. Whether you are looking to purchase a residential home or invest in real estate property, the thought of hours spent driving, visiting and standing around in open houses instantly turns you off. If you are a realtor, the hours you put into preparing an open house, taking and editing photos of the property, and finally talking to your clients just to get their attention can be frustrating. Is there a tool to increase the efficiency of the real estate purchasing process for both parties?
Virtual reality might just be one of those tools.
You've heard of all the wonderful, futuristic things virtual reality can do, but I'll leave that to your imagination and go straight to how VR can benefit you in terms of time and human and financial resources.
Use Cases of Virtual Reality Real Estate and Results
CBRE - Augmented Reality from Merchlar on Vimeo.
1. Increased views, engagement and conversion rate
The most obvious advantage of virtual reality in real estate is that you will be able to see your potential property as if you're actually there. This new way of visiting is not only a fresh and convincing way to market the property, but it also makes it much easier to view it. Simpler viewing access leads to more views, and the best way to sell property is obviously exposure.
After Matterport implemented 3D virtual reality viewing, they have gathered more than 40 million views for the virtual spaces that they have created. That means approximately 40 million people would have missed out on the viewing without virtual reality, and that real estate companies would have lost those potential 40 million views.
Within their first year, the company has raised $56 million, and sold thousands of VR cameras to real estate agents. Those videos are getting about 1.2 million unique views per month.
Although real estate companies cannot provide exact conversion rates, we can compare this to a YouVisit case study. YouVisit started with virtual college tours and now their walking tours have expanded to hospitality, tourism and real estate industries. Their director of marketing claims that colleges who use virtual tours have seen a 30 per cent increase in physical visit requests, and over all of their use cases, there is 12.3 per cent conversion rate.
2. Increased Investor Interest
Using virtual reality to market your property will increase investor interest. According to Sotheby's real estate group, Matthew Hood, virtual reality marketing works especially well for high-end homes. This makes sense when you think about the big financial commitment that investors are making, often times from their executive office in another city or even country. Regardless of how realistic the VR content looks, the chance to be simply present in the space, albeit virtually, can instantly provide an accurate understanding of the area.
A New York-based architect Kyle May says that his company's app that overlays a 2D floor plan on a 3D model saw more than 2 million downloads with AEC (architecture, engineering and construction) professional accounting for 30 per cent of its users, likely because VR makes it easier to communicate ideas to a client, especially in the early stages of the design process. In addition, he says that the first time his firm presented a project using VR, he got a 10 per cent boost in construction budget, because having that VR experience allowed clients to make better informed decisions.
3. Time and Money Savings
Perhaps the biggest benefit of virtual reality tours in real estate is that it saves time and money. After viewing in VR, clients can narrow down the places they have a real interest in, and as a result, there will be a decrease in unproductive visits and an increase in serious visit requests. Instead of taking and managing 300,000+ individual photographs (as explained by Hensel Phelps's project engineer William Plato), engineers and real estate agents can now simply manage one file and show the real space.
Instead of preparing for an open house that only lasts for a day, companies can now make the place accessible 24/7, and potential buyers can view or experience the space at their own convenience. Especially for international and/or high-profile buyers, the process of scheduling and visiting can be overwhelming. To look around just one region like L.A, it can take two entire days to visit 10 houses due to traffic, according to Sotheby's Matthew Hood Real Estate Group.
Ryan Serhant -- the star of Million Dollar Listing New York, and New York's top residential agent as ranked by Wall Street Journal -- believes in virtual reality as the solution to this problem. In his interview with CNBC, Serhant says, "Turning your head to virtual reality for real estate is like turning to Zillow, StreetEasy and Realtor.com when they first became big."
The resource-saving benefit of virtual reality here is obvious, and there is an actual use case of VR, where an international buyer saw and bought the listing without a physical visit. This sales process saves much time and human resources for both parties -- no need to fly for international buyers or to take time off work for executives.
Manulife | LOFT - Augmented Reality and 360 Photo from Merchlar on Vimeo.
What's In It For You?
Yes, there are all these innovative companies that were quick to be the first to adopt virtual reality. But what does that mean to you? This means that if you are a real estate company or an investor, now is the time to leverage virtual reality to lead the market.
According to Goldman Sachs, there is a potential user base of 1.4 million registered real estate agents, and an aggregate real estate commissions market of $107 billion. This is the market that VR is to disrupt.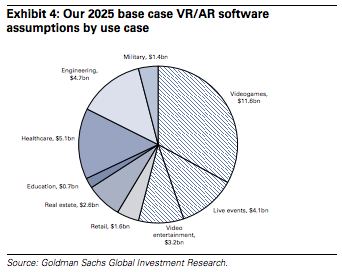 This data translates to Goldman Sachs's prediction that by 2020, 130,000 real estate agents will be using VR. Overall, VR in real estate is predicted to generate a $750 million revenue by 2020, and $2.6 billion in 2025, with the value proposition of a VR home listing ad significantly outweighing that of an online ad.
If you see the concrete market potential here like many experts do, this is your cue to jump into virtual reality.
Learn more about virtual reality at Merchlar.com
Follow HuffPost Canada Blogs on Facebook
MORE ON HUFFPOST:
Uses For Virtual Reality Besides Social Media
One of the most common complaints from amputee victims is the feeling of phantom pain -- feeling the missing limb but not being able to see or control it. Exactly what causes phantom pain is unknown, but it's likely a result of the brain still recognizing the limb even though it's no longer there. Despite the frequency of this problem, there's no one method of dealing with the pain that works for all amputees. But an experimental study, detailed in the journal Frontiers for Neuroscience, soothed one man's chronic phantom pain after 48 years of suffering by allowing him to not only see a virtual representation of the limb, but also to control it using electrodes attached to the base of the missing limb that measured muscle movement. The patient reported a drastic improvement in his phantom pain. The therapy needs to undergo more tests before it can be more widely used in treatment.

Burn patients, as well, can benefit from the use of virtual reality. Suffering through agonizingly painful treatment and therapy (such as the cringe-inducing "skin stretching" therapy) can be eased through a virtual game called "SnowWorld," first used by Loyola University Hospital in Maywood, Ill. The game puts victims as far from their injuries as mentally possible by letting them shoot snowballs at penguins and snowmen while jamming to Paul Simon's "You Can Call Me Al" (or whatever else they choose to listen to). The treatment helps distract patients by letting them have a little fun while also visually simulating a more comfortable environment for them. MRI results, as well as patient testimony, show that it's succeeding.

VR has been effective in treating soldiers who have returned from war zones in Iraq and Afghanistan and are suffering from PTSD. In this video, you see how the patient is gradually kept under stress by visiting a virtual representation of a Middle Eastern town. The therapy keeps the patient under reasonable amounts of stress so that he can learn to handle the stress and, hopefully, control it. While many consider this treatment controversial, proponents say it can be effective for some patients when used in conjunction with other forms of treatment. PTSD isn't the only psychological disorder VR can help to treat. The Virtual Reality Medical Center says phobias, anxiety disorders, and panic disorders can all be treated as well.

Virtual Reality has proved effective at treating children with autism. It can help them learn social cues, fine-tune motor skills, or experiment with real-world lessons like waiting until it's safe to cross the street. One reason behind the treatment's efficacy could be that children with autism interact well with technology, specifically virtual reality. Justine Cassell, director of Northwestern University's Center for Technology and Social Behavior, told NBC News that it's the technology's predictability, controllability and "infinite patience" that makes it such an effective teacher for these children. While these two youngsters are working with an Xbox One Kinect in this photo (also a sort of virtual reality), head-mounted displays are also used in this research.

Medical students don't have very many chances at the "error" part of trial-and-error learning. It's a big jump from operating on a human in theory to making the first cut on the operating table. Virtual reality makes "practice makes perfect" more practical. Recent uses of virtual reality in medicine include

It's not just medicine that's being improved by virtual reality. Some are finding uses for the technology in some surprising industries like the financial industry. An experiment by the Virtual Human Interaction Lab used virtual reality goggles to show 20-somethings what they would look and move like in their 60's in an attempt to get more young people to start saving for retirement early. The experiment worked. According to ABC News, those who wore the goggles put twice as much money into a hypothetical retirement account than those who did not.
Follow Awane Jones on Twitter: www.twitter.com/Awane