10 Ways to Keep Children Happy During a Divorce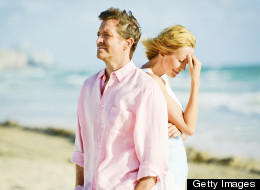 Written by Lindsay Ducharme for BabyPost.com
It is not news that divorce rates are on the rise. Single parent and blended families have become the norm in recent years. Divorces are never easier, even more so when children are involved and tend to affect children the hardest. Tammy Daughtry, CEO of Co-Parenting International and Co-Parenting Coach has advice to ease the divorce process on your children. Based on her book, Co-Parenting Works! Helping Your Children Thrive After a Divorce, she offers the top 10 ways to keep your children happy during a divorce.
1. "Don't say mean things about your ex-spouse in front of your children. Your children love both of you," explains Daughtry. By talking badly about their other parent you are making it harder on your child, not your ex. It puts your children in an awkward situation. Your children have their own relationships with each parent; do not try to corrupt their opinion of the other parent.
2. "Criticizing your ex-spouse usually works the opposite way you intend it to," claims Daughtry. "Children are very loyal and by criticizing their parent it makes your kids angry with YOU!" Children are the innocent bystanders in divorces. Criticizing can cause stress, anger and conflict for your children. Being a child in the middle of a divorce is difficult enough, why not make it as easy as possible and keep your opinions to yourself.
3. "Don't make your kids pick who they want to spend time with - it's not fair and your children are the ones who will end up hurt," she says. "And don't 'keep track' of their time with the other parent like they are 'on the clock' - it can't always be 100% fair. Just love your children when you are together and don't make them feel bad about not spending the same amount of time with each of you."
4. "Handle your financial conversations in private," Daughtry pleads. Your kids do not need to be involved in aspects of the divorce that do not concern them. Going through a divorce is a stressful time for all involved, try to limit that stress on your children by only involving them in conversations that will have a direct impact on them.
Related: Finding Love Online as a Single Parent
5. "Don't use money to win their love - be a stable and loving parent and your children will love you no matter who has the "most" money," she explains. Kids are smarter than they are often given credit for. While they may love getting gifts, it will not be lost on them why they are suddenly getting a present every time they see a certain parent.
6. "Don't keep your children from seeing the other parent - if you do, your children may grow up to resent you," Daughtry points out. While keeping your child from their other parent will certainly hurt your ex, it will undoubtedly hurt your child more. Your kids will likely not understand your reasons, they WILL understand that YOU are the reason they cannot see their other parent.
7. "Get a counselor to help you with your problems - your children need you to be strong and stable for their well being," she says. "They don't want to hear about your dating and your disappointments. They don't want to hear about your problems at work or how much you are struggling financially. Talk to someone else. Your kids need you to be their parent and mentor and lead them in the way you want them to grow up. Don't make your children be YOUR parent."
8. "Don't make you children your messenger," Daughtry continues. Keep lines of communication open between you and your ex-spouse. This will not only help avoid conflict, but it also ensures that they will be no confusion and miscommunication that often comes when a third party is involved.
9. "Laugh and smile - your mood has a direct impact of that of your children," she explains. Stress breeds stress. "Find a way to be happy and enjoy your life - your children need to have fun and enjoyable memories with you," she continues.
10. "Don't forget that your children have a divided heart now and they live between two completely different houses, rules, traditions and attitudes," Daughtry reminds parents. "Be patient with them when they forget things or need some time to adjust from house to house. Help you children not to have to feel like a visitor when they are with either parent. Things like tooth brushes, shoes, clothes, their favourite cereal, and having cool décor in their room - these all help them feel welcomed and 'at home' in both homes. Make it as easy on your kids as possible!"
More from BabyPost
10 Secrets of a Happy Marriage
Do Happy Couples Need Counselling?
3 Common Arguments of New Parents
Michael Vana:When she said that she would divorce me so my mother wont be able to see our son without her being there.

greilcook:

dancinggrandma:My husband left for work and while he was gone, I read a book called "I'm OK; You're OK". It described parent/child/adult styles of behaving. When he came home, and from that time on, everything out of his mouth was "critical parent" to "naughty child" (me). I asked for a divorce a few weeks later. That book woke me up big time!

BitsyGem:

NotIfHeBegged:The moment I knew we were divorcing? Well... there should have been many moments before then, but the final straw was the day I went looking for the video of our daughter's first swim lesson, and instead found the footage of him having sex with other women. Plural. So. Damn. Done.

jillrh:Should have known after the drunken suicidal rant in front of the children.. should have known many times... but oddly enough it was the day he chased me out of the house (wearing a wife beater undershirt for visual effect) screaming, the kids without reacting (just another day on the farm) and I sat in my car wondering- which is more dangerous.... leaving the kids with him or trying to take them with me. Yea.... then I knew.

Judy Wickler:I knew when he came home from a golfing trip and, while emptying his suitcase I saw his t-shirts and socks neatly folded in an unlikely way.

@HuffingtonPost #themomentiknew When he proposed via MySpace, said "turn around." I took my time & when I saw the ring, asked "Is it real?"

HuffPost Blogger Dan Ehrlich:During our 25th anniversary 2nd honeymoon trip she said she wanted to move on in her life, but without me. Allin "Across a Crowded Room."

Roklady:I was scheduled for my 2nd C Section and he asked me to call a friend to be with me the day after the baby was born. He wanted to go on a business trip and I had "already done this before"

dkeiko:The moment I knew

boundary:After starting..and actually inventing the concept for our business...and he tells me to ask permission to speak at conferences because " he knows the political climate"

boundary:When I had carotid artery surgery and he wanted to know if he could go for a bike ride before picking me up...and never asked how I was.

ThinkLikeALady:#themomentiknew is when he stopped touching me, conversations ceased, and he wouldn't make eye contact anymore. Oh...and that Sat AM when I checked the cell phone bill and noticed there were 23 calls to a woman in one weekend.

Alaina Black:The moment I knew was when we talked all year about going to Hawaii, I even booked our $5,000 trip, and he decides he didnt "know what he wanted in life," so he moved out...leaving me with a booked vacation to paradise and a broken heart. And Orbitz doesnt give refunds...

caligurl0601:I knew when my beloved mother, who lived 3,000 miles away, unexpectedly passed away earlier this year and I asked my husband to use his frequent flyer miles to book a flight to be with my family and organize her home going service and $600 to rent a car. He agreed, and texted me that I owed him when I got back, and he said that he didn't mean money.

kate5130:I knew when my I told him I felt a lump in my breast and his response was "I'm going to go return these movies to the store". I knew right then and there I had to go.

emo mommy13:only been married a little over five years, and i'm over this. i can't do it anymore.

Cyrusboo:

tonua04:There were several small moments that led to my realization that neither of us are the same people. Better to walk away on good terms.

tonua04:When I realized that we had stopped fighting... It just didn't seem worth the energy... Wow! What a realization!
Follow BabyPost on Twitter: www.twitter.com/thebabypost