While My Kids Are Young, Mother's Day is More Like Family Day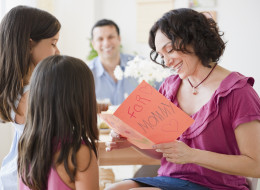 Mother's Day is, by far, my favourite Hallmark holiday. Though no one will dare acknowledge that's what it is, let's call a spade a spade here: It's totally a Hallmark holiday. Oddly, I'm totally OK with that.
I don't need any grand gestures on Mother's Day. Maybe when my kids are older (they're four and two now) they'll help daddy cook me terrible tasting pancakes and make freshly squeezed orange juice with way too much pulp in it. And that will be awesome. But for now, while they're so young, my expectations are similar but different. I don't expect flowers and jewelry. In fact, by far my favourite gifts every year from my daughter have been whatever craft she made for me at daycare.
I won't lie, the Tiffany necklace my husband got for me two years ago that had my kids' initials, when my son was a newborn and my daughter was two, was the perfect gift at the time. I treasure it as we had just completed our family the month before. But my kids were really too young to do anything, and that was more a gift from my husband than my kids.
Related: Mother's Day Gift Guide
But my kids are both old enough now to contribute to some handmade-with-love art work, and so my husband is divested of the role of gift purchaser. I look forward to seeing what they come up with this year.
For my family, Mother's Day is more like Family Day. We have been going to my brother and sister-in-law's for a big family brunch every year to celebrate our moms and, four years ago, I got to be celebrated there too. I look forward to that brunch every year, because it's nice to be with my mom, and my children, and the mom of my niece, and her mom too. It's special to me to be surrounded by the moms of some of the best ladies I know. I enjoy being celebrated among them. It makes the day special for me, which is really what Mother's Day should be about.
I distinctly remember the first Mother's Day gift I ever went out and bought my mother independently with my allowance money. It was a cheesy picture frame that says "I love my mommy" in a messy crayon-looking text, that I put a pretty bad picture of myself as a baby being held by my mom. I remember feeling such pride in giving her that gift. Oddly, it's the one she remembers getting the most, and still has it displayed in her house, original-chosen picture included, 25 years later.
Written by Leslie Kennedy for BabyPost.com
More from BabyPost
Rebecca Eckler: Why a Simple Box is All my Toddler Needs
7 Things You Probably Shouldn't Do Now That You're a Parent
Most Popular Baby Names of 2013...So Far
Canadian designer Nicole Tarasick has created these airport code pillows, perfect for the frequent flyer or the expat. Airport Code Pillows by Nicole Tarasick, $65, available on Etsy.

Some of us have mothers who love their plate collections — so much so that she keeps them in glass cabinets as display items. This Mother's Day, she'll love you for adding these bright finds to her collection. La Med Melamine Dinner Plates, $60, available at Williams-Sonoma.

This is the perfect Mother's Day gift that YOU can benefit from as well. Fun fact: this ice cream maker also includes the largest ice cream bowl capacity in the industry. Kitchen Aid Ice Cream Maker, available at retailers across Canada.

Yes, flowers are the typical go-to Mother's Day gift, but this year check out these paper flower bouquets by Paper Portrayals. Paper Flower Bouquet, $65 (USD), available on Etsy.

Okay, just hear us out. Sometimes, our parents aren't always that organized. To help Mom keep track of her finances, give her this practical electric organizer. NeatReceipts, $180, available at Neat.com.

For anyone who has grown up with a mother who loves to bake fresh treats, surprise her with this spring-inspired cake stand. Floral Cake Stand, $50, available at Pier 1 Imports.

Sometimes, Mom just needs to get away. But if a tropical vacation isn't in the near future, Spa Finder lets you buy gift cards that can be used at 2,000 different Canadian spas. Check out how to get your own Spa Finder gift card.

Browse the Web, read a book or just watch funny viral videos. This tablet is decently priced and has a seven-inch display. Google Nexus 7, $240, available at Future Shop.

Face it, your mom loves your face. We know frames are simple and popular go-to gifts, but this year try adding an old photo of you and your mom. She'll appreciate it. I Love Mom Frame, $15, available at Indigo.

OK, if the last one was too cheesy for you, we also have these stunning semi-precious, hand-polished agate frames. RabLabs Obra Frames, $58, available at RabLabs.com.

Sick and tired of boring cards? Check out these fun and customized cards on Etsy. (No, seriously, there's a whole page.) You Da Bomb Diggity, $4 (USD), available on Etsy.

Simple, cute and fun. These tea cups will brighten up any kitchen. Dotto Mug, $12, available at Anthropologie.

Make Mother's Day special this year by getting your mom a stunning leather notebook. She can use it as an agenda or just write down her thoughts. Spring Blossom Journal, $18, available at Indigo.

Get your mom's mornings going with this colourful coffee and espresso maker. Nespresso U D50, $200, available at The Bay.

Cheers! Pop open a bottle of wine (we recommend this Chardonnay from Jackson-Triggs) and give a toast to thank your mom for everything she's done. Prices vary across the country.
Follow BabyPost on Twitter: www.twitter.com/thebabypost