According to Some Guys, Crazy Ain't Hot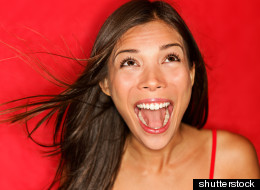 Ever get into one of those arguments that goes horribly wrong? The kind that starts off innocently enough but ends badly? Maybe it started as a discussion or friendly debate and then slowly things got out of control and you saw red, your face contorted and you ended up crossing the crazy line? Well apparently that kinda crazy ain't hot.
I met a fella the other day. His name is Steve. Steve and I were discussing what he considers hot in a woman and according to him, passion is hot. And not just in the bedroom. A woman who is passionate about life, other people or anything that interests her, is sexy. Yet once that woman's passion crosses the line to fanaticism, obsession or a little cray-cray, she loses her appeal. And apparently that line is extremely fine.
I asked Steve to provide me with a few examples of what he meant and here is what he shared:
When a woman throws clothes around the room during an intimate moment, that's passion. When she throws those clothes out the window, well, that's a little bizarre.
When a woman ties her consenting beau to her bedposts to spice things up in the bedroom, that's exciting. Leaving him there when she takes off for work, a little disturbing.
When a woman follows behind said beau's car in her own car because his brake lights are out, that shows concern. Following him every single place he goes, a tad obsessive.
Wearing a little extra sexy makeup -- hot. Painting your face like the Joker -- not.
Really Steve? Who have you been dating?
Now I've been known to lose my cool before and usually when it happens, looking hot or being sexy is the last thing on my mind. And evidently, the actions of some women or the efforts they make to express themselves and their emotions is not always fully appreciated. But I have to wonder if there are some people out there who find Steve's version of line-crossing behaviour hot.
They say that there's someone for everyone, so it would stand to reason that there must be some people that are attracted to outlandish, peculiar and over-the-top behaviour. Because I'm always on the lookout for what people consider to be hot, I wonder if the majority of people share Steve's views or if he and the people with similar beliefs are the minority.
So what do you say? Majority or minority? Anyone out there on Team Steve or can crazy really be hot?
5 Exes Who Will Make You Grateful For Yours
In May 2012, a recently divorced Superior, Wisc. woman held an "X-Husband Sale" on her front lawn where she gave away piles of her ex's belongings for free. She also flattened the tires on his SUV and spray-painted it with the word "cheater" and other invectives (click here for photos). Police had to tow away the vehicle after curious passersby caused traffic to slow to a halt in front of the house.

In July 2012, Elle Zober put her Beaverton, Ore. home up for sale with a sign on the front lawn that read: "Husband left us for a 22-year-old. House for sale by scorned, slightly bitter, newly single owner. Adulterers need not apply." Zober told local Fox affiliate KPTV that it was not an act of revenge. In fact, her seemingly laid-back husband knew about the sign and even approved its use. Luckily, the kooky marketing scheme paid off. According to Zober's website, an offer was put in on the house just 23 days after she listed it.

In July 2012, 35-year-old Denver man Scott Kramer was charged with felony arson after he reportedly set his estranged wife's wedding dress, wedding photos and skis ablaze. Prosecutors said he put her belongings in a garbage can and set them on fire near his home.

In June 2011, a divorced Michigan woman reportedly sent a letter coated in peanut butter to her ex-husband, whose current wife was allergic to peanuts. The ex-wife denied accusations that it was a deliberate attempt to make his new wife ill. She insisted, rather, that she did it to prevent the woman from reading the private contents of the letter.

In March 2012, 44-year-old Brit Darrell Plews set fire to his estranged wife's clothes, shoes, and designer purses after learning that she married a man she met on a solo trip to Africa months prior. To make matters worse, she was still legally married to Plews when she tied the knot with her new Gambian beau. In a fit of jealous rage, Plews burned her belongings in the garden of the house they once shared together in Wakefield, West Yorkshire. His punishment? A 12-month prison sentence, £5,000 owed to his wife in compensation and a two-year restraining order.
Follow Barbara Aleks Hecht on Twitter: www.twitter.com/BarbaraAleks