Yes, Virginia, There Is a Jewish Santa Claus It's Christmas day. And as I gaze at the palm trees, green grass and lush vegetation outside my in-laws' condo in Boca Raton, I still cannot reconcile a warm summer-like December 25th with my rich memories growing up in Ottawa, where Christmas meant mounds of snow and icy cold temperatures.

Don't get me wrong, I love the idea of being able to sit on the beach , take in the sun and read the latest John Grisham novel. But nostalgia is a powerful seducer and memory itself a warm blanket.
When I was a child growing up in Ottawa in the 1950s and 60s, snow, wind and cold seemed as inseparable from this time of the year as potato latkes and Chanukah. Being one of only a small number of Jewish families in the city, we inescapably got caught in a Christmas spirit that enveloped us all.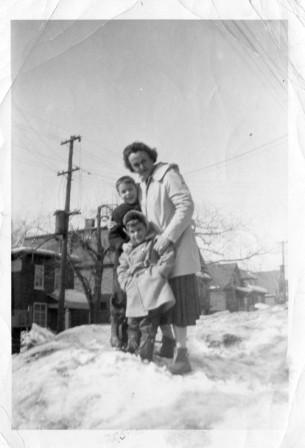 *
Christmas Day, 1960. Author with his mother and brother in front of their Ottawa home.
While today arguments ensue about the proper "holiday greeting," in Ottawa in the latter half of the 20th century, it seemed common place to wish everyone a "Merry Christmas and a Happy New year." To be sure, the change has much to do with the different patterns of immigration then and now, but it also has to do with what I can only describe as the spirit of the season.

My memories of the time are rich and deep of those few days just before the Christmas holidays, when I walked beside my father who often took me to school on his way to open our small family grocery store. Despite the bitter cold, I felt warm bundled up in my wool overcoat, scarf and that ugly cap with sheep-skin flaps that covered my ears. I still recall warmly that scrunch of the snow under our heels as we walked up the Somerset Street hill toward my elementary school.
Osgoode Street Public School, established in 1898, covered kindergarten to grade 6. It was an interesting hodgepodge of children, many from immigrant families that had settled in the Sandy Hill area of Ottawa just after the war. They were mostly Eastern Europeans whose first languages ranged from Ukrainian to Italian with smatterings of German, Polish and -- like mine -- the odd Yiddish speaking family. My younger brother Stan and I and the Cohen twins were the only Jewish children at Osgoode Street Public school. Christmas pageants were a regular and highly anticipated holiday assembly. We all got to play roles, from shepherds wearing cotton beards to angels with paper wings. I still recall my parents' sardonic smiles when I came home in early December 1960 to announce that I would be playing Joseph that year.
All the Jewish kids wanted so much simply to fit in. We felt so different, and Christmas, though not our holiday, was a time when the usual anti-Semitic taunts we had to endure daily gave way to a cheery "Merry Christmas." I loved the Christmas carols, the words of which are ingrained to this day in my mind. I can still sing a mean "Joy to the world" as well as "Dreidle Dreidle, Dreidle." Indeed many years later as a social worker with the Childrens' aid Society, it was this Jewish guy that led the group of foster children in carol-singing during the regular Christmas parties.

But my most vivid memory of the time was the Jewish-owned Frieman's department store on downtown Rideau Street. Many decades later it was bought by the Bay Company, but in 1960 it was Ottawa's Christmas Winter wonderland. A miniature train began inside the Frieman's show window, and we were all in awe as it chugged its way through Toyland towards, who else but Santa Clause himself. I recall my concern that time I departed the train and decided I too would sit on Santa's lap. As I approached the white bearded man, my Jewish heart pumping a mile a minute, I wondered if an electrical bolt would be sent down from the heavens. Turns out Santa was none other than Moishe Gorinsky, a Jewish friend of my father's moonlighting that year as a department store Claus. It was a sobering experience for a 9-year-old Jewish boy in 1960, to be sure.

Today the season is much different. Christmas is openly shared with the many other rich faith traditions that make up Canada in the 21st century. Kwanza, Diwali and my own Chanukah celebration have all been woven into this time of the year, making us all feel part of the season. And while I welcome and embrace the changes, once in a while, I cannot help but bring to mind a simpler time long ago when a young Jewish boy sat on a the lap of a Jewish Santa and played Joseph in his school Christmas pageant.
We kicked off our holiday kindness campaign by asking our readers for photos of good deeds tagged #kindness2012.

"Couldn't agree more, Cicero! My heart is very thankful today! #wordstoliveby #gratitude" said Instagram user kricketchirps.

"This literally made me smile. #thankful #blessed #love #friends #college #thanksgiving #grateful #cofc #charleston," Instagram user ra_roberts said.

"About to drop off cookies to the fire department! #30DaysOfKindness #holidayspirit #thankful #cookies #ActOfKindness #DayOne," Instagram user _astonishing_ashley_ said.

shan_nglam shared this Instagram photo of a holiday note for US troops.

"I like to perform at least one Random Act of Kindness a week," Johanna Schulman told HuffPost in an email. "And if I run out of ideas, I go to the Massachusetts list of unclaimed property, which is found at our Department of State Treasury. There I find an unusual name of a person who has at least $100 of unclaimed property and get to work. I Google the name until I have found an address for the person (that's why I always start with an unusual name, otherwise it's hard to. Then I print a copy of the page showing the property, circle their name, and send it to them anonymously with a little note. Usually I say 'Enjoy this random act of kindness and pay it forward!' I've attached a picture of todays RAOK! Dara Blendermann, it's your lucky day!"

"I don't have a photo, but today I was at Barnes and Noble with my kids and husband," Gina Lackey Diggs wrote to HuffPost. "When we came out of the store I saw a piece of paper under our windshield wiper. My removed it and saw it was a note that said, 'You are the world's only hope! Never give up! You are my people! Use this for whatever you can!' with a $20 bill inside! It was so awesome and random! I'm in California and don't know if it's because we still have 'Yes on Prop 37' written on our windows or our zombie family stickers or just random, but it was soooooo awesome!!!!"

"We started a fund here called 'The Forgotten Ones' where employees can give 10% of their next paycheck to hourly workers who they knew lost wages during Sandy," Marisa Beck wrote to HuffPost. "We thought this method of giving would be better than a generic one, since we would help the ones we knew personally, and who we knew were enduring hardship during this time. "Our engineers built a website to start documenting these stories and pictures, in the hopes of inspiring others to do the same. Please feel free to take a look."

One solution to combat stress during the holidays is this tower of bubble wrap, which circulated on Twitter and is also an act of kindness. Underneath a sign reading "Anti-stress for free" are various bubble wrap sheets labelled 3 mins, 5 mins and 10 mins -- corresponding to how much time the stressed-out person needs. User @regeener sent the tweet on November 20 with the original Tumblr photo included.

We found this sweet act of kindness on Facebook, where someone using the account 'Michelle Phillips Key Seminars' shared something nice they did on November 20, two days before Thanksgiving.

A generous act of kindness was shared in a post on Reddit a few days before Thanksgiving. A note next to a $50 tip left on a restaurant receipt reads: "A random act of love in memory of our son, Joel. He brightened everyone's day. May this brighten yours. Thank you."

"A friend of mine for 12yrs has cooked & wrapped Tgiving plates to pass out in town," @lmcallister tweeted on November 20.

The Boys & Girls Clubs of Hudson County (@BGCHCorg) sent us this photo of their 37th Annual Thanksgiving Dinner at the Jersey City Boys & Girls Club.

Kerri Richardson (@KerriCoach) sent us this photo of a community in Mass. that came together to fill a 16-foot truck with supplies for Hurricane Sandy victims.

On November 20, Stephanie King sent us this photo, which shows shoes that her daughter wants to post on Craigslist to give away as part of B2Challenge.

@Uplifting_News tweeted us this photo of a good deed from a Houston restauranteur who offered to give hungry families $100 toward a Thanksgiving dinner.

"A kindly strange security guard helped me change my flat tire after pulling off the freeway," @lolagil told us on Twitter two days before Thanksgiving. "Thanks again perfect stranger!"

@JayMortonRoss tweeted this photo, which shows a thoughtful note written in response to a lost driver's license.

"I got this on Veterans Day," @Bryant247 told us on Twitter. "Sometimes, little things like this make it all worthwhile."

"Matt, hitchhiker got home to his family for the holiday," @SaraTings told us on Twitter.

"Last night I went to Target to get a Christmas tree on super discount," Stephanie Bayliss told us via email. "Silly me, I thought I'd stand in line for 10 maybe 20 minutes so I opted not to push a cart through the crammed store. The line wrapped throughout the store, weaving back and forth through almost every aisle. After about half an hour the girl behind me tapped me on the shoulder. She had gone outside, tracked down a couple who was finished with their cart, and brought it to me. What a sweetheart! I'm so thankful she did because we were in line for another hour!"

mgonzalez:My housemate and I left behind bags of microwave popcorn at several Red Box rental stations for people to enjoy with their movie!

mgonzalez:I paid forward my friend's kind gesture by putting money in someone's expired parking meter.

mgonzalez:My friend and I celebrated kindness by making an alien piñata, filling it with treats and leaving it on a bench for a lucky person to enjoy!

aMike:In my family I give presents for them to pass on to others. These take the form of gift cards from organizations like Nothing but Nets, Doctors without Borders, Habitat for Humanity, Project Heifer an many similar organizations.
Follow Bernie Farber on Twitter: www.twitter.com/@berniefarber