The Best Ways to Stay in the Present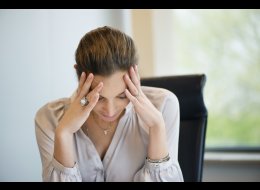 If your life is in turmoil with a bad boss, a hurtful relationship or a money-losing investment, take comfort in the fact that the adversity has a purpose -- it can bring you peace. While that sounds counter-intuitive, Arianna Huffington explains it in her recently released book Thrive, "there is a hidden purpose -- and alchemy -- in suffering that's transmuted into wisdom and strength".
This has certainly been true for me. Much as I don't want the tough times, I must admit that they always leave me more resilient. This is partially because I learn that I can indeed handle more than I thought possible and partially because tough times force me to find coping strategies that provide a continued sense of well-being, even after the crisis subsides.
My coping strategies always start with accepting that "where I am right now is where I am meant to be." It reminds me that resisting problems only amplifies them and reassures me that there is a purpose in the chaos. It is comforting to know that difficult as things might seem, there is a lesson to be learned that will make me stronger, wiser and more productive in the future.
While at university many years ago I hung a poster on the wall of my basement apartment graced with the poem "Desiderata." I have repeatedly quoted two lines from that poem ever since."You are a child of the universe, no less than the trees or stars; you have a right to be here. And whether or not it is clear to you, no doubt the universe is unfolding as it should."
It consoles me to know that I can "put it in cruise," turn it over and let the universe do its work. Yet, to actually do that takes detachment. I've always admired those people who can calmly let go of the desire to control, confident under any circumstance that "this too shall pass." I wanted to be one of them but it didn't come naturally until I learned to release from the external world and "go within" through meditation.
I started this when our daughters were small and I was working like a mad woman. Our house was old and short of space so I struggled to anchor myself internally while the girls played hockey in the hall, firing pucks at the bedroom door. All I needed was a short time in that "dream-like" space to calm me. After emerging, even cleaning the dog's latest accident didn't raise my ire or resentment.
Meditation works because it takes you to the present moment, freeing you from ruminating about the past and worrying about the future. It allows you to be in the "now." If you always want to be somewhere else or be someone else, you'll lose sight of the fact that "peace is in the present." The problem is that we're not good at recognizing it because when we are not in the moment, we are not there to know we're not there!
Thus, I have developed three techniques to place me squarely in the here and now and anchor me there:
1) Walk in Nature: I make it a daily practice to get outside and admire the flaming sunset, a flock of migrating birds, or the tenacity of marching ants. It often takes me one full block on a walk to finally let go -- but it always comes and it is always a great relief. Part of the reason it works is that it allows me to experience the world anew.
2) Activate Senses -- When I take time to really absorb the fragrance of a freshly cut orange, really listen to the sound of the rain against the window or really feel the texture of food on my tongue I feel alive. Furthermore, when I indulge in a sinful pleasure rather than wolfing it down guiltily, I eat it with gust, relishing every morsel!
3) Mind My Own Onions- If I am judging either myself or someone else, it takes me out of this 'time and this day.' Each time I mentally cross the fence into another's yard, I remind myself that I'm trespassing on someone else's property. By visualizing myself firmly closing the gate on their yard and walking back to relax in the lounge chair of my space I come back to the peace of the present.
Obstacles and setbacks are an opportunity to learn how to deal with things that go wrong. They give us the confidence to know we can do it in the future. Consider them a building block. More importantly, adversity demands you develop coping skills that teach you a better way of living. Start by accepting that where you are now is where you are meant to be. Then find peace in the present by walking in nature, suspending judgment and activating your senses. Just as I learned to meditate in the midst of my children playing hall hockey, we can still be at peace when things go astray.
It all comes from living in the present and the interesting thing is that when we are "there" we don't want to be anywhere else - it feels so-o-o flipping good. It does seem counter-intuitive that it takes tough times for us to learn how to feel good but therein lies the magic. By adopting coping skills the worst times are transformed into the best times and a stronger and wiser 'me' becomes the beneficiary. It is the hidden purpose of adversity.
MORE ON HUFFPOST:
There are several different kinds of meditation, and you may find that more than one of them is helpful for you. This guide from the Institute for Applied Meditation outlines eight of the main methods — including mindfulness (vipassana), which comes from the Buddhist tradition; transcendal, a meditative tradition of Hinduism; and qi gong, a Taoist form that works with breath and movement.

There are many reasons why meditation should be a part of your daily routine. A regular meditation practice can reduce stress, which has a host of potential health benefits including easing headaches, high blood pressure, and anxiety, notes WebMD. It could also help you fall asleep and get better rest, which is very important; people with poor sleep have been shown to be at a higher risk for accidents, weight gain, and diabetes, according to Harvard. And time set aside to meditate means time just for you — something we could all use more of!

If you're not convinced yet, studies have shown the benefits of meditation. Research published in 2011 showed that meditation could increase grey-matter density in areas of the brain associated with learning, memory, and emotion regulation, reported the Globe and Mail. Another study published in 2012 found that meditation classes, over the course of several years, were associated with reduced cardiovascular risk for people with coronary heart disease. And a five-year Harvard study is looking at how meditation may lead to changes in the brain activity, and even genes, of people who are chronically stressed.

There are many ways to meditate, which means there's one out there for you. Some people sit while meditating, while others lie down; you can go with the method you prefer, or mix it up based on where you're practicing. Either way, good posture helps you relax and breathe properly. You can close your eyes or keep them open, but if you prefer them open, try to keep your gaze down and unfocused. Most of all, try to find a time when you won't be interrupted — even if that means meditating for just five minutes. Put away your phone, get off the laptop, and focus! Mindful, a publication dedicated to bringing mindfulness to everyday life, has more tips for getting started with meditation.

The beauty of meditation is that you can do it anywhere. Obviously, it'd be great if you can do it sitting on a beach listening to the waves crash in, or in a quiet temple with an expert to guide you. But the key is actually doing it, not making sure you only meditate in the best possible environment. In your home, try to find a room where you can relax, be comfortable, and not be interrupted. However, you can also try it on the go — download an app or podcast (see some suggestions in slides 8 and 9) and make the most of your commute!

How do you know that all this mindfulness is doing its job? Sometimes it can be hard to tell, because it's not as obvious as other health practices: you don't have a cut that you can watch heal or a headache that goes away. But there are still ways to check in. Wildmild advises that you can tell that meditation is helping you if you begin to develop more concentration or start noticing things like your breathing or how particular parts of your body feel while you're meditating. You may also feel calmer overall and have improved posture. If you don't feel that meditation is working for you, don't be afraid to mix it up, as different approaches to practice work for different people.

The only things you truly need to meditate are time and yourself. But there are some items that can help you get zen. Try meditating lying on an acupressure mat like a Sponk, which can help with relaxation and loosening your muscles. A zabuton is a padded mat that makes it more comfortable and supportive to sit on the floor while meditating, and a zafu can help you sit cross-legged.

There are several apps that can help you establish a meditation practice. Buddhify 2 (iOS) gives you several meditations of varying lengths for a variety of situations, including "Eating" and "Can't Sleep." Omvana (iOS) lets you mix and match meditations with background sounds and music, and you can purchase new files from the app's built-in store. And Buddhist Meditation Trainer (Android) lets you work through ten levels of enlightenment with daily meditation.

Many meditation resources can be found online as well — even for free. Elisha Goldstein, the mental health blogger for Mindful, has a 10-minute body-scan video on YouTube that is a great short meditation. If you have a bit more time, try this 20-minute video that focuses on breathing. The Guardian ran a series of five podcasts about mindfulness that looked at bringing the practice into your everyday life. And UCLA posts a new guided meditation podcast every week.

You can also get some help in person by attending a meditation class or workshop. Many yoga studios offer classes, some of them combining meditation and yoga. Buddhist temples may also offer sessions that are open to the general public, often for a small donation. You can also look for a local Shambhala group — the organization often runs introductory meditation programs.

NEXT: Reasons To Love Meditation

Research published just last month in the journal Health Psychology shows that mindfulness is not only associated with feeling less stressed, it's also linked with decreased levels of the stress hormone cortisol.

It lets us get to know our true selves. Mindfulness can help us see beyond those rose-colored glasses when we need to really objectively analyze ourselves. A study in the journal Psychological Science shows that mindfulness can help us conquer common "blind spots," which can amplify or diminish our own flaws beyond reality.

Researchers from the University of California, Santa Barbara, found that college students who were trained in mindfulness performed better on the verbal reasoning section of the GRE, and also experienced improvements in their working memory. "Our results suggest that cultivating mindfulness is an effective and efficient technique for improving cognitive function, with widereaching consequences," the researchers wrote in the Psychological Science study.

A 2011 study in the journal Annals of Rheumatic Disease shows that even though mindfulness training may not help to lessen pain for people with rheumatoid arthritis, it could help to lower their stress and fatigue.

University of Oregon researchers found that integrative body-mind training -- which is a meditation technique -- can actually result in brain changes that may be protective against mental illness. The meditation practice was linked with increased signaling connections in the brain, something called axonal density, as well as increased protective tissue (myelin) around the axons in the anterior cingulate brain region.

Ever wondered why mindfulness meditation can make you feel more focused and zen? It's because it helps the brain to have better control over processing pain and emotions, specifically through the control of cortical alpha rhythms (which play a role in what senses our minds are attentive to), according to a study in the journal Frontiers in Human Neuroscience.

Mindfulness meditation improves our focused engagement in music, helping us to truly enjoy and experience what we're listening to, according to a study in the journal Psychology of Music.

You don't have to actually be meditating for it to still benefit your brain's emotional processing. That's the finding of a study in the journal Frontiers in Human Neuroscience, which shows that the amygdala brain region's response to emotional stimuli is changed by meditation, and this effect occurs even when a person isn't actively meditating.

The health benefits of mindfulness can be boiled down to four elements, according to a Perspectives on Psychological Science study: body awareness, self-awareness, regulation of emotion and regulation of attention.

Doctors, listen up: Mindfulness meditation could help you better care for your patients. Research from the University of Rochester Medical Center shows that doctors who are trained in mindfulness meditation are less judgmental, more self-aware and better listeners when it comes to interacting with patients

Sure, we love all the things meditation does for us. But it could also benefit people we interact with, by making us more compassionate, according to a study in the journal Psychological Science. Researchers from Northeastern and Harvard universities found that meditation is linked with more virtuous, "do-good" behavior.

Research from the Jefferson-Myrna Brind Center of Integrative Medicine shows that mindfulness coupled with art therapy can successfully decrease stress symptoms among women with breast cancer. And not only that, but imaging tests show that it is actually linked with brain changes related to stress, emotions and reward.

Loneliness among seniors can be dangerous, in that it's known to raise risks for a number of health conditions. But researchers from the University of California, Los Angeles, found that mindfulness meditation helped to decrease these feelings of loneliness among the elderly, and boost their health by reducing the expression of genes linked with inflammation.

Not only will your health benefit from mindfulness meditation training, but your wallet might, too. Research in the American Journal of Health Promotion shows that practicing Transcendental Meditation is linked with lower yearly doctor costs, compared with people who don't practice the meditation technique.

Aside from practicing good hygiene, mindfulness meditation and exercise could lessen the nasty effects of colds. Researchers from the University of Wisconsin School of Medicine and Health found that people who engage in the practices miss fewer days of work from acute respiratory infections, and also experience a shortened duration and severity of symptoms.

As many as one in five pregnant women will experience depression, but those who are at especially high risk for depression may benefit from some mindfulness yoga. "Research on the impact of mindfulness yoga on pregnant women is limited but encouraging," study researcher Dr. Maria Muzik, M.D., an assistant professor of psychiatry at the University of Michigan, said in a statement. "This study builds the foundation for further research on how yoga may lead to an empowered and positive feeling toward pregnancy."

Teaching teens how to practice mindfulness through school programs could help them experience less stress, anxiety and depression, according to a study from the University of Leuven.

Trying to shed a few pounds to get to a healthier weight? Mindfulness could be your best friend, according to a survey of psychologists conducted by Consumer Reports and the American Psychological Association. Mindfulness training was considered an "excellent" or "good" strategy for weight loss by seven out of 10 psychologists in the survey.

We saved the best for last! A University of Utah study found that mindfulness training can not only help us better control our emotions and moods, but it can also help us sleep better at night. "People who reported higher levels of mindfulness described better control over their emotions and behaviors during the day. In addition, higher mindfulness was associated with lower activation at bedtime, which could have benefits for sleep quality and future ability to manage stress," study researcher Holly Rau said in a statement.
Follow Betty Ann Heggie on Twitter: www.twitter.com/@bettyannheggie