Finding Inner Peace Through Art
Sometimes something is so close to you, you're unable to see it objectively. While preparing to launch my book Confessions of a Middle-Aged Hippie, I'm grateful to have had an opportunity to re-examine my personal biography, and revisit some of those significant pieces that have contributed to who I am.
Twelve years ago I was living with a somewhat undiagnosable physical illness that had me weighing in at 89 lbs, suffering from severe and crippling malnutrition, with those around me divided on if I would survive. The consensus was, "this could go either way." Synchronistically I found Arscura-School for Living Art and embarked on a journey back to health; a journey using "art" as a way to rediscover who I had been to now and who I could become in my future. I confess this candidly in my book -- art contributed to saving my life. Literally. Through the art, I arrived at a place of inner knowing and peace, embodied so eloquently in the words of the Dalai Lama: "We can never obtain peace in the outer world until we make peace with ourselves."
While organizing an initiative around my book launch, I was introduced to some very important work being done in the world. Work that embodies the hippie values of peace and the arts. Two values that reminded me of my own journey and align perfectly with who I am and what I stand for in world.
First, I was led to the Children's Peace Theatre, who since 2000, have done inspiring work, creating a culture of peace among children and youth, using art, theatre and music. They instill in their participants a "peace is possible" sensibility and ask us all some interesting questions to reflect on.
"As artists, how do we inspire our children and youth to take up the practice of peace? If nothing else, we must remember that art is derived from the freeing up of all boundaries combined with the ability to imagine something new, and the ability to recognize the humanity of others. Who else, therefore, is better suited than the artist to inspire alternatives and alternative ways of thinking?"
This powerfully mirrors my personal experience, as the art freed me to transform from the inside out, allowing me to reinvent an unexpected and beautiful future by unleashing my inner artist.
I questioned: Is it possible that creativity expressed through the arts, is a path to peace? It became very clear to me that I do see the arts as an important road to peace. I envisioned a simple idea, "paintbrushes for peace" and imagined what might happen if we offered children or adults a paintbrush and asked them to engage their creativity to ignite new possibilities for the world. It seemed that if we could take the frustration and separation people experience in our current world, which often leads to isolation and violence, and invite them into a community to make art together, we'd foster a sense of belonging and connectedness and through this, some magical new creation would become possible.
Next, I was synchronistically led to ArtHeart, who's been working in the Regent Park community of Toronto for over 20 years, offering free year-round drop-in art programmes, art education and art materials for children, youth and adults, also serving up free meals to all participants, true to their philosophy of "no starving artists".
Their programmes use art as a vehicle to address child poverty, homelessness, lack of employment and mental health issues, while helping to develop self-esteem, creativity, life-skills and learning. They continue to foster the arts in a community that can't otherwise afford access to making art and being creative. ArtHeart remains unique, as it is the only visual arts organization in the community and their successes are sincerely remarkable.
With more and more school arts' budgets being cut, what ArtHeart offers is invaluable. I believe we need more funds for programmes that foster creativity, not less. How is it that we've allowed ourselves to create a world where the majority of people do not have access to expressing their creativity through making art?
To see ArtHeart's amazing work, you can join them at this years' Nuit Blanche on Oct. 5, a yearly celebration that makes the arts accessible to all, where they are joining forces with The Regent Park School of Music at their home base in the Daniels Spectrum.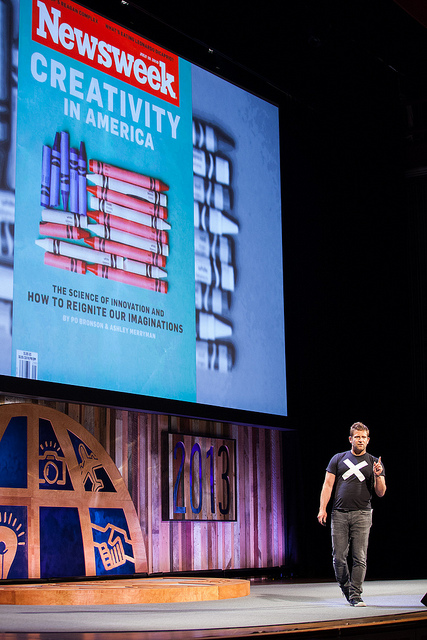 Photographer Chase Jarvis' talk "Creativity is the new literacy" at the World Domination Summit in Portland this July, sparked me. He presented the idea that as human beings we're all hardwired for both language and creativity. There have been many studies examining creativity, exploring if it is a natural inborn talent, or if we acquire it. I am of the belief, as is Chase, that we are all creative and that it's often stifled early on in many educational systems. Creativity is at the heart of what it means to be human. He elaborated that the world we live in is facing a "crisis of creativity" with the solutions to all our problems based on human creative potential.
So if creativity is innate to who we are as humans, and the solutions to our world problems can be found in creativity, then engaging our individual creative muscle through art and music could be a viable path to peace.
Then I stumbled upon a recent article by the brilliant Charles Eisenstein called "
Bombs, Badguys and the Brink of Peace
", which speaks volumes.
"We are experiencing today the emergence on a mass scale of ecological consciousness. No longer is the world an arena of struggle from which man emerges triumphant. We now see that the defeat of any species is the defeat of all; that the paving over of one habitat deadens something in all of us. The ecological crisis is teaching us that the good life does not come through winning the war against the Other."
With the recent world reaction to the atrocities in
Syria
, Eisenstein went on to say,
"Translating this awareness into geopolitics, we become less prone to believe that the solution to the problem is to overthrow the bad guy. That, or some lesser version of it - to intimidate, warn, punish, deter, draw a "red line," etc. - is a perception of a world populated by separate and competing Others. And we are weary of that. We are awakening to the reality that "bad guys" are created by their context, and that that context includes ourselves."
Like Eisenstein, many of us believe we are remembering the necessity of being part of community, reawakening to the value of connectedness, versus the breakdown brought about by separation. We're entering a new era of understanding, transforming old beliefs to create new paradigms of possibility. If we continue to bring the past into the present, we're limited to create the same future, denying ourselves the freedom to generate something totally new. Perhaps this is what art and music can bring to the conversation. They are tools to paving a road to peace. They engage and include, rather than isolate and separate. Maybe we're arriving at that magical tipping point of change. Albert Einstein said it so clearly "No problem can be solved from the same level of consciousness that created it."
It feels perfect to end here with words from John Lennon's timeless song Imagine. "You may say I'm a dreamer, but I'm not the only one. I hope some day you'll join us. And the world will live as one." Here's to creativity, peace and the arts! What kind of world are you committed to creating?
Visit me at: beverleygolden.com
photo of Chase Jarvis: Armosa Studios
This disease, which according to the NIH is most often caused by a begnin tumor in the pituitary gland, results in an excess of GH, or growth hormone. This causes sufferers to grow abnormally large, not just in terms of height, weight but also organ size. It results in complications like delayed puberty, increased sweating, and secretion of breast milk.

Characterized as an eating disorder, Pica causes people to eat what the National Organization for Rare Disorders describes as "non-nutritive" things. That umbrella term can include (but isn't limited to) dirt, clay, paper, and paint. Interestingly, it's not unusual for young kids to experience transient pica as a kind of phase, and pregnant women are also known to develop temporary pica cravings. The cause? Unknown. But in order to be diagnosed with full-blown Pica, a person's symptoms must last for more than a month.

MSUD, which is passed down through families, is a life-threatening metabolic disorder passed down through families that stems from the body's inability to process certain amino acids, leading to a build-up of them in the body. According to the NIH, symptoms usually surface in early infancy and can include vomiting, lack of energy, seizures, and developmental delays. MSUD takes its name from another symptom -- the urine in affected infants smells like caramel or maple syrup.

Situs Inversus is a congential condition in which internal organs of stomach and chest lie in mirror image of their normal body position -- something many sufferers aren't aware of until they seek medical help for an unrelated problem. People with Situs Inversus typically wear some form of identification to help doctors in the case of a medical emergency.

Trigger thumb, or trigger finger as it's sometimes known, causes a person's finger or thumb to get caught in a locked position. According to the Mayo Clinic, it can then stay stuck or straighten with a painful "snap." The cause? It depends. Trigger Thumb is the result of a narrowing of the sheath around the tendon in the problem figure, but that can be caused by a lot of things, including any activity that requires people to grip things frequently. Trigger Thumb is also more frequent in women.

Once the disease of sailors and pirates, scurvy does still exist in the United States, though predominantly in older, malnourished adults. It usually stems from a Vitamin C deficiency, which can result in gum disease, skin leisons, and swelling of the joints.

This progressive genetic disorder causes sufferers to store excess copper in tissues, including the brain and liver. Though the Mayo Clinic says that the body depends on copper in order to use iron and sugar, too much of it in the body can have real consequences. Which is why sufferers of Wilson's Disease are prone to liver failure.

According to researchers at the University of Texas at Dallas, this speech disorder causes people to experience a sudden shift in their accents and though it is known to be caused by things like brain trauma, conversion disorder, or multiple sclerosis, an exact reason behind the syndrome is unknown. Sufferers of FAS dramatically shift their speech in terms of timing and intonation, which often causes them to sound foreign, but they remain totally comprehensible. Documented accent shifts include from American English to British and from British to French.

People who suffer from this acquired neurological disorder experience repeated, often painful, muscle spasms as well as muscular rigidity and stiffness. According to the National Organization of Rare Diseases, spasms can occur at random or they can be caused by something as seemingly benign as light physical contact or an unexpected noise. The cause of Stiff Person Syndrome isn't yet known, but symptoms can be stabilized with medication. Left untreated, however, a person can lose the ability to walk.

According to the National Organization of Rare Diseases, about 10 percent of people with carcinoid tumors -- which the Mayo Clinic says are slow growing tumors that produce excess serotonin and usually appear in the gastrointestinal tract or lungs -- get this syndrome. It occurs only in patients whose tumors have metastasized to the liver. The symptoms? Wheezing, hotness, and extreme facial blushing.

Children and adults afflicted with CVS experience recurrent episodes of severe vomiting, which can last for days, followed by sudden periods of no vomiting. While kids are likely to experience more frequent attacks, adults's often last longer. To date, the cause of CVS is unknown.

This obscure, genetic skin disorder does exactly what its name implies: causes sufferers to experience constant shedding of their skin. (In some patients, peeling is limited to the feet and hands.) Along with that, sufferers often feel itching and redness -- symptoms that can appear from birth or develop later in life. Although the exact cause is unknown, a mutation in the TGM5 gene has been identified in many sufferers.

This is a blanket designation for several rare platelet abnormalities, most of which lead to mild or moderate bleeding disorders. According to the NIH, the problem stems having limited granules -- the parts of platelets that, among other things, store ADP -- the energy released when a molecular bond is broken. That reduction in storage space inhibits the platelets' ability to secrete ADP in a speedy fashion, which is thought to be what causes the bleeding. Classic symptoms of a Platelet Storage Pool Deficiency are nosebleeds, excessive bruising, and profuse bleeding in surgery.·

Only nine people in the United States are known to have this disease, which was just given a name in a recent study in the New England Journal of Medicine. ACDC, or arterial calcification due to CD73 deficiency, results in calcium build-ups in the arteries below the waist of sufferers and in the joints of their hands and feet. According to the NIH, the breakthrough discovery found that the disease is related to a variant in the NT5E gene.3

This condition, which typically occurs after an extremely stressful emotional event, causes a person to experience sudden blindness or paralysis that can't be otherwise explained. People with mental illlnesses are at particularly high risk and psychological treatment can help lessen the symptoms.·

Ochronosis results in black or blue external tissues, often the ear cartilage or eye, though it can occur throughout the body. It affects people who suffer from certain metabolic disorders, but it can also be caused by exposure, though scientists aren't exactly sure to what. Not just a cosmetic issue, the affected areas can become brittle and degenerate over time.

This condition, which is caused by genetic mutations in the so-called ACADVL gene, keeps people from converting certain fats to energy. According to the NIH, the deficiency often presents during infancy in symptoms including low blood sugar, weakness, and lethargy.

As the name suggests, Hairy Tongue is a condition in which the tongue develops a black, hairy texture. According to the Mayo Clinic, the disease is "harmless" and is caused by an overgrowth of bacteria in the mouth, which can be treated with antibiotics. The NIH reports that hairy Tongue can also present as brown, yellow, or green discoloration. ·

This obscure, inherited disorder presents at birth and causes infants to grimace when, in fact, they are attempting to smile. The disorder also includes an extreme urinary abnormality: an obstruction that interrupts the connection between nerve signals in the spinal cord and bladder, leading to incontinence. Though treatment does exist in the form of antibiotics and bladder re-education, some patients can develop renal failure in their teens and 20's, which can be life-threatening.

This syndrome, caused by a particular calcified ligament or elongated bone, frequently causes sufferers to feel that something is stuck in their throat. (Scientists don't know the reason behind said elongation/calcification.) Other symptoms can include ear and throat pain as well as difficulty swallowing. According to the NIH, it can be treated surgically or non-surgically with steroid injections and other anti-inflammatories.

According to the Mayo Clinic, only around 130 cases of this devastating genetic disorder have been documented since it was discovered in 1886. Affected babies normally appear normal at birth, but within 12 months begin to have symptoms like hair loss and wrinkles. According to the Mayo Clinic, progeria is caused by a genetic mutation, but not one that's passed down through families; it's a chance event that affects only one egg or sperm. The average life expectancy for sufferers is 13.
Follow Beverley Golden on Twitter: www.twitter.com/goldenbeverley