The Ultimate Manly Accessory? A Moustache!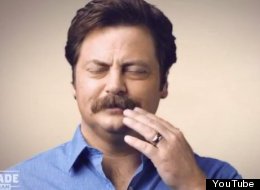 My father always had a very dapper, well-groomed moustache adorning his thin upper lip. The few rare times he decided to shave it, it was truly like coming face to face with a totally new person. It so changed his appearance, he seemed somewhat unfamiliar, a stranger I hardly recognized.
Then I was attracted to and married a man who had a full face (and head) of hair. Massive full beard and moustache, plus shoulder-length hair which suited his rock-and-roll lead singer persona. In all the time I've known him, (which is more than three decades), he has never once shaved off the facial hair that has become a significant part of who he appears as, to the world. There is only one lonely picture of him as a young up-and-coming member of a Beatle look-alike band, that reveals one of the main reasons he considered growing the facial hair in the first place. Self-consciousness (and maybe a bit of vanity) about a double chin.
The world-wide yearly event Movember, where men are encouraged to grow moustaches to raise funds and awareness for men's health, specifically prostate cancer and male mental health initiatives, happens around the globe every November. It brought my attention again to this unique thing that men can do and women (well, most women anyways) can't.
I became curious to explore the reasons why men grow facial hair, and whether or not women are actually attracted to it. The jury is out on how I feel about it, as for me, it's always more about a person's energy than a specific look. Although, come to think of it, I do remember finding myself strangely captivated by the wonderfully moustached actors Tom Selleck and Burt Reynolds when I was much younger.
No dispute that Movember and Novembeard or No-Shave month, have made their way into our consciousness during the month of November. Movember has had more than 1.9 million men around the world participate so far. Started in 1999 in Australia, in 2011, over 854,000 Mo Bros and Mo Sistas around the globe took part, raising $125.7 million CDN.
The official Movember rules are strict, but pretty simple. The participants who are called "Mo Bros," must begin the month completely clean-shaven, and may only grow moustaches. The one way women are allowed to participate, is by helping to spread awareness, organize events, and collect money. We Canadians, in fact, are the largest contributors world-wide.
BLOG CONTINUES AFTER SLIDESHOW
The 20 Best Moustaches Ever
Jack Layton's moustache was his trademark. He rocked it in Parliament long before the other MPs caught onto Movember last year. His stache gained enough popularity to have it's own Twitter account and Facebook page. New Democratic Party (NDP) leader Jack Layton speaking at a press conference in the foyer of the House of Commons in Ottawa, Ontario, following the fall of the Conservative government in a non-confidence vote. Canadians crowned Jack Layton the official leader of the opposition on May 2, 2011, after his outsized personality and televised charm propelled his left-leaning party to historic gains at the ballot box.

Lanny McDonald's moustache was bushy and bright red when he played for the Calgary Flames. Though greyed, McDonald is still rocking a stache -- proudly -- in retirement. Lanny McDonald at the Scotiabank Saddledome in Calgary, Alberta.

You may not recognize this face, but Calgarian Evan Gillespie placed third at the World Beard and Moustache Championships. After growing this moustache for a year, Gillespie headed to Norway and landed in the freestyle competition category with an imperial-themed moustache.

Baby faced "Sid the Kid" definitely doesn't wear a moustache year-round, but his attempts to grow a beard come playoff season have resulted in this teeny stache. Sidney Crosby, #87 of the Pittsburgh Penguins, during a game against the Phoenix Coyotes on December 20, 2010, at the Consol Energy Center in Pittsburgh, Pennsylvania.

We loved Canadian actor Ryan Gosling in Breaker High in the 90s. And we love him even more now that he's grown up to be a major stud in Hollywood. He makes the moustache look good on the red carpet. Moustached or not, we like him either way. Actor Ryan Gosling attends the Crazy, Stupid, Love. World Premiere at the Ziegfeld Theater on July 19, 2011, in New York City.

Adamo Ruggiero was once the awkward teen Marco Del Rossi on Degrassi: TNG. He wore his moustache proudly in the halls of Degrassi and is still wearing it after his graduation from the television show. Adamo Ruggiero poses for a picture at the Television Academy's Diversity Committee's Second Annual LGBT Event at the Leonard H. Goldenson Theatre on June 11, 2009, in North Hollywood, California.

This American fashion photographer is known for a few of things: his photography, his glasses, his thumbs up pose and his moustache. His moustache gives him a retro hipster vibe. Terry Richardson attends the Louis Vuitton Ready to Wear Spring/Summer 2012 show during Paris Fashion Week on October 5, 2011, in Paris, France.

The Spanish surrealist painter Salvador Dali had a zany moustache that became an iconic trademark of his personality. Spanish surrealist painter Salvador Dali (1904 -1989) stands beside his painting 'Christ of St John On The Cross' at his studio at Port Lligat on November 17, 1951, near Cadaques, Spain.

Tom Selleck has the moustache of all moustaches. Most moustaches aspire to be more like his. There is nothing more to say. Actor Tom Selleck attends the Blue Bloods Screening at The Paley Center for Media on September 22, 2010, in New York City.

Ron Jeremy was named one of the 50 top pornographers of all time by Adult Video News. He's often credited with the creation of the term "porn stache" that multiplied the presence of the moustache in the adult film industry. Adult actor Ron Jeremy attends the premiere of Guido at the Writers Guild Theatre on June 17, 2011, in Los Angeles, California.

Just wow. This German man's beard and moustache helped him take home first prize in the Beards and Moustaches World Championship. Not everyone could pull off or even handle this look. It's a facial hair thing of beauty. Overall winner Elmar Weisser reacts after winning first place in the Full Beards Freestyle category at the Beards and Moustaches World Championship 2011 in the northern city of Trondheim, Norway, on May 15, 2011.

Hulk Hogan has two trademarks: ripping his shirt off and sporting a bleach blonde moustache. Hogan's facial hair is a classic. The wrestler doesn't limit his moustache to his upper lip either -- his hangs down to his chin. Legendary wrestler Hulk Hogan visits SiriusXM Studios on October 13, 2011, in New York City. Hogan was promoting the heavyweight championship match Bound for Glory.

In the Mushroom Kingdom, Mario's moustache reigns supreme. It's won over the heart of Princess Peach and helped him fight villains like Bowser. His moustache has been immortalized in over 200 video games since its debut. Photo taken January 25, 2007, shows Japanese video game giant Super Mario standing at a showroom in Tokyo, Japan.

Albert Einstein's moustache is probably the smartest in the world. It's bushy and out of control, which is ideal for a man who contemplated theories beyond many human's mental capacity. This undated portrait shows German-born Swiss-U.S. physicist Albert Einstein (1879-1955), author of theory of relativity. He was awarded the Nobel Prize for Physics in 1921.

It's fun to stay at the YMCA with the original cowboy in the Village People, Randy Jones. His moustache is country perfection. Randy Jones attends the Bidendity Crisis official cast wrap party at Foundation Lounge on February 12, 2011, in New York City.

Burt Reynolds has a shot named after him that requires holding your finger to your top lip to represent a moustache. Enough said. He's like the poster child for upper lip hair. The Burt Reynolds: half Captain Morgan's Spiced Rum, Half Butter Ripple Schnapps. Burt Reynolds attends the Burt Reynolds Film Tribute at Hollywood Blvd Cinema on April 15, 2011, in Chicago, Illinois.

Self-help is best served with a side of moustache. Dr. Phil is going to get you excited about your life by flashing his salt and pepper stache as he yells some of his words of wisdom at you. Dr. Phil McGraw visits Late Show with David Letterman at the Ed Sullivan Theater in New Your City on April 26, 2010.

Ja Rule is now the most culturally irrelevant rapper, his dirt stache is equally so. He's like a teenager who went to prison for a while and never got the memo that shaving your dirt stache is the social norm. Ja Rule during Ja Rule Visits MTV's TRL -- January 12, 2005 -- at MTV Studios in New York City.

Not having facial features because your moustache is so large is simply living a day in the life of the Pringles man. His moustache is the ultimate chip crumb catcher. Packages of Pringles potato chips are displayed on a shelf at a market on April 5, 2011, in San Francisco, California.

Before he was exiled from the fashion world for his anti-Semitic comments in a Paris bar, John Galliano's moustache was haute couture. It's a stereotypical Parisian artist's moustache with just a dash of captain hook. Fashion Designer John Galliano walks the runway during the Christian Dior Ready to Wear Spring/Summer 2011 show at Paris Fashion Week at Espace Ephemere Tuileries on October 1, 2010, in Paris, France.
No-Shave November is a related event that promotes the same causes, but widens the field and is a little more relaxed. The only rule: Absolutely NO shaving in November. Beards and sideburns are allowed, as well as participation from the ladies. Women are encouraged to let their hair grow, wherever it may. Legs, armpits and... you get the picture.
Participating in special events like Movember or No-Shave month aside, I'm curious why do men choose to grow facial hair and do women, in fact, really like it? Some men grow it and never take it off. Others grow it, shave it and grow it back again.  
Some of the questions a male friend of mine posed to himself as he was trying to decide whether to shave his manicured goatee off, intrigued me and had me interested in exploring the facial hair topic more. Do men just like the way it looks? Does it make a man look masculine or more attractive? Is it a sign of virility or strong testosterone, as some guys apparently can't grow a nice thick beard. Has it just become a fixture on the face of those who chose to grow it long ago? Is a man's identity tied to his facial hair? Does it offer the man an opportunity to hide behind something? Of the many reasons to consider, I'd suggest that each individual's choice is highly personal and complex.
Most of the small group of men I asked, originally grew their moustache or beard to cover up what they perceived as some facial imperfection, and might even be considered a form of male vanity. Got a thin or wide upper lip. Grow a moustache. A weak or double chin. Cover it with a beard.
With regards to the moustache, Allan Peterkin, author and associate professor of psychiatry at the University of Toronto said, "After decades of being much maligned in Western culture, the moustache is now enjoying a cultural renaissance." He points to young celebrities such as James Franco and Ryan Gosling who have helped to make it fashionable, as well as the charitable movements such as Movember, for bringing awareness to it.
Research shows that some men do feel facial hair makes them look more worldly or manly. Some like the way it feels. Studies consistently show that women, however, do not necessarily like it. And results often suggest that beards send a signal of masculinity to other men, but do little to attract women. In a study done by Nick Neave, a Northumbria University psychologist, results found it's light stubble that gets the highest ratings from women. Thumbs up for the scruffy look. Neaves added, '"It was almost as if women preferred a man who could grow a beard but hadn't."
Study results generally showed that men are perceived to look significantly more attractive and even younger when they're clean-shaven. Research, led by Paul Vasey of Alberta's University of Lethbridge and New Zealand anthropologist Barnaby Dixson, confirmed that overall, both sexes said bearded men looked older. It also affirmed that men with beards appeared to have a higher social status and earned more respect from men.
Vasey and Dixson say that Charles Darwin speculated that beards evolved in our ancestors because women found facial hair attractive. Vassy reported to Global News that, "Taken together this research suggests that the beard did not evolve because women prefer male mates with beards. Rather, the results are consistent with the conclusion that beards evolved because they signal a male's age, status and augment displays of aggressiveness, all of which would have been helpful in repelling rival males in mating context."
So men, are you up for a challenge? If you've ever considered trying out some facial hair, a moustache or perhaps even a beard, November is your opportunity to experiment with what it looks and feels like. A chance to get involved and to raise money and awareness for a great cause: men's health.
I'm left with lots of unanswered questions, but the jury is still out for me. Why do you men grow facial hair and women, do you like your men with or without it? Looking forward to hearing your thoughts.
Visit me at: www.beverleygolden.com
Follow Beverley Golden on Twitter: www.twitter.com/goldenbeverley