What We Can Learn From Philanthropist Salah Bachir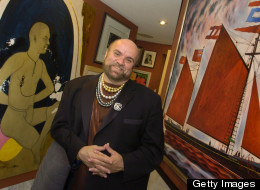 We live on a planet with no shortage of high profile and worthy causes to give to. It seems almost weekly, something is calling our attention. Natural disasters like Hurricane Sandy back in late October and now a ferocious tornado that ripped through suburban Oklahoma City, shocking us with their devastation and inviting us to get involved in whatever way we can. Fundraising has taken on gigantic proportions and in times of need, people always do seem to rally and come together. It's a striking demonstration of the power of community.
Personally, human rights, animal rights and environmental issues speak loudest to me. However, when I recently received a clever email from a long-time friend asking me to participate in his "Non-Gala Gala," I smiled and took notice. The friend is charismatic philanthropist and devoted Patron of the Arts Salah Bachir. He came out and announced to the world that since last December, he personally has been in dialysis three times a week at St. Joseph's Health Centre.
In the email he explained, "Each session lasts four-and-a-half hours and I spend much of this time on BlackBerry or sitting watching a clunky TV that is more than a decade old and sometimes works, sometimes doesn't. The same situation goes for chemo patients in oncology units."
From this, he came up with an inventive way to raise funds to replace the antiquated equipment with patient accessible TVs in their renal and oncology units. This change will dramatically improve the viewing experience for hundreds of dialysis and chemotherapy patients for many years to come.
The non-invitation invited people "to save the money you'd spend on a new outfit, parking and a babysitter and put it all towards this great cause." And they did. Touched by the personal and specific nature of his request, people rallied and in three weeks, he surpassed the target of $150,000 and raised $210,000. The excess funds will be used to purchase the costly software required to input patient history on these screens, as well as updating the TV sets in the waiting lounges throughout the Health Centre. One man raised $210,000. A huge part of the success is Salah himself.
Yes, he does have a million-dollar Rolodex of both people and companies who can easily write cheques and gladly lend support in a big way. I would say the reason why people give, is primarily because of the person Salah is. He's someone I've known as having a giving and sincere generosity of spirit, a person who truly has always been concerned about others first.
Salah and I first met in the very early days of the home video industry in Canada. We were both forging trails in uncharted territory. Me, with a chain of home video rental stores, and Salah, with a national video magazine. We became friends and some of my earliest and most memorable writing was done for his magazine. One piece, on actor Jimmy Stewart, even garnered a letter of thanks and appreciation from James Stewart himself. We laughed recently about the fact that he kept the original and I got a copy, which I write about and include in my upcoming book Confessions of a Middle-Aged Hippie. Very special memories.
I sat and visited with Salah recently, while he was having dialysis. I asked him where his "fund-raising" persona began. He told me a charming story of how, when he was 15-years-old, he picketed outside a Dominion store to support Caesar Chavez and the farm workers during the grape boycott. As people passed him during the day they offered up small donations to support the cause. He remembers that even though his father didn't agree with his actions, he topped up the fund, giving $50 to bring his total for the day to $150. He was excited and nervous to have the opportunity to hand the funds to Chavez himself who was visiting Toronto, and somewhat reluctantly said they had only raised $150. He's never forgotten what Chavez said to him: "It's $150 more than we had this morning."
Salah, President of Cineplex Media, is known as "Gala Salah" and has chaired and raised millions of dollars for causes he believes in. And that is the key. He must believe in the cause and see that they are operating from a place of integrity and transparency. It's important to him that funds raised go to the cause, not to other areas of operations.
In April of this year he helped raise funds for the Museum of Canadian Contemporary Art and he is often involved with fundraising for the Art Gallery of Ontario. This Sunday, May 26, he is presenting The 519 Gala to raise funds for this much needed facility to a sold-out crowd. Located in the Church and Wellesley area of Toronto, the 519 has been supporting the lesbian, gay, bi, trans and queer (LGBTQ) communities for over 35 years, helping to build healthy, welcoming spaces to meet, participate and celebrate together.
Some other causes dear to his heart: Doctors Without Borders, The Stephen Lewis Foundation, and various non-religious charities in his home country of Lebanon, which fund children's education.
To me, Salah is a shining example of what one person can do. He started humbly, with a commitment to social justice causes. Although it might appear that money is at the root of successful giving, I'd suggest that each of us has many ways we can give. Ways that have less to do with money, and more to do with caring, taking action and becoming involved. He also gives recognition and praise to the unseen volunteers who commit themselves tirelessly behind the scenes to make things happen.
One person can change a life. Start locally and think globally. A simple smile can make someone's day. A small gift of your time, can mean so much to someone in need. A listening ear can make someone feel they matter.
Something as easy as signing a petition and bringing awareness to issues that are important to you, is a way to begin. Nowadays, there are incredibly powerful online groups, like Avaaz.org, now 20 million strong, where you can add your voice and make a huge impact for change in a wide variety of areas around the globe. There is no longer a valid reason that each of us can't choose our own unique way to contribute.
For those who still believe they are powerless to make a difference, I leave you with a wonderful quote by anthropologist Margaret Mead: "Never doubt that a small group of thoughtful, committed, citizens can change the world. Indeed, it is the only thing that ever has."

I encourage everyone to look at what is really important to you. What can you do today to make a difference? What do you stand for? How do you give?
Visit me at: www.beverleygolden.com

Being a "Belieber" means so much more than just fawning over the teen heartthrob's sweeping hairdo -- it also means keeping up with the pop star's constant charity giving, from auctioning off his bike to playing in a basketball fundraiser game. The pop star's most recent generous endeavor was launching a charity campaign along with his holiday album. It benefited seven charities, including Pencils of Promise and City of Hope. "I know firsthand that if you believe in your dreams, everything is possible," Bieber said on his website. Find a charity you "Beliebe" in here.

For her outspoken support and advocacy for members of the LGBT community, Lady Gaga was honored with the Trevor Hero Award earlier this month. "Our young people are at the center of a health crisis, and vocal leaders like Lady Gaga...have stepped up to help change our culture," David McFarland, interim executive director and CEO of the Trevor Project, said in a statement. One of the many "You and I" singer's charity initiatives this year included auctioning off nude photos and a naked portrait of herself on eBay to benefit her Born This Way Foundation. Learn more about Gaga's charity, launching in 2012, here.

Determined to end the famine that took the lives of nearly 30,000 children in Africa, Bono, who is a HuffPost blogger, commissioned the help of big-name celebrities to produce The F Word: Famine is the Real Obscenity, a short film that informs of the famine's devastating effects. Sign ONE's petition here to call on world leaders to help.

It wasn't enough for Scarlett Johansson to just a write a check for those suffering from hunger and drought in East Africa. The actress, an Oxfam ambassador, chronicled her experience through a series of exclusive HuffPost blogs. She described the conditions, learned about long-term solutions and met with pastoralists and farmers who described a sense of hope amid heartache -- ultimately galvanizing others to get involved in the cause. To help Oxfam continue to save famine victims, donate here.

Ten years after getting inspired to help refugees while filming "Tomb Raider" in Cambodia, Angelina Jolie is still fulfilling her mission to raise awareness for global humanitarian issues with the UNHCR. Jolie was honored for her decade of service in October and was asked to take on the expanded role of "special envoy" to the nations that are struggling the most. Help give a voice to refugees by donating to UNHCR here.

Curtis "50 Cent" Jackson made an about-face in 2011. The HuffPost blogger, motivated by his struggles growing up, launched a line of energy drinks that provides meals for families in Africa. Jackson also wrote a book this year on bullying -- acknowledging he was once part of the problem. Help 50 give back by visiting his site here.

To teach kids how important it is to advocate for countries that don't have clean water, Matt Damon dressed up as Santa Claus for Christmas and told the children perched on his lap how wishing for a Water.org bottle this season could hep bring potable drinking water to those in need. Support Water.org's holiday campaign here.

When the historic Congo election came with ballot stuffing, intimidation and a lack of support for women and illiterate voters, Ben Affleck headed out there in December to investigate what was happening on the ground. This HuffPost blogger returned with a three-part series, co-written with Cindy McCain, about the injustices people in the region face.

In true form, Ashton Kutcher mixed entertainment and information, aiming to reach a wide audience in April when The Demi and Ashton Foundation launched a huge campaign to spread awareness about sex slavery. The launch video for the campaign, featuring Arianna Huffington, spurred conversation about the issue and brought to light the harsh facts surrounding trafficking. Take action to fight sex slavery by visiting the DNAFoundation here.

Ellen DeGeneres was named the Obama administration's new secret weapon this year in the fight against AIDS. DeGeneres was deemed the new special envoy to raise global awareness, the Associated Press reported. Sec. of State Hilary Rodham Clinton cited DeGeneres' "sharp wit and big heart, and her impressive TV audience and 8 million followers on Twitter." The TV host also supports animal, poverty and breast cancer organizations, among dozens of other charities. Support DeGeneres and the work of the Global Fund here.

To help breast cancer sufferers facing the disease that she overcame, Sheryl Crow helped found the Sheryl Crow Imaging Center -- in conjunction with L.A.'s Pink Lotus Breast Center -- which offers the latest advancements in digital screening and diagnostic imaging technologies. The only one of its kind in the country, the center provides free treatment to uninsured women. Want to help a patient in need? Donate here.
Follow Beverley Golden on Twitter: www.twitter.com/goldenbeverley