The Workout Diaries: Fad #8, Zumba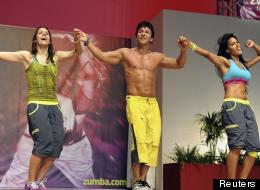 Zumba. Everyone is always talking about Zumba. Whenever I mention my workout quest to friends and family they practically unite in saying "Zumba! Have you tried Zumba yet? Why haven't you Zumba'd?!" Well, listen up you guys, I finally went out and tested Zumba.
When I looked up just exactly what Zumba entails, I was pretty pleased with what I read. Until now, all I've known about the class (thanks to those commercials that I usually mute) is that it's some kind of dancey workout with a lot of ab movements and butt pops.
Thanks to Zumba.com, I learn that the class is specifically a "Latin-inspired dance-fitness program that blends red-hot international music and contagious steps to form a "fitness-party" that is downright addictive." Sold.
Finding a Zumba class proves easy as there are literally dozens of places that offer it in the city. I arrived almost 20 minutes early (the guy on the phone said the drop in class tends to fill up) and find a girl in her late teens and a Juicy sweatshirt in the studio putting her purse down. When I ask if she too is here to get Zumba'd, she replies that she's actually the instructor. Oh joy. Whatever positive thoughts I had are now diminished.
The class did quickly fill and I'm surprised to see both high school girls and middle aged women partaking. I find a spot at the back and am truly happy with the lack of mirrors. The music starts up (Pitbull!) and all of a sudden, the bored teenage instructor turns into a booty shaking dancing queen. Constantly hopping from foot to foot, she wears a microphone to repetitively holler 'Here we goooooo!'.
What you'll need: Comfy clothes, a sports bra (there's a lot of jumping around), running shoes, water and no limitations.
The music is amazing and the dance moves are downright fun. Every song has its own choreography that the instructor goes through slowly at first and then speeds up for maximum exertion.
Here's a snippet of my inner thoughts:
7:15 p.m. -- Oh. My. God. She's playing Pitbull. This is gonna be a friggin dance party!
7:20 -- Jeez I'm so uncoordinated. I need to stand still and watch her feet THEN try to mimic them.
7:28 -- I want a microphone headset. Ooooooh, the power.
7: 35 -- God, that Big Mac right before I got here was a huge mistake. I'm almost positive it's sitting right at the back of my throat.
7:43 -- Water! I knew I forgot something.
7:49 -- Hey lady, get back in your own space. I can only step-step-kick so far, less so if you're RIGHTINMYFACE.
7:54 -- Ouch! There's a super sharp pain under my right breast. Hopefully, the right way to treat it is to just keep dancing? Nope.
8:00 -- I hate that she doesn't have a playlist. The moments of complete silence while she changes CD's are totally messing with my groove. Yay! More Pitbull!!
8:05 -- OK, I just have to say it. Instructor girl has a totally enviable butt. I'm wicked jealous.
8:09 -- Waaaaaaaaaaaaaater.
8:15 -- Yoga stretches during cool down. Loves it.
End Result: I'm exhausted! My breathing is fast and my throat is parched. There's a spot on my back that feels a little overworked, possibly because I crumped too hard. After the first 15 minutes, the class flew by and I could have kept dancing (as long as I found water) all night. The next day that spot is even more tender but it's the only aftermath I feel.
Effort: The only time you notice how much effort you're putting into Zumba is when you stop to catch your breath and realize it's really hard to. It's so much fun, and the music is so great that you zone out and totally forget you're in a fitness class. It's an entire body workout: arms, legs, abs, every part has its own movement and its own groove. Squats, flexes, thrusts and repetitive kicks are sneakily hidden in one awesome dance party.
Return Trip?: Absolutely. I love to dance, especially to my guilty pleasure, Pitbull. A lot of the moves we did are some I totally whip out when I'm dancing alone on my bed...I mean in a super cool, popular club. The instructor was a hot beast up there and I would love to get to her level. If it also gets me a butt like hers, well that's just an added bonus.
Read other entries in the series
First up on my fitness calendar was hot yoga. Regular yoga was out of the question since the prospect of searing heat makes my heart flutter. (No seriously...tropical temperatures are a dream). Setting out to find a yoga studio that offers the sweaty class was easy and I settled on Hot Yoga Toronto in the Annex. You have the option of taking either a verbally taught or silently lead class. Personally, I opted for the class with words...it was going to be hard enough to follow. Read the full story

This week I decided to sign up for a spin class at Quad on King Street West. While I had no illusions about being a yoga newbie, I always like to think that I'm an excellent cyclist. Every summer on schedule, I decide to use a bicycle as my mode of transportation and pout until my dad unhooks his from the garage ceiling and cleans it up for me. Newly pumped and shiny, it will sit in my hallway unused because cycling around the city is dangerous and it's so much more fun to walk. But somehow I still like to think I could cycle if I really wanted to. Read the full story

When I first heard about the Aerial Strength class offered by Brass Vixens on Queen West, I have to admit, I pictured something totally different. Read the full story

When I decided to start writing this column, pole dancing was the first and foremost workout that I wanted to try. I enjoy a good night out at a club and might have even won a dance-off or two. So, yea I like to think that I can dance. I always figured that placed in front of a pole, I'd do better than alright. Read the full story

I should point out that two years ago, I decided hula hooping was the best way to achieve abs so I bought one, set myself up outside, began to hoop and as soon as it dropped to the floor (which was almost immediately) I said "Nope, this sucks" and left the hoop outside. Luckily for me, Toronto has classes to turn me into my pretend alter-ego of a hippie hula girl. Read the full story.

I signed up for a Barreworks mixed level class and am told it's a good choice for a newbie like me. The instructor promises an hour of fun, serious core work and ballet-inspired barre stretches. Only opened since June of this year, the studio is the first of its kind in Canada. Developed from the super popular trend in the US, Barreworks promises a lean dancer's body through muscle sculpting, cardio training, core conditioning and deep stretching. Read the full story.

A few weeks into my quest for the best workout, a workout buddy mentioned a machine called The Reformer. While describing its uses, I could not get the picture of an 18th-century torture device out of my mind. This week I was excited to try out MisFit Studio after being recommended by a friend. The studio can be found in an alleyway in a stunning converted old coach house. I initially signed up for a "Kick Ass Mat" class with no expectations whatsoever. When I arrived I was taken for a tour of the studio (did I mention it's gorgeous?) and came face-to-face with The Reformer. Read the full story.

Zumba. Everyone is always talking about Zumba. Whenever I mention my workout quest to friends and family they practically unite in saying "Zumba! Have you tried Zumba yet? Why haven't you Zumba'd?!" Well, listen up you guys, I finally went out and tested Zumba. Read the full story.

If you haven't heard about Kangoo don't worry, you're in a huge group. Not one person I've told of my escapade knew what I was talking about. You've probably seen women at trade shows standing in a booth repping the new workout wearing boots that resemble ski shoes with oval springs attached to the bottom. If you haven't, go to more trade shows! Free swag! Anyway those ladies sell Kangoo Jumps boots to be used while you run, walk or generally work out. Read the full story.

Months and months ago, I attended a show in Toronto where Billy Blanks was appearing for a motivational speech as well as autograph signing. For those of you who don't follow the lifestyles of the fit and fabulous (of which I am not, nor do I follow) Billy Blanks invented the workout known as Tae Bo. A fusion of tae kwon do and boxing, the workout is done to a hip hop soundtrack for extra energetic movements. There's punching, kicking, stepping, crunching and a lot more. Since 1975, Blanks has touted the workout as the "future of fitness" and comes complete with an incredible backstory that made me tear up during his speech. So I bought the DVD. And got it autographed. Sometimes I hate me. Read the full story.
Follow Bianca Teixeira on Twitter: www.twitter.com/BeeLauraTee