Should Healthy Foods Be Marketed to Kids?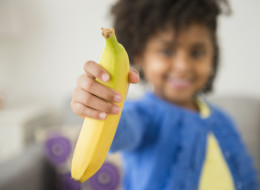 In my last post I talked about the need to ban junk food advertising to children. I pointed out the weakness of a recent report from the U.S. from Healthy Eating Research (HER) and suggested that the rest of Canada look to Quebec where all advertising to kids has been banned for several decades. Quebec legislation and its enforcement are not without complications. But it is a strong stand by the law against an unethical practice.
Within days of that post several bloggers commented on another initiative that, again, raises issues respecting marketing to children but from a different angle. A campaign to advertise healthy foods to youngsters, fruits and vegetables -- FNV, has emerged from the Partnership for a Healthier America Summit. It's not a taxpayer funded health campaign; it's a for profit venture for those sponsoring the initiative. The program has been endorsed by Michelle Obama and various celebrities. The website claims its focus is on "influencing consumption...of fruits and vegetables among teens and moms" but there is no indication of how kids will be shielded from such promotions. (And why is there no mention of "dads"?)

The initiative has caused a stir, including cordial disagreements among those who are generally aligned against the tactics of Big Food. So, for example, Bettina Elias Siegel is for and Casey Hinds and Yoni Friedhoff are against. All three of these noted commentators who speak about obesity and other health issues have made important arguments, pro and con, which you can read for yourself. There are good reasons, in theory, to support such a program. But, in reality, I fear that it may do more harm than good especially if it is taken up in this country. Here are three reasons why I'm wary.

First, the food industry spends billions each year marketing its products with a significant slice of that budget targeting kids. Even a well organized and reasonably funded campaign advertising healthy foods to youngsters could be pulverized by the offensive on behalf of junk food and beverages. At the same time, FNV, ineffective in itself, could be pointed to as a justification for any advertising to children, including first and foremost marketing by Big Food. (Exposing kids to ALL forms of advertising is the way to go; let them decide.)

Second, all promotions to children, because of their age and lack of development, can end up manipulating them. Even kids as old as eight often cannot distinguish between commercials and program content. Children should be kept away from all merchandising techniques even for good ends. At the same time any such bans do not prohibit all advertising. Campaigns to promote healthy eating, for all ages, are to be encouraged -- and adequately funded.
It's targeting kids that's the issue. (Siegel, in favour, points to the Cat in the Hat cheering reading as an existing instance of campaigns directed at kids that should reassure us about the validity of FNV. A good point. But the cat is encouraging a single, positive activity not promoting particular foods in a sea of messages urging ever more consumption.)
Third, Americans may view these issues differently from other societies, including our own. As the HER report, noted above, demonstrates official voices in the U.S., even those promoting good health, are unlikely to take a tough stand against marketing to children for various legal and political reasons that have less force in our society. There have been many attempts to rein in Big Food's merchandising practices in America. With very little success. In contrast we have a tough model, in this country, to address these issues. Quebec's ban on all advertising to children has its complexities but it has been effective. The rest of Canada needs to press on using that legislation as the benchmark.
We shouldn't become distracted by experiments in advertising healthy foods to children and others. It may be an attractive concept; but its reality could well be otherwise. When it comes to kids in this country the Quebec model points the way.
ALSO ON HUFFPOST:
Healthy Food Habits For Optimum Brain Health
That doesn't mean you should pour out a bag of Skittles at each meal. Try to eat foods of a variety of natural colors to gain antioxidants, said Dr. Amen.

Just because something is a fruit, doesn't mean you should chow down on it, according to Dr. Daniel Amen, author of "Use Your Brain To Change Your Age." For brain health, Dr. Amen recommends food with a low glycemic index -- which measures how quickly food increases blood sugar -- and a lot of fiber, which benefits your intestinal tract. Certain fruit like pineapple and watermelon have high glycemic indexes and should be avoided, advises Dr. Amen. Instead, incorporate fruits like blueberries, apples, oranges, cherries, kiwi, strawberries and raspberries. When it comes to fiber, consider adding coconut to your diet. Correction: In a previous version of this slide, "blood pressure" was incorrectly inserted where "blood sugar" is.

Don't eliminate all of the fat in your diet. Instead, focus on incorporating good fats. In fact, if your cholesterol drops too low, you may be at greater risk for depression, according to Amen and several studies on low cholesterol. So what exactly are "good fats"? Dr. Amen advises people to eat foods rich in omega-3s to promote brain health, including almonds, walnuts, brazil nuts, fish, lamb, avocados and green leafy vegetables. Another added benefit of eating good fats? "Your vitamins are actually absorbed better when you eat them with a little bit of fat," said Dr. Amen.

While you generally want to avoid bad fats, if you choose to eat steak, "you want to go with grass-fed, hormone-free, free-range meats" rather than grain-fed meats, said Dr. Amen. "When you feed the animals the high-glycemic foods, they actually produce less of the good fat and more of the bad fat. So they're not as good for you." In other words, what your food eats affects your health too, according to Dr. Amen. Photo courtesy of mdid

Next time you're whipping up some grub, turn to your spice rack for an extra brain boost. Spices and herbs may do more for your health than you realize. According to Dr. Amen, cinnamon balances blood sugar; garlic, oregano and rosemary increase blood flow to the brain; curry acts as an anti-inflammatory; and saffron can have anti-depressant effects. Photo courtesy of S. Diddy

Next time you're craving a cold glass of juice with your breakfast, think again. "Juice is sugar that is unwrapped from its fiber source, and whenever you unwrap sugar from its fiber source, it can turn toxic in your body," said Dr. Amen. Photo courtesy of Leonid Mamchenkov

You may be dreaming about that delicious breakfast muffin all night, but you should probably steer clear of the breakfast pastries. "There's way too much bad fat and sugar," said Dr. Amen. Instead, he recommends a protein-heavy breakfast like a few boiled eggs, nuts and an apple. While Dr. Amen suggests eating lean protein at each meal, he believes it is "especially important in the morning because it helps you focus," he said. Photo courtesy of Nicola since 1972

The last thing you need when you're trying to eat healthy are friends who try to coerce you to be unhealthy. "You have to deal with the food pushers in your life because they'll steal your health," said Dr. Amen. "The health of the people you spend time with will often determine your longevity." Make sure your friends understand and support your decision to eat healthier, and try to find other people who who are on the same healthy path as you.
Follow Bill Bogart on Twitter: www.twitter.com/wbogart2