Go Green With These 10 Delicious Spinach Recipes
Whether you set a goal to eat healthier this year, or are always on the lookout for new recipes to add to your already healthy repertoire, we know you'll love this list of our Top 10 Spinach Recipes.
The health benefits of eating spinach are plentiful. This leafy green does wonders for your skin and hair, benefits your overall bone health, provides you with a healthy dose of vitamins and nutrients, and is a good source of iron. So if you aren't already making spinach part of your regular diet, it's time to start. And once you discover these delicious recipes, there will be no turning back.
We've taken our favourite leafy green and added it to everything from luscious lasagna and flavourful salads to fresh frittatas and energizing smoothies. So flex those muscles and get ready to get your green on with these 10 delicious recipes.
White Bean and Spinach Couscous Soup
This delicious and easy White Bean, Spinach and Couscous Soup recipe is an exotic spin on a Tuscan tradition, relying on leeks, the mild cousin of the onion, for their subtle flavor, creamy beans for their rich texture, and couscous, with a nutty taste, that makes every trip to the bowl delightful and surprising.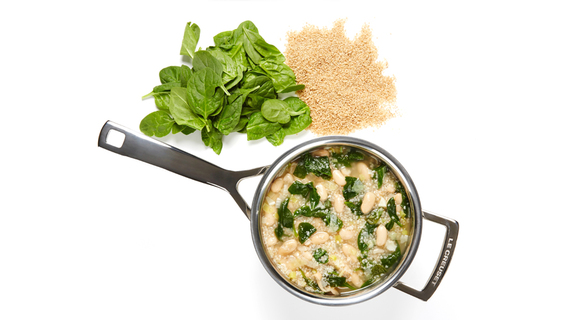 Gnocchi with White Bean and Spinach
Mama Mia! Lisa has gone and done it by creating a gnocchi that's both easy to make and delicious to eat in this awesome Italian recipe for Gnocchi with White Beans & Spinach. These potato gnocchi, light and tender, are served with a white bean and spinach sauce that includes white wine, tomatoes, oregano and garlic.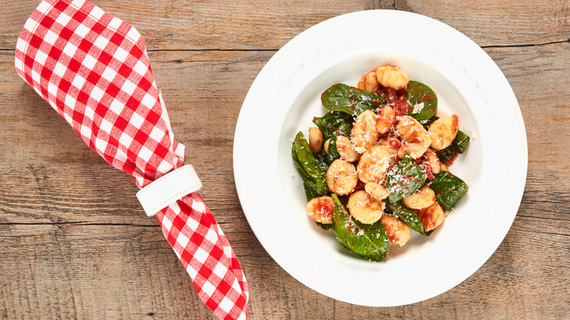 Kale, Spinach and Quinoa Salad
Looking for the champion in the Super Bowl of Super Foods? This Kale, Spinach and Quinoa meal-in-a-bowl is a winner, a green bowl full of super nutritious and delicious stuff (including mango and avocado), tossed in a zesty lemon shallot dressing and topped with spiced walnuts and creamy goat cheese. Get cooking and give new meaning to Power Lunch!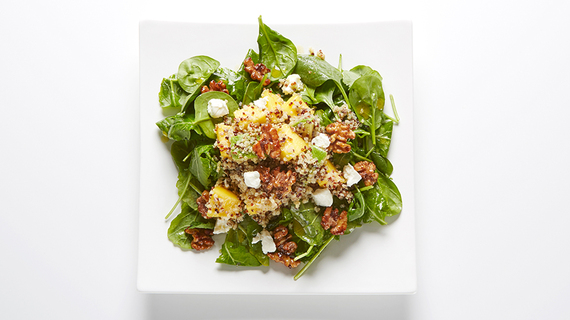 Potato, Spinach and Gruyere Frittata
When it comes to breakfast and eggs, some countries like to play the heavyweights. The French with their finicky Hollandaise and fussy soufflés. The Brits with their deep-fried Scotch eggs. So, what's the Italians' secret for La Dolce Uovo? The easy-going frittata: a thick, hearty, open-faced omelet that can be served at any temperature, eaten at any meal, and, best of all, filled with whatever you like. We love this combo, but also adore peas, feta and mint... red peppers, onions and goat cheese...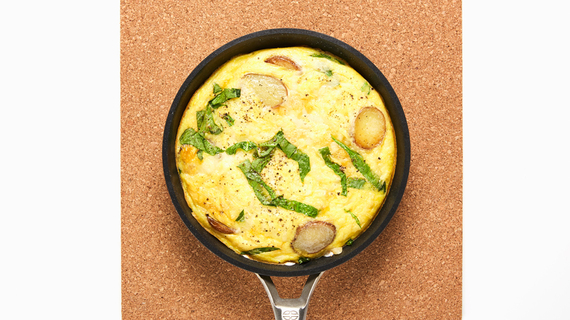 Turkey Bolognese Lasagna
This Turkey Bolognese Lasagna is some seriously hearty (yet, somewhat light) comfort food. Start with the flavorful turkey bolognese (complete with tomatoes, herbs and white wine) sauce, spoon on the creamy Béchamel and pile up the chopped spinach and you've got one luscious lasagna.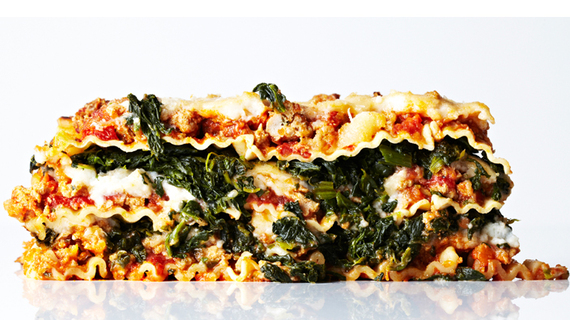 Farro, Spinach and Grilled Zucchini Salad
Think we're jumping on the farro bandwagon with this delicious Farro, Spinach & Grilled Zucchini Salad? Not unless you consider ancient Romans trendy, because that's how long this versatile and hearty whole grain has been around. With a nutty flavor and soft yet crunchy texture, farro delivers fiber, nutrients and protein, and is especially delicious when combined with juicy tomatoes, leafy spinach and grilled zucchini, tossed in a zesty balsamic dressing.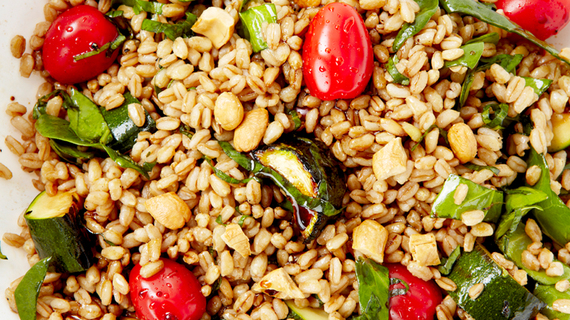 Penne with Roasted Tomatoes, Spinach and Beans
Looking for a delicious way to serve up pasta? This Penne with Roasted Tomatoes, Spinach and Beans is ultra-flavorful, with garlic, slow roasted plum tomatoes, leafy green spinach, creamy white beans, tart lemon juice and fresh basil.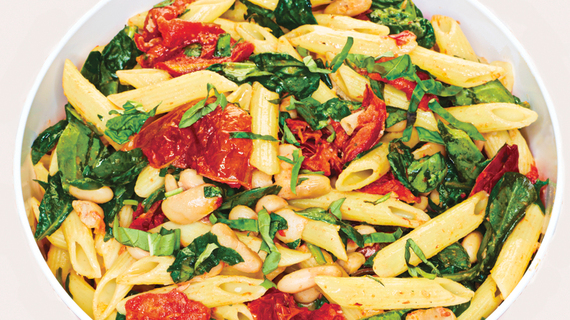 Simple Spinach and Parmesan Risotto
Think risotto's just for restaurants? Nope. Here we show you (there's a video!) how easy it is to whip up this dreamy dish! Creamy (yet creamless) and utterly satisfying, you can't go wrong with making this Italian delight -- all you have to do is stir. Yes, stir a few times and you end up with tender rice and nutrient-rich spinach blended with white wine and Parmesan.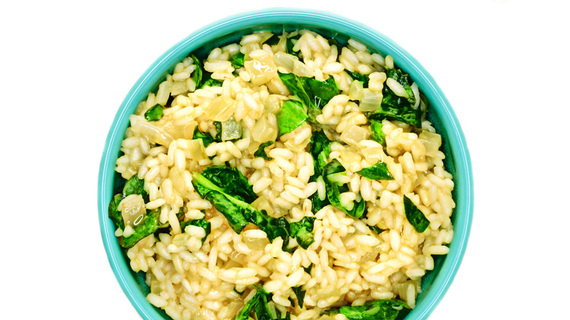 Steakhouse Creamed Spinach
Among the mahogany walls and dirty martinis, something great is happening in swanky steak-houses across the nation...carnivores are eating spinach. A simple side dish that seems healthy next to fried hash browns and marbled rib-eyes, the overly creamy restaurant version is still too flaccid and watery for our taste. Using whipped cream cheese, our easy, silky smooth spinach brings home all the taste of the upscale steakhouse without the $15 side-dish robbery and the velvet banquettes.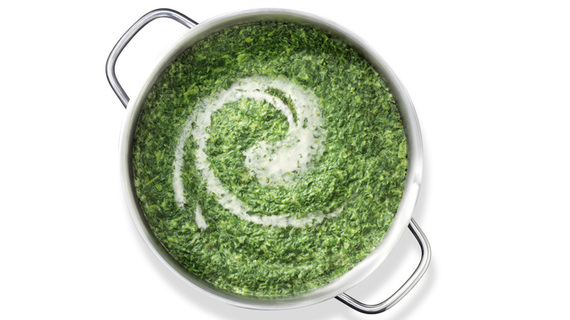 Healthy Green Tea Energy Smoothie
Think green and get your glow on with this super healthy Green Tea Energy Smoothie, a delicious combination of green tea, spinach, avocado, bananas and apples.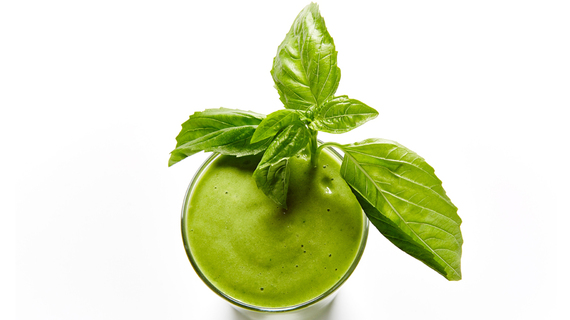 Follow HuffPost Canada Blogs on Facebook
Also on HuffPost:
These two vegetables are very close in iron content, with kale slightly edging out spinach at 6 per cent and 5 per cent of the recommended daily intake (based on a 2,000-calorie diet) respectively. Good to know, as this mineral is key for blood health. A tip: to increase non-heme iron absorption from vegetarian sources, include a little vitamin C. Just a squeeze of lemon juice on your salad will do the trick!

The differences between the two leafy greens are negligible in other ways, as well. They both come in at one gram of dietary fibre per serving, important for keeping everything working properly down below. Studies have shown that colorectal cancer risk can be lowered by consuming lots of fibre from fruits and vegetables. They've also got similar amounts of calories — though both amounts are negligible — and protein, at about a gram per serving.

Spinach is a great way to get vitamin A, important for eye and skin health, into your diet — a one-cup serving provides 56 per cent of your RDI. But kale is a vitamin-A powerhouse, giving you a whopping 206 per cent of your recommended intake for the same serving.

Kale also beats out spinach in for vitamin B6, though less dramatically. The former has 9 per cent of your RDI for this essential vitamin, thought to be related to heart and brain health, though spinach still provides 3 per cent of your RDI.

Remember that tip about vitamin C? You'll get a little in your salad anyway when you eat kale, which has 80.4 mg or 9 per cent of your RDI per one-cup serving compared to spinach's 8.43 mg or 1 per cent. Vitamin C is important for tissue growth and repair all over your body.

Vitamin K: We might not think about vitamin K very often, but it's important for our bodies — it helps protect our bones and is key in blood clotting. Both of these vegetables are a great way to get more in your diet, especially kale, which has 684 per cent of your RDI. Spinach has plenty as well, with 181 per cent. Important: if you're on blood-thinning medication like warfarin or need to restrict your dietary vitamin K for any other reason, talk to your doctor before eating vitamin-K rich foods like these.

Folate, known as folic acid when it's added to foods and folate when it occurs naturally — is particularly important for women of child-bearing age, as it's related to the prevention of neural tube defects in developing fetuses. Spinach is the winner here, with 15 per cent of your RDI in every cup. Kale is still a source, but a less impressive one at 5 per cent for the same amount.

When people think calcium they think dairy, but it's actually found in many vegetables as well. A cup of kale provides 9 per cent of your daily calcium needs, compared to 3 per cent for spinach. As well, spinach has compounds that could impede calcium absorption, so it shouldn't be your key source of the mineral. Getting enough vitamin D is important for calcium too—your body won't absorb calcium properly without an adequate amount of vitamin D.

Copper is a trace mineral, so we don't need a lot of it in our diets, but we do require it for the production of red blood cells; it's also related to nerve and immune health. Kale is a good way to get it, with 10 per cent of the RDI in a cup, while spinach also has a little bit at 2 per cent.

It's another mineral our bodies need in small amounts, and kale has you covered at 26 per cent of the RDI per serving. Spinach isn't too shabby either, giving you 13 per cent of your daily manganese, important for forming connective tissue and sex hormones.

While kale is a better source for some essential vitamins and minerals — including manganese, copper, calcium, and vitamins A, C, B6, and K — spinach is a richer source of folate and an equally good source of iron and fibre. And both foods are very healthy choices! Kale might have the edge here, but spinach is no slouch.
Follow BiteMeMore.com on Twitter: www.twitter.com/bitememore