Why Toronto's Community-First Music Model Is Gaining Global Attention
Toronto is a city of culture pockets, in a quite literal sense. Geographically, one can pass through distinct neighbourhoods akin to Korea, Italy, China, and Portugal within a single 30-minute stroll. In terms of creative output, the same model exists.
Specific to music (the communities to which I'm closest), there exists burgeoning punk, electronic, hip hop, country, and indie rock scenes that, even independent of one another, could rival many other cities' entire music scenes. As such, it seems fitting that when Toronto's musicians reach relevance internationally, they bring their entire creative community with them.
Historically and contemporarily, this proves to be true. And, as someone who has made a habit (and a career) of digging into emerging music scenes, I can see that Toronto's community-first model is growing.
There's been plenty of excitable chatter in the past 12-24 months about the rising value of Toronto's music scene on an international level, perhaps more so than ever. Our city has adopted chart-topper Drake as its culture flag-bearer and he has taken the role seriously; initiating an entire re-brand (The 6) that has reached areas of the globe that "Toronto," or "T-dot" never could, simultaneously transforming the global dialogue around Toronto's urban music output from largely non-existent to arguably the world's most touted.
But as positive of an impact he's had on his hometown brand image, he's perhaps more passionate about his OVO crew. The collective that he and his longtime friends/production partners have turned into a record label, a clothing brand, and an annual festival. Drake has become somewhat of a @ChampagnePapi to many other talented artists that he's surrounded himself with; rapper Party Next Door, R&B sensation The Weeknd, and now producer/performer duo Majid Jordan have all seen their careers boosted by their respective OVO connections.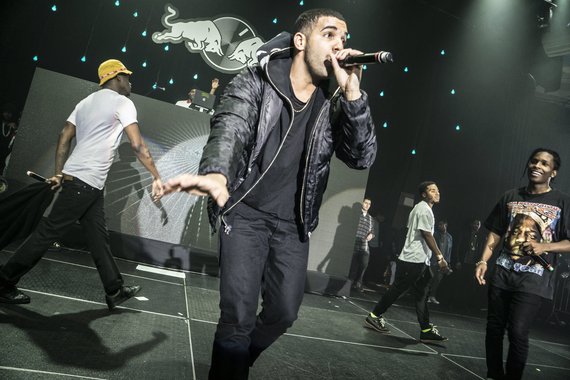 Drake and A$AP Mob performs for Red Bull Sound Select Presents: 30 Days in LA in Los Angeles, CA, USA on 30 November 2014. Photo credit: Misha Vladimirskiy / Red Bull Sound Select / Content Pool
This is a model that Toronto's exports have seemed to follow for years -- when one artist breaks, so do the communities that have birthed them. While not entirely unique to Toronto, it's certainly a trend that has planted roots there and helped grow Canada's music scene immensely, one [Broken Social] scene at a time.
2017 will mark the 15th anniversary of Broken Social Scene's "You Forgot it in People," an album which was universally acclaimed in the early days of online music journalism. The album's credits boast a 15-person musical gang that, in the years that followed, became a veritable whose-who of relevant musicians hailing from Toronto. Feist, as well as key members of indie rock mainstays Metric, Apostle of Hustle, Stars, Do Make Say Think, and others are all credited as being part of the album's personnel. BSS founder Kevin Drew also co-launched Arts & Crafts around this time, a Toronto-based record label & management company whose international relevance was unrivalled by Toronto upstart music companies until OVO came along.
Arts & Crafts continue to be in the business of discovering new talent in the city, and it comes as little surprise that they do so by looking at cultural communities as much as singular artists -- and it's a model that many people interested in the "next ones" have adopted locally. Next week sees two of these groups joining forces, as Arts & Crafts curates this month's Red Bull Sound Select Presents: Toronto showcase at the Silver Dollar Room on March 31; Sound Select being the energy drink-backed live music program which seeks to highlight and support emerging music in cities around the world. The monthly shows put emphasis on the local support acts, rather than the headliner, and the two focus acts this month both have strong ties to fledgling creative communities in our city.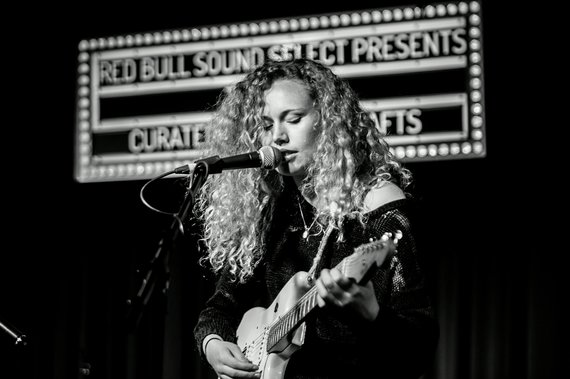 Blunt Chunks performs for Red Bull Sound Select at The Drake in Toronto, Canada on August 6th, 2015. Photo credit: Maria Jose Govea / Red Bull Sound Select / Content Pool
Sludge-y grunge revivalists Frigs call 'Heretical Objects Collective' home, quite literally. The underground arts community all live together in a live/work space in the city's upper-west side where they eat, sleep, play music, and just generally exist all together. Likewise, solo experimental electronic musician & vocalist Blunt Chunks is otherwise known as Caitlin Woelfe O'Brien, who is a member of Bad Actors Collective, a diverse community & label of cutting-edge and avant garde musicians led by Fucked Up's Ben Cook.
Frigs and Blunt Chunks could very well be the next Toronto artists to break through to audiences outside of Toronto, as Red Bull Sound Select and Arts & Crafts suggest they might. If they do, we're bound to see that success spread beyond their individual careers and into the artist communities that surround them. One thing's for sure -- it's because of instances like this that Canada's community of Artist Collectives continues to grow. The best part? It shows no signs of slowing down.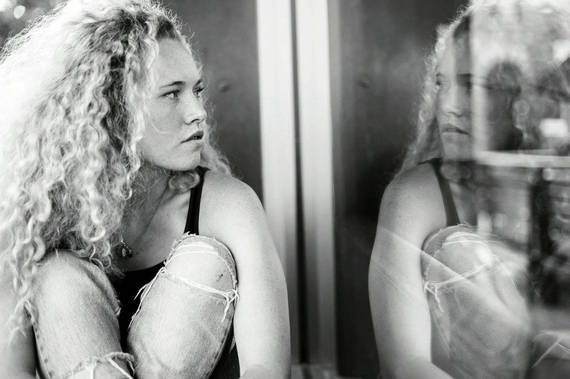 Blunt Chuncks poses for a portrait for Red Bull Sound Select at The Drake in Toronto, Canada on August 6th, 2015. Photo credit: Maria Jose Govea / Red Bull Sound Select / Content Pool
Come out and catch Toronto's newest sound at Red Bull Sound Select Presents: Toronto feat. Lower Dens, Frigs and Blunt Chunks at the Silver Dollar Room on March 31.
Follow HuffPost Canada Blogs on Facebook
ALSO ON HUFFPOST:
Canadian University Bands
The school: Queen's University The back story: Four of the five members of the band met in Queen's residence Waldron Tower in 1983, and quickly became beloved around Kingston. In 1985, they did a cross-campus tour, and met Paul Langlois in 1986 to complete the band. (via Canada Live) You know them for: "New Orleans Is Sinking," "Wheat Kings," and a few dozen other oh-so-Canadian songs

The school: Queen's University The back story: They lived across the hall from each other in residence, and a few months later, discovered they all played different instruments. They began to jam together, and the rest was history. You know them for: "When The Night Feels My Song"

The school: Collège Stanislas (a private elementary and high school in Montreal) The back story: The two met in the mid-1990s when they were teens, and continued to work together while going to school in their hometown of Montreal — David Macklovitch (left) to McGill, and Patrick Gemayel, who pursued an accounting degree You know them for: "Jealous," "Fancy Footwork"

The school: McMaster University The back story: Four of the five original members of the band met — one after the other — during orientation week in 2004, they explained to McMaster Daily News. Soon, they started playing local clubs in Hamilton. You know them for: Ballad of Hugo Chavez", "Oh, The Boss is Coming!", "Come to Light", and "Leather Jacket".

The school: Etobicoke School of the Arts (a high school in Toronto) The back story: While there are many, many members of Broken Social Scene, some of the most high profile met back in high school — namely frontman Kevin Drew, Emily Haines (best known for Metric) and Amy Millan (best known for Stars). "Emily asked me in the first week of school to come into the practice rooms and sing harmonies with her. I learned to sing from her," Amy told Flare in 2013. You know them for: "Anthems For A Seventeen Year Old Girl," "7/4 Shoreline," and the many offshoots of the band (Note: Oakwood Collegiate Institute is where many other members of the collective found each other, including James Shaw, Evan Cranley, Torquil Campbell and Chris Seligman.)

The school: Queen's University The back story: She played her first shows at open mic nights at Clark Hall Pub and the Grad Club (just like her brother, Matthew Barber), and her songs are now everywhere, including the "Orange Is The New Black" soundtrack You know her for: "Don't Go Easy," "Chances"

The school: Nova Scotia College of Art and Design The back story: The band had its first gig in the school cafeteria, (via NSCAD) in February, 1991. You know them for: "The Rest Of My Life," "The Other Man"

The school: University of Toronto The back story: A child prodigy with the violin, Pallett studied music at U of T and wrote two operas during his time there (he graduated in 2002). He's also amazingly connected within the Toronto music scene (and beyond), having played with everyone from Arcade Fire to Great Lake Swimmers to Snow Patrol. You know him for: "The Riverbed," Final Fantasy

The school: Queen's University The back story: Though Harmer was a member of Toronto band The Saddletramps while at Queen's, she quit to focus on her education — and then started writing her own songs and formed a band, Weeping Tile, with fellow Kingston musicians. (via The Canadian Encyclopedia) You know her for: "Basement Apartment," "Don't Get Your Back Up"

The school: Simon Fraser University The back story: Good's original folk band, the Rodchester Kings, was discovered at an open mic night at the university in 1992. While they had some early success, that band split up, and a new group (that would become famous) formed in 1995. You know him for: "Load Me Up," "Apparitions"

The school: Queen's University The back story: Mark Makoway (guitars) and Jeff Pearce (bass) first met at Queen's University while studying film; they then moved to Vancouver and hooked up with (Kingston natives) David Usher and Kevin Young to form Moist, along with Paul Wilcox. You know them for: "Push," "Breathe," "Silver"

The school: Memorial University of Newfoundland The back story: All four original members of the band got arts degrees from Memorial. Alan Doyle started by playing solo gigs around the campus and eventually in 1993, hooked up with the rest of the band. You know them for: "Ordinary Day," "When I'm Up (I Can't Get Down)"

The school: McGill University The back story: The group, all from Montreal, came together in a variety of ways, but frontman Sam Roberts and bassist James Hall both attended the university, and, Roberts say, it informed plenty of their work. "The sheer number of books and creative information coming and going was definitely feeding directly into what I was writing about," he told the school's alumni publication. You know them for: "Bridge to Nowhere," "Where Have All The Good People Gone?"

The school: Queen's University The back story: Though band members Mike O'Neill and Dave Ullrich grew up together in Oshawa, they didn't form a band (and call it The Inbreds) until they went to university together in Kingston in the early '90s (via Frizzballs) You know them for: "Any Sense of Time," "North Window"

The school: Concordia University The back story: Régine Chassagne, Richard Reed Parry and original member Sarah Neufeld all went to Concordia — lead vocalist Win Butler went to McGill, so he met now-wife Chassagne while in Montreal. It was there they all started playing together. You know them for: "Reflektor," "Wake Up," "The Suburbs" Photo courtesy of Fro Knows Photo

The school: McGill University The back story: Kid Koala (Eric San) was DJing from a young age, but as he told Exclaim, "Montreal was a very nurturing environment for me." He would play at Gert's, the campus pub, and hand out samples of his music to fellow students. You know him for: "Third World Lover," "'8 Bit Blues"

The school: Saint Mary's University The back story: While at the school in Halifax, the artist (whose real name is Rich Terfry) started getting attention for his hip hop tunes. You know him for: "Wicked And Weird," "Heart of Stone,"

The school: Laval University The back story: While at school, the band won first place in a Montreal radio station's competition, leading to the release of their first album in 1993. You know them for: "Ma vie à l'heure," "Amalgame"