How To Ensure Your Next Work Getaway Is A Professional Success
Travelling for business presents an opportunity to expand your network, discover new destinations and of course, escape the daily grind. It also means spending an extended amount of time with a colleague or boss. And while this is an ideal scenario to strengthen your working relationship, it also poses the risk of making an accidental business blunder.
In fact, we recently found out that nearly half (49 per cent)* of business travellers are concerned about this. To ease some of these worries, we put together our top tips to ensure your next work getaway is a personal and professional success.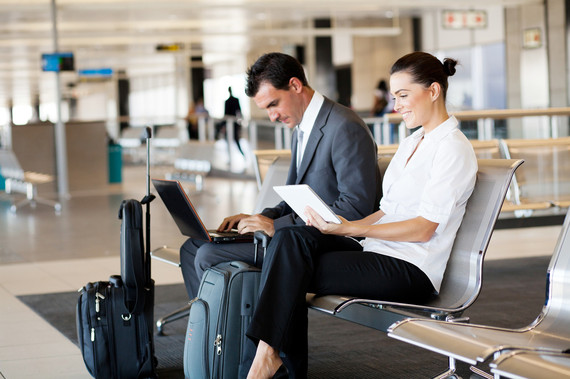 Photo Credit: caravaningcamping.org
Punctuality is key.
Sure, there might be times you are running late for work, but when you're travelling, don't expect the same level of understanding. Being late can cause come serious delays in your travel arrangements causing undue stress for both yourself and your colleague. Give yourself an extra hour in case you find yourself in traffic or your driver gets lost on the way to the airport because the last thing you want is to miss your flight.
It's your time to shine.
Make it a priority to handle the logistics, from ordering an uber to making lunch reservations, these small gestures won't go unnoticed. It will show leadership on your part and creates a comfortable dynamic for both you and your colleague in this new setting. Who knows, it could even lead to that promotion you have been looking for.
Avoid over-sharing.
There is a fine balance between getting to know your colleague and sharing too much. It may be tempting to divulge personal information but some things are simply better left unsaid. Remember, you are travelling with a co-worker, not your best friend. No matter how much you have in common, it is best to maintain professional boundaries.
Forget about business talk.
This is the perfect opportunity to build a stronger relationship with your colleague outside of the office. Learn more about their interests, hobbies and things that make them happy. As long as the topics are kept kosher, your conversations shouldn't focus too much on work. Building friendly relationships develops healthy grounds for teamwork.
If you have nothing nice to say, don't.
Gossiping about work policies, colleagues or your boss may seem like a way to connect with your co-worker abroad, but in the end, it could be disastrous. It showcases a lack of maturity and could lead to others questioning what you're saying about them when they're not around. You're not in high school so don't behave like you are. Rise above the impulse even if your colleague initiates, and you'll walk away from the trip guilt-free.
Limit your alcohol intake.
It may be tempting to over imbibe when there is free alcohol and everyone else is partaking. Just remember, drinking too much may seem harmless but there is a high potential for embarrassment which could ruin your professional reputation.
Respect hierarchy.
The best way to show someone respect and admiration is through action. Your boss might not expect the better seat on the plane or the hotel room with a great view, but if you selflessly offer them the better option, they'll instantly feel appreciated. Even small actions like holding doors, or offering to get coffee can go a long way. Just remember that hopefully one day you will be in a position to receive the same special treatment.
* The Better-quette Survey was commissioned by Booking.com which now has now has over a million properties. It was independently conducted among 4,555 people (18 -65) across USA, UK, Germany, France, Spain, Japan, China, Italy who had travelled internationally for business four times or more in the past year. Research took place between 29th of January through the 11th of February 2016.
Follow HuffPost Canada Blogs on Facebook
ALSO ON HUFFPOST:
Travel Lessons From Our Favorite Movies
"It's dangerous business going out your front door," Bilbo Baggins famously advises his nephew Frodo before he sets off on his heroic adventure. As much as we try to avoid the headaches of travel, there's no denying that to a certain extent, travel is about discomfort. However, our hardest moments are where we find our best stories and if you decide to venture out of your comfort zone, you'll find the adventure you've been dreaming of. RELATED: Lord of the Rings and Hobbit Filming Locations in New Zealand (Photo: Hobbit Village via Shutterstock)

Before Sunrise is the story of two strangers who meet on a train and decide to get off together and spend a night roaming around the streets of Vienna. The whole movie is a conversation between Celine, a French woman, and Jessie, an American, getting to know each other and falling in love. They take a chance on each other and it pays off. Traveling is an excellent opportunity to meet new people, but sometimes you have to be the one to work up the courage to start a conversation. You never know what could happen. RELATED: Romantic Europe: Places in the Heart (Photo: Eye Ubiquitous/Getty Images)

No story in recent history has inspired as many travelers as Elizabeth Gilbert's quest to find herself after her divorce. As she travels through Italy, India, and Bali in the course of a year, the audience stays with her for every revelation along the way. Eat, Pray, Love is a story about using experiences gained from travel to heal old wounds and find new meaning in life that will help you along on your journey. (Photo: Meditation in Bali, Indonesia via Shutterstock)

Whether you're planning to steal an ancient artifact from an army of Nazis or just trying to visit as many museums as you can by the end of the day, you can't expect everything to go perfectly. Between delayed flights, bad weather, and straight-up bad luck, travel is full of variables and as hard as you might try, you can't be prepared for all of them. In cases like these, it's time to channel your inner Indiana Jones and start thinking on your feet. (Photo: Machu Picchu via Shutterstock)

As we learned from Titanic, even "unsinkable" ships can sink. Your dream vacation might be planned out down to the last restaurant reservation, but that doesn't mean much when Mother Nature decides to crash the party. Always be prepared for the worst. RELATED: Travel Insurance 101: Everything You Need to Know Before You Buy (Photo: Thinkstock/iStock)

On her mission to hike the Pacific Crest Trail, Cheryl Strayed suffers throughout and is never truly safe. But despite her overweight pack and blackened toes, she pushes on and braves the elements. She finds support in a friendly community of fellow thru-hikers, but for the most part she is on her own. Her story of solo travel and willpower teaches us that all it takes is a little bit of bravery to go out on your own and accomplish your goals. RELATED: Seven Epic Walking Trails Around the World (Photo: Thinkstock/iStock)

Sometimes we get so caught up in taking in the sights and sounds of a new city, we find ourselves suddenly and totally lost. It's easy to feel scared, especially if you don't have Google Maps, but it's important to remember that little girl from Kansas who also once found herself in a strange new place. Dorothy was unafraid to ask for help and directions and she did it in the kindest, sweetest, most Judy Garland way possible, which is probably why she was able to befriend so many locals and find her way back home. What movies have inspired you to travel? (Photo: Andy Kropa/Getty Images) Read the original story: Travel Lessons From Our Favorite Movies by Jamie Ditaranto, who is a contributor to SmarterTravel.
Follow Booking.com on Twitter: www.twitter.com/bookingcom