The Most Breathtaking Places To See Cherry Blossoms Bloom
There's not much that can match the raw beauty of Mother Earth. And, every spring, you can count on her to paint the world breathtaking shades of pink and white. Known as sakura in Japanese, the cherry blossom is a symbol of renewal and hope. And while Japan might be world renowned for this beautiful bud, cherry blossom trees can be found all over in the world. With spring officially sprung, we have uncovered a few of the best places to experience these gorgeous blooms.
Osaka, Japan
Osaka is one of Japan's best cities for cherry blossom viewing, with Kema Sakuranomiya Park being the city's most popular location. The park features nearly 5,000 cherry trees lining the Okawa River for several kilometers. You can enjoy the breathtaking view of the cherry blossoms from a riverside promenade, open lawn areas or from a ship cruising the river.
Where to stay: Situated right along the Okawa River, the Imperial Hotel Osaka is a short 12-minute walk to Kema Sakuranomiya Park. The chic décor and relaxing ambience provide an ideal oasis after a long day traversing the city. With six restaurants on site offering a range of cuisine types, guests can dine in traditional style without ever having to leave the property.
Toronto, Canada
Each Spring, visitors flock to Toronto's High Park to admire the city's only cherry blossoms location. While Sakura trees are known for their beauty, they are also known for their short blooming periods. Visitors are well advised to stay updated on the progress of the blooms as they usually only last about a week, making timing of your visit essential.
Where to stay: In the heart of Downtown Toronto, the Delta Hotels by Mariott Toronto is the perfect place to stay to experience the hustle and bustle of Toronto city life. With countless restaurants, stores and activities just steps away, you will not run out of things to do and places to go quickly. This property is located near Toronto's subway and streetcar lines, both of which can bring you within a short walk of High Park's Bloor street entrance.
Kyoto, Japan
Maruyama Park is the oldest park in Kyoto and is best known for its huge weeping cherry trees. During peak blossom season, the cherry trees are illuminated at night so that people can enjoy them both night and day. Kyoto also has the magical and romantic Philosopher's Path, a walking path from Ginkaku-ji Temple to the Wakaoji-jinja Shrine, lined with cherry blossoms on both sides. The cherry blossom petals floating on the water add to an already visually stunning walk.
Where to stay: The Hotel Gracery Kyoto Sanjo is located less than one mile away from Maruyama Park. Each guest room is equipped with sophisticated décor and air conditioning for your comfort. The on-site restaurant allows guest to savour native delicacies prepared with local and fresh ingredients for breakfast.
Vancouver, Canada
As winter begins to fade and spring arrives, Vancouverites and visitors to the city can't miss seeing the beautiful 40,000 cherry blossoms that Vancouver hosts. Each year there are multiple events for the Vancouver Cherry Blossom Festival including Bike the Blossoms, Tree Talks and Walks, Plein-Air Blossom Painting and the Cherry Jam Downtown. The city has an array of parks and activities that help admirers take in the cherry trees' seasonal blossoming.
Where to stay: The Wedgewood Hotel and Spa is a luxury, boutique hotel that offers a tranquil place to relax after partaking in any of the Cherry Blossom Festival activities. Guests can enjoy a full-service spa and sauna, as well as fine dining at Bacchus, a luxurious on-site lounge and restaurant. Robson Street, Vancouver's most popular shopping area with numerous restaurants alongside stores, is right around the corner from the hotel.
Kumamoto, Japan
Built in the early 17th century by Kato Klyomasa, the Kumamoto Castle is one of the three most famous castles in Japan. The Kumamoto Castle is the most popular spot in the city for cherry blossom viewing, with nearly 1,000 cherry trees that add an air of elegance to the property. From the square in front of the castle tower and the front of Naga-bei you can view the three different varieties of cherry trees that the castle houses.
Where to stay: The modern guest rooms at the Dormy Inn Kumamoto provide visitors with a great place to unwind after a busy day. Only 2,625 feet from the Kumamoto Castle, this hotel also offers a free shuttle to Kumamoto Station to help get you around the city with ease.
New York, USA
New York City's famous Central Park is home to two species of cherry blossom trees: the Yoshino cherry tree and the Kwanzan cherry tree. Each year locals and tourists gather in the park to watch the blooming cherry blossoms take bloom. Some of the most popular places to view these trees are at the Bethesda Terrace, the Loeb Boathouse, Conservatory Water and at the edge of the Great Lawn.
Where to stay: When in New York, one should always travel in style. At Langham Place, guests receive celebrity treatment with world-class service. The central midtown location of the hotel allows you to walk right onto Fifth Avenue for some of the best shopping in the world. From there, Central Park is just a quick walk or cab ride.
Sapporo, Japan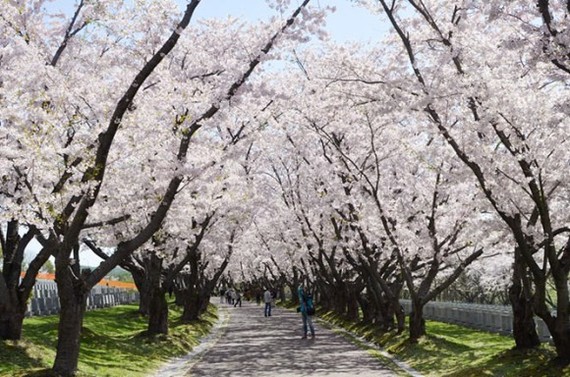 (Photo: TheSmartLocal)
Since Sapporo is in the northernmost part of Japan, it is the last place to become warm which means that cherry blossoms do not begin to bloom until late April into May. There are seven places in Sapporo that are great for cherry blossom viewing, however Toda Memorial Park is said to be the best. With a total of 8,000 cherry blossom trees, the view is incomparable to other places, though the park requires a vehicle to get to. Another option is Odori Park which is easily accessible and has a breathtaking view of the cherry blossoms.
Where to stay: The Ibis Styles Sapporo is the perfect getaway when visiting Sapporo. The hotel's central location in the heart of Sapporo makes it an ideal basecamp for visitors looking to explore the city. A complimentary breakfast buffet featuring local ingredients is included.
Follow HuffPost Canada Blogs on Facebook
Also on HuffPost:
Enjoy the peak bloom at your own pace away from the crowds. Boats are available for 2 and 4 passengers, $12 an hour for two, $19 an hour for four.

Fly a kite on the National Mall! Sure, you can do this any day of the year, but it's a lot more fun to fly a kite with a lot of other people. At Constitution Ave and 17th St NW, professional kite flyers, families, pets and everyone in between will come together to celebrate wind. The Blossom Kite Festival includes the competition and demonstration field, family field, kite club display area, activity tents and public field. The festival begins on March 30 at 10 a.m. and scheduled events go until 4:30 p.m.

Don your finest 'Pink Tie' cocktail apparel for the annual party. Chef Lorena Garcia hosts this shindig. Participating restaurants include Bistro Bis, Charlie Palmer Steak, Farmers Fishers Bakers, Founding Farmers, Masa 14, Todd Gray's Watershed Restaurant, RIS, Vidalia, Woodward Table and ZENGO. The party will be held Wednesday, March 20 at the Renaissance Washington DC Downtown Hotel.

After two years off the Taste of Japan returns to the Carnegie Library at Mt. Vernon Square on April 4. Ticket holders will enjoy food from local Japanese restaurants, sake and craft beer by brewers direct from Japan. Tickets are currently on sale.

The National Cherry Blossom Festival Parade is Saturday, April 13 from 10:00 a.m. to noon, rain or shine. The Parade runs along Constitution Avenue from 7th to 17th streets, NW, and is televised live. It's $20 to sit in the grandstands, free along the parade route.

Want to turn the festival into a scavenger hunt? The International Spy Museum has created the SCVNGR app. Looking at flowers can be nice, but looking at specific flowers because your phone tells you too is really nice.

Each year the National Building Museum celebrates the festival with two free-days of hands-on activities, interactive art demonstrations, and indoor and outdoor performances. The museum will be free on March 23 and 24.

Take a delicious tour through Capitol Hill, sampling Japanese inspired fare from an American bistro, Greek desserts with a cherry twist, traditional Salvadorian Sunday food, cherry inspired margaritas, authentic Italian desserts and homemade Òcherry-celloÓ from a critically acclaimed Italian restaurant.

The Pink Line Project has been working the Cherry Blossom Festival for five years. This time they're taking the party to Northeast. On Friday, March 29 at 500 Penn Street NE a mixture of live music, multimedia art and performance will attract a vibrant and young crowd.

Celebrate the spirit of the Cherry Blossom Festival with the 15th Annual Cherry Blossom Freedom Walk on April 6. A short, non-competitive walk from the National Japanese American Memorial to Patriotism During World War II. This year's theme will center around the 15th Anniversary of the Freedom Walk and the 25th Anniversary of passage of the Civil Liberties Act of 1988.
Follow Booking.com on Twitter: www.twitter.com/bookingcom