7 Jaw-Dropping Bathrooms Across The Globe
After you check in, and swipe the key card to unlock your hotel room, what's the first thing you do? Lie on the bed? Check out the view? Unpack your suitcase? Our research shows when entering a hotel room, 47 per cent of us head straight to the bathroom (And not because we've necessarily been needing to go since the airport).
Similar to someone's home, a bathroom can say a lot about a person -- or a hotel. It's way of understanding how that hotel wants to treat their guests. Whether it's a freestanding tub, a shower built for two or views while you bathe, bathrooms can be both a private oasis and an experience of its own.
We have searched our more than one million properties to uncover accommodations worth booking for the bathroom alone. By evaluating design, amenities and must-see views, here are the seven most jaw-dropping bathrooms across the globe.
Calistoga Ranch - California, USA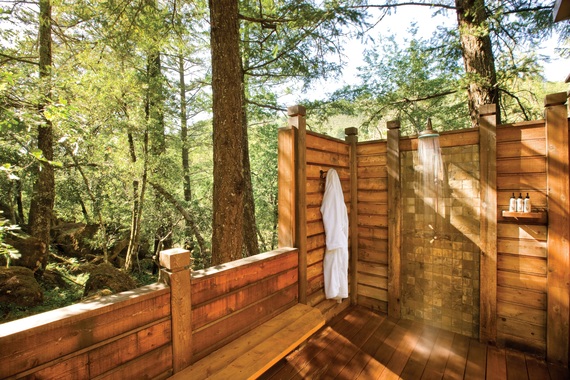 Nestled in 157 acres of lush surroundings such as ancient oaks, hills and a private lake in Napa Valley, Calistoga Ranch offers the ultimate and most private way to relax. The luxurious bathrooms in each lodge include custom all-natural bath and body products, a separate soaking bath and most importantly, a rain shower in your own secluded outdoor shower garden.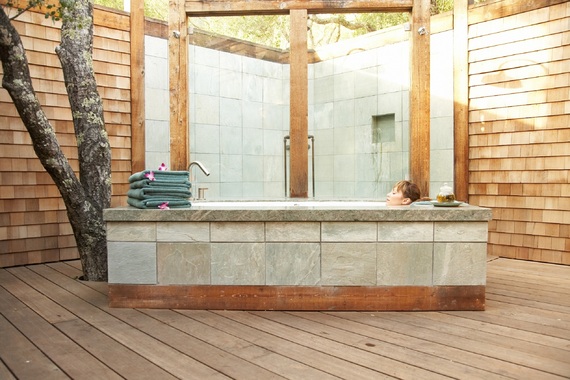 Ponta dos Ganchos Resort - Governador Celso Ramos, Brazil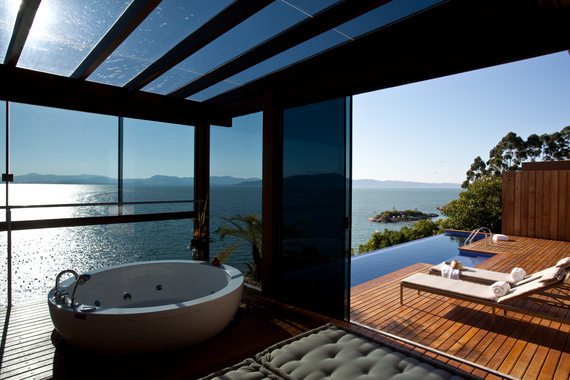 Overlooking the gorgeous Brazilian Emerald Coast, you're sure to enjoy the breathtaking view while experiencing this spa-inspired bathroom. Sip on a glass of wine or settle back with a good book while soaking in the luxurious bath, featuring massaging mats. The double-bathroom is a bonus for you and your significant other to have just enough space.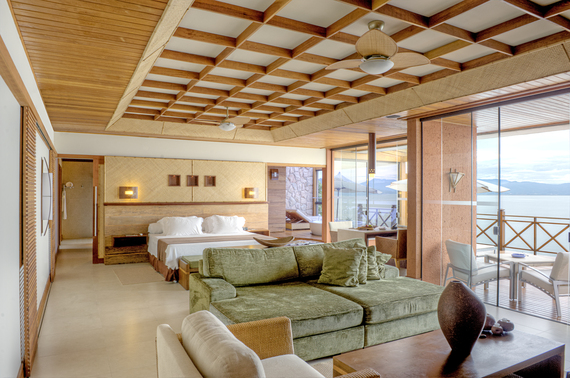 Six Senses Villas - Ninh Van Bay, Vietnam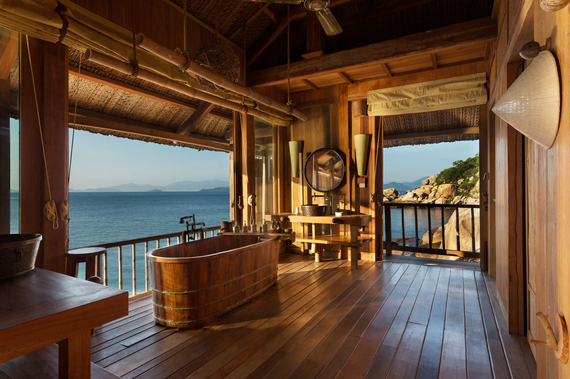 While this relaxing sanctuary features an award-winning spa, a yoga pavilion, four restaurants and is a 20-minute boat ride from Nha Trang City, you won't want to leave the room once you see the open en-suite bathroom with a uniquely handcrafted wooden bath. The calming colour schemes along with the sounds of the waves may be the best addition to any bath time. You won't be disturbed by your partner either, since the vanity area is separate.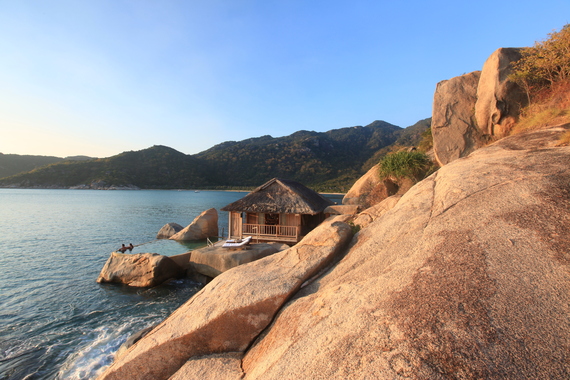 Shangri-La Hotel - London, UK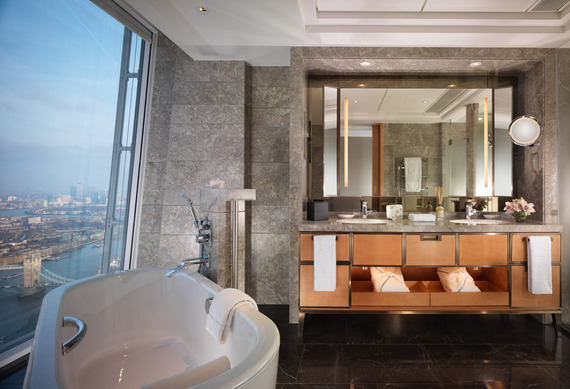 Looking over the London skyline, the Shangri-La Hotel at The Shard (Europe's tallest building) provides guests with an oriental-inspired bathroom and the finest Acqua Di Parma amenities. Grab your plush bathrobe and enter the elegant marble-clad bathrooms featuring underfloor heating, a jacuzzi bath tub, a glass-enclosed shower, views of the city and of course, a bathroom mirror T.V.
Huvafen Fushi Resort - Male City, The Maldives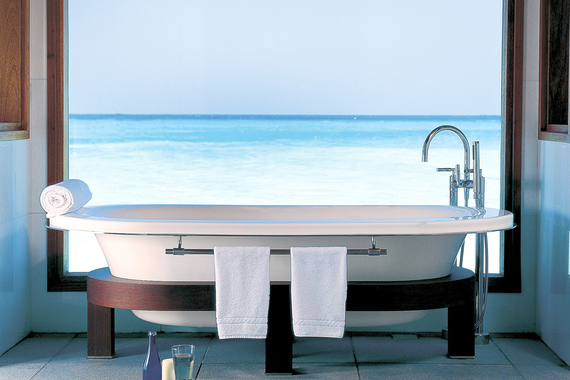 Unwind in your own private beach or over-water bungalow with glass floors at the indulgent Hufaven Fushi. After participating in a range of water activities and spending time at the world's first underwater spa, make your way back to your ocean bungalow's open air bathroom, featuring an oversized bathtub and waterfall shower.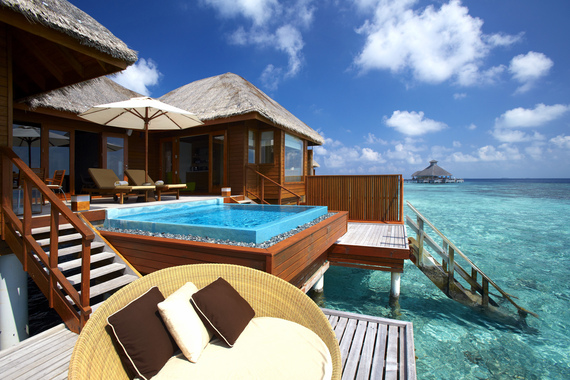 Underwater Suites at Atlantis The Palm - Dubai, United Arab Emirates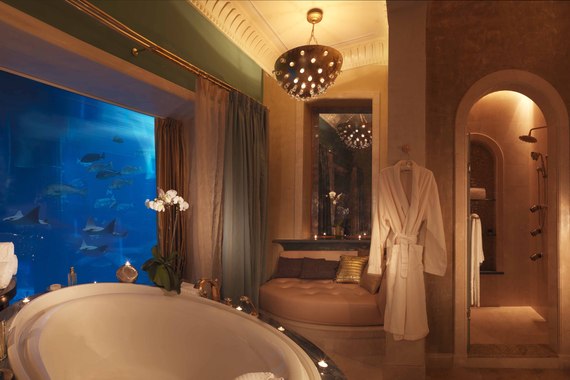 As one of the most unique hotel bathrooms, the Underwater Suites at Atlantis The Palm is -- you guessed it -- underwater. In other words, swim in your own grand tub while sea creatures swim beside you in a lagoon for the most entertaining bathing experience. The five-star Atlantis offers stunning views of the Arabian Gulf both above and below the water.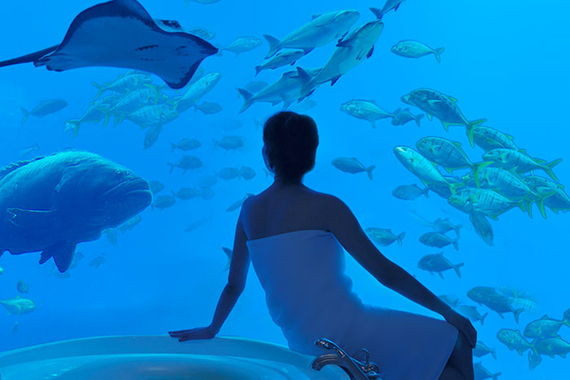 Madikwe Hills Private Game Lodge - Madikwe Game Reserve, South Africa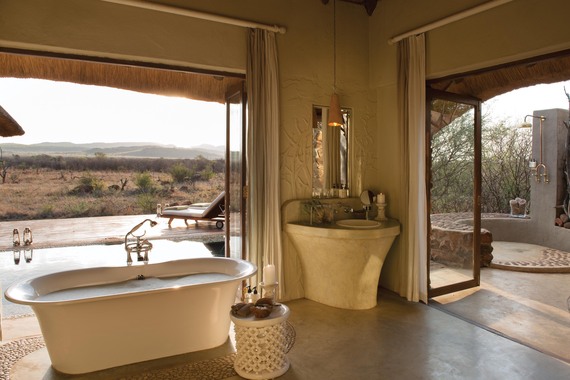 Set on a hill in Madikwe Game Reserve, this lavish lodge is a relaxing retreat surrounded by wildlife (like cheetahs, elephants and lions), grand boulders and majestic Tamboti trees. The romantic glass-fronted suites include both an indoor and outdoor shower, so you can enjoy the uninterrupted views of the savannah.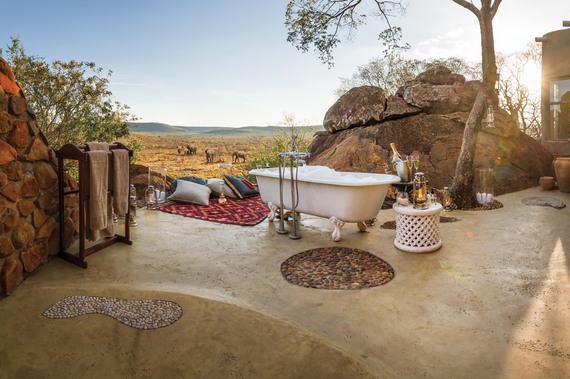 *Research commissioned by Booking.com and independently conducted among 6,620 people (18+) across USA, Canada, UK, Germany, France and Australia (June and July 2015)
All photos courtesy of Booking.com
Follow HuffPost Canada Blogs on Facebook
Also on HuffPost:
These 8 Celebrity Bathrooms Are Amazing
The celeb: Rosie Huntington-Whiteley & Jason Statham The 'hood: Beverly Hills The impossibly good-looking British duo dropped a whopping $13 million on this 90210 pad. Previously owned by designer Jenni Kayne, it has stylish touches throughout — and the bathroom, of course, is no exception. With floor-to-ceiling windows, a glamorous copper tub, and marble walls, it would be tempting to stay in this room all day.

The celeb: Pharrell The 'hood: Laurel Canyon Back in May, Pharrell spent $7 million on this hilltop house with top-notch views of all of L.A. Fun fact: It's the same house Ryan Gosling milled around in shirtless in Crazy, Stupid, Love. When even your bathroom has 180-degree views, you know you've got it made.

The celeb: John Legend & Chrissy Teigen The 'hood: Hollywood Hills The power couple parted ways with this tropical stunner of a home late last year, selling the pad for $2 million. It may only have two and a half bathrooms, but we're talking quality over quantity here, folks — just imagine soaking under the stars in this glass-roofed bathroom.

The celeb: Leonardo DiCaprio The 'hood: Palm Springs Like what you see? Guess what: You can live like Leo for just $4,500 per night. Yep, his swanky, 7,022-square-feet Palm Springs estate is available for rent. It's pricey, to be sure, but you not only get to frolick around the six-bedroom, eight-bathroom house (complete with a tennis court and pool), you also get bragging rights for being a part of Hollywood history: The home was originally built in 1964 for actress/singer Dinah Shore.

The celeb: Caitlyn Jenner The 'hood: Malibu From her Vanity Fair cover to her ESPYs dress, Caitlyn has made a thoroughly glamorous debut, so it's only fitting that she has a stunning place to get primped in. She bought this $3.5 million home in Malibu back in March and has since filmed scenes for I Am Cait in the new digs — you may even recognize this bathroom from the first trailer.

The celeb: Cindy Crawford The 'hood: Malibu Crawford didn't just own this $15.45 million Malibu home — she and her husband Rande Gerber painstakingly renovated the house, top to bottom, before putting it on the market in May. No doubt the new homeowner is basking in the fact that this cozy, light-filled room has the supermodel's official stamp of approval.

The celeb: Beyoncé & Jay Z The 'hood: Beverly Hills Okay okay, so the power couple didn't actually end up purchasing this pad, but this insane house was too good not to include. Back in December, the pair eyed this $85 million home, only to be outbid by the creator of Minecraft. We're not sure how they could pass up this gorgeous bathroom — complete with a giant, stand-alone boat tub that boasts endless views of L.A. — but we're sure they had a good reason.

The celeb: Beyoncé & Jay Z The 'hood: Holmby Hills So, where did they end up on the left coast? They settled on this $150,000-a-month house in the exclusive Holmby Hills area. This sleek, ultra-modern room is just one of the sprawling abode's eight (and a half) bathrooms. Perhaps Blue Ivy laid claim to this one?
Follow Booking.com on Twitter: www.twitter.com/bookingcom