NIMBYs Are Hijacking New Developments With Disinformation
I've been thinking for some time about what it is that makes conversations about growth, urban planning and development proposals so hard in Vancouver. But It's not just a Vancouver problem.
Recently in Calgary, Mayor Nenshi cancelled future public meetings for a new transit project because a "community group" was spreading misinformation to residents of the community, leading to serious conflict at public open houses. Clearly, this is a case of a few bad apples spoiling the whole bunch.
As Nenshi pointed out in the Calgary Herald, We need to hear from citizens about what's important to them. But the actions of a few citizens have made it impossible to do that in a traditional face-to-face common."
For new developments being proposed in both Vancouver and Calgary, information is typically put forward by the developer and the city to communities. But now, we're seeing community groups releasing their own information to residents. The motive is to try to increase opposition to the project.
In a city struggling to keep up with its own growth and many other factors contributing to housing affordability, we need to be able to have open, factual discussions.
I believe this is a dangerous trend as people are signing petitions and providing feedback at public open houses based on inaccurate information that is not prepared by professionals, industry experts or city staff.
Below is a comparison of images -- the top one is from this project website, depicting architectural renderings of a proposal. On the bottom are three images used at various points by NIMBY residents to "illustrate" how bad the proposal would be for the neighbourhood while asking people to sign a petition against the project.
The No Towers group claims to have 3,500 signatures on their petition. I wonder how many people are aware of the details of the actual proposal?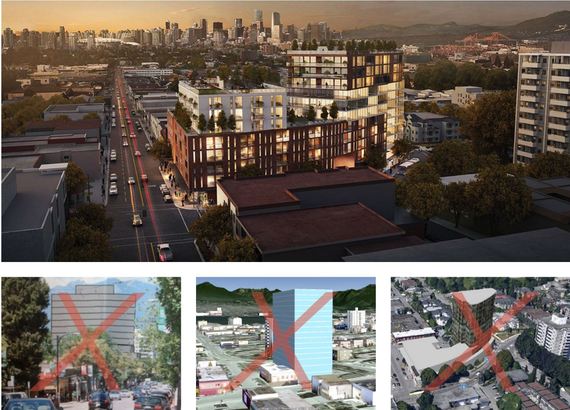 So, what is this evil developer actually proposing?
The development, if approved, would be 12-storeys tall. It would be located across the street from an existing 13-storey apartment building. The project is a partnership between Boffo Properties and the Kettle Society, and combines non-profit space for the Kettle and 30 below-market supportive housing units with approximately 200 homes and retail space. The new development will provide a new facility for the Kettle to continue to offer housing, employment, advocacy and mental health services to those in need of help in the community.
While this is just one local example, the trend of community groups trying to hijack new developments with misinformation is a serious cause for concern. It makes community consultation much harder, creates an "us v. them" mentality and clouds the actual facts at hand.
Self-interested groups posing as community representatives are creating roadblocks while hypocritically criticizing the effectiveness and motives of the actual community consultation conducted by the city and the developer.
In a city struggling to keep up with its own growth and many other factors contributing to housing affordability, we need to be able to have open, factual discussions about new developments so that we can work together to create a truly livable city for everyone.
Follow HuffPost Canada Blogs on Facebook
MORE ON HUFFPOST
Craziest Vancouver Real Estate Stories Of 2015
This Tudor home in Vancouver's ritzy Shaughnessy neighbourhood was listed for $5.99 million in May. After 12 days, it sold for just over $8 million. "When you've got too little supply (of detached houses) and too many buyers, that's always what happens," realtor Stuart Bonner told The Province.

This abandoned home (read: eyesore) became a dumping ground over several months in 2015. Piles of rotting trash and unwanted furniture attracted rodents to the area, and the smell was sometimes so bad that neighbours refused to open their back doors. The house was assessed at $813,000, and others in the area were valued at over $1 million.

"Avail now. Bring your tent." A Craigslist ad advertised a backyard for rent for $500 per month. WiFi, use of the home's bathroom, kitchen, laundry, and "art room" were part of the deal. Great for travellers, apparently!

This home was listed at just under $3 million in June, and was sold to an offshore buyer for $4.1 million after a couple hours, the realtor said.

Bargain alert: a former grow-op hit the market in March for $930,000. The 1968 two-storey home was in such bad shape that no one could live in it. The house got an occupancy permit back in 2001, and was renovated before it was listed. The price was mostly because of the 6,000 sq.-ft. lot.

This rare, 3.6-metre wide home sold in April for $1.35 million. Tucked in the upscale Point Grey neighbourhood, the floor space is only 945 sq.-ft., but manages to cram in a full kitchen, master bedroom, living room, garage, den and 1.5 bathrooms. The home is believed to be one of the last of its kind in the entire city, according to the realtor.

This house, listed for just under $1.6 million, sold for $2.17 million in March — a mind-boggling 35 per cent over asking. "It was the highest price per square foot ever achieved for an East Vancouver home," realtor Paul Eviston told CBC News.

Chump change, amirite? This 25,000 sq.-ft. mansion, which sits on a 1.09 hectare property, was purchased in December 2014 for $51 million. (Details of the sale were made public in March.) The deal included a movie theatre, grass tennis court, and 10-car garage, according to the CBC.

Talk about a sweet deal! This (very well-decorated) gingerbread house was advertised on Craigslist for $4.5 million in December. It's a one-bedroom home that's a single sq. ft. in size. The baking sheet upon which it stands was not included in the sale. The seller asked for "serious" inquires only.
Follow Brad Jones on Twitter: www.twitter.com/b_djones