I Make My Employees Go Tech-Free When They Take Time Off
No shoes, no shirt, no cell phone. That's how a vacation should be. But nowadays, with email and web conferencing, it's harder than ever to take a tech-free holiday. We're a hyper-connected society with a bad case of FOMO -- we're afraid of what we'll miss if we don't pick up the phone.
I'll be the first to admit that going unplugged is a challenge. Back in the early stages of 1-800-GOT-JUNK?, it didn't matter if I was at the office, at home or on vacation -- I rarely let an email or a phone call go unanswered. I thought being plugged in 24/7 was essential to our success.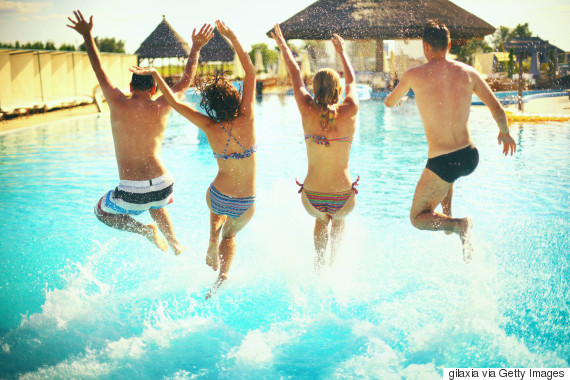 (Photo: Gilaxia via Getty Images)
The problem is traditional business models demand unnecessary overtime and 24-hour availability -- even when you're catching rays, pina colada in hand. Taking time off is often viewed as slacking or as an indulgence reserved for higher-ups.
In reality, overworked employees are unproductive employees. "All work, no play" is fundamentally an unbalanced way of thinking. And while "work hard, play hard" has reached near-cliché status, it at least sets you up for work-life equilibrium.
After 30 years in business, I've learned the value of time off, and its effect on my well-being and the success of our business. Studies show that productivity improves massively after a recharge (especially after a totally tech-free break) and that employees come back to work feeling happier and more inspired. That's why, at my company, we go dark on vacation. Time off isn't only encouraged, it's required -- and we've seen the effects in action: the benefit to our employees' happiness and our bottom line are indisputable.
We always seem to find the time to check in - but we rarely take the time to check out.
Our nine-step process for going dark is founded on three basic principles: communication, collaboration and trust. We book time off when it's convenient for the team, and work together to ensure that all bases are covered for the duration of the absence.
But no amount of communication or collaboration will make up for a lack of trust, so ensure you have a team who will have your back while you're away. (And keep in mind: if your team can't survive without you for a month or even a week, you likely don't have the right people for the job.)
No matter where we are, we always seem to find the time to check in -- but we rarely take the time to check out. So give yourself and your team the freedom to take a total technology blackout and get some unplugged Facetime with your travel companions. Trust me: everything back at the office will be exactly as you left it.
Follow HuffPost Canada Blogs on Facebook
Also on HuffPost:
Unplug & Recharge At These 8 Digital Detox Retreats
The Digital Detox (whose company motto is "disconnect to reconnect") offers regular tech-free getaways to the peaceful Shambhala Ranch Retreat in the Mendocino hills of Northern California. The restorative trip includes yoga, meditation, hiking, art, and organic cuisine -- no devices allowed. The intimate retreat is open to a maximum of 14 guests, who stay in luxurious private rooms in the large ranch-style lodge. Four-day stays range from $500-950.

The small Caribbean island group of St. Vincent and the Grenadines is encouraging travelers to leave their gadgets at home when they come to enjoy the tropical beauty of the island on their vacation. The islands offer a digital detox vacation package, complete with a tech-free travel guidebook and life coach who will guide you in learning not to let technology control your life.

Experience the beauty of nature and the tranquility of a technology-free existence, try this 12-day African retreat from Jacada Travel. The group trip starts with a safari on the Selous Game Reserve -- one of the largest faunal reserves in the world, and ends with some R&R on the stunning beaches of Mozambique. And of course, enjoy spa treatments and yoga for extra de-stressing. 12-day packages from $12,248 per person.

With luxury yoga retreats in Costa Rica, Sayulita, Mexico, and Todos Santos, Mexico through the year, Via Yoga offers the ultimate wellness retreat and digital detox package. Although you don't have to give up your gadgets, yoga retreat attendees who turn in their iPhones upon arrival receive a 15 percent discount. In addition to beachside yoga, pilates and meditation classes, guests can also enjoy surfing and outdoor activities. Retreat rates start at $2,395 per person.

On the shores of Lake Placid, surrounded by the Adirondack Mountains, the rustic yet luxurious Lake Placid Lodge is the perfect place to escape the distractions of everyday life. With the "Check-In to Check-Out" package, you can check in your devices upon arrival and use the rest of your trip to enjoy the beautiful natural scenery, outdoor activities, and the hotel's many amenities. Private cabins start at $375 per night.

Dublin may be a major metropolitan city, but that doesn't mean you can't do a little unplugging on your next trip to Ireland. The luxurious, five-star Westin Dublin's digital detox package includes breakfast in bed, in-room massage, detox survival kit, and a safe to lock your gadgets away in, so that you can enjoy tranquility and peace in the heart of downtown Dublin. Rates start at $227 per person per night.

Head down to tropical Costa Rica to get away from the business of your everyday life and enjoy a little R&R. The retreat takes travelers through the Cloud Forests and then on to the beaches of the Nicoya Peninsula. All-inclusive 10-day packages from $5,957 per person.

This summer camp for adults promises visitors a chance to get back to childhood -- with campire songs instead of YouTube videos and board games instead of Angry Birds, The Digital Detox's "Camp Grounded" is all about technology-free summer fun. This June, 200 grown-up campers will unplug for four days of outdoor activities and nostalgia in the California redwoods. Four-day stays start at $340 per person.
Follow Brian Scudamore on Twitter: www.twitter.com/brianscudamore