Give Night Owls Work Hours That Let Them Spread Their Wings
I can't even imagine working at night. Anything I do after 8 p.m. had better not need strategic thought. But at 6 a.m. (or earlier), I can plow through creative, thoughtful, strategic work like an Olympic runner at a marathon.
Yup -- I'm a morning person. Even on weekends, sleeping in past 8 a.m. rarely happens.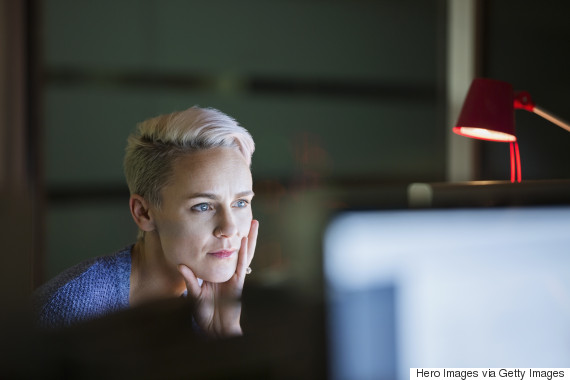 (Photo: Hero Images via Getty Images)
And then there's my friend Catherine. Catherine is a night owl. You and I do our best, most strategic, most creative work when we are rested. For Catherine, she's not at her "best" in the morning; her energy patterns -- her circadian rhythms -- are different than 80 to 90 per cent of us.
As a chronic morning person, I used to believe that night owls routinely went to bed too late and that if they changed some of their habits they could also enjoy getting to the office early. Now, as a time management trainer, I've seen over and over evidence that tells me night owls are only embracing their natural way. When I'm training there's usually at least one person on the team that says they do their best work at night.
Thankfully for Catherine and other night owls like her, work spaces are changing so night owls can better embrace their late-night energy spikes.
If someone can travel during off-peak hours it means they will be working when THEY are more productive.
As work environments change, businesses are becoming more accepting that people work on different schedules, whether employees want to because of family commitments or have to because they are night owls. Virtual companies that have employees throughout the country (or across the world) are becoming more and more common.
Benefits of embracing night owl employees
If you are an "in-the-office" company, see if you can give employees more flexibility. It's not a perfect solution for a night owl, but if someone can travel during off-peak hours it means they will be working when THEY are more productive.
It likely also means your employees are less stressed and will be happier because they spend less time sitting in traffic and more time doing the work they enjoy or being with their family/friends. Happy employees are more creative, more productive and will be more loyal to your organization and your values -- meaning better customer service and less time having to rehire, retrain, re-anything.
If you are a "virtual" company, it's likely you've already embraced the idea of hiring the best people vs. the best people living within 100 kilometres of your location. Your employees are likely in a different time zone. It's also likely you and your employees are happily experiencing a ROWE (results-only work environment) -- who cares when they do their work as long as they meet their timelines, budgets and work quality, right?
Your virtual employees can work when THEY are most productive. It also makes them happier. So what you have is a happy, productive employee who, again, will be more creative, more productive and will be more loyal to your organization and your values -- meaning better customer service and less time having to rehire, retrain, re-anything.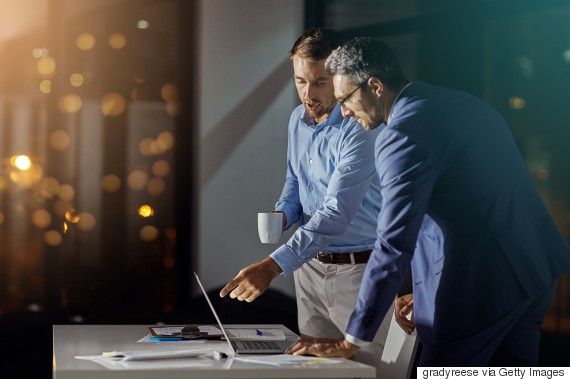 (Photo: Grady Reese via Getty Images)
No matter what your company structure is like, leaders need to explore what is right for each member of their team... and to focus more on keeping their team collaborating and focused on the vision and goals vs. when or where they are doing their work.
When should night owls send email?
I get asked this more and more often when I deliver email etiquette training. Proper workplace etiquette has put more pressure on employers to leave employees alone during their time off. For most, this roughly means no contact from 6 p.m. to 8 a.m.
If you are a night owl like Catherine, I recommend you use a delay-send feature for email so the email you write gets sent closer to 8 a.m. vs. 11 p.m., 2 a.m. or 4 a.m. Other than not disturbing your fellow co-workers, I believe this is especially important if you are emailing clients. Consider that a 1:30 a.m. email might give your client the negative opinion that you are out of control.
Conclusion
What is your circadian rhythm and work-life pattern? What are your most productive hours? More importantly, as a leader, when are your employees most productive? As workspaces change, it's important we enable our employees to be productive when people are productive. If you are a leader -- help your team find joy. You will be rewarded with loyal, hard-working, creative team members.
Our work and our work schedule should give us joy. Hopefully you can find a schedule to help you be the best person you can be and do your best work.
Happy communicating, mentoring, motivating, coaching... and training.
Click here to learn more about Bruce Mayhew Consulting. We facilitate courses including email etiquette, time management, leadership, generational differences and more.
Follow HuffPost Canada Blogs on Facebook
Also on HuffPost:
Want To Work From Home? Things To Tell Your Boss
IBM saved £36m a year after reducing office space by two million square feet. Sure, you're just one person, but you could start a trend. If they let you start the movement, they could soon save the price of a management pay rise.

Green in the profitable sense. Your boss might be the last person in the world to hug a tree, but the electricity costs in the business saved by you paying your own bills are a solid argument.

Various studies that compared telecommuters to office-bound workers have found that telecommuters like their jobs more. So if feeling comfortable at home makes you more productive -- then that's good news for your boss.

Oh, think of the hours and hours wasted in traffic, the amount of times you were tempted to rip out a bench on the underground train thanks to another rush-hour delay. Not anymore. Skype is never late for a meeting. It'll save your nerves and increase your availability.

Speaking of time wasted on transport, Cisco Systems determined in a 2009 study that 60% of the "saved" time from not having to commute is recycled back into work. It will also save you an insane amount of money spent on gas or Oyster card - ergo, you won't be so insistent on that pay rise anymore. It's a win-win, if there ever was one.

Have you seen the temperatures lately? Even with your daily dose of Berocca you're likely in for a round of the summer flu. It's warm at home, though. Warm and free of the spread of germs flying around with every sneeze on public transport and the bacteria sticking to the train seat. Staying healthy adds to work productivity and means you will need to head to the doctor less, and that's going to help keep your company's health insurance costs down too.

Okay, this is one of the more childish arguments in the mix. But it's valid. Even the American government is on board, ever since president Obama signed into law the Telework Enhancement Act of 2010 that allows and encourages eligible workers to telecommute at least once a week.

I often spend the first few hours after crawling out of bed hugging an enormously sized mug of coffee and mentally blackmailing my brain that if it doesn't start functioning now, I'll start googling brain teasers. I'll probably, however, feel the urge to go on a writing spree at 7pm and not stop until 2am. Not everybody conforms to the 9 to 5 routine. You might find that by working in your own time, at home, your body will show its gratitude with a boost in productivity and attention span.

In all honesty, how stupid do they think you are? You aren't trying to negotiate a deal for yourself that will allow you to slack off seven days a week. You watch the news, you know about the unemployment numbers and this 'recession' thing. You'll get your work done, because you know you have to.

Come on, let's be honest. Yes, you look focused staring at the screen, but that's only because you're about to lose at online poker. Mere presence doesn't equal productivity. It's time for them to accept this and wake up.
Follow Bruce Mayhew on Twitter: www.twitter.com/BMCtrainercoach