Government Complacency Has Plunged Northern Manitoba Into Poverty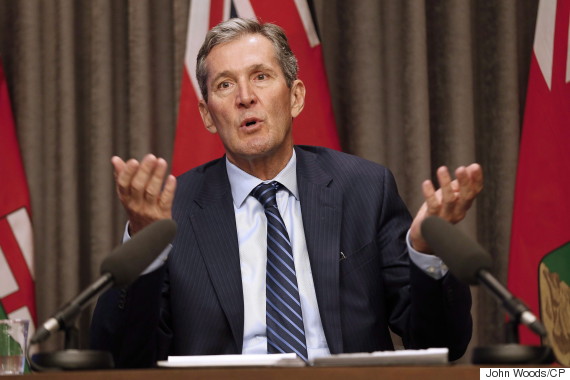 Under the watch of Manitoba Premier Brian Pallister Manitoba is on pace to lose 128,000 jobs. (Photo: John Woods/CP)
Seeing is believing. Niagara Falls, the Canadian Rockies and Parliament Hill. I have been fortunate enough to have laid eyes on all of these amazing Canadian landmarks. As such, I have also witnessed firsthand an unspeakable poverty.
This summer I went to Northern Manitoba, and I saw just how impoverished indigenous peoples living there are. I was floored by what I saw, it reminded me of being back in Afghanistan.
It is proven that the only way to fight poverty is employment, and since my visit Northern Manitoba has been bleeding jobs.
First it was the announcement of the closure of Port of Churchill:
"Canada's only Arctic deep-water port is now closed, leaving workers in Churchill puzzled and any talk of Arctic sovereignty feeling like empty rhetoric." If you want to support the port please sign this petition.
In a community of 600, 60 have lost their jobs with the port's closure. It was the Liberal government that decided to sell the port in 1997 for $11 million, a hindsight warning to running large deficits that seems to have come a year too late. Both the federal and the provincial governments seem content sitting on their hands.
Then the provincial government served notice that it plans to withdraw from a federal Crown corporation that markets freshwater fish.
Amanda Stevenson, president of WMM Fisheries Co-operative Ltd., called the government's decision "unbelievably exciting."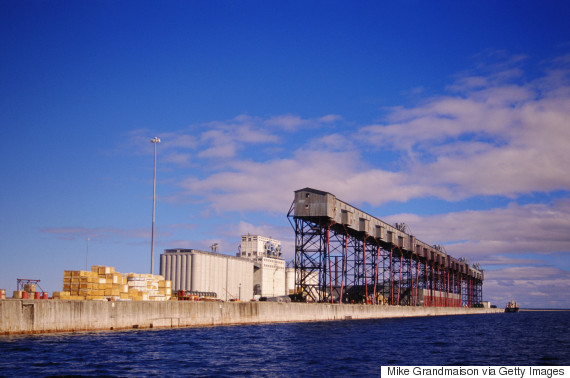 The Port of Churchil was sold by the Liberals in 1997 for $11 million, resulting in the loss of 60 jobs.
"The economic opportunity for the fishermen in the province being able to sell outside of the monopoly -- I can't overstate it. It's tremendous," she said. "We're talking millions and millions and millions of dollars of sales that are possible now."
This is the exact sentiment that the farmers had when they dissolved the wheat board. Fisherman in the north are preparing for the worst. This time next year their pickerel will be worth a third of what they were today.
Finally, there is the recent announcement that the paper mill in The Pas will be closing. Six hundred good-paying jobs (300 in the mill and 300 in the bush) in a town of 6,000.
"Manitoba can't do much to save Tolko mill in The Pas, premier says" is an ironic headline considering the huge Conservative majority that the voters of the Pas gave the incoming government. Although an NDP MLA won the riding in The Pas, they overwhelmingly voted Conservative.
As Northern Manitoba hemorrhages jobs, the federal and provincial government seem content arguing on who is to blame.
In both the port and the mill, it has been suggested that ownership should pass to First Nations, but for that to happen the federal government would have to guarantee the loans, something governments in the past have done -- but not a precedent that the current government has shown any willingness to follow.
As Northern Manitoba hemorrhages jobs, the federal and provincial government seem content arguing on who is to blame and following a policy of complacency.
There is example after example of towns literally losing 10 per cent of their work force overnight. Imagine finding out your Christmas is ruined in August.
While Brian Pallister sits in his ivory tower, towns across the province are losing their biggest employer. Under his watch Manitoba is on pace to lose 128,000 jobs. He has shown in such a short amount of time that the north does not matter to the current government.
This government is a carbon copy of the Harper government. It cares more about business than it does about the people.
The new Liberal government selfies on the left and rules from the right. Apart from pictures in canoes and superficial ceremonies, actual help will not be forthcoming.
Follow HuffPost Canada Blogs on Facebook
MORE ON HUFFPOST:
11 Facts About Canada's First Nations
The word Canada comes from the Iroquois word kanata meaning village, settlement or land.

There are currently over 60 First Nations languages in Canada grouped into 12 distinct language families, according to Statistics Canada.

Before European Settlers came to Canada, it was not uncommon for Aboriginal women to hold equal power to men, and even had to ability to take the power away from the chief, reports UBC. Women's suffrage in Canada was not granted until 1918.

The North American headdress was earned, each feather representing an act of bravery.

There are over 600 different tribes in Canada each with their own culture and belief system.

The High King of France commissioned Giovanni da Verrazzano to reach Asia by sailing around North America in 1523. He described the coastline as densely populated and full of bonfire smoke, saying it could be smelt from hundreds of miles away at sea. Some academics place the American Aboriginal population at 50 million while some argue it to have been 100 million. Today's First Nations population of Canada falls around 1.4 million.

During the early days of colonization, Britain saw Aboriginal people as essential to protecting their colonies and considered them powerful allies who helped battle the French during the Seven Year War and fought off American invasion during the War of 1812.

First Nations people played a major role during the fur trade between the 17th and 19th centuries, which attracted merchants from around the world.

Archaeology tells us that aboriginal people have lived in the Maritimes provinces of Canada for at least 11,000 years.

After the decline of the fur trade and the end of the War of 1812, more settlers came to Canada, creating a large enough population to protect their own borders. First Nations were seen as impeding on economic development and were sent to live on isolated reserves, while more land was set aside to accommodate new settlers.

Aboriginal people have the youngest demographic in Canada, with a median age of 28, while the median age for non-aboriginal Canadians is 41.
Follow Bruce Moncur on Twitter: www.twitter.com/tornadomoncur