La Loche Community Deserves So Much More Than To Be Forgotten
The community of La Loche, Sask. offered a prayer for the nation; a prayer for those who provided support, for those who sent cards and letters of condolences, for those who sent donations, for those who reached out and for those who listened.
This particular prayer hit me especially hard -- in the midst of their own grief, they offered prayers to a nation that has largely forgotten them.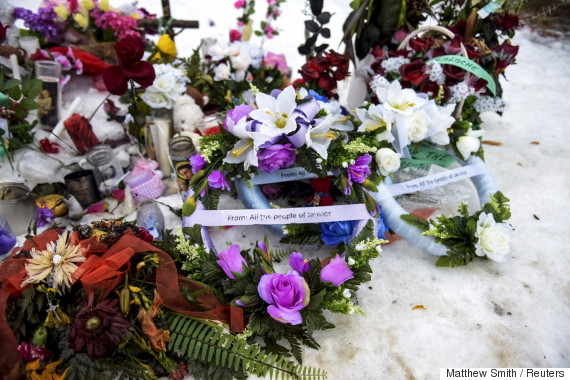 A memorial sits outside of La Loche Community School in La Loche, Sask., Canada, Jan. 29, 2016. (Photo: Matthew Smith/Reuters)

I lost my older brother, Adam Wood, in the shooting in La Loche. Recently my family and I travelled to the remote community to remember him, the other victims whose lives were so tragically taken, and so many who still bear the wounds from that day.

On Jan. 22, 2016, a school shooting occurred at a high school in the village of La Loche. Four people were killed: brothers Dayne and Drayden Fontaine; teacher assistant Marie Janvier; and my brother, Adam Wood, at the beginning his teaching career. Adam had an adventurous spirit, an infectious joy and laughter, loved the north, and was taken from us far too early.
My first experience in the community was a few weeks ago when my family and I attended the memorial service on the first anniversary. In my short experience in La Loche, two things were easily recognizable: first, the tremendous beauty, strength and resilience of the people; and second, our tremendous failing as a nation to provide its members with the supports necessary for healing and growth. Recently leaders from the village of La Loche led a
press conference
. They spoke with passion, with conviction and with desperation. They spoke about the necessity of services and funds to help community members, students and teachers heal, find hope and become stronger. They named meal programs, counselling, arts programs, long-term planning and block funding as their main priorities.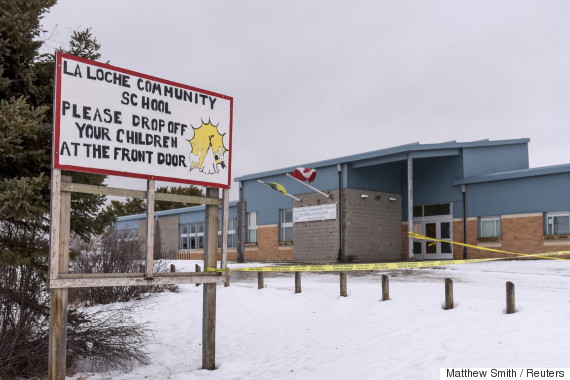 An exterior view of La Loche Community School is seen in La Loche, Sask. Jan, 29, 2016. (Photo: Matthew Smith/Reuters)
Sadly, the Minister of First Nations, Metis and Northern Affairs sidestepped many of their concerns the next day. Rather than acknowledging the need for systemic change in La Loche, Donna Harpauer dismissed the community's plea for social services as unrealistic, justifying the failure of her office to perform its duty on the grounds of the village's geographic location.
This is a national shame. It is not enough to simply throw our hands up in the air and claim that it's just too hard to get lasting supports to the community of La Loche because of its place on the map.
It is not enough for us to once again look past the many systemic issues present in the community today (many of which acted as the very catalyst which caused this tragedy a year ago).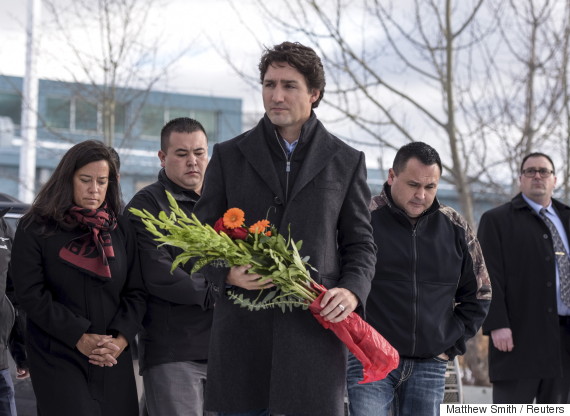 Canada's Prime Minister Justin Trudeau lays a wreath at a memorial during a visit to the town of La Loche, Sask. Jan. 29, 2016. (Photo: Matthew Smith/Reuters)
It is not enough for the prime minister to state to the country that he provides his unwavering support, yet only support short-term projects such as Project Venture, and create so little sustainable change in the community.
It is not enough to continuously look past the effects of colonialism, racism and regionalism that so strongly colours our interpretation of this event and aids in determining what can and cannot be offered.
This community is strong, they have endured so much and they deserve so much more.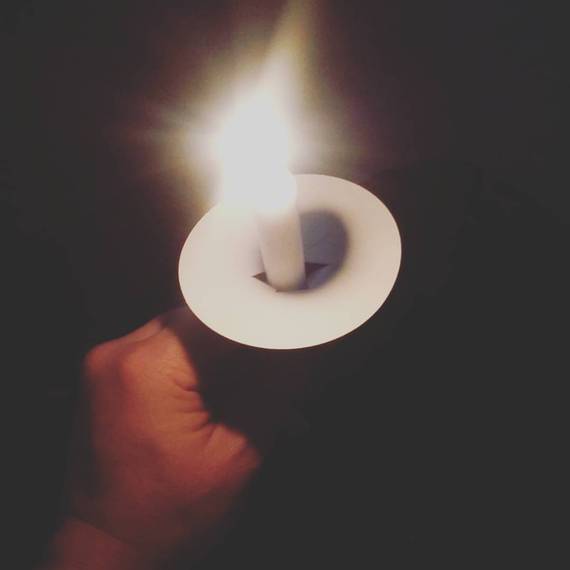 We attended the memorial in La Loche, Sask. as guests and fellow mourners, but we left the community of La Loche feeling much more like family.
Please write to your member of Parliament, contact Donna Harpauer and demand more for our country. As a nation, we all shared in the experience of loss as we listened, now let us share in the experience of hope as we respond.
Follow HuffPost Canada Blogs on Facebook
Also on HuffPost:
On Friday, Jan. 22, 2016, the small northern community of La Loche, Sask., was sent reeling after a mass shooting.

La Loche is home to 3,000 people, many of whom are members of the Dene First Nation. The community is located on the eastern shore of Lac La Loche in the northern boreal forest.

On Friday, Jan. 22, two brothers, Dayne and Drayden Fontaine, were shot at a home on the 300 block of Dene Crescent. There is a chilling exchange between friends chatting online. "Just killed 2 ppl,'' a young man writes to his friends. "Bout to shoot ip the school.''

Drayden, 17, and Dayne, 13, were "quiet kids, loving kids," their uncle Don Herman told CBC News. The grandfather of the two teens told the Saskatoon Star Phoenix that he can't believe his "two babies" are dead. "They were my best friends." The pair were later buried side by side at the local cemetery. The mother to both boys, Alicia Fontaine, posted about her grief on Facebook after the shooting. "My heart shattered into a million pieces,'' she wrote. "So sad I don't have no more babies.''

Around 1 p.m., the shooter moved to the school, where he opened fire. Police begin receiving calls from frantic students and teachers who say there is a shooter in the high school. Students, just returning from lunch, flee for their lives. Some run for the doors, others hide in classrooms and in gym dressing rooms. Officers apprehended him in under 10 minutes, but not before two staff members were killed, and seven others injured.

Jan. 22, between 1:08 p.m. and 1:10 p.m. — Police arrive at the school. Officers see the outside door has been shot. They see a shooter inside and chase him deeper into the school. Jan. 22, 1:15 p.m. — Police challenge the shooter and he surrenders without negotiation or incident. Officers find nine people shot. Teacher's aide Marie Janvier, 21, dies at the school. Teacher Adam Wood, 35, is rushed to hospital, but cannot be saved.

Marie Janvier was a 21-year-old teacher's aide at the school. She was killed in the shooting. Ashton Lemaigre, said Janvier loved her new job. He says she was kind and patient with children and talked about getting her teaching degree someday. "The kids loved having her around,'' Lemaigre said. "When we were out and about kids would say 'Hi.' They would just come running to her. And she was just a friend to everybody.''

Adam Wood, 35, had moved to the town in September from Uxbridge, Ont., to teach at the school. Wood died in the attack. His family in Ontario said in a statement that Wood was an adventurer with a passion for life who made people laugh until their stomachs hurt. "Adam had just begun his teaching career in La Loche last September and was enjoying his time,'' the statement reads. "He was always up for a good challenge and lived each day joyously.''

A 17-year-old male, who cannot be named under the Youth Criminal Justice Act, was charged on Saturday, Jan. 23, with four counts of first-degree murder, seven counts of attempted murder and one count unauthorized possession of a firearm. "It's a very sad and difficult time and no words will take away the pain and sorrow of what's happened," RCMP Supt. Grant St. Germaine said in a press conference.

Saskatchewan Premier Brad Wall promised that necessary crisis support and counselling services would be provided to the community. "My thoughts and prayers are with all the victims, their families and friends and all the people of the community," Wall wrote on Facebook.

Jan. 29 — Prime Minister Justin Trudeau visits La Loche. He assures the community that his government will offer support for years to come.

Feb. 26 — Students return to the high school after changes are made, including added security and counsellors.

Oct. 28 — The accused, who has turned 18, pleads guilty to two counts of first-degree murder, two counts of second-degree murder and seven counts of attempted murder. The Crown says it wants him sentenced as an adult. Two weeks are set aside for a sentencing hearing in May and June.

Jan. 9, 2017 — Greg Hatch, principal of the La Loche high school, says students and staff are still suffering and feel they've been abandoned to deal with the trauma alone.